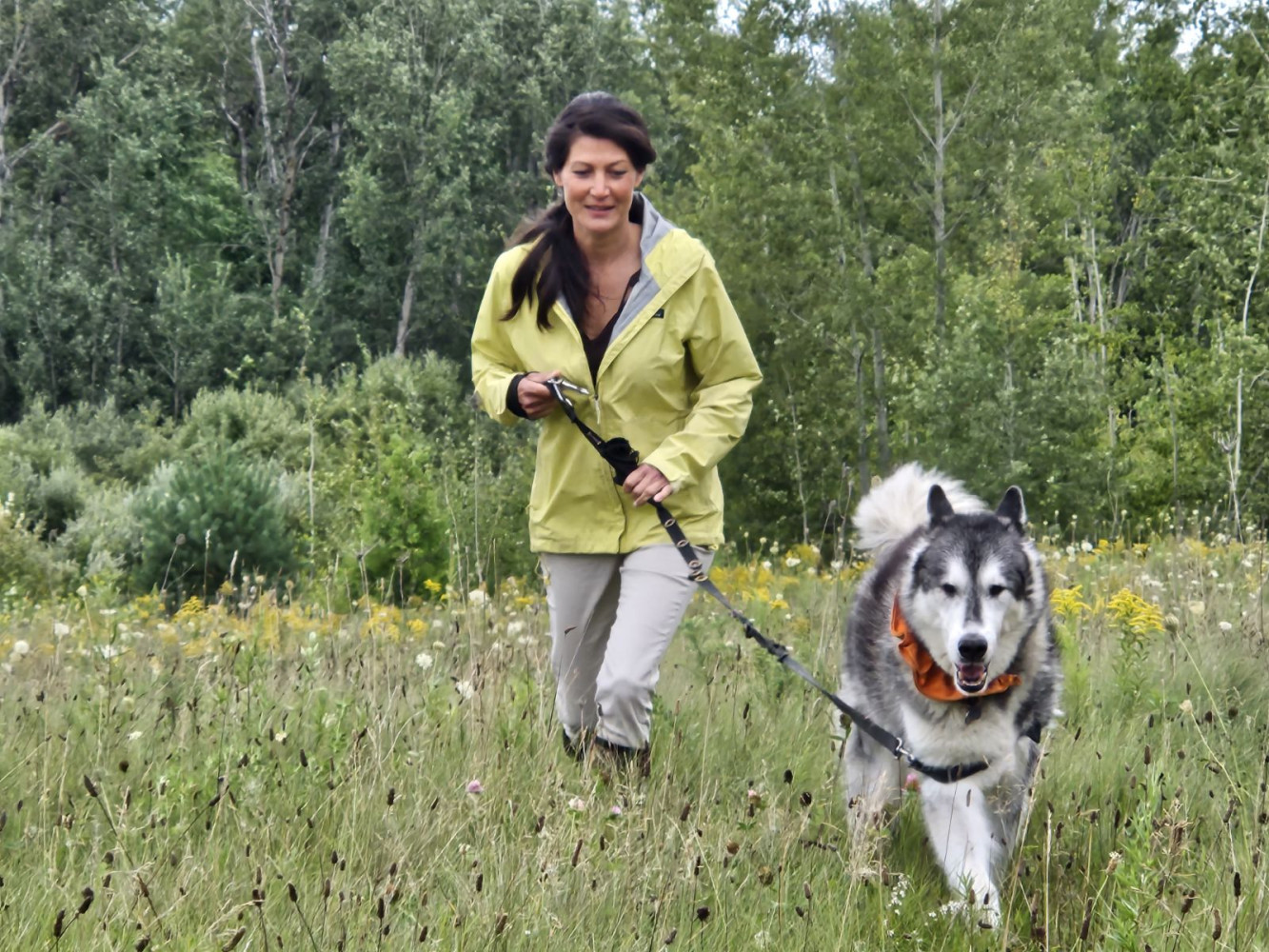 Feature Image Christine Tu
Christine Tu is shaping Peel's ambitious climate change plan
From a young age, Christine Tu was in tune with the natural world that inevitably surrounded her.
On family camping trips growing up, she observed animals in their habitat, programmed by millions of years of genetic evolution:
How a squirrel's lightning quick movement while foraging up and down trees is enabled by double-jointed, hyper-extendable wrists that allow it to turn on a dime at high speed, to foil predators and the way their tail provides the perfect balance while performing high-wire acts on branches.
As she got older the impacts humans have on our surroundings began to capture her imagination, and shape how she saw the world. Inspired by prominent ecologists like Rachel Carson and David Suzuki, Tu began to realize the scope of environmental challenges caused by human activity.
"I think that was probably my largest exposure to the imbalances that I was seeing as a young person in nature — environment, wildlife — and I wanted to always be correcting that," she tells The Pointer.
Studying and working in ecological sciences didn't present as a choice to Tu, it was always a responsibility.
"The choice was education or science. From an environmental perspective, I do see the power of science, it's just you got to get into the world of policy and politics," she says. "The prioritization of the environment has always been secondary or tertiary. I think things are changing now, because we have to. There's no denying what is happening to our planet. It's about getting faster so that we're not too late."
An environmental science degree from the University of Toronto started her on a path. After receiving her undergraduate and completing a masters specializing in aquatic ecology, she immediately began her work, first in the private sector with environmental consulting, and quickly shifting gears into the public sector. She took on tasks including the development of management plans and analyzing monitoring data.
But one connection was still missing.
"I'm a firm believer that science should be informing policy and that implementation needs to follow suit," she says.
"The data is important, of course, it needs to be our foundation, but really looking at connections and how other systems — it can be ecosystems, built systems, our engineering systems, our economic systems, our political systems — they are all obviously, interacting and the environment didn't always show up as a priority, and certainly needed a larger voice, and needed to really surface what those connections actually mean, when we make decisions on a landscape level at a political level and policy level."
This inspired Tu to develop a risk-based approach which ultimately led to her working with the Region of Peel. She applied after collaborating with the Region through the TRCA and other public organizations when the office of Climate Change and Energy Management was piloted within Peel's regional government in 2016.
"[The Region was] moving earlier than most municipalities into the world of climate change and providing funding to the organization I was working for, and was investing in climate science and really trying to understand from a data and risk perspective, what does climate change mean to Peel Region?"
It was a natural fit for Tu to lead the office and in 2018, the Office of Climate Change and Energy Management was officially made permanent.
Christine Tu enjoys her time outdoors paddling and walking her dog.
(Christine Tu)
Tu had her work cut out for her. Leading the climate change office of one of the fastest growing municipalities in Canada is not an easy feat, and doing it as a woman in a traditionally male-dominated space added other challenges.
She says passion is often mischaracterized as a female trait, synonymous with being overly emotional. In workplaces where such views lurk quietly it is difficult for women to be taken seriously.
"I think there needs to be such a broader base of values that bring in the human and the family and just that grounding of the reasons of why we make good policy decisions. I don't want to isolate one gender or another. I want to see the fullness of the voices there."
Tu had three female mentors who helped guide her through the science sector in various points in her career, which she credits for a lot of her success in the field. Having female mentors to look up to allowed Tu to see what she could do to connect science and policy and how she was one of the people who could help lead the way.
"I think back now how critical that actually was to have a few women that were in the field," she says. "I may have been buffered from and may have moved through with less gender friction than some of my colleagues."
Representation of minority groups in staffing at the Region of Peel differs greatly from community demographics.
(Region of Peel/Worktango)
Tu is thankful the Region of Peel has balance among the staff she works with. Three of the six top leadership roles at the Region are filled by women and 62 percent of staff are women, according to Peel's 2022 Diversity, Equity and Inclusion Report.
"The region has, I would say, really empowered women leaders. There's a very good diverse balance of women leaders."
But the report outlined a different type of imbalance.
"Equity issues for BIPOC employees included feeling less favourable about opportunities for them to grow and advance in their careers," the survey analysis found. According to the review, only 48 percent of regional government staff identify as BIPOC (based on the percentage of overall survey respondents), compared to 70 percent of Peel's residents who identify as BIPOC.
Indigenous peoples, visible minorities, low income earners, women and children feel a disproportionate impact from the climate crisis. But they are also the groups whose voices have traditionally been muffled. As the Region works to increase its diversity profile, Tu says ideas that inform climate action will continue to evolve.
"I would largely think that you could argue all diverse perspectives could be in there, but women bring that sense of what it means to go from disempowerment, disenfranchisement, into a place of responsible power," she says. "And we need to have those perspectives, their longer term perspective."
Regardless of gender, or other differences, Tu is thrilled to see a new generation of young people excited to make their way into environmental spaces. Following in the footsteps of the three women that helped her carve her path, she has grown to become a mentor to others in the field and was recently recognized by the North American organization Women We Admire as one of the Top 50 Women Leaders in Toronto. Tu said her advice to young people, or anyone wanting to break into the environmental science space is to be courageous.
"Bring your voice from a place of courage. And I say that because there is resistance to change, and especially change at this level. There's all kinds of backlash happening from big industry to big government. Because this is change, this is a massive, massive change."
But she also believes it is equally important that one familiarizes themself with the people around them, listens to their concerns, and identifies where and how their allies are situated.
"You don't get taught that in school. And it's something that you need to be aware of. I'm conscious that there are factions here to resign to this battle. And showing up with that kind of knowledge is going to be helpful."
Despite systemic barriers she has found success transforming a municipality dealing with wide-ranging climate change impacts, into a fully functioning team of scientists and policy makers using a risk-based approach to mitigate impacts and adapt to the consequences of the climate crisis.
"We have a plan, we know what we have to do. We have technology, at least in this decade, that can be deployed at scale," she says confidently.
In 2019, the Region of Peel officially declared a climate emergency, which set in stone its climate change master plan and further emboldened work the Office of Climate Change and Energy Management had already been performing. Tu sees the master plan as a cumulative success that amalgamates a series of smaller successes in establishing emissions reductions targets and quantifying adaptation measures.
"That wasn't necessarily going to be an easy sale," she explains. "Those science-based targets are not just ambitious, but they do require a level of transformation in their culture. And that is not necessarily what everybody wants to be signing up for."
Part of the success of the Climate Change Master Plan, Christine Tu says, requires taking the science-based targets and connecting them to things of importance in residents' daily lives.
(Alexis Wright/The Pointer)
From the time the climate change master plan was brought into effect in 2019, the Region has been working toward the goal of a 45 percent reduction in greenhouse gas emissions below 2010 levels by 2030. According to the most recent inventory (which was taken in 2021), Peel's corporate emissions have decreased by 33 percent below the 2010 baseline. With six years left to reach its goal, the Region is responsible for reducing emissions by a total of 16,600 tonnes of carbon dioxide equivalent, an effort, according to the 2023 budget, that will need an initial investment of $300 million to $400 million.
"There was no change, no dilution to that plan. And it has set a framework for Peel Region. And I know it's been picked out by other regions, as an example of one of the better master plans written," Tu says.
The Region told The Pointer in an email statement that emissions across Peel will be impacted by a significant rise that is expected due to the provincial electricity grid performance over the past year. However, despite this setback, the Region will continue to push toward its target set in 2019.
Despite successes in meeting its emissions reductions targets, the Region is wavering in other actions outlined under the master plan. A 2021 progress report stated none of the 20 actions outlined in the plan had been completed and 15 percent had not even been started. Despite the lack of action, the report notes there is reason for optimism.
"The strong leadership shown by the Region throughout the COVID-19 response has brought clarity to what can be achieved through bold action, and a similar response is now required to meet the urgency of the climate crisis," staff wrote in the report.
While the COVID-19 pandemic created six-feet physical distances between people, it brought many closer to serve the collective greater good. Tu has brought this connection to her work with the climate change team at the Region, providing education and fostering a team environment.
"I'm very proud of it and it's that people side that can't get lost. This is not an environmental issue at all anymore, it's people, it's finance, it's social equity, it's public health, it's all those things, and that narrative needs to shine."
It seems those who make decisions at the Regional level are starting to pay attention.
Peel's 2023 budget includes initiatives to mitigate causes and adapt to consequences of climate change with a focus on the two biggest areas of concern: buildings and transportation. Within the budget, staff allocated $40 million to directly deal with the climate crisis, 95 percent of which goes directly to reducing emissions from buildings, one of the largest sources of GHG emissions across southern Ontario. Tu said this is an unprecedented amount of funding for initiatives that tie climate change and housing.
Buildings are the largest source of emissions across the Region of Peel and have seen very little decline since 2016. Efforts to reduce emissions from buildings will contribute significantly to mitigation targets.
(Region of Peel)
The Region is expected to grow exponentially within the next decade. Under Bill 23, the three lower-tier municipalities that make up the Region of Peel — Brampton, Caledon and Mississauga — have been allocated a total of 246,000 new homes by 2031. Accounting for this growth means providing all of the necessary community services including police stations, paramedics and public works facilities, all of which will have to transition to low-carbon methods in order to reach the Region's targets. Starting off strong, the Region recently passed a new standard for net-zero-building approaches on all new construction projects.
"The milestone is really the changing of hearts and minds along the way to make those investments tangible, and the outcomes real," Tu says.
But as the Region faces its own dissolution, the climate change master plan, the Office of Climate Change and Energy Management staff, and Tu herself all face an uncertain future. Since the announcement from the provincial government that it will be dissolving the Region of Peel by 2025, likely making Brampton and Mississauga independent municipalities (Caledon's future is unclear), a transition panel has been appointed to figure out how services will be delivered.
"We are currently having an opportunity to provide information about the Region to the transition board," Tu says. "We are giving them the facts. I don't think it's not a hard sell that we are bringing value and we need the services to continue."
The transition panel is expected to make its recommendation in the summer or fall of 2024.
---
Email: [email protected]
Twitter: @rachelnadia_
---
At a time when vital public information is needed by everyone, The Pointer has taken down our paywall on all stories to ensure every resident of Brampton and Mississauga has access to the facts. For those who are able, we encourage you to consider a subscription. This will help us report on important public interest issues the community needs to know about now more than ever. You can register for a 30-day free trial HERE. Thereafter, The Pointer will charge $10 a month and you can cancel any time right on the website. Thank you
Submit a correction about this story