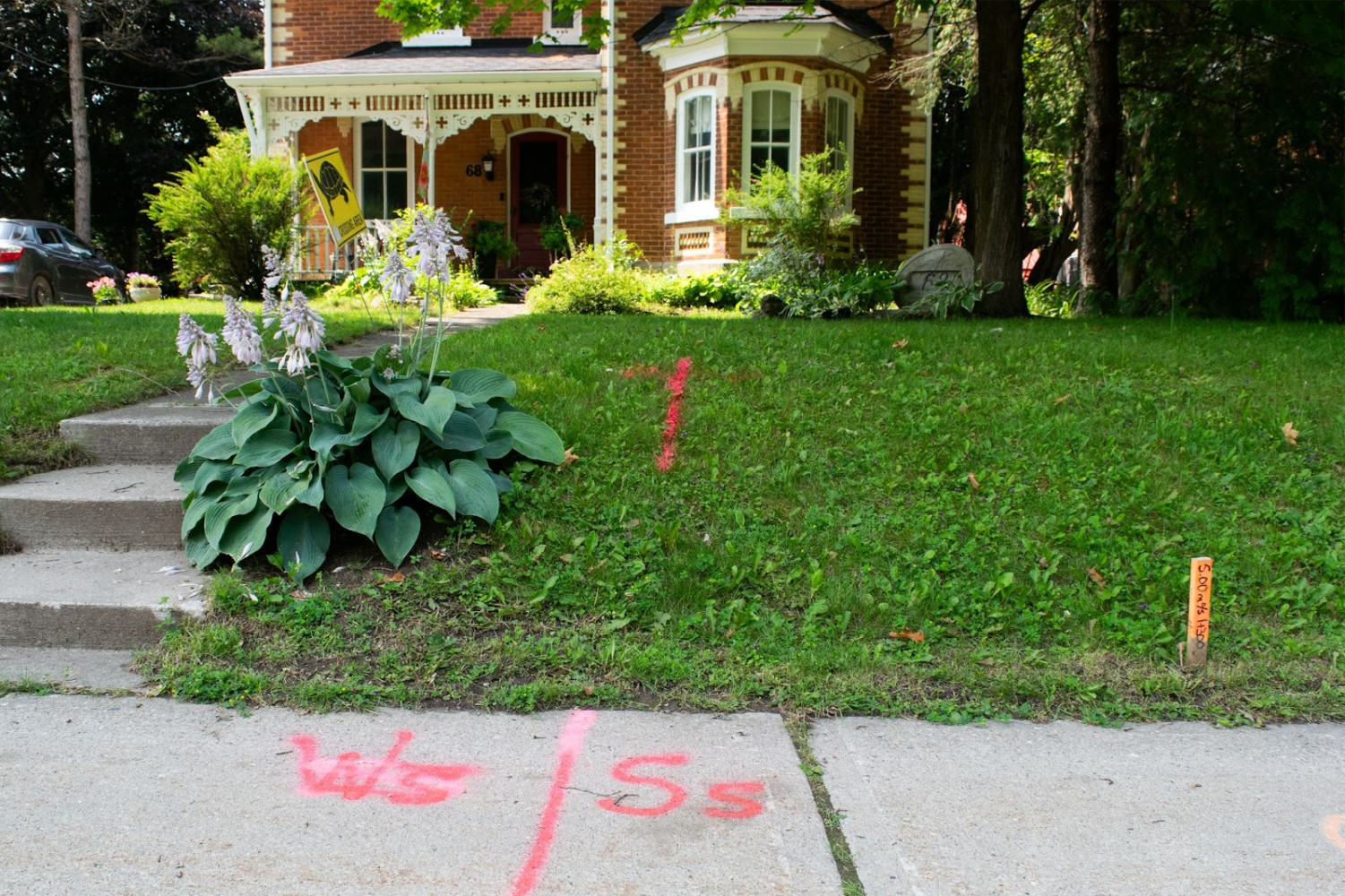 Alexis Wright/The Pointer
Disrupting small town life: Construction of Erin wastewater plant hits historic Hillsburgh 
Hillsburgh of the early 1900s was distinct in the typical ways from modern life today. But the tiny village has protected much of the look and feel of what shaped the hamlet a century ago, and it remains a symbol of rural, small town life.
Residents of the village, including those who fled the push and pull of chaotic urban life, are now fighting to protect what they cherish.
At the onset of Southern Ontario's dramatic urbanization, Hillsburgh served as a rural haven for those wanting to escape the constant drain—emotional, financial and psychological—of living in the big city.
They fit in next to nature lovers and locals with farming in their blood. It was a perfect balance between the surrounding beauty of the area's rolling landscapes and a small community feel that had emerged around the 1820s, when the first Europeans built their homes and stores in this new frontier.
Long before cars and provincial highways, horse-drawn wagons carted locals around Hillsburgh.
(Town of Erin)
Much of that character was preserved through decades of change.
Small inns and bed and breakfasts dotted the countryside, drawing visitors to the quaint rural town in what's now the heart of Ontario's protected Greenbelt. The majority of the population—only a couple hundred at the time—worked at one of the lodging establishments where visitors would stay for a respite from the city.
Hillsburgh was a popular destination for its cozy hotels, surrounding parks and trails where people weekended for a taste of Canada's famous nature. Its nearby creeks and rushing rivers drew amateur anglers who flocked to the banks of its pristine watercourses for a chance to hook a big one.
Then, the completion of Highway 401 in 1947 dramatically altered Hillsburgh forever.
Paved roads and eventually highways that connected much of Ontario to previously hard to reach areas, completely changed Hillsburgh.
(Town of Erin)
People no longer stopped in, they just drove through to reach communities like Collingwood which they could now get to in much shorter amounts of time. Inns shut their doors and stalls popped up across Trafalgar Road for locals to sell their goods to those passing by. A gas station opened for those who needed to refuel on their way up north. No longer a destination, a place to bathe in the cleansing beauty of its surroundings, Hillsburgh became a place to simply pass through, on the way to more distant retreats.
While the identity of the village changed dramatically over the ensuing three decades, its residents always felt they were right where they wanted to be, regardless of the social landscape shifting around them. They had a purpose and they were proud of the town they called home.
But that pride, protected by a history preserved by the very residents who for generations have called this place home, has now been turned to anger.
The Town of Erin, against the wishes of most residents, has plowed forward with its plans to build a wastewater treatment plant. Construction began earlier this year.
It has literally, and metaphorically, ripped this bucolic rural hamlet apart.
The industrial facility, which will service Erin and Hillsburgh as well as new planned subdivision developments, has a main pipe which runs directly down Trafalgar Road—the main artery for the Village of Hillsburgh and a busy commuter road for those heading to and from work. The construction, which began in late May, is not only disrupting day-to-day life for those who live on the road, it is a pounding reminder of the dramatic change coming to Hillsburgh, which will once again alter its identity. This time, in ways not wanted by its residents.
"You're actually changing the very makeup of what Hillsburgh is, its identity, what it has to offer both local residents and tourists passing through," Jefferson Campbell-Cooper, a resident of Hillsburgh on Trafalgar Road whose family has called the village home for two centuries, told The Pointer. He feels municipal officials are ignoring the importance of his small village in an unrelentingly urbanizing world.
"They see it as a resource that's there for the taking."
Urban growth has always been inevitable, but under the PC government it has become a certainty, even in those areas previously thought to be shielded from the bulldozer's path. Premier Doug Ford has the goal of constructing 1.5 million new homes across the province by 2031—paving over parts of the Greenbelt to do so. Growth is Ford's top priority and Wellington County — where Hillsburgh is located — is a prime candidate for new housing. Last year set a record for the number of residential building permits issued by Wellington County, with 853 new homes approved. Under new provincial legislation to incentivize builders, at least $4.7 million of revenue to the municipality will be lost as previously received fees from developers will no longer be charged. The sewage treatment facility will help provide the infrastructure necessary to build these new homes in Erin and Hillsburgh.
Campbell-Cooper does not oppose growth. His problem lies with the Town's promise that the treatment facility will bring "progress" which, to him, completely devalues the small town life of those with modest incomes who live barely five feet back from Trafalgar Road.
He lives in the home previously owned by his great grandmother and has barely changed a thing since. The sturdy frame of early 1900s construction has allowed the home to remain a solid shelter for generations of the family. He is an artist who commissions pieces globally, all of which are constructed out of reusable materials. He also grows the majority of what he eats directly in his backyard. The half acre lot is at least half covered by various fruits and vegetables that will feed him and his wife for the months to come.
"I have an extremely high quality of life, for my income," he said, stating that if he left, he would not be able to afford the same lifestyle elsewhere.
While servicing from the wastewater treatment facility will be hooked up to new subdivisions first, to make them more attractive, those living in the urban villages of Erin and Hillsburgh will also be forced to hookup. According to the Town's website, current residents will pay a significant portion of the infrastructure costs for the underground pipes that will run below local roadways, and the associated road repairs. It will cost each resident between $15,000 and $18,000 depending on the location of the property and the work needed. Initial hookup will be between $4,000 and $8,000 depending on the distance from the home to the main pipe. And once the construction of the facility is complete and homes have been connected, residents will be required to pay an annual user fee of $500 to $600 per year. With all of these costs combined, homeowners can expect to pay between $19,500 and $26,600 the first year.
These costs do not include estimates for decommissioning of existing septic systems and wells.
Leah-Anne Goyeau, has lived in Hillsburgh for five and a half years. She left busy Brampton for the slower streets of the small town and close-knit community.
"I feel that they didn't properly inform residents about hookups. I feel that they didn't take the time or the consideration about individual household needs, that they've got a cookie cutter agenda to just stick it up people's driveways regardless of where there's septic pipes coming out of the house and what will be the easiest and most cost effective options for hookup," Goyeau told The Pointer.
She explained that the owner of the construction company, Nabolsy Contracting Inc. (NCI), and the engineering company planning the project, Williams Sale Partnership (WSP), initially recommended the pipes be buried under the driveway and through her backyard—approximately 175 to 200 feet around her house, estimating it could cost her well over $100,000 to hook up to the sewage system including decommissioning the well, driveway resurfacing, landscaping and more.
If they went ahead with this location, the pipes carrying wastewater would run directly adjacent to the well holding her drinking water.
"It would have required the pipe to come out of my house [on the north side] and run it to the backyard, and the sewage would have to go almost all the way around the house."
Leah-Anne Goyeau's century home was built at a time when individual stones of different sizes created a secure foundation. Her 132-year-old basement has never had any issues with water leakages, but she is worried that will potentially change with the installation of new piping.
(Alexis Wright/The Pointer)
"The plumbers and the consultants that I spoke to said that it is a horrible idea that your sewage would be traveling almost 360 degrees around your house and then coming out 200 feet to the road. The biggest concern that they noted with that would be if there's a blockage somewhere, and there's a lot of potential for blockage with the distance, it would be traveling around and be an absolute nightmare if anything did go wrong to figure out and pinpoint where the problem is," she said.
As a result, she came to a compromise with both NCI and WSP for a more sensible and cost effective location on her property for the pipes and hookup to the sewage system.
"My house is being designated heritage. To me the heritage is not just the house, but it's the century old trees that are in the front and the back as well. Some of these trees are probably 130-years-old. I have concerns about the big maple tree [out front]."
NCI also informed Goyeau when the construction reaches the front of her house, they will have to dig approximately 35 feet down to install the manhole and pipes properly, a process that could take four weeks at minimum. This does not include the subsequent process of individually connecting each house, something that is not included in the current construction plan along Trafalgar Road which is expected to last until October 2024.
Despite his contact with Goyeau and others, owner of NCI, Saleh Nabolsy, told The Pointer a stipulation in his contract with the Town is he is not to communicate with any residents or otherwise about the project.
WSP did not respond to The Pointer's request for comment.
On top of the costs for hookup, residents will also have to pay to decommission their wells and septic systems which can cost in the tens of thousands of dollars each. There has been no talk about what kind of financing from the municipality will be available to residents to help cover these costs.
Losing their small town lifestyle is invaluable, though, said the residents—regardless of the cost for hookups.
Campbell-Cooper's house was adjacent to the village's old feed mill which he called the 'town centre'. He described it as the place everyone went to hear the 'gossip' and to check in with their neighbours and friends.
The mill was sold and torn down and is now being used as a work site for the construction crew, one of the many decisions surrounded by questions and secrecy since the project's inception over a decade ago.
Previously owned for over 70 years by Chair of the heritage committee, Councillor Jamie Cheyne, and his family, they sold the Mill to the owner of Dominion Farms in Erin, Manuel Tavares, who then tore it down. Now, Saleh Nabolsy, owner of Nabolsy Contracting Inc., is using the yard during the construction of the project.
(Alexis Wright/The Pointer)
"Once that was purchased by a wealthy local developer like that just created everything to kind of unfold from there," Campbell-Cooper said, noting it has significantly reduced the connectivity of the small town. "There is no community. We have community from people walking and talking, having a destination or a place to go, people can meet."
With Trafalgar Road torn up and the sidewalks covered in dust and debris, this walking and talking is nearly impossible. Campbell-Cooper said it has caused many of his neighbours to retreat into their homes, many of which he hasn't seen in weeks.
On July 12, no safety measures were implemented along the construction site to keep residents safe from potential harms such as walking too close to or on unstable ground near open excavation sites.
(Alexis Wright/The Pointer)
Unfortunately, this alteration in way of life will not be reversed once the construction is over. The wastewater treatment plant has the potential to change the feel of Hillsburgh indefinitely.
"I keep hearing from the sewer management team. 'Yeah, we're bringing things to your community, we're gonna bring you prosperity, and you know, progress, and your house value is gonna go up'," Campbell-Cooper recalls. "And the other flip argument of that would be like, 'well, you're also bringing tens of thousands of vehicles, and you're not adding factories, like where's everyone going to work?' They're gonna go to the city…Nothing makes any sense."
His biggest disappointment is the fact that community members were not consulted. Regardless of the final outcome of the treatment plant, he feels that with consent from residents, it could have been done in a way that had less impact on their lives.
"This has been in the works for 10 years. Well, how come there's been no debate? Or what do we want our town to look like? Towns need to grow, we all understand that, but what does that growth look like?" he questioned. "You're just coming in, building a space station on Mars and downloading the costs on the citizens."
He and his fellow residents have also experienced direct impacts to their properties from the ongoing construction.
Campbell-Cooper experienced flooding from a water pipe that was discharging beside his property. Late at night he was forced to dig a gulley beside his home to prevent the water pooling in his yard from reaching his home. While the construction crew responded and worked to fix the problem, Campbell-Cooper said it was something that could have been avoided in the first place with proper planning.

The digging done by NCI caused underground water to spring up and flood the low lying area of Trafalgar Road. Residents note precautionary measures should have been taken.
(Alexis Wright/The Pointer)
"There's no history. There's no planning. There's no context of 'oh, just put a road here and just put a line there' and there's no understanding of what I would call the geographic realities," he said.
Campbell-Cooper and Goyeau are not the only ones who have faced physical problems since the construction began. In just a few weeks, the houses that line Trafalgar Road have experienced multiple service interruptions, and the first boil water advisory in decades. Residents who live in the area as far back as the early '90s, state they can not recall any previous advisories in that time.
There are several residents who have wells, and/or septic tanks beneath their front lawns, very close to the sidewalk where construction is ongoing.
"I think that the town should have been proactive and had a plan in place. Just as they've had locators come in to locate public utilities, what's really lacking is the marking of private utilities that should have been located prior to construction," she said. "What is the potential that they hit something and cause septic disruptions?"
Residents are already experiencing water issues as a result of the construction.
A minimum of three wells have gone dry since the beginning of construction in May. Several residents who shared their experiences and concerns with The Pointer wished to remain anonymous out of fear the issues along Trafalgar Road or on their properties would get worse.
"Seeing that people's wells have dried up through this, the levels of water that are being pumped out in front of my house, dump trucks come and dump dirty loads of water in front of my house, clay being pumped out and discharged…and now this boil water advisory; I have a lot of questions about how we're caring for our environment and making sure that our waterways are clean," Goyeau said.
Goyeau noted water actually being in the well is not the only issue residents deal with.
"If you're on a well, your water quality is your problem," she said. "They've done nothing to put a plan or a program in place for residents on wells, and to me, it almost looks like 'hey, if your well goes, too bad, so sad. Now you can hook up to our beautiful town water'. Maybe some people will want the town water and maybe some won't. I think many are definitely disturbed by the cost of it."
"I feel that the communication has really been lacking to residents in the immediate area."
Most residents in Hillsburgh currently use a well for their drinking water. As the construction has progressed, at least three private wells have gone dry. Residents with dry wells are forced to order large tanks to get clean drinking water into their homes.
(Alexis Wright/The Pointer)
"Out of an abundance of caution, I'm wondering, with this boil water advisory, whether there is or isn't a connection to the construction," she said.
On July 10, construction employees dug into and hit an underground waterway, causing water to rush to the surface. NCI installed pumps to move the water from the road to a culvert at the east side of the intersection of Trafalgar Road and Station Street.
The following day, e. Coli and coliform bacteria were found on Spruce Street out front of a Senior's building during routine inspections according to Wellington Dufferin Guelph Public Health (WDPH). The local fire department went door to door with written notices to ensure each resident stopped using their water immediately.
After the 24 hour incubation period, the test came back positive for the bacteria responsible for life-threatening illness and a boil-water advisory was put in place on July 12 for all buildings connected to municipal water or not.
Cement trucks were seen by residents near the site of the pumps removing water from the underground source, and subsequently on July 12 they were turned off, no longer transporting the liquid to the culvert 400 metres north up the street.
The advisory remained in place for two days (July 12-14) and was lifted when two tests 24 and 48 hours apart returned negative results.

Groundwater is continuously being pumped from, and into, holes along Trafalgar Road, spreading sediment and possibly pollutants from construction.
(Alexis Wright/The Pointer)
WDPH said boil water advisories are "not uncommon" after a significant rain event. Rain did not occur until after the advisory was issued. The Pointer reached out to clarify whether the construction could have contributed to the advisory and received no response. The same questions was asked to the Ontario Ministry of Environment, Conservation and Parks, which did not answer the question, directing questions to WDPH.
According to the Mayor of Erin, Michael Dehn, the boil water advisory, "had nothing to do with the construction."
"Residents should probably think about testing the water before, during and after construction," Goyeau said. "I've sent mine, so I'll have baseline data before they get within the vicinity of my well, and then I'll continue to test very regularly throughout the construction. I had a well flow test for water pressure done when I bought the house five and a half years ago, but I'm considering maybe I should have another one done. Again, before construction in my immediate area, so that if there's any impact to all of this after I can compare."
Among the multitude of issues that have arisen during this project, the Ministry of Labour, Immigration, Training and Skills Development (MOL) received complaints about NCI on July 17.
"A ministry inspector was assigned and issued five orders to the constructor, Nabolsy Contracting Inc.," a spokesperson from MOL told The Pointer in an email.
"Residents have been entering the construction zone and getting dangerously close to the construction equipment and excavations. The Town is working with all concerned to ensure the safety of our residents and the construction crew," Mayor Dehn said.
As the investigation is ongoing, the ministry would not confirm the results of the inspection or whether a stop work order was issued on July 18 as part of the five orders.
The Ministry of Labour, Immigration, Training and Skills Development (MOL) on site of the sewer construction in Hillsburgh on July 19.
(Alexis Wright/The Pointer)
"I don't know how they're expected to get the public's trust when they're trying to sell us on quote unquote, as they call it, 'bringing you a beautiful life'. If a beautiful life means power outages, hydro poles being knocked down dangerous traffic that was going past my house, Rogers interruptions, wells drying up, water being potentially contaminated. I don't see that as a beautiful life," Goyeau said.
"But I think all these things aren't by chance. That's how we operate now, right?" Campbell-Cooper said. "We create chaos in a place, which then means you can come in and the profiteers can get what they need. As the dust settles, that's when people realize what just happened."
Correction: A previous version of this article attributed a statement to Wellington Dufferin Guelph Public Health claiming the boil water advisory was a result of a significant rainfall event. WDG Public Health said boil water advisories are "not uncommon" after a significant rainfall event.
---
Email: [email protected]
Email: [email protected]
---
At a time when vital public information is needed by everyone, The Pointer has taken down our paywall on all stories to ensure every resident of Brampton and Mississauga has access to the facts. For those who are able, we encourage you to consider a subscription. This will help us report on important public interest issues the community needs to know about now more than ever. You can register for a 30-day free trial HERE. Thereafter, The Pointer will charge $10 a month and you can cancel any time right on the website. Thank you
Submit a correction about this story