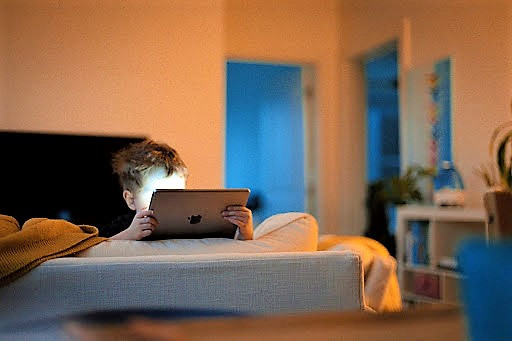 Nils Huenerfuerst/Unsplash
Peel Police child exploitation unit hits new mark in 2022 for number of children saved from online sexual abuse
Editor's note: This story contains explicit details about child sexual exploitation and abuse. If you are concerned about yourself or a loved one being impacted by any of these crimes, visit needhelpnow.ca or protectchildren.ca for immediate assistance.
---
Over the last five years, the Internet Child Exploitation Unit of the Peel Regional Police has been grappling with a disturbing increase in online exploitation of young children in Peel.
Under lead detective Andrew Ullock, the unit has expanded training and tactics in an attempt to keep up with a crime that evolves as quickly as the technology that perpetuates it.
In 2022, this effort paid off with the unit proactively identifying 12 child victims of child sexual abuse material (CSAM), and saving them from further harm. This is a fourfold increase from 2021 and three times higher than 2020.
(PRP)
"Since 2021, the skillset of the investigators has been expanded to allow them to target offenders in online spaces that are more lucrative in regards to finding the worst offenders," the Peel Police 2022 Person's at Risk report states. "Training improvements and skill expansion has also made them better at combing through data more efficiently and identifying more victims within the collections. Better triage of the caseload combined with more effective examination of data has resulted in more victims being identified and protected from further harm."
The painstaking, often emotionally troubling work to protect young people is done by the unit while nationwide statistics highlight how difficult it can be to identify the victims and perpetrators of this crime.
According to data from Statistics Canada, in 85 percent of cases of online exploitation and abuse between 2014 and 2020, neither a victim or perpetrator were identified. In that time there were 10,739 incidents of online sexual offences against children, and 29,028 cases of online child pornography. The rate of police-reported incidents of child exploitation and abuse have nearly tripled in Canada since 2014.
This increase has created a tidal wave of potential cases for Peel Police's ICE unit, which receives tips about potential online abuse from the National Child Exploitation Crime Centre (NCECC), operated by the RCMP. The NCECC takes reports of potential child sexual abuse material found online and sends them to the police organizations in those jurisdictions. Last year saw Peel's ICE unit receive 807 referrals from the NCECC—a record number, surpassing the previous high of 794 in 2020, and a 19 percent increase over 2021.
Despite the increase, PRP states that "statistically speaking" the number represents a levelling off of the "exponential growth of referrals seen since 2018".
In 2018, Peel received 156 referrals, a number that jumped to nearly 400 in 2019 (a 253 percent increase).
As The Pointer has previously reported, the growing workload has strained the limited resources of the small unit, which consists of one detective, seven detective constables and one online luring investigator.
The increasing prevalence of the crime and limited resources has seen Peel's ICE unit reach a ceiling in the number of accused predators they are able to pull off the streets.
Between 2004 and 2012, Peel's ICE unit continuously increased its arrest record, from 24 individuals charged to 34. By 2014, the number of apprehensions increased to 46. However, between 2014 and 2018, things flatlined, with 49 people charged in 2015, 46 in 2016, 48 in 2017 and 46 in 2018. In 2019, 47 people were charged in connection to child sexual abuse material investigated by Peel's ICE unit.
The ceiling that was reached reflects the reality police forces around the world are dealing with, as online abuse proliferates with the exploding technologies that drive this cyber crime.
"In a perfect world I'd like to be able to go after all offenders," Det. Ullock previously told The Pointer. "At some point we run out of resources to do it, and it doesn't mean that if I get a whole bunch of occurrences this year and I can't get to them all, that that person will never get caught," he said. "There is a finite amount of resources and we're trying to deal with what, for all intents and purposes, is an infinite problem."
The growing complexity of these cases has further hampered the small unit's ability to capture offenders as cases come with larger collections of CSAM and often involve increasingly complex global networks using sophisticated criminal techniques.
Since it arrested 47 offenders in 2020, the unit has been unable to surpass the 40 arrest mark. A total of 38 offenders were arrested in 2022. One of these arrests involved a counsellor at a summer camp for developmentally disabled individuals. Along with consuming CSAM, the accused was also actively abusing vulnerable individuals. Peel's ICE unit was also involved in Project Maverick, a month-long investigation in October that resulted in eight people charged.
"One of the offenders had a history of hands on sex abuse, and another accused was charged in part for having a realistic child sex doll," the PRP report states. "Additional information from another accused on that project was forwarded to law enforcement in the Philippines to assist them in investigating abuse of a child in that country. That child was identified and rescued by Philippine authorities."
(PRP)
Last year also saw Peel's ICE unit become the first in the country to deploy an Electronic Storage Detection (ESD) canine. ESD Harley is trained to locate digital storage devices during search warrants "which can be difficult to locate if they are hidden from discovery or concealed in clutter", the PRP report states.
"The dog will make searching for devices faster and more efficient and most importantly will greatly reduce the chance that investigators will leave anything behind at search warrants."
Since his deployment, Harley has assisted the ICE unit on nine search warrants and located 18 hidden devices.
Electronic Storage Detection canine Harley.
(Peel Regional Police)
The decision to increase the size of Peel's unit to tackle the growing workload and potentially catch more offenders comes down to regional councillors at budget time. With a potential loss of federal funding, regional councillors may be asked to make up the difference of about $170,500. The Federal funding was cut in March of last year and has not been renewed. The total budget of the unit was about $1.3 million in 2022, not including the funding from Ottawa.
"I don't need to be shy about it, one of the solutions is more people, but that's something that my senior officers and my chain of command, they're the ones who allocate who goes where," Det. Ullock previously told The Pointer. "My job is, I give them my workload and I say 'this is what I'm dealing with'."
In order to proactively reduce its workload, Peel's ICE units invests a lot of its time in education, hosting seminars and public events in order to inform the public about the dangers that exist online and helping parents learn how they can keep their children safe.
According to the recent report, the ICE unit plans to increase the number of these public events over the coming year.
---
Email: [email protected]
Twitter: @JoeljWittnebel
---
At a time when vital public information is needed by everyone, The Pointer has taken down our paywall on all stories to ensure every resident of Brampton and Mississauga has access to the facts. For those who are able, we encourage you to consider a subscription. This will help us report on important public interest issues the community needs to know about now more than ever. You can register for a 30-day free trial HERE. Thereafter, The Pointer will charge $10 a month and you can cancel any time right on the website. Thank you
Submit a correction about this story