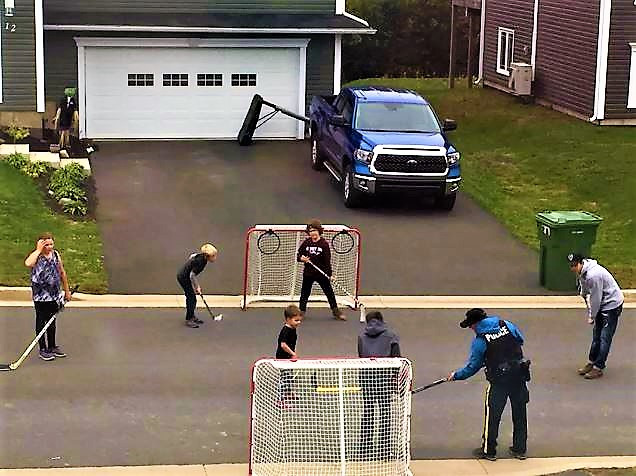 Twitter
Kids vs Cars. In Mississauga, growth makes it difficult for a favourite pastime—street hockey; a rookie councillor wants to change that 
With the summer season, the solstice brings longer days that stretch gloriously right to a child's bedtime—more opportunity for running around outdoors with friends, doing what kids love to do.
Playing street hockey or basketball or just monkeying around the neighbourhood is how many Canadians remember their own childhood.
But many of Mississauga's residents cannot indulge in these youthful rights of passage. Others are not aware that playing on the city's streets is technically illegal.
Councillor Alvin Tedjo is looking to change this with a new motion, presented at City Council's June 14 meeting, which asks staff to review existing bylaws that prohibit residents from playing on city streets and make amendments that will allow residents to play games such as street hockey or cricket without fear of being shut down. As the architect of the motion, he said it is important for Mississauga's residents to have an opportunity to use the streets in front of their own homes. Especially when luxuries like backyards are not afforded to everyone as the city focuses its future growth upward, while greenspaces are being gobbled up for future development.
The motion asks staff to put together a report that reviews the city's current bylaws as they relate to sports and sports equipment on local roads in Mississauga and that the report offer ways to amend the city's current bylaws to permit sports on local roads, where appropriate, "in a safe and responsible manner."
"I've had a number of residents call me with examples where their kids were out on the street, playing street hockey, and a neighbour would call bylaw. I think that's unfortunate, because we do believe in the health and wellness of our residents being able to use the place in front of their house," Tedjo explained.
"I think the majority of residents don't see a need for this [bylaw] and didn't know that this existed before. We shouldn't have bylaws that are ignored or sometimes weaponized by certain residents."
The Ward 2 Councillor was among those unaware of the city's archaic law. He said he was only first made aware of it after receiving calls from residents complaining that they felt some of their neighbours were "weaponizing" the bylaw to break up the basketball game or the hockey game that was going on in front of their street.
Councillor Alvin Tedjo is asking the City of Mississauga to review existing bylaws that prohibit residents from playing on City streets.
(Alexis Wright/The Pointer files)
The bylaw dates back to the Hazel McCallion era, when, in 2000, City Council enacted the Traffic (Parking) bylaw, which, under section 38.2, prohibits a game or sport in a roadway, stating "No person shall play or take part in any game or sport upon a roadway." The existing bylaws were put in place to protect City Hall from legal liability should accidents occur during the playing of road hockey or other games. In 2010 the City also approved the Highway Obstruction bylaw which prohibits the "placing or depositing of sporting equipment, including but not limited to basketball nets, hockey nets, soccer nets, skateboard ramps and bicycle ramps" on city roadways.
Although enforcement doesn't charge residents for non-compliance, by-law officers do have to stop the play to inform those involved of the rules and make sure they are being followed.
Under McCallion's regime, development to support Mississauga's hyper growth dictated that the city pave over the greenspaces that once provided residents, especially children, ample space to play. It has become more challenging to preserve vital spaces like parks as the city continues to intensify in order to accommodate population targets, and with the provincial PC government dramatically increasing those goals, room for recreation is at a premium. The City of Mississauga is already facing a deficit of parkland — a problem that is only expected to grow as the city's population rises with limited land available for development.
According to Mississauga's Parks Plan, 1.2 hectares of greenspace per 1,000 residents is the goal in community nodes and neighbourhood districts. This historic minimum parkland target comes from the 2019 Parks and Forestry Master Plan and was established "to address active recreation needs in line with historic provision rates," a City Hall spokesperson previously told The Pointer.
In the Urban Growth Centre (UGC) and other major growth nodes (there are seven) City Hall will use an alternative approach. In these areas the minimum parkland provision is set for 12 percent of the total area. This is comparable to other dense urban areas identified in the Downtown Growth Area Parks Provisions Strategy such as Lower Manhattan (11.6 percent), Downtown Ottawa (10.4 percent) and Downtown Portland (10.3 percent).
For many residents who desire recreation space in their neighbourhood, when parkland is viewed on a local scale, Mississauga is less green than it should be. Ten of the thirty-three community nodes and neighbourhoods in the city do not meet the 1.2 hectares per 1,000 resident provision and five of the seven city-centre areas do not meet the 12 percent provision.
There are three large areas in the city that have little to no parkland: Streetsville (0.7 hectares per 1,000 residents), Clarkson Village (0.6 hectares per 1,000 residents) and Sheridan (0 hectares per 1,000 residents).
For children in these neighbourhoods, the streets offer the only place to play, at a time when being outdoors is more vital than ever, for physical and mental well being. With organized sports, which more and more parents turn to throughout the year, playing in a more scheduled, more structured way that many adults prefer for their own range of motivations, does not allow children to simply play on their own, which has many advantages.
The American Enterprise Institute (AEI), a U.S.-based think tank that promotes leadership and democratic values, cites information that shows some parents who push their children into organized, competitive sports, while failing to support less scheduled play, often do it for their own athletic status and fail to recognize what their children want. Reporting used by the AEI also suggests when children play on their own instead of in a more structured, parent-controlled dynamic, academic work receives a more balanced focus.
"The offseason is disappearing, fueled by an explosion of pay-to-play club sports that have scores of young athletes training year-round," an article on the AEI website states. The institute says, based on research, that this hyper-focus on organized sports does not get reflected in the classroom. "On the other hand, many of today's parents in the US don't push their children very hard when it comes to academics."
It cites examples of children who would prefer to play sports on their own terms, but this becomes increasingly hard when there is no place to play. Instead, even the summertime is filled with indoor and outdoor sessions, practices and weekend tournaments in facilities filled with children whose parents can afford to pay to play. It cites reporting that shows these organized sports have become a $15 billion annual industry in the U.S..
Tedjo spoke about the need for children from all backgrounds and income levels to have opportunities.
"I think it's really important that we're really trying to build that community and get kids out and engaged throughout the neighbourhood," Tedjo told council at the June 14 meeting.
Mississauga resident Angelo D'Amico, who appeared before council to plead the case for permitting road hockey, said taking to the streets to pass the ball around has been a tradition for generations. For him, it was an opportunity to spend countless hours interacting and building connections with neighbours — relationships that he said still exist today.
"It allowed me to build friendships that I would never have been able to build. For me, growing up we did everything outside, so why put restrictions on the youth today? Especially today, more than ever, kids are given too many excuses to stay in house, and sport should be encouraged."
Mississauga is already facing a deficit of parkland and it's becoming a greater challenge to preserve vital greenspaces like parks as the city continues to intensify.
(Alexis Wright/The Pointer files)
"Children who engage in active outdoor play in natural environments demonstrate a number of mental health benefits — such as resiliency and the development of skills to deal with stress," the Canadian Institute of Child Health (CICH) notes. "Children develop many social skills when they play freely with a minimum of structure — such as getting along with their peers, developing a relationship with their community and the environment. It also reduces feelings of isolation."
There are also dangers to keeping children indoors. The CICH highlights that when indoors surrounded by a world of screens and social media children are more likely to be subjected to inappropriate content, violent or pornographic material and even material posted by cyber-predators targeting them. If children are inactive they have an increased risk of developing chronic diseases like diabetes, among others, and mental health problems.
"It brings the community together. It's unorganized sports which are important for people to be able to pick up and hang out with their neighbours out front. It brings together a sense of community that I think is important for us not to lose as the city continues to grow," Tedjo said.
City staff will also be reviewing which of Mississauga's streets are appropriate (probably local roads with speed limits of 40km/h or lower) to include in the amended bylaw, if approved.
"Not every street 40 kilometres an hour is a small quiet residential road, so we want to make sure that that is taken into consideration as well, and that it's appropriately distributed around the city and all neighbourhoods where it should be allowed," Tedjo said.
His motion notes the City of Toronto lifted its prohibition on sports play on local roads where the posted speed limit is 40km/h or under in 2016, and has no records of increased related legal claims since the lifting of its prohibition.
With Toronto allowing street hockey and basketball, and City Hall's legal department informing Mississauga staff that there have been no additional increases in legal issues against the City of Toronto as a result of permitting street sports, Tedjo says Mississauga has "a healthy amount of data to show that we're not going to be in any more precarious legal position than we were before," adding that, "Sometimes we let the fear of litigation or legal cases, kind of get in the way of their common sense."
With Mississauga's diverse population, Tedjo amended the motion to include all sports and staff will look at which ones are appropriate.
"We do live in a very diverse community where not everybody does play basketball or hockey, but we want to make sure we're open to those pieces," he explained. "I think even Canadians and new Canadians being unaware that they weren't allowed to do this is also an important piece that we're trying to clarify and fix."
In the June 14 meeting, Councillor Matt Mahoney, a proponent of street hockey, said he was in favour of reviewing the bylaw but that council needs a report back on the legal concerns and liabilities for the city.
"I want to understand exactly what this bylaw is in there for. What happens if there is an issue? What's our liability? I think that's why we need a report. We need all these details in there to be able to understand why road hockey was banned."
Mahoney noted the city must also consider any potential impact on its Vision Zero program, which seeks to eventually eliminate road and pedestrian deaths in Mississauga. In 2018, the City of Mississauga committed to Vision Zero, an internationally endorsed long-term goal of zero fatalities and serious injuries from collisions on city streets. Keeping in line with this commitment, the City introduced its Vision Zero Action Plan in 2021 which lays out 99 actions staff can apply to the city's current and ongoing projects to help Mississauga reach its goal of eliminating fatal and serious injury collisions across the city. Currently, work is underway on the city's Transportation Master Plan and Vision Zero Action Plan underway to achieve this goal.
"We as a council don't have any intention of stopping kids from playing and we certainly want to encourage that but we need the answers. We need to understand and make informed decisions as to why this bylaw is in place," Mahoney said.
Mississauga introduced its Vision Zero Action Plan in 2021 which lays out 99 actions staff can apply to city projects to eventually eliminate road and pedestrian deaths.
(Alexis Wright/The Pointer)
Mary Simpson, president of the Town of Port Credit Residents' Association, said the association has not surveyed residents on the matter but that she would be in favour of lifting the bylaw.
"It says, power the kid versus the car," she told The Pointer.
"When you're living in tighter quarters being able to go out onto the street and not feel that you have to worry about traffic to me is a right."
While Mississauga has suburban neighbourhoods woven throughout the city where children can take advantage of sprawling driveways and backyards, not all areas afford these sorts of luxuries. With the city stretched out to its boundary, leaders have had to find new ways to accommodate growth, leading to infill densification and building the city upward, cutting more and more families off from spaces that provide relief and recreation.
"A lot of these areas are much more urban-centric," Simpson said. "They're not these big subdivisions. They're smaller lots, smaller driveways and that's what these kids are dealing with. So what do you do? You go out and you play on the street."
Trevor Isaac, president of the Park Royal Community Association, said from his understanding, many of the residents within the area's boundary (which includes the catchment area of the south side of Benedet Drive to Winston Churchill Boulevard, the west side of Southdown Road and the CN rail line) aren't even aware the bylaw exists.
"We haven't had any correspondence from anybody or any questions from anybody within our community saying, 'Hey, what's going on with this?'" he said.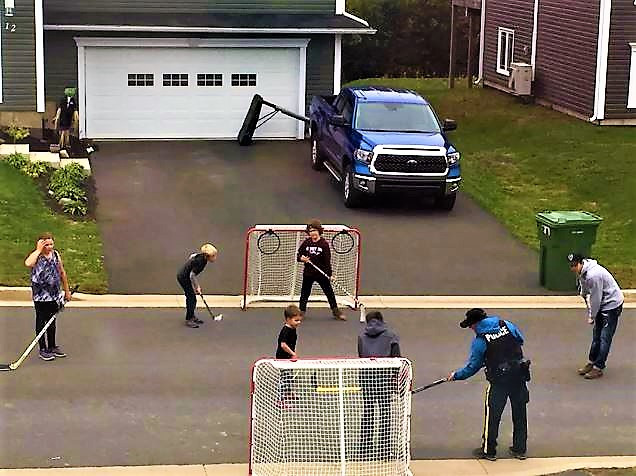 An RCMP officer plays street hockey with neighbourhood kids.
(Twitter)
The Mississauga resident said he has never seen a problem with playing on the street. While he has noticed issues in the community with speeding, Isaac said it's often on major thoroughfares rather than residential streets, courts and crescents.
In contrast, Andrew Gassmann, president of the Cooksville Munden Park Homeowners Organization, said that without polling the entire membership of his group, he reached out to a few of the directors and determined the association would not be supportive of lifting the bylaw.
"The bylaw was put in place years ago for good rhyme and reason, especially with the increased traffic now on all city streets, but I just don't think [lifting the bylaw] is a wise move or wise thing to do," he said. "Perhaps on courts or crescents in mature neighbourhoods it makes sense but not on all city streets. It would pose a severe safety hazard for anyone, young children and adults alike."
Cooksville has traditionally been more dense than other parts of Mississauga, with more apartments than single detached homes in the area. There were 3,633 residents per square kilometre living in the Cooksville neighbourhood according to the 2021 Census, compared to 1,050 people per square kilometre in the Greater Toronto Area, making it more than three times as dense as the overall residential landscape across the Toronto Census Metropolitan Area.
Even with traffic calming measures like "slow down" lawn signs, painted lines making the roads narrower and centre-line flex posts, some drivers continue to treat the roads like "race tracks."
As an alternative, in the association's catchment — its boundaries are Dundas Street stretching south to the QEW and Cawthra Road to Hurontario Street — Gassmann said there are several schoolyards that are underutilized where children could play in a safe environment, as well as city parks.
"I just don't think playing on the street makes a lot of sense. I think there's great benefits to encouraging kids to get out and play. But there are places to do that, [that] are underutilized," he said.
"There would be a significant liability for the city. It's a great idea in theory but in practice, it's not doable."
Council approved the motion unanimously and a staff report is expected to come back in the fall when City Council reconvenes after its summer break. In the meantime, children across Mississauga will be spending their days doing what children love to do—playing.
---
Email: [email protected]
Twitter: @mcpaigepeacock
---
At a time when vital public information is needed by everyone, The Pointer has taken down our paywall on all stories to ensure every resident of Brampton and Mississauga has access to the facts. For those who are able, we encourage you to consider a subscription. This will help us report on important public interest issues the community needs to know about now more than ever. You can register for a 30-day free trial HERE. Thereafter, The Pointer will charge $10 a month and you can cancel any time right on the website. Thank you
Submit a correction about this story