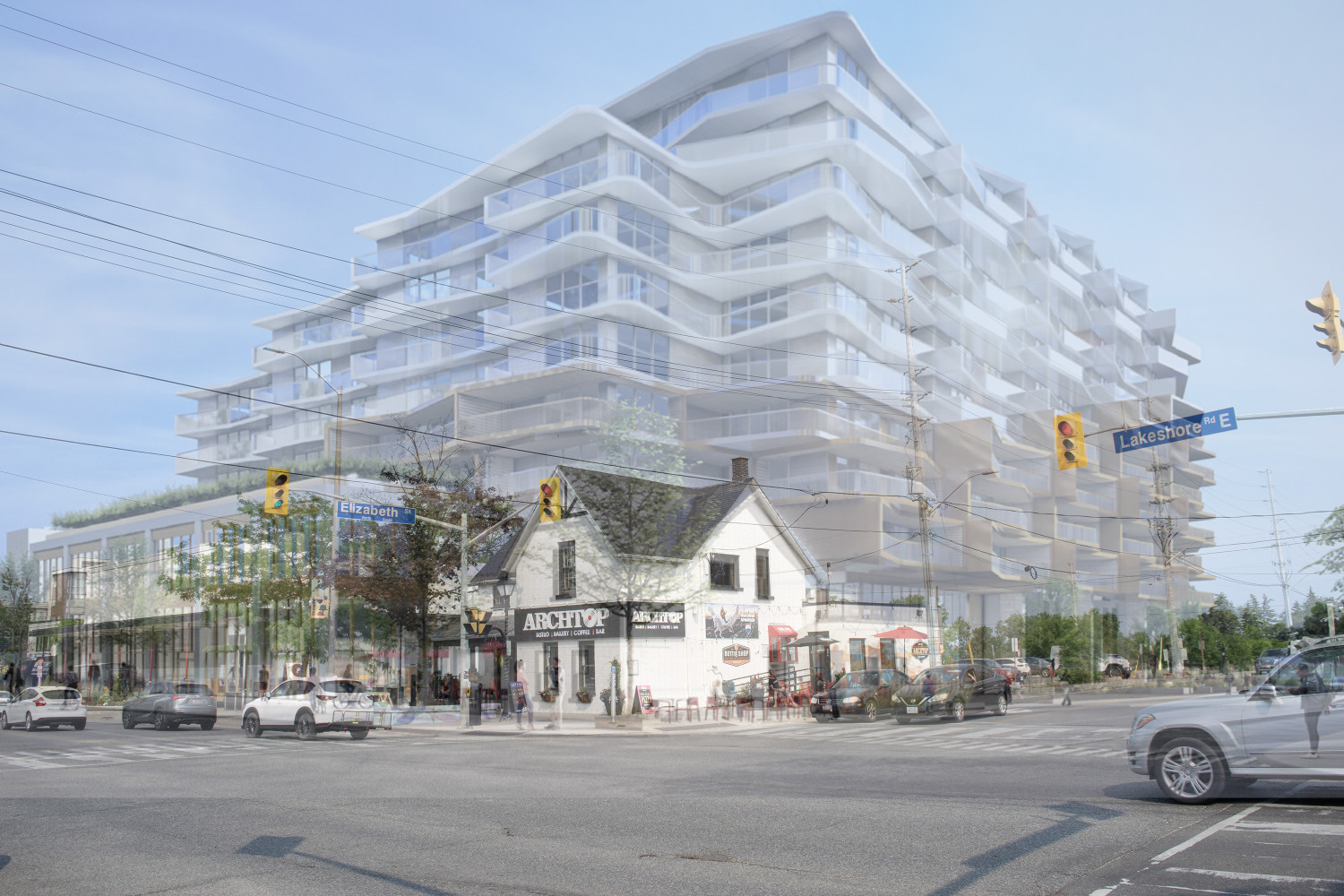 Photo illustration by Alexis Wright/The Pointer
Mississauga wants to encourage complete communities, not hyper verticality 
Standing at one of the easternmost points of Mississauga's shoreline is a rusty freighter that spent decades traversing the Great Lakes. It now sits dormant, serving as a ghostly gatekeeper to other vessels approaching Port Credit and a reminder of the city's industrial history that once defined its waterfront.
Historically, Mississauga's industrial sites have lined the city's Lake Ontario shoreline. The St. Lawrence Starch Company, Texaco Refinery and the Lakeview Generating Station dominated the waterfront, cutting off residents from the natural treasures of the Great Lake. Today, these brownfield lands are transforming into lakefront townhomes, open parkland spaces and waterfront trails. Lands once taken over by industry now serve as canvases for visionary urban planners to create complete, community-oriented spaces along Mississauga's stretched out waterfront.
The communities of Port Credit and Lakeview, settled far before the incorporation of the City in 1974, are well situated near the water with natural geography that is suited to "complete communities", unlike many other parts of the city that developed since the late '70s in a grid-like subdivision design that also features non-linear cul-de-sacs and crescents which are not conducive to walkability and transit. Car was king when the builders held sway over the city's planning.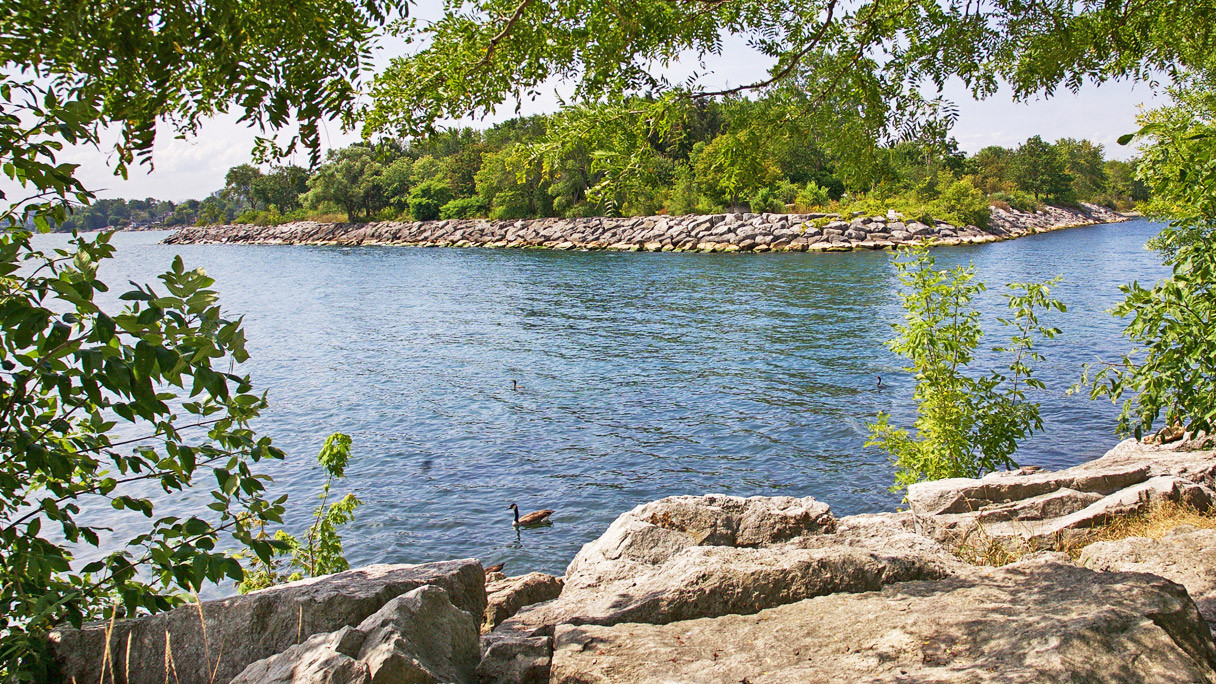 Mississauga's Lakefront Promenade Park was created to give residents access to the pristine waterfront in an area that had been dominated for decades by industrial activity.
(City of Mississauga)
Large quadrants of Lakeview are being revitalized from its industrial past into idyllic waterfront villages. The original community-driven plan was for traditional "Main Streets", pedestrian walkways, a range of commercial offerings at the ground level, transit, and plenty of open spaces for walking or just to come together in an urban setting next to the water. Verticality would be at a human scale and was not supposed to crowd out the community feel, a mistake so many cities including Toronto have made, with towering glass and concrete slabs built up to the sky and out to the curb. Hardly complete communities.
When current Councillor Stephen Dasko was growing up in Mississauga's Ward 1, the neighbourhoods were largely home to a manufacturing-dominated landscape. He recalls a time when, as a student of Mineola Public School, he and his classmates would hear the whistle from the nearby starch factory that sounded during recess.
"When it came to residential or parkland and things like that we didn't really have a whole lot and then when they built out Lakefront Promenade… that started a big change," Dasko told The Pointer. Deviating from its historically industrial DNA, the next phase of the Ward, he said, needs to find new ways to accentuate and open up a waterfront that had long been cut off from the community.
"A lot of the waterfront [has] either been fenced off or there's been some sort of other use right on the waterfront that precludes people from getting some great use out of it."
Councillor Stephen Dasko has to manage the significant amount of growth occurring in his ward.
(Alexis Wright/The Pointer)
Now, two significantly underutilized brownfield waterfront parcels in the city — formerly the Lakeview Generating Station and the former oil refinery site at the end of Mississauga Road South — have since become visions for revitalized waterfront use. For nearly two decades, the City has been studying how to reclaim these abandoned waterfront lands, culminating in the development of two separate projects: Inspiration Lakeview and Inspiration Port Credit.
These master planning framework documents share a similar vision: to "reconnect the waterfront to the city in a manner that retains public access to Lake Ontario's shoreline, considers historical industrial uses, and respects the fabric of adjacent neighbourhoods." Within Ward 1 are historic neighbourhoods like Port Credit Village, formerly the St. Lawrence Starch Lands, Brightwater, currently undergoing redevelopment of the former Imperial Oil lands in Port Credit, and Lakeview Village, also being redeveloped from the former Lakeview Power Plant. It will be home to more than 30,000 new residents.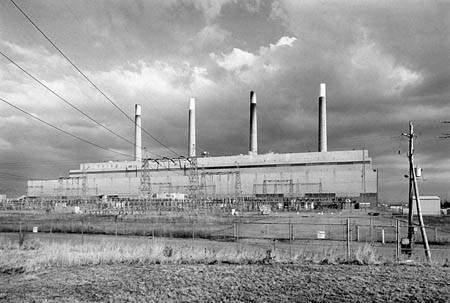 ---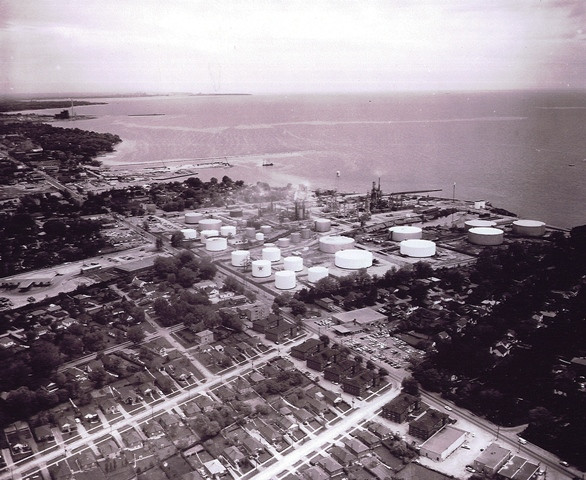 Top three images of the old Lakeview power plant and what will replace it when Lakeview Village along Mississauga's eastern waterfront is completed; and bottom three images of the old oil refinery where Brightwater is now being developed just west of Port Credit Marina.
(City of Mississauga)
The previous home of the Four Sisters coal-fired electricity plant is set to be transformed into a neighborhood of mixed density with a network of parks and open spaces connecting neighbourhoods and providing public access to the city's eastern waterfront. Further west down the shoreline, just beyond Port Credit Marina, the site of the Brightwater development, previously an oil refinery and brick yard — which produced toxic waste that seeped into the ground — is undergoing a decommissioning and remediation process to create the sprawling mixed-use development.
"The way I look at it is, we've gone from an industrial past to a clean green future where we're looking to actually enjoy our waterfront," Dasko said.
The Ward's established neighbourhoods will soon be framed by Lakeview Village and Brightwater. Will the two worlds coming together look like a collision, or a picture of visionary urban planning?
With Mississauga almost completely built out, infill intensification and the redevelopment of old industrial sites pose new challenges for people like Dasko. Currently, in Ward 1 there are 20 development applications listed on the City's website. Billboard signs with application notices are laced throughout the community, a majority of which are located on or will encroach near existing developed lands along Lakeshore Road.
As the city combats vertical sprawl to accommodate the surge of new residents over the next decade (the PC government has told Mississauga it needs to create 120,000 new residential units by 2031) with the population expected to exceed a million in a couple decades, the decisions City Council makes now will determine Mississauga's future.
"The worlds are colliding. You've got a very stable residential community that's now coming in with a lot of infill and it's trying to find the best mix so that we build the most robust community that we can," Dasko said.
The potential future look of 420 Lakeshore Road East.
(Photo Illustration by Alexis Wright/The Pointer)
Mary Simpson, president of the Town of Port Credit Residents' Association, said residents are not opposed to development, but, similar to their local councillor, they want to make sure it's being done strategically.
"We do want development in our backyard. We just want to be able to make sure that it's appropriate and that it's scaled. You have local area plans that have been formulated over the years to come up with that sweet spot for heights and intensification and commercial spaces and green spaces and transit. It's so multi-layered and so complex to come up with the right mix, and then somebody comes in and says 40 storeys."
"Everybody's screaming, 'quick build it now!' There's only one person who benefits from that and that's developers."
In the past, municipalities have been able to control different aspects of development, like allowable heights, through official planning and zoning restrictions. However, following the overhaul of urban planning legislation triggered by the PC government's Bill 23, applications exceeding previously set height allowances is a challenge municipalities across Ontario are becoming all too familiar with. The legislation limits the ability of a municipality to appeal proposals that trample on city planning and empowers developers to submit applications without fear of being challenged at the Ontario Land Tribunal.
An example of this is the City's ongoing battle with Edenshaw Queen Developments Ltd. In March, the Mississauga-based developer made a second attempt to push its development of two high-rise towers that would overshadow the surrounding streetscape after being denied last year when the proposal first came forward. Proposed at 40 and 42 storeys, the buildings would be double the height restrictions for the area. The application, which councillors called "insulting" and "abysmal," was just as ill-received the second time around.
"The infrastructure was not set for that, so we end up with something that's terrific, or we end up with something that is a bit of a jaw-dropper because we don't have the capacity and we never envisioned that," Dasko said. "For some of these types of initiatives that I'm hearing right now, to me, they're short-sighted because it doesn't look at the larger picture."
Mississauga council and staff set height restrictions for the city's neighbourhoods by consulting with the public and considering the locational context, including the historical character of an area and the need for human scale design to create the mold for welcoming communities. In Mississauga, the City plans for tallest and most dense developments to be focused in the city's downtown core, with lower heights and densities spreading outwards. The PC legislation has opened the door for towering buildings to pop up in many different areas of the city, trampling on City policy and opening the door to issues with servicing and infrastructure capacity as long-term plans have not envisioned such intense development outside previously approved areas.
"It's just always pushing the ticket. It feels as if they need to just take a breath and step back and say okay, what makes sense? No one's saying no development. That's never ever been an issue with any of the residents. They're just saying let's make it intelligent and right now intelligent isn't a working word for this government," Simpson said. "Infill developments, unfortunately, in a lot of neighborhoods has been the Wild West. A lot of neighborhoods have been decimated by some of the infill development that's going on."
The Port Credit Local Area Plan and Lakeview Local Area Plan have set out specific parameters for building heights to ensure a "village feel" is maintained while encouraging density and ensuring ongoing access to Lake Ontario. Allowable heights differ based on the streets and amenities nearby. Councillor Dasko said he "doesn't appreciate" development applications coming through that stray from local area plans.
"I feel very strongly that we have to stick to the plans that we've got in place," Dasko explained. "I think when we start deviating and, whether it's under the guise of a housing crisis or anything like this, you end up really derailing hundreds and hundreds of hours of work that's happened from all the stakeholders, the community, ratepayers groups, development committee, city planning, etc. that all goes into this and they derail it."
Nowhere is this more clear than in Lakeview Village. When the PC government pushed through a Minister's Zoning Order for Lakeview Village in May, it doubled the size one of North America's largest waterfront developments — from 8,000 units to 16,000 — with no strategy for the infrastructure to support it or details about the planning process. The decision by the PC government shredded nearly two decades of planning and community consultation, leaving councillors and residents stunned. The Province claimed the approval was necessary to achieve Mississauga's intensified housing targets mandated under Bill 23. It's a claim City staff members have said is not accurate, noting enough development applications are in the pipeline to easily reach the mandated housing targets.
"Following the plan, I think, is more vital now than it ever has been because of the sheer volume of applications that are coming in. Whether they're keeping to the Official Plan and the local area plans or they're deviating from it," Dasko said.
A Minister's Zoning Order for Lakeview Village has doubled the size of the previously approved plans to approximately 16,000 units. The City of Mississauga has stated the servicing is not in place to support that number of new residents.
(Alexis Wright/The Pointer)
The City of Mississauga has been criticized for rejecting development proposals, but Dasko said it's not a case of nimbyism, but a matter of strategic planning. Dasko said the City is getting an unprecedented amount of applications coming in, which is why sticking to the local area plans is so important.
"It's not nimbyism. It's trying to build the best community and add on to the best community that we possibly can. Deviating from it dramatically is irresponsible."
City planning is about creating complete communities, he emphasized, noting that not one of the applications coming to Ward 1 have included proposals to build a new community center, new libraries, or additional police, fire and ambulance infrastructure. Amenities like water, wastewater, roads, transit infrastructure, bike paths, pedestrian paths, and commercial and retail infrastructure also need to be accounted for.
"Having the infrastructure for anything that we're doing is imperative to me. It's like trying to keep putting air in a balloon that just can't handle it. It's going to burst at some point."
Simpson added that while residents want to see population booming to keep businesses thriving and schools populated, the City needs to be strategic and make sure there's a good mix of residential space and the infrastructure to support it. Development is also a positive when developers provide the right size units to attract a mixture of families as well as end users.
"If you're not strategic you're creating a bedroom community where all it is tall towers. They just need to think strategically about how it develops. That's what the local area plan is supposed to do. It's all been put together with a lot of thought behind it so that it grows intelligently. It grows in a way that's meaningful," Simpson said.
She said residents understand the need for development and respect it, noting there are several vacant lots throughout the Ward that are "ripe" for growth, but it has to be appropriate and in keeping with the local area plans.
Thinking about how current and incoming residents will move around in the future as Mississauga grows upward, rather than outward, will be a crucial consideration when trying to construct the complete communities Mississauga residents and councillors desire.
"We need to keep people in what we're calling complete communities, and the only way to do that is to have the amenities to go with it, and having the financial wherewithal to be able to build this," Dasko said.
"I think the easy part is to put a building up, the more challenging thing is how do you build a great community?"
---
Email: [email protected]
Twitter: @mcpaigepeacock
---
At a time when vital public information is needed by everyone, The Pointer has taken down our paywall on all stories to ensure every resident of Brampton and Mississauga has access to the facts. For those who are able, we encourage you to consider a subscription. This will help us report on important public interest issues the community needs to know about now more than ever. You can register for a 30-day free trial HERE. Thereafter, The Pointer will charge $10 a month and you can cancel any time right on the website. Thank you
Submit a correction about this story