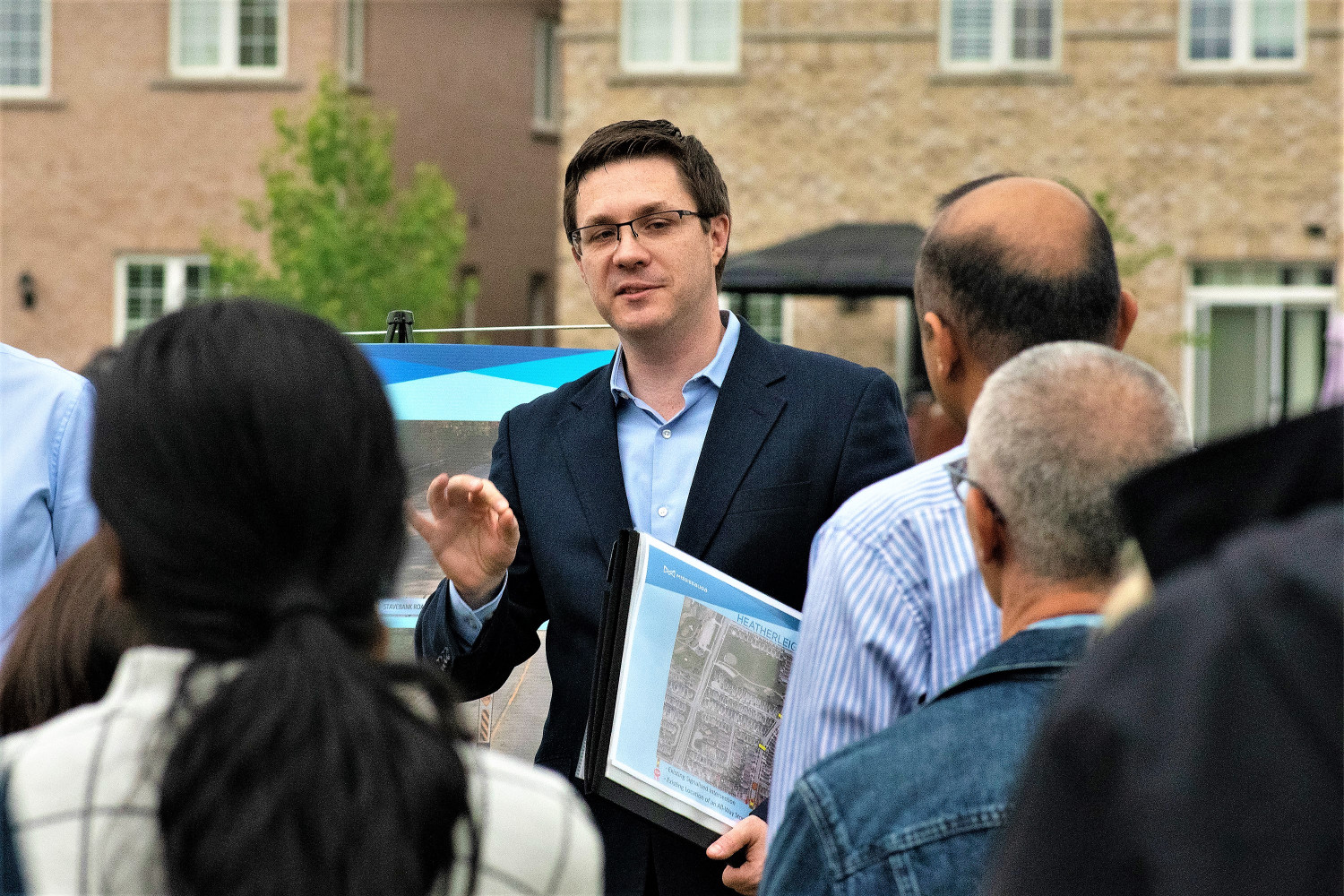 Feature image Alexis Wright/The Pointer
Mississauga Councillor Joe Horneck engaging communities as City Hall sees historic disconnect with residents
Since coming onto council in the fall, beating a former incumbent in his battle for the seat, Ward 6 Councillor Joe Horneck has made community engagement a priority — as public involvement in municipal government continues to decline. Voter turnout for the October election was abysmal and residents are typically absent from council chambers when decisions that directly impact them are made.
According to the City of Mississauga's official results for the 2022 municipal election, of the 491,260 registered voters across the city, only 107,310 ballots were cast, just 21.8 percent. It marked the lowest turnout since the 2003 election, when only 19.99 percent of eligible voters bothered to participate. The latest election saw a sharp decline from 2018, when 26.4 percent of registered voters cast a ballot.
Councillor Horneck is determined to turn the anaemic numbers around through the development of residents' associations, which provide a forum to represent the views and concerns of those council members are supposed to work for.
The City of Mississauga's website shows there are currently 19 ratepayers/residents' associations, a majority of which are located in Wards 1 and 2.
According to MIRANET (Mississauga Residents' Associations Network), which acts as the overarching organization for Mississauga's ratepayers' groups and residents' associations, a new group to represent taxpayers and others in the area is often triggered by an issue that affects a particular neighbourhood or local community. This typically includes a new building development, bylaw changes, issues around places of worship, parking, tree removal, and changes to local roadways, among other issues. When there is no existing representation at the resident level it becomes difficult for City Hall to understand the expectations of residents who will be immediately impacted by municipal decisions.
When Horneck joined council, Ward 6 only had one residents' association, representing roughly 500 homes in an area with more than 22,000 residential units. He called the representation "a drop in the bucket." As of 2016, according to the Region of Peel's Ward profiles, Ward 6 had a population of 77,615, with 22,480 dwellings. Yet, despite its population, the area had next to no representation through a designated local organization to advocate for residents.
"That's what I'm really trying to do with a lot of this. We have very detached neighbourhoods in a large part of the city," Horneck explained. "I don't represent an area of the city that has any of the old towns and so in a lot of cases, people don't even know what their neighbourhood is called, let alone have some kind of love and affinity for it."
The Credit Pointe Residents' Association is being used by the Ward 6 councillor as an example of how local groups can work to inspire other neighbourhoods in the area to join forces. Hazel Heights will represent roughly 500 homes.
Old and new associations are banding together around the issue of neighbourhood safety, a growing concern Horneck told The Pointer. He emphasized the idea that forming these groups has allowed residents to address a problematic situation through a positive connection with their local community. Both associations emerged after break-ins and other neighbourhood security issues sparked neighbourhood-watch groups that later transformed into full-fledged residents' associations.
"One of the reasons I want to drive these residents' associations is to help build that community spirit, that community connection, that social capital that we need in the city."
Upon joining council, Joe Horneck, seen at a recent community gathering to address road safety, has made it a priority to bridge the growing gap between residents and municipal government.
(Alexis Wright/The Pointer)
Horneck said he is helping two more groups move from their infancy and hopes they will be established by the end of the year in the Ward's Rathburn and Credit Woodlands areas. He says Mississauga will need more resident engagement as the population grows, creating more complex issues that council members often need local guidance on.
Having these associations, he explained, allows for a more collaborative approach between residents and councillors, rather than the City coming in and making decisions without community input. It turns issues like traffic calming and public safety into positive topics to address, as those directly impacted become involved in decision making for themselves.
As a new member of council one of the challenges he has experienced is the limited channels to communicate with every resident across Mississauga about what's happening at City Hall, the looming end of Peel Region, the game-changing Hurontario LRT, or even small issues such as amenities for a local park, or on-street parking. It can be really taxing to get residents' attention. But once decisions are made, many often complain about the outcome, for example when rules around the use of fireworks are passed.
"Residents' associations can step in and help fix that gap between citizens on the street and City Hall," Horneck explained. "But the areas of the city that have less representation, if the wheel isn't squeaking, and there aren't hundreds of people to tell you about the wheel squeaking, then it's easy to just go pay attention to where you're hearing about the problems. [These associations put] more eyes on a problem."
The Ward 6 councillor worked to inspire community engagement with a recent traffic calming discussion in Heatherleigh Park. The event saw roughly 50 residents attend.
(Alexis Wright/The Pointer)
As Horenck pushes for stronger community involvement, members of the Ward's associations are recognizing the impact their groups can have.
Michael Matic, president of the Credit Pointe Residents' Association, said he found community mobilization was an "integral piece to unlock neighbourhood problem solving." It was that mobilization that he said spoke to the issue his neighbourhood was grappling with, such as break-and-enters and other types of local theft on the rise at the time of its creation.
"We really went from a reactive beginning to being proactive," Matic said. "There was a strong desire to make a difference and like most things when you start to see some results, you gain some momentum. I think we clearly understood from the beginning that we wanted to make a better neighbourhood. We wanted to make it a special place to live and to raise your kids."
Once residents banded together and started connecting with City Hall and Peel Police, the feeling of unrest and frustration turned into a feeling of safety and security in the community, he said. The shift created a realization that residents needed to continue community outreach to keep the association growing with future generations of members.
Matic said a current example of the group's work relates to Credit Pointe Village, a Ward 6 park slated for improvements. Residents were able to voice their concerns over the initial proposal in a meeting with Councillor Horneck and City staff where "everyone's voice was listened to" and a "collective voice was being heard." In response, the City prepared a survey that was then shared with residents in the neighbourhood where they were able to engage in a more collaborative approach to the park improvements.
"I think for City Council to make sound decisions we need to know what's topical, what's on the mind of their constituents and if you're organized you can deliver that in a really formalized approach," Matic said. "And when you do that, I think it gives a stronger voice. There's a greater response because you really are responding to those who are reaching out for help and support."
Councillor Joe Horneck with residents in Heatherleigh Park on Thursday.
(Alexis Wright/The Pointer)
Ruchi Ambike, president of the Hazel Heights Residents' Association, Ward 6's newest addition, said similar to Credit Pointe, the local group initially was conceived as an informal chat room to address a rise in vehicle break-ins across the neighbourhood. It then transitioned into a neighbourhood watch group with involvement from Safe City Mississauga, an organization that helps promote crime prevention, and spiralled upward from there. With a desire to get community engagement going, Ambike said the neighbourhood watch group had a town hall event earlier this year, hosted by Councillor Horneck, to move forward to form an official residents' association.
Steps to do so should not be overwhelming (creating a disincentive for potential members to formally come together under a neighbourhood association). Once enough residents are committed to the idea, a few of them should commit to serving in organizational roles that should not be too time consuming. A regular venue for quarterly meetings should be chosen, a small membership fee, $10 a year for example, can be established, a bank account can be opened to manage expenses such as a neighbourhood newsletter (digital ones can be created and distributed through social media and email at no cost), and the association can be formally registered with the City.
"We've done so much in such a little time from March to now," Ambike said. "The amount of work we've done and even just to get registered is, in my opinion, I think that's quite a great feat.
"It gives us a voice, and I think that's the main thing. It really gives us a voice. Instead of one person, it's a community of people who have a common interest in a common goal."
Members should make sure to reflect the neighbourhood they serve, so issues get accurate representation. For example, when the recent issue of fireworks during cultural celebrations was addressed by City Hall, residents's associations would have been most helpful if they spoke for all those with strong views on the issue, not just one side.
With the nascent association in its early stages, Ambike said current members will be canvassing in the weeks to come to garner more support from residents to register to build membership. So far, roughly 30 members from the local neighbourhood watch group alone have joined.
"The whole point is to do a better job for your city and to be proud of that. If you don't know about the problem, if everybody sees a problem, and nobody calls about a problem, that's not a good thing," Councillor Horneck said. "I think residents' associations can act like the eyes and ears for the local councillor and for the City to know what the problems are because we can't be everywhere knowing everything.
"It is about championing and giving people the feeling like their voice matters."
---
Email: [email protected]
Twitter: @mcpaigepeacock
---
At a time when vital public information is needed by everyone, The Pointer has taken down our paywall on all stories relating to the pandemic and those of public interest to ensure every resident of Brampton and Mississauga has access to the facts. For those who are able, we encourage you to consider a subscription. This will help us report on important public interest issues the community needs to know about now more than ever. You can register for a 30-day free trial HERE. Thereafter, The Pointer will charge $10 a month and you can cancel any time right on the website. Thank you
Submit a correction about this story