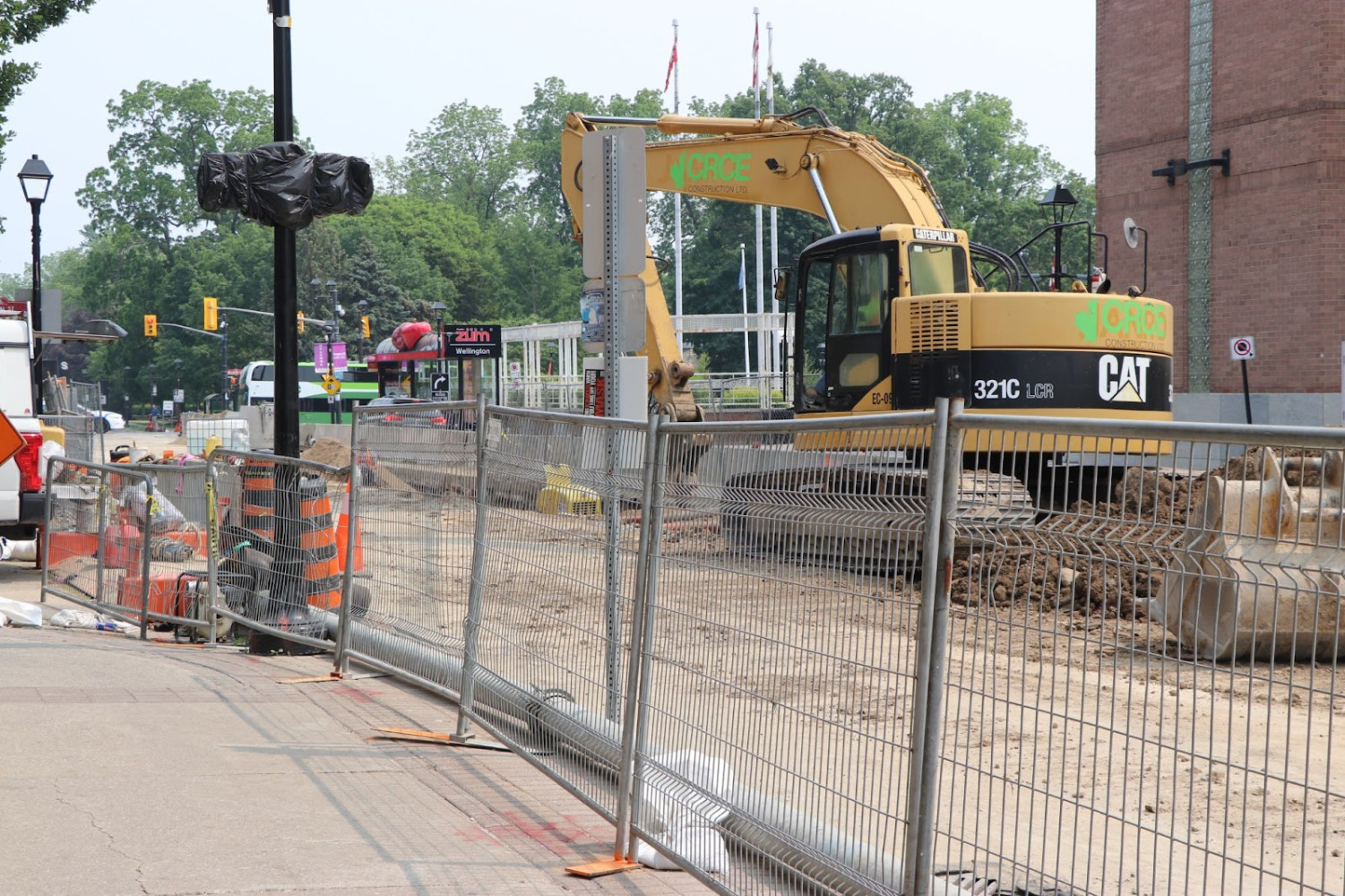 (Samanah Ali/The Pointer)
Brampton businesses struggling to stay afloat as construction takes over downtown
On a humid summer day in downtown Brampton, the menu of Street Bitez appears like an oasis in a desert. A cup of cool vanilla ice cream drowned in fudgy goodness and chilled milkshakes are a small part of a big menu of famous flavours handed out inside the cozy restaurant on Main Street South. The place is not short of juicy burgers, salty fries or other light snacks either, and according to owner Tarun Devgan, the eatery is typically filled with as many as 20 to 30 diners seeking to quash a salty or savoury craving.
That was, before regional construction ripped into the streets outside the front door.
Inside the Street Bitez restaurant located on Main Street South in Brampton.
(Samanah Ali/The Pointer)
The hiss of a burger on a hot grill, or the cracking of a cold can of soda has been replaced with the drilling, clanging, and beeping of construction that has transformed the storefront into a nightmare of metal fencing and dust. Foot traffic evaporated and revenues began to dip, leaving Devgan concerned about the future of his small business.
"If there's people coming in and not purchasing, you can fix that, you can understand your market, but if there's no people coming in, then there's nothing you can do to bring people in," he said.
Right in front of Devgan's "Indian fused" restaurant lies a small section of the Region of Peel's construction work to replace aging watermain and sanitary sewer infrastructure to maintain and improve existing water and wastewater services.

"The biggest problem right now with the construction on Main Street is no parking. People can't get to their businesses or facilities they want to go to," Grant Wingrove, a local resident said.
(Samanah Ali/The Pointer)
Devgan's restaurant opened in March. He was unaware of any looming construction activities in the area.
"We're Indian fusion, which is a perfect example of what Brampton is and that's what our demographic is so we chose [to open] right across from City Hall just to kind of start off the relationship with the City like that," he said. "But my goodness, this construction literally turned everything around 360. It's so bad right now."
While small business owners are excited about the improvements the construction will bring, the work has created significant problems for them with little communication or support from the Region of Peel or the City of Brampton.
According to the Downtown Brampton BIA (DBBIA), since the construction began—planning for the work dates as far back as 2011—19 businesses in the core have either left the area or shut down their stores. Businesses on Main Street South are reporting up to 80 percent losses in revenue, not including food waste or cancelled orders.
"The construction going on right now is very detrimental to the business. The business revenue has dropped over 80 percent because there is lack of accessibility and on top of that the disturbance, the noise, and everything together, that's not pushing anybody to come towards our business," Devgan said.
Some businesses reported losses as high as $1,500 per day, leading to difficult staffing decisions with some establishments being forced to layoff 20 percent of their employees. Food deliveries have also stopped going downtown due to the lack of proper loading zones.
"It's really unfair, because we're losing the business but there's no help, there's no compensation from the City or anybody to kind of keep us afloat," Devgan said.
DBBIA Chair, Carrie Percival, and Marketing and Events Chair, Emma O'Malley, delegated at Wednesday's City Council meeting requesting immediate action and support for the businesses impacted by the construction. Increased advertising capabilities and collaboration between the City and BIA were among the requests made. The main ask was for grant funding to help businesses weather the storm of construction. According to the Region of Peel's timeline, work is expected to last until mid 2025.
Toronto launched a similar grant in January to address the effects of construction on local businesses—open to BIAs and not-for-profit organizations that had strong community involvement.
Under the City's existing Business Improvement Grant and Façade Improvement Grant, $300,000 are allocated for the improvement of the overall appearance of businesses within the downtown core. According to DBBIA, there are only two applications currently being processed by the City, with the possibility of three more being added. If these applications receive the full grant amount, there would still be $190,000 of funds remaining, which Percival insists should be used to help businesses impacted by the construction downtown.
"We are not asking for money to come out of anybody else's pocket, it's there and it's not being used," she said.
Brampton Councillor Michael Palleschi supported the idea, but insisted the grants be available to any business impacted by construction city-wide, not just in downtown. Councillor Paul Vicente, whose ward includes downtown, disagreed, insisting council should focus on the city centre businesses and potentially expand to the rest of the city at a later date.
Staff will be meeting with DBBIA to understand the urgent needs of the impacted businesses and report back to Council before the end of June with an update.
Devgan is desperately hoping for some sort of support during the ongoing construction.
"The pandemic on its own, the aftermath of that is a whole separate deal, but this just adds on to it, it's like a double pandemic for us," he said. "We want to focus on how to grow, but when you're in a tense situation, your brain only goes defensive, it doesn't go offensive. You can't think of how to grow the business, you're constantly thinking 'oh my goodness what's gonna happen what's gonna happen'…nobody wants to look at a broken road and the traffic on top of that, the detours they've put in place, our suppliers don't even know how to get to us."
The ongoing construction in downtown Brampton has a rocky history.
The Region of Peel identified the need to replace and upgrade aging water and wastewater infrastructure in downtown Brampton in 2011 and worked with City staff on its design. Initially, the City of Brampton wished to pair this critical infrastructure work with its own plans to revitalize the downtown—known at the time as the Downtown Reimagined plan. Following the election of Patrick Brown as mayor in 2018, the Downtown Reimagined plan was scrapped and municipal investment dried up under Brown's push to freeze the City budget for consecutive years.
This meant when the City of Brampton attempted to resume certain work downtown, not only was it not aligned with the Region of Peel's construction timeline—something that could have limited construction related delays for businesses— costs had escalated for the work and all of the bids for the City's streetscaping work, came in over the existing budget.
Despite Brampton's continued delays with its own portion of the work, the Region has moved forward with replacing the aging infrastructure.
The construction stretches along parts of Main Street, Queen Street, James Street, Maple Avenue, and Park Hill Court. Currently, it is in its third stage of construction, with a planned five stages. According to the Region, traffic impacts on Main Street South will last for approximately three months, depending on weather and soil conditions.
A map of the area currently experiencing construction in Brampton's downtown.
(Region of Peel/City of Brampton)
During construction on Main Street, which is where Street Bitez is located, three traffic lanes are closed with only one in use.
"The current one-way traffic on John Street will be converted to two-way traffic that can be accessible from Chapel Street. The loading zones on John Street will be removed and additional loading zones/short term parking will be added to Queen Street for businesses," the Region's website states.

Construction work on Main Street, right across from Street Bitez, has closed several lanes of traffic, impacting access to the restaurant.
(Samanah Ali/The Pointer)
Now, in the middle of this timeline, comes another challenge. On May 18, the Government of Ontario introduced the Hazel McCallion Act to dissolve Peel Region. If passed, Peel will be broken up by Jan. 1, 2025, which is a few months before the estimated completion of the watermain project. It's unclear what would happen with the work following Peel dissolution. With contracts and work schedules set by the Region, many questions remain about where these contracts would be transferred; how the budget for the ongoing work would be handled, and which staff members at the City of Brampton would be tasked with managing the effort moving forward (if the project is assumed by the newly independent City of Brampton). The unanswered questions could lead contractors to delay critical work until such a time as budgets and management are ironed out, causing further delays and pain for downtown businesses.
Many small business owners in downtown Brampton are excited about the City being its own independent municipality, but are concerned about how the transition process will be carried out.
According to a report that went before regional council on Thursday, a Transition Board, which will be tasked with managing the dissolution process, is expected to be ready by the end of July.
---
Email: [email protected]
Twitter: @SamanahAli
---
At a time when vital public information is needed by everyone, The Pointer has taken down our paywall on all stories relating to the pandemic and those of public interest to ensure every resident of Brampton and Mississauga has access to the facts. For those who are able, we encourage you to consider a subscription. This will help us report on important public interest issues the community needs to know about now more than ever. You can register for a 30-day free trial HERE. Thereafter, The Pointer will charge $10 a month and you can cancel any time right on the website. Thank you
Submit a correction about this story