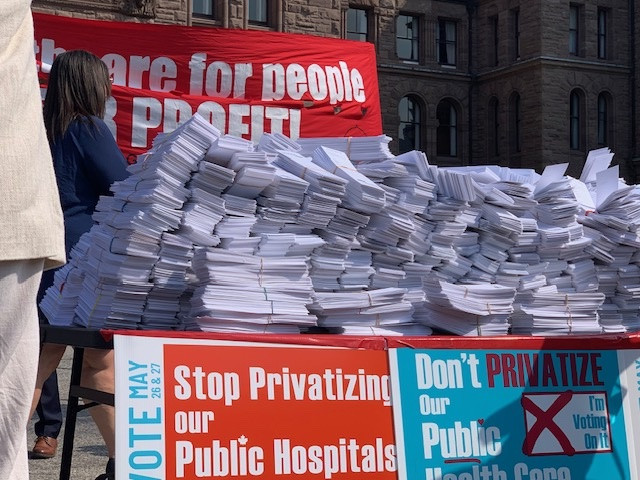 Dr. Nancy Olivieri/Twitter
98% of Ontario referendum participants do not support Bill 60 & the privatization of healthcare 
Janine Herrmann-McLeod was consistently having trouble getting to sleep. She would often crawl into bed at a normal hour, but consistently find herself staring at the clock as it struck 5 a.m.
When she did finally drift off, she wouldn't wake up until 3 p.m., her alarm blaring. No matter what she tried, her body appeared set on this sleep cycle. Even when it started to cause her to miss classes in university, threatening her grades, and she tried everything to fall asleep early, nothing changed.
"When I am unable to wake up it's almost like a state of delirium. I don't know what day it is, I don't know what time it is, what I have to do that day, I just know that the alarm clock is loud and I am half asleep," the Brampton resident said.
When she decided to visit a doctor there was no medication, or sleep study to try, she was simply told to redouble her efforts to find proper sleep. After her family doctor for years did not offer to conduct commonly administered studies, she was forced to pay $750 out of her own pocket for a melatonin measuring test, which led to a doctor eventually diagnosing her with a circadian rhythm disorder.
Herrmann-McLeod is neurodivergent (someone who experiences certain neurological functions that are not typical) and currently has dysautonomia, a disorder of the autonomic nervous system. She said that Ontario's family health teams (FHT) changed her life. FHTs are primary healthcare organizations that include a team of medical professionals with diverse expertise working together to address patients' needs.
"I was able to get a doctor who…to this day gives me long appointments that I really need to discuss everything, whereas before in the pay-per-service model I had a doctor who didn't give me even a sleep study for seven years of having my life ruined by the circadian rhythm disorder," she said.
"Then they started cutting the family health teams, they started losing the paraprofessionals who are kind of the point of that, and I've had wait times for the EDS clinic in Toronto that was a year and a half, and that was not including the extra year that was added to that because of COVID."
Now 29-years-old, Herrmann-McLeod feels medical negligence and a healthcare model that is increasingly shifting toward privatization under Premier Doug Ford's PC government, has stolen most of her 20s. But she's one of the lucky ones, she says, because of the financial support she receives from her family.
"If I ended up needing surgery and I had to pay for it and I didn't have a family that is financially stable, then I would absolutely be like a lot of my disabled friends who are constantly fundraising on social media for basic things like food, rent, electricity, cat food."
On May 8, the Ford government passed Bill 60, which allows for the appointment of directors to regulate for-profit clinics and opens the door for certain publicly-funded surgeries, like cataracts, knee and hip replacements, or MRI and CT scans, to be carried out by private clinics, eventually. The PCs claim this will improve patient wait times, their treatment experience and access to care. The legislation makes it clear that these procedures would be covered by the existing publicly funded provincial healthcare system.
The Ontario Health Coalition has been actively campaigning against the Bill. Over the last month, the OHC has been conducting a community referendum in regions across Ontario asking residents whether they support the PC plan to introduce private medicine into the province's healthcare system. Herrmann-McLeod started getting involved with the OHC's Peel chapter in March as one of the co-chairs and has been actively advocating against the Bill.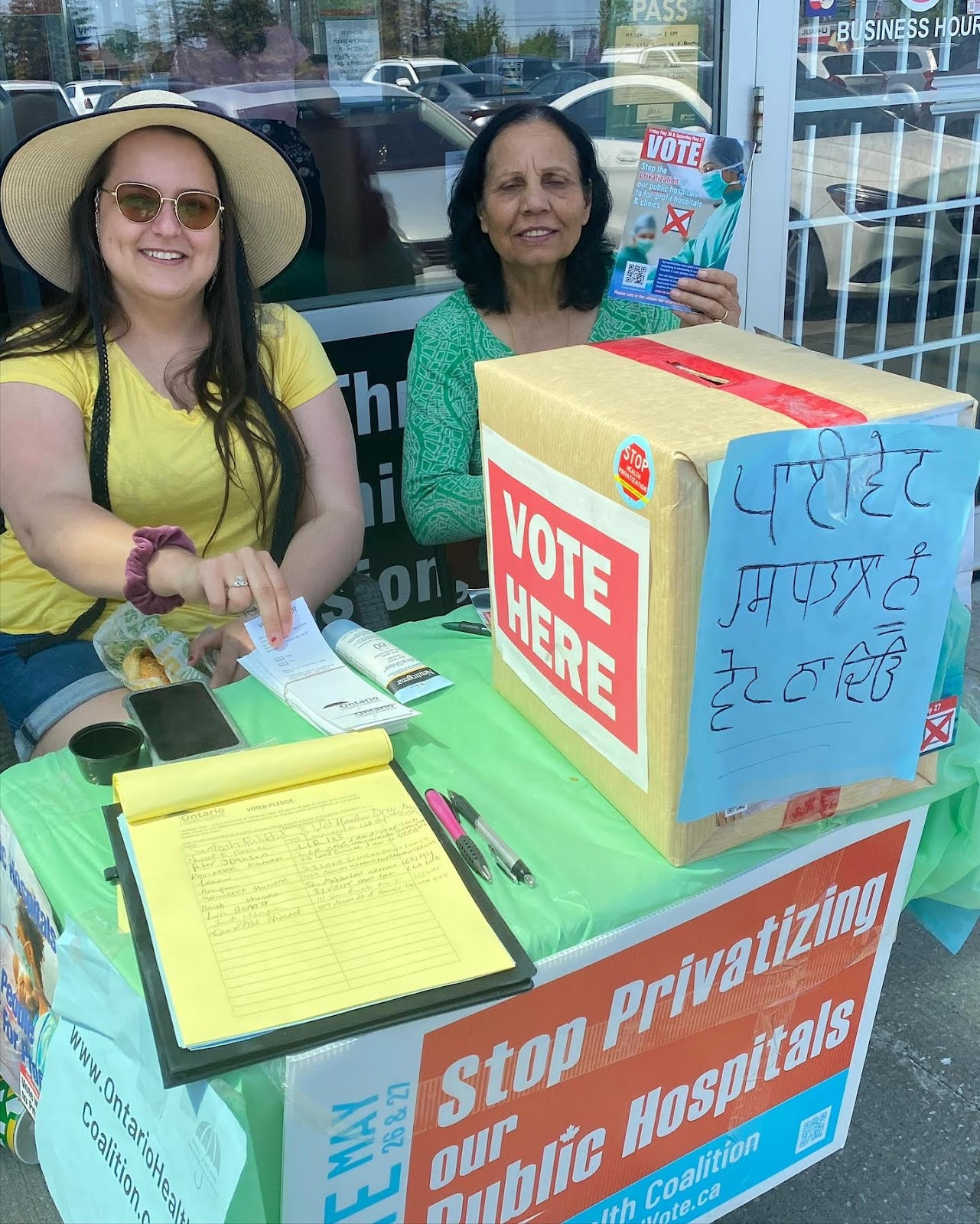 Janine Herrmann-McLeod (left) at one of the voting stations of the Peel Region Health Coalitions referendum to end the privatization of health care.
(Peel Region Health Coalition/Facebook)
Under the current Bill, three for-profit clinics in Windsor, Waterloo and Ottawa will be allowed to conduct diagnostics and 14,000 cataract surgeries (procedures currently carried out within public hospitals). There are plans to expand the scope of these services to include hip and knee replacement surgeries by next year. The OHC worries this shift to a private healthcare model is a slippery slope that will eventually see Ontarians have a two-tier healthcare system that punishes those who are unable to pay. Despite Premier Ford's assertions that Ontarians will always be able to pay for healthcare "with their OHIP card, not their credit card", the OHC argues these private clinics will "upsell" patients, a practice the organization has highlighted in research that shows private clinics routinely push patients to spend money out-of-pocket to upgrade medical care beyond what is covered under OHIP.
The PCs claim this push toward private services will help reduce a surgical and diagnostic backlog in Ontario that has ballooned as a result of the COVID-19 pandemic. The potential for shorter wait times will be particularly attractive to anyone in Brampton who has attempted to get treatment as the city's lone full service hospital.
Brampton has long been waiting for another hospital to help with its capacity issues. In January 2020, City Council declared a health care emergency and launched a 'Fair Deal for Brampton' campaign to receive additional funding from the Province in support of establishing a second hospital in the City. Brampton Civic is where the term "hallway healthcare" was popularized and residents have been waiting years for the City, Province and William Osler Health System to get on the same page with plans and funding to get the expansion of the Peel Memorial Centre for Integrated Health and Wellness into a full service hospital off the ground.
The new legislation is not the answer to long wait times and the lack of capacity, critics argue.
The OHC disputes the PC position that the move will reduce wait times, arguing the infrastructure already exists within public hospitals to address current capacity issues, but the PC government is refusing to provide the necessary funding to repair and activate it.
"All across Ontario local public hospitals have operating rooms that are closed every evening, on weekends, and sometimes permanently due to underfunding and staffing. We already have the infrastructure in our public hospitals. The choice not to use public hospitals' operating rooms to their capacity, and instead to rebuild operating rooms only under the ownership and control of for-profit clinics and hospitals, is a political choice to privatize," a press release from the OHC states.
On Wednesday, the OHC delivered the results of a non-binding referendum it organized across the province to Queen's Park, which included nearly 400,000 ballots from Ontarians who voted. According to the OHC, in Peel, over 14,000 residents voted against the push to use private clinics currently underway by the PCs. Only 7,001 people, out of 386,068 province-wide, voted in favour of Bill 60. Overall, the results suggest that 1 in 29 people in the province voted on the matter.
"We are unalterably opposed to the gutting and dismantling of our public hospitals and the privatization of them," Natalie Mehra, executive director of the Ontario Health Coalition, stated in a press release. "This is the beginning of what will be a relentless campaign to stop them from privatizing our public hospitals.
"They can dismiss, make fun, and suppress the actual ability of the people to vote. We know they are worried about this. We have spoken to over a million Ontarians, person to person in this process. That is the power of this process. 1 in 29 Ontarians over the age of 16 voted in this referendum. Every Ontarian knows someone who voted in this. If they try to ignore this, we will ratchet it up. We will not stop until they stop."
The referendum results are based on voluntary participation from the public, and can't be compared to a randomized sample surveyed by an organization with no particular stance on an issue. When asked about the accuracy of their results considering the organization has a clear position on the controversial issue that was voted on, and it was a voluntary process, which skews the results of any survey, Mohammad Aumeer, from the Peel chapter of the OHC, said they encourage others to carry out their own referendum as he believes the results would be similar.
The OHC is particularly critical of the government not consulting with the public prior to the introduction of Bill 60, even when the PCs started signalling the move through healthcare policy changes more than a year earlier.
In March 2022, previous health minister Christine Elliott said claims the PCs would privatize healthcare in Ontario were false.
"We warned in 20 press conferences that they were going to privatize the hospitals because the minister in a press conference had kind of tipped her hand," Mehra said. "She said that they were going to open independent health facilities, which are the private clinics and private hospitals to do surgeries and diagnostics."
Mehra said the OHC will be monitoring the government's response to the referendum results, and will not stop advocating against the privatization of health coverage in Ontario.
"Our government's Your Health Act (Bill 60), strengthens the oversight of community surgical settings while protecting the stability of doctors, nurses and other health-care workers in our healthcare system," Hannah Jensen, spokesperson for the Minister of Health, Sylvia Jones, said in a statement to The Pointer.
"Bill 60 also strengthens the already robust framework for the oversight of community and surgical diagnostic centres, including a provision to bring these centres under the oversight of a patient ombudsman, and puts into law that Ontarians will always access insured services at community surgical and diagnostic centres with their OHIP card and never their credit card, consistent with the Canada Health Act."
The spokesperson also referenced the nearly $1 billion invested in public hospitals through the Surgical Recovery Fund, which is available for hospitals and can be used to extend operating room hours on the weekend and weekdays. "Our plan has already reduced the surgical backlog to pre-pandemic levels."
Contrary to this claim, the Canadian Institute for Health Information (CIHI), data show that significant wait times still exist for certain procedures, including many cancer surgeries and knee replacements.
"The most recent data indicates that wait times for cancer surgeries increased slightly in 2022. Between April and September 2022, half of patients waited about 1 to 3 days longer for their breast, bladder, colorectal and lung cancer surgery compared with before the pandemic, and the median wait time increased by about 12 days for prostate cancer. Although these findings varied somewhat across provinces, they suggest that health systems are continuing to work through the backlog of surgeries within current capacity and resource constraints," a CIHI release from March 2023 states.
---
Email: [email protected]
Twitter: @SamanahAli
---
At a time when vital public information is needed by everyone, The Pointer has taken down our paywall on all stories relating to the pandemic and those of public interest to ensure every resident of Brampton and Mississauga has access to the facts. For those who are able, we encourage you to consider a subscription. This will help us report on important public interest issues the community needs to know about now more than ever. You can register for a 30-day free trial HERE. Thereafter, The Pointer will charge $10 a month and you can cancel any time right on the website. Thank you
Submit a correction about this story