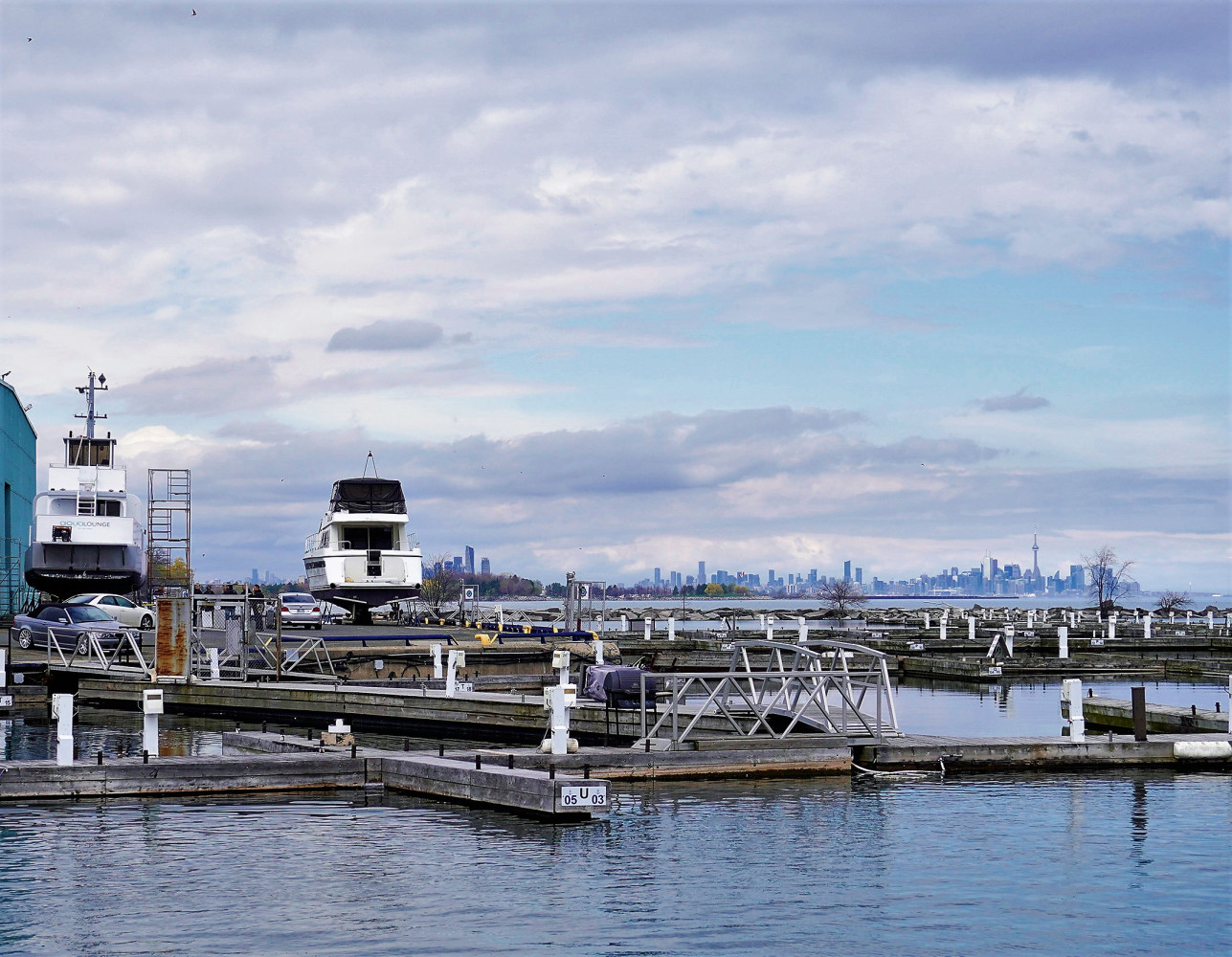 Feature image Alexis Wright/The Pointer
'Serious peril': Mississauga Fire in need of infrastructure along city's booming waterfront 
Brightwater. The controversial Lakeview Village. Port Credit Marina. Large redevelopment projects are beginning to reshape Mississauga's waterfront into an urban destination. Council hopes thousands of future residents and visitors will flood into the city over the next decade.
There's one glaring feature that's missing.
The city lacks adequate fire protection infrastructure to keep current and future residents safe.
"The reality is that our marina protection is pretty sparse, to the point of really non-existent," Chris Varcoe, head of Mississauga's firefighters union, told The Pointer.
"There's a close proximity and you get into a wind-driven (fire) situation, it could wreak havoc through a marina. The chances of it happening, I'm sure are low, but we're in the business of preparing for the 'what ifs' and I don't think that we're prepared properly as a department here for the 'what if,' or if the 'what if' ever comes to be someday. I think we're in some serious peril."
For decades, the City of Mississauga has underinvested in its fire service—not just along the waterfront—and years of neglect have caught up. Mississauga Fire and Emergency Services has been facing infrastructure pressures caused by years of financial mismanagement as some buildings were left to decay into a severe state of disrepair. While this is impacting all of Mississauga, the looming need for fire infrastructure is becoming particularly clear on the city's lakefront.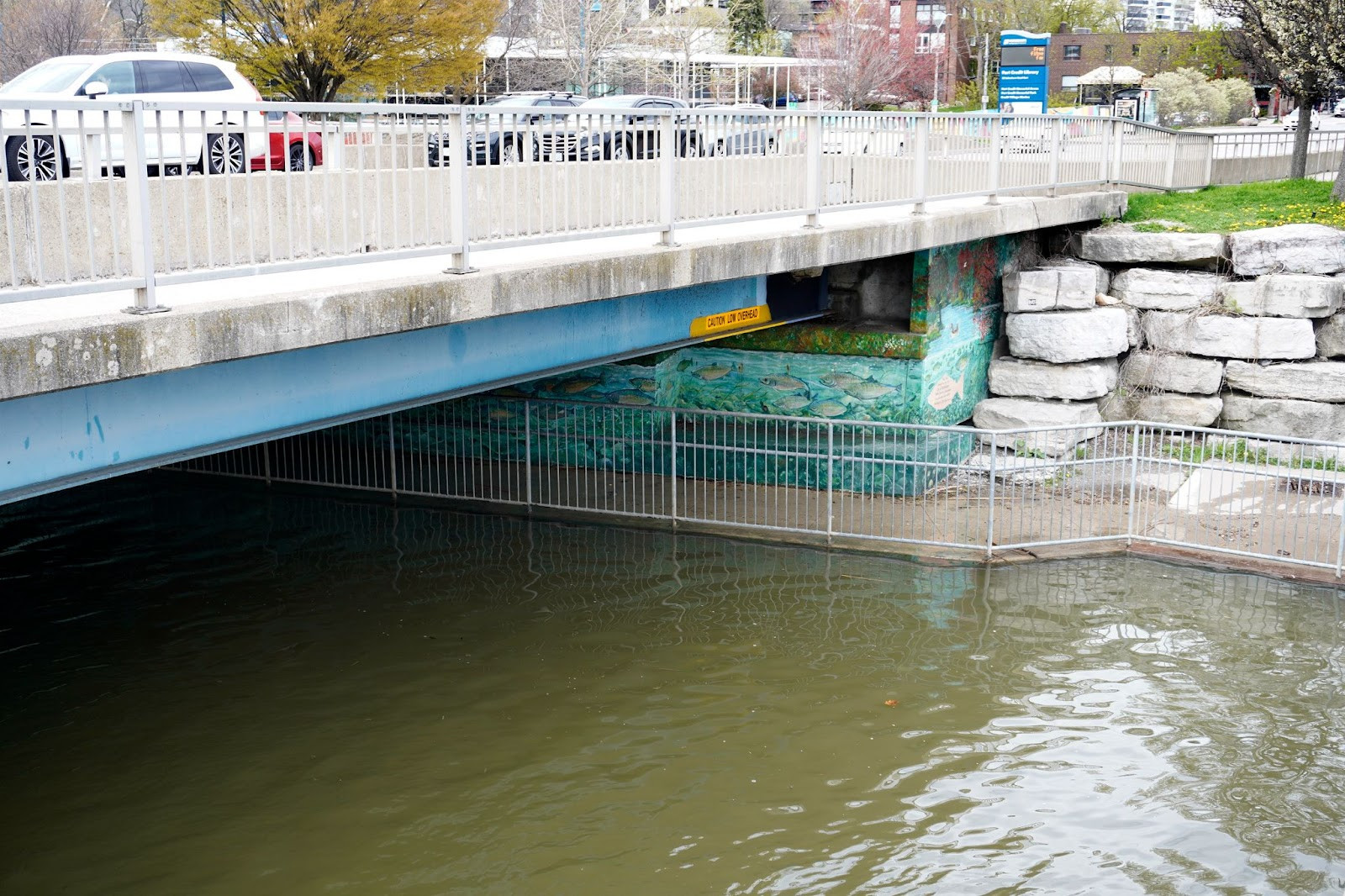 The pedestrian walkway underneath Lakeshore Boulevard Bridge over the Credit River has been closed off due to rising water levels.
(Alexis Wright/The Pointer)
Since the early 2000s, City Hall has failed to build enough fire stations to match the growing population and the department has been sounding the alarm. While the current council is taking a more aggressive approach to fixing the funding gaps, with the substantial growth slated for the city's south end, Varcoe is concerned that the need for more fire infrastructure to protect Mississauga's waterfront may not be addressed in time.
Recognizing how underfunded and cash-starved the department has been, the City has been moving to invest more money into its lagging fire service. In its most recent financial blueprint, the City's 2023 budget devoted $27.4 million of Mississauga's capital budget toward the department. Of that, $18.8 million is allotted toward infrastructure and $8.5 million toward vehicles and equipment. The decision came as part of the City's long-term infrastructure plan to address the recommendations made in a 2019 Building Condition Audit, which revealed a widespread state of disrepair and high costs needed to get critical buildings to meet even the basic standards for safety, after decades of financial neglect by City officials and elected council members.
For a service that operates 24 hours a day, 365 days a year, clear timelines and critical funding are imperative to maintain the infrastructure of existing fire stations that for years received little attention from the City.
"We look at Port Credit [which] had a dilapidated fire station and one truck back in the early 70s, and today, with all the growth coming out of the ground, they have an even more dilapidated fire station that suddenly has a historic designation attached to it, so they can't really do anything to it and one fire truck," Varcoe explained. "So the same number of people and the number of residents that we are protecting is skyrocketing."
One particularly vexing challenge for MFES is the capacity to battle fires that could break out on a boat, or near the City's marina. MFES has portable pumps the crews are trained to use, but with the close proximity of so many boats in the harbour, and being built with highly flammable materials poses a real challenge, Varcoe stressed.
"I think it's a real hole in our service provision. I don't think anyone's really given it any thought. I've heard estimates of the valuation of the boats at the peak of summer then in the marinas is hundreds of millions of dollars, if not billions of dollars in watercraft that's down there. And if they start to go, we're in some serious trouble.
"We've got all kinds of policies and stuff to deploy these pumps. But that's a lovely plan on paper. But that's one that just certainly won't work. We would be outmatched as far as being able to deliver water to stop a boat fire. So the strategy would be cutting the ropes and pushing the boats into the water to try to push them away from burning the rest of them down. That's our strategy."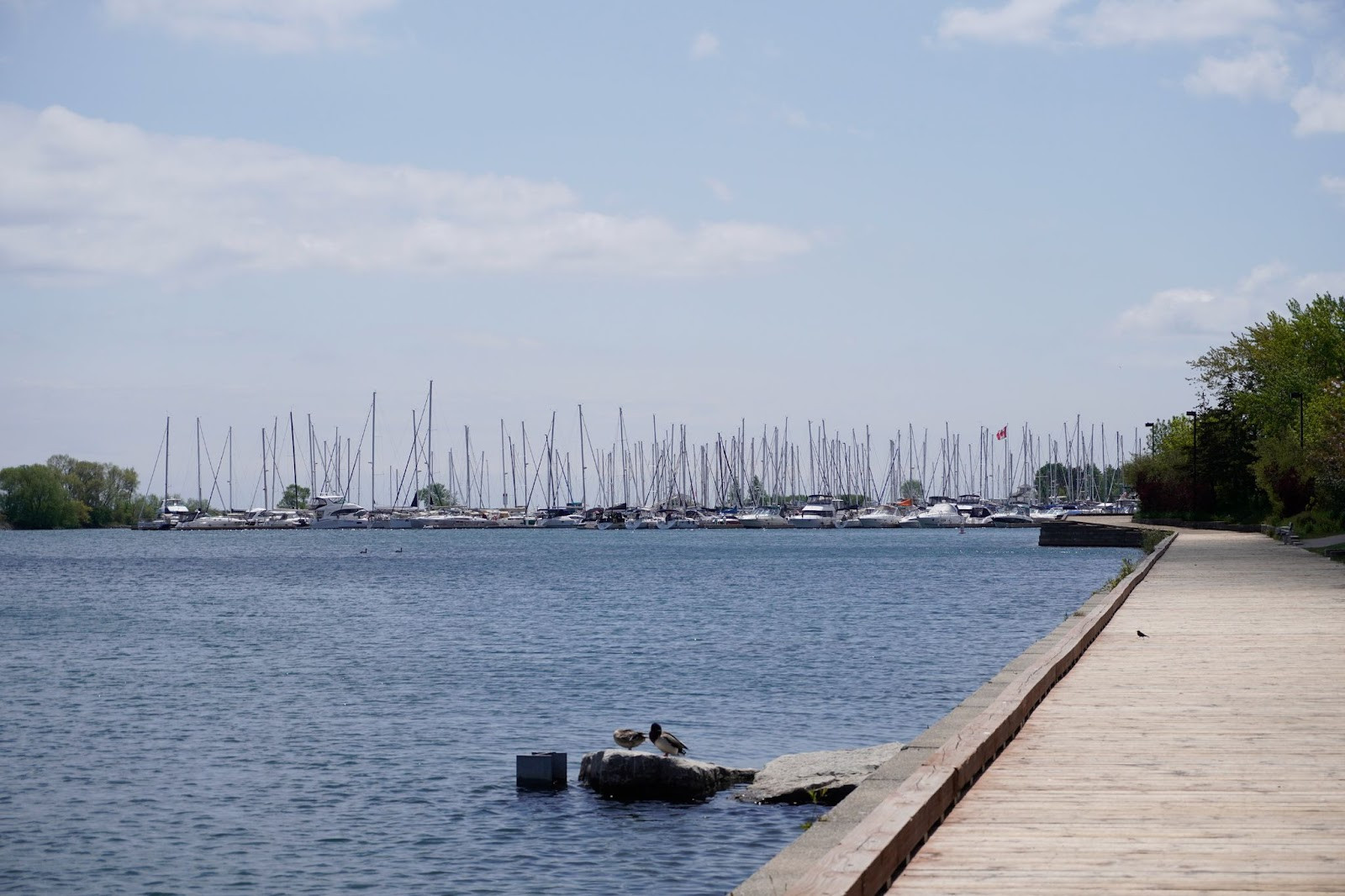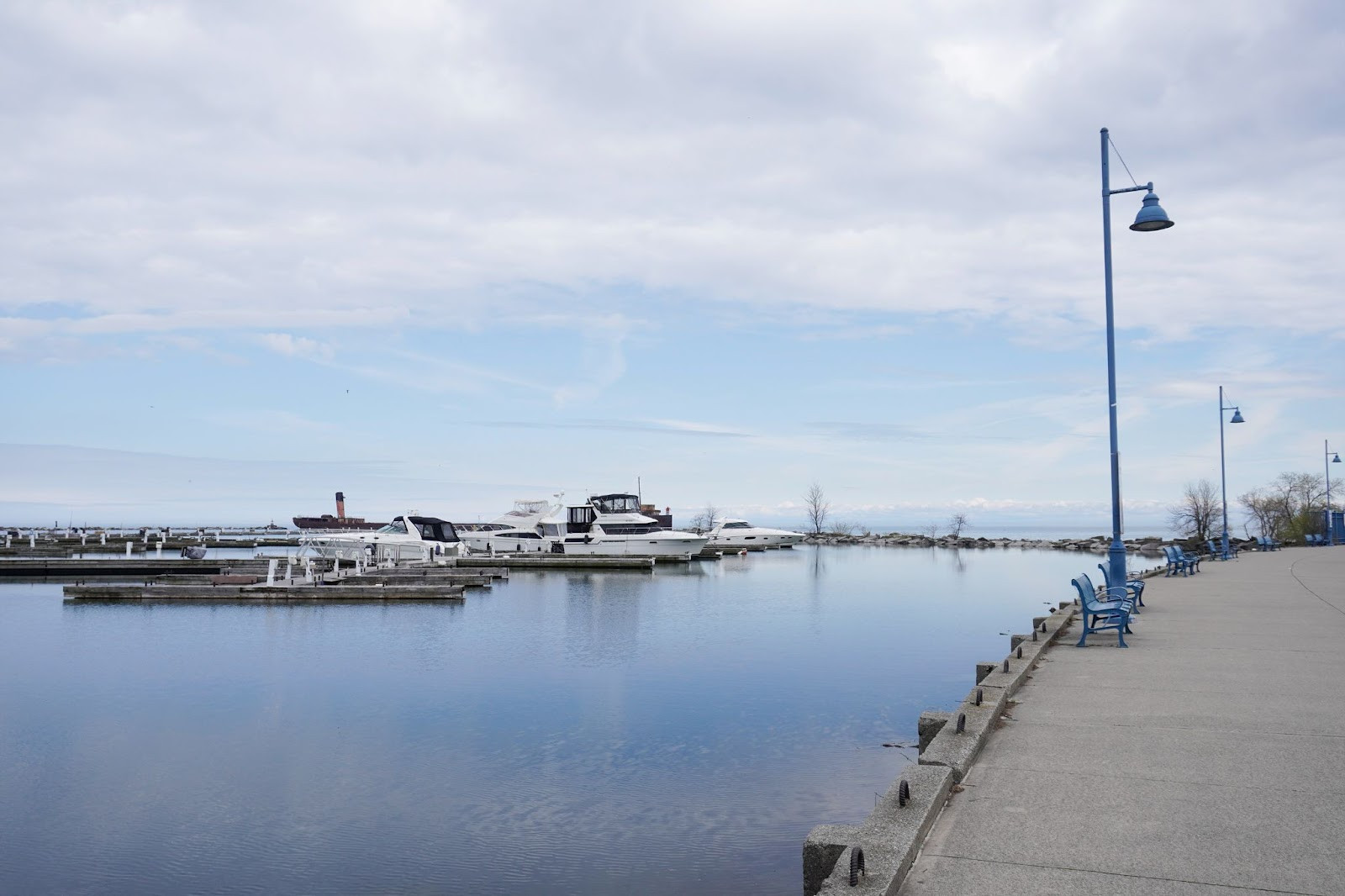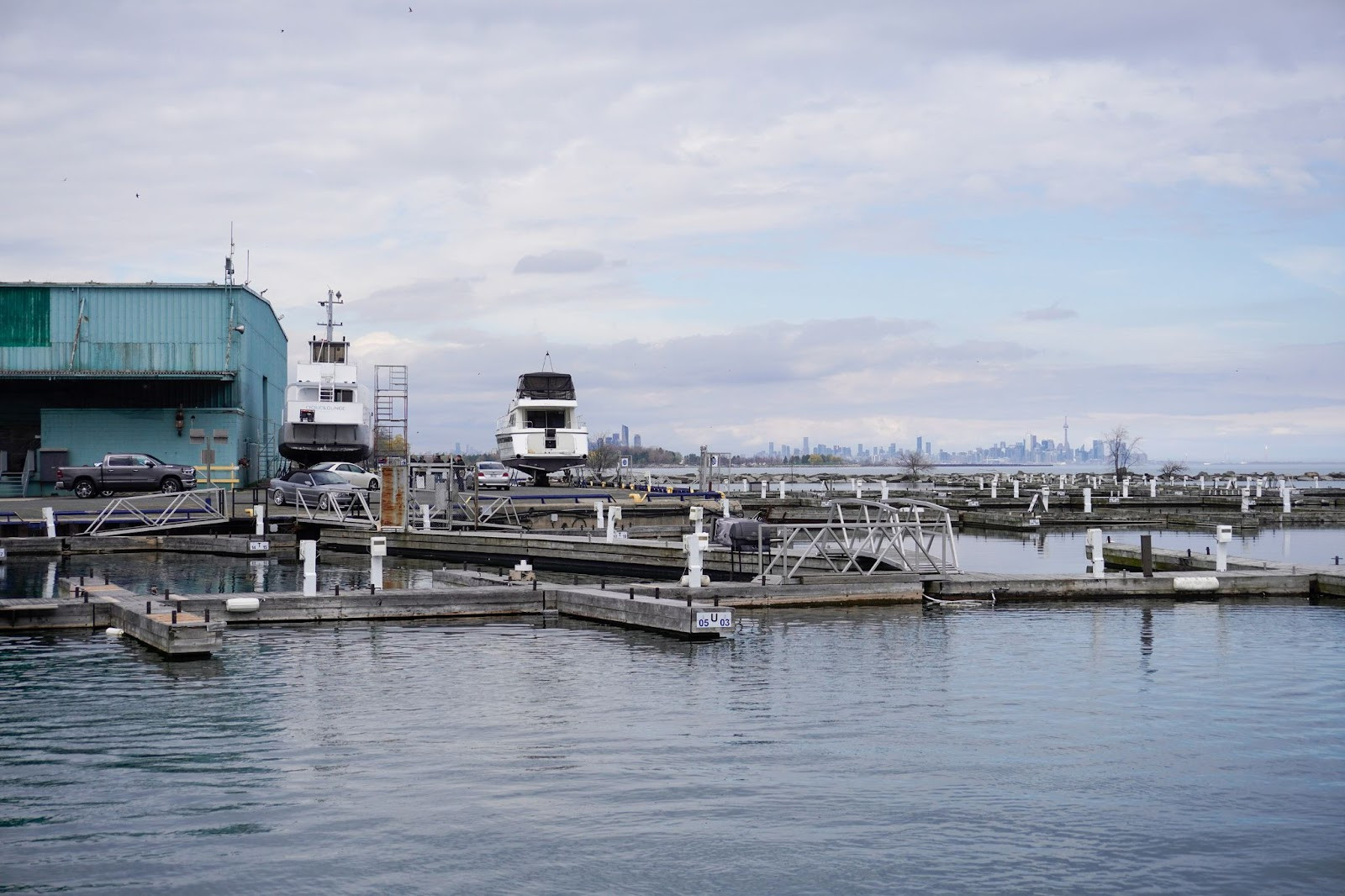 Just before the start of the season, massive boats can be seen being prepared for launch, usually at full capacity by the beginning of summer.
(Alexis Wright/The Pointer)
Currently, the City's fire service has three stations located along the waterfront — Station 102 Lakeview, Station 104 Port Credit and Station 103 Clarkson — which are MFES closest trucks to immediately respond to the water in the event of a fire. The service also has a water program that operates out of Station 110 Queensway.
"MFES has infrastructure in place to provide a sufficient level of fire service along Mississauga's lakefront," a City spokesperson explained. "Currently, MFES has portable fire fighting water pumps and hoses stationed at two marinas, along with our complement of trucks that respond from three stations along the Lakeshore corridor. We also have additional trucks at stations a few minutes north. These pumpers, aerials and squads have built-in foam systems and master stream devices that can be used to suppress fires on boats that are affixed to docks."
The spokesperson noted owners also play a role in boat fire safety and the City encourages all boat owners to have fire extinguishers and other fire suppression equipment aboard their boat(s), ensure regular maintenance, and restrict the use of open flames and fireworks in the marina. Along with MFES, the Peel Regional Police Marine Unit, located at 135 Lakefront Promenade Park, is responsible for emergency response and general patrol of the navigable waters within the Region of Peel.
Councillor Stephen Dasko, who represents the City's lakefront, said he's been asking and will continue to advocate for more services when it comes to helping equip Mississauga Fire with the resources they need.
"We're bringing alive our waterfront with 145 acres of new waterfront parkland and the Jim Tovey Conservation Area, and we're also looking to have mixed-use developments along there. So we'll be seeing more folks on the water of all different forms… and I think we have to keep up with the times," he explained.
"These are things that get talked about and also making sure that we have robust emergency services which is always part of the planning… but it's important and these are things that we're dealing with as we're growing as a city," Dasko said. "I'd like to see it addressed. I'd always like to see it addressed as soon as possible, but I'm going to continue to work with Mississauga Fire to make sure that we've got a comprehensive plan always in place for emergency services."
This is not the first time concerns have been raised over the state of the City's fire department. A three-part series from The Pointer revealed the severity of the neglect around Mississauga's aging fire infrastructure, highlighting how the City had been aware of asbestos in its fire stations for at least 11 years. The disturbing neglect also underscored the City's shocking response times to fire-related calls. The national standard is 240 seconds 90 percent of the time. In 2018, Mississauga Fire's average response time was 536 seconds (8 minutes and 56 seconds) more than twice the standard established to keep residents safe.
Plans for renovating Mississauga's aging fire stations, many of which are more than 30 years old, were not started until 2019. Renovations will now take place across the next decade and in 2021 were expected to cost roughly $66 million. However, the 2022 budget now shows a repair bill of $99.6 million to rehabilitate the city's fire infrastructure.
"I think we're falling behind in our ability to protect the stuff on the ground, we're short on that, but the fact that we don't have a fire boat, I think it is becoming glaring," Varcoe said. "It's irrefutable. The City for decades failed to properly manage and resource the fire service that's led us to the predicament we're in and there's a lot of catch-up going on… and the only person that suffers from this mismanagement is the taxpayer."
The Pointer previously noted that ideally, for a city its size, and to meet national safety standards for fire-response times, Mississauga should have about 44 stations. It currently has 21. Prior to the construction of Station 120 in 2019, the City built its last fire station in 2003 — a more than 15-year hiatus. This gap occurred despite a master plan in 2010 that promised to build three new stations before 2014.
As more growth and density approaches Lakeshore, it brings into question why the City has not prepared for the much-needed infrastructure required to service the area.
The City spokesperson noted MFES assesses resourcing needs in all areas of the City, including the lakefront, on an ongoing basis. The last Community Risk Assessment, completed in 2017, assessed and prioritized all risks relating to fire and emergency services city-wide. The assessment considered demographics, geography, building stock, fire loss, response, hazards and economics.
"The results helped to identify service gaps and were used to inform the 2019 Future Directions Plan. Both the risk assessment and the Future Directions Plan discussed future growth areas including Inspiration Lakeview and Port Credit," the spokesperson explained. "At that time, there was no existing risk identified in this area. However, it was recognized as an area that was in transition and that should be addressed in future plan updates.
"One of the most important steps in ensuring fire safety in all buildings, including marinas, is to maintain compliance with the Ontario Fire Code. This may include developing and implementing comprehensive fire safety plans, maintenance of fire detection and fire suppression equipment, and allowing for effective emergency response. MFES maintains an evolving list of buildings they inspect regularly as part of the Proactive Inspection Program. Because of the potential uses and risks associated with marinas, they are included in this list of buildings and as a result, are inspected regularly (frequency depends on observations made during the inspections)."
With all the development proposed for Mississauga's South end, Varcoe says there's a dire need for more fire infrastructure to accommodate the growth coming down the pipeline. As the City prepares for the high rises coming out of the ground at a rapid rate and still no consideration for a waterborne fire service, the bottom line is, MFES needs a fire boat. While an updated risk analysis is coming, Varcoe says this should have been something that was identified earlier.
"Mississauga fire is not prepared to be able to handle the growth down on the waterfront. not without an influx of resources, an increase of what the current capacity, we don't have enough down there, that's the bottom line," he explained. "I believe that the city needs to be taking a more proactive approach, not only moving these assessments and risk assessments along as quickly as possible but also actioning them when they come up with a report and not shelving them, which has been our past practice.
"We need to get fire protection on the lakefront or tell people straight up on them, and let them know that our fire protection capabilities down there is a glaring hole that we're not prepared to deal with at this time."
In the meantime, Varcoe said the service will be watching with bated breath for the report to come out to determine the risk assessment facing the City's waterfront.
MFES is currently in the process of completing an update to the 2017 risk assessment as per provincial requirements, the City spokesperson noted. The study will be completed and used to inform the 2024 Future Directions Plan that will be presented to council in January 2024.
"The lakeshore is just another example of an emerging issue as [the City] continues to build up the lakeshore and continue to forget to add in the fire service," Varcoe said. "Cutting the ropes and pushing the boats in the water is probably our best option. I don't think that's what boat owners want to hear. It's a low probability event, but the 'what if' we're just simply not prepared for."
---
Email: [email protected]
Twitter: @mcpaigepeacock
---
At a time when vital public information is needed by everyone, The Pointer has taken down our paywall on all stories relating to the pandemic and those of public interest to ensure every resident of Brampton and Mississauga has access to the facts. For those who are able, we encourage you to consider a subscription. This will help us report on important public interest issues the community needs to know about now more than ever. You can register for a 30-day free trial HERE. Thereafter, The Pointer will charge $10 a month and you can cancel any time right on the website. Thank you
Submit a correction about this story