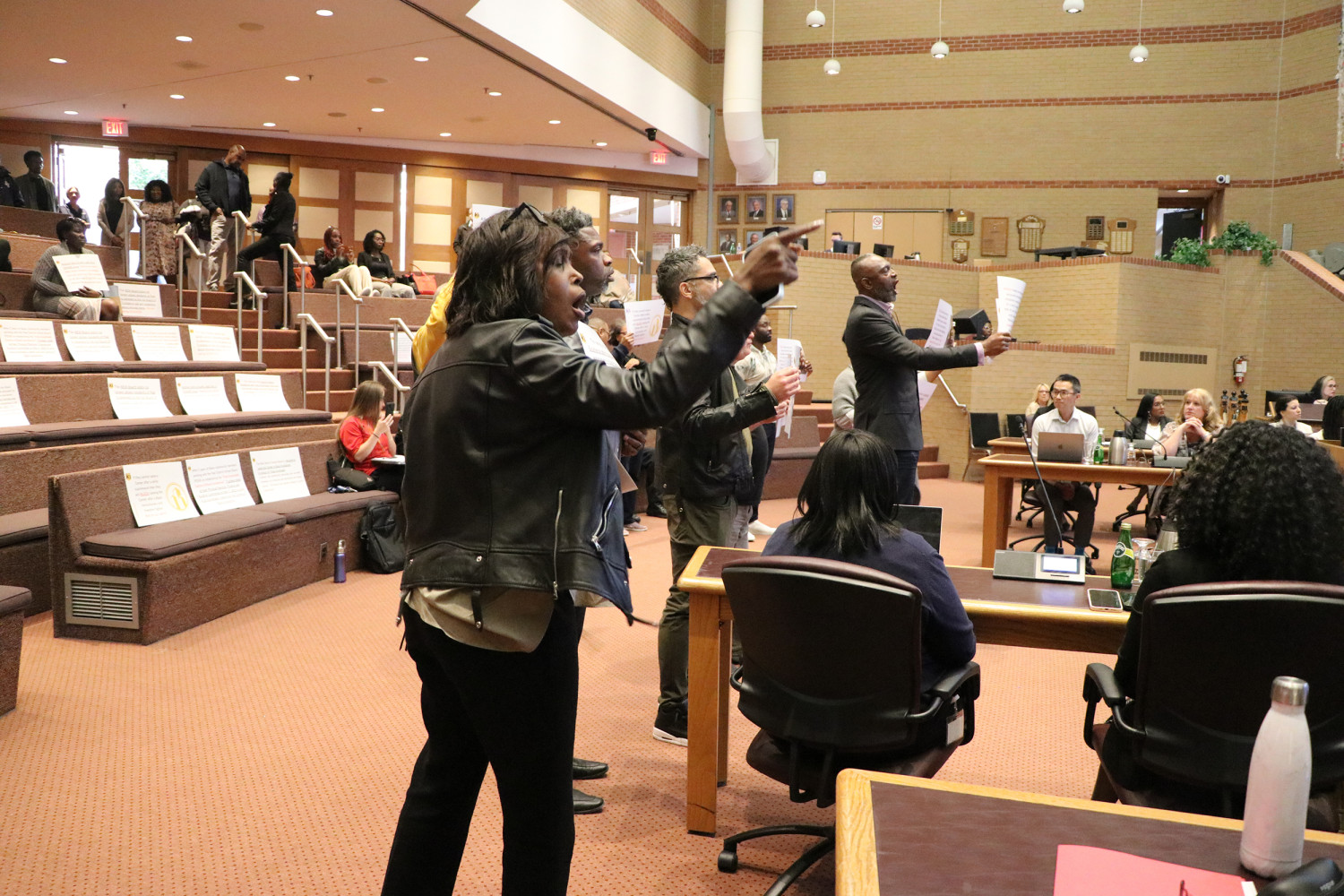 (Samanah Ali/The Pointer)
PDSB trustees shut down meeting after removing advocate Kola Iluyomade's name from centre for Black excellence
After a three-year struggle to confront systemic discrimination created by a trustee culture that for decades made the Peel District School Board a dangerous place for visible minority students, many of the same trustees who were stripped of their power by the provincial government displayed the same intolerant behaviour Wednesday evening.
Frustrated parents, advocates and other community members held on to their placards firmly during Wednesday's PDSB meeting, to protest the refusal of trustees who would not honour their commitment to name a centre for Black Student Success after late activist Kola Iluyomade.
Exactly as they feared, despite earlier support from the board, a motion to name it the "Centre of Black Excellence", rather than the "Kola Iluyomade Centre of Black Excellence," was passed with 10 trustees voting in favour, one abstaining and one against the motion.
At the eleventh hour a rule was brought forward, long after the initial plans to name the facility in honour of Iluyomade (who surgically picked apart past discriminatory policies pushed by trustees), blocking the very commitment the board had supported.
Meeting minutes from the PDSB Physical Planning, Finance and Building (PPFB) Committee, which was presented to the trustees, stated "one of the provisions of the amended Policy (Policy 27) is that no school, special function area or facility is to be named after an individual." Trustees, despite a recommendation from Board Director Rashmi Swarup to name the facility after Iluyomade, claimed their own last-minute policy brought forward right before the initial name was to be finalized, prevented them from doing so. In effect, they passed a policy to avoid honouring the man who fought to hold them accountable, frustrated critics said.
"They're trying to not have it be named after people who are white supremacists, but this is the thing about policies, the assumption that they can be applied equally, it's understanding that policies have to be applied with discretion and they have to be applied equitably," Dr. Tope Adefarakan, a core member of Advocacy Peel, a coalition of African-Canadian communities whose children have faced discrimination in the Region of Peel, said. "Somebody like Kola Iluyomade is very different from the typical John A. Macdonald."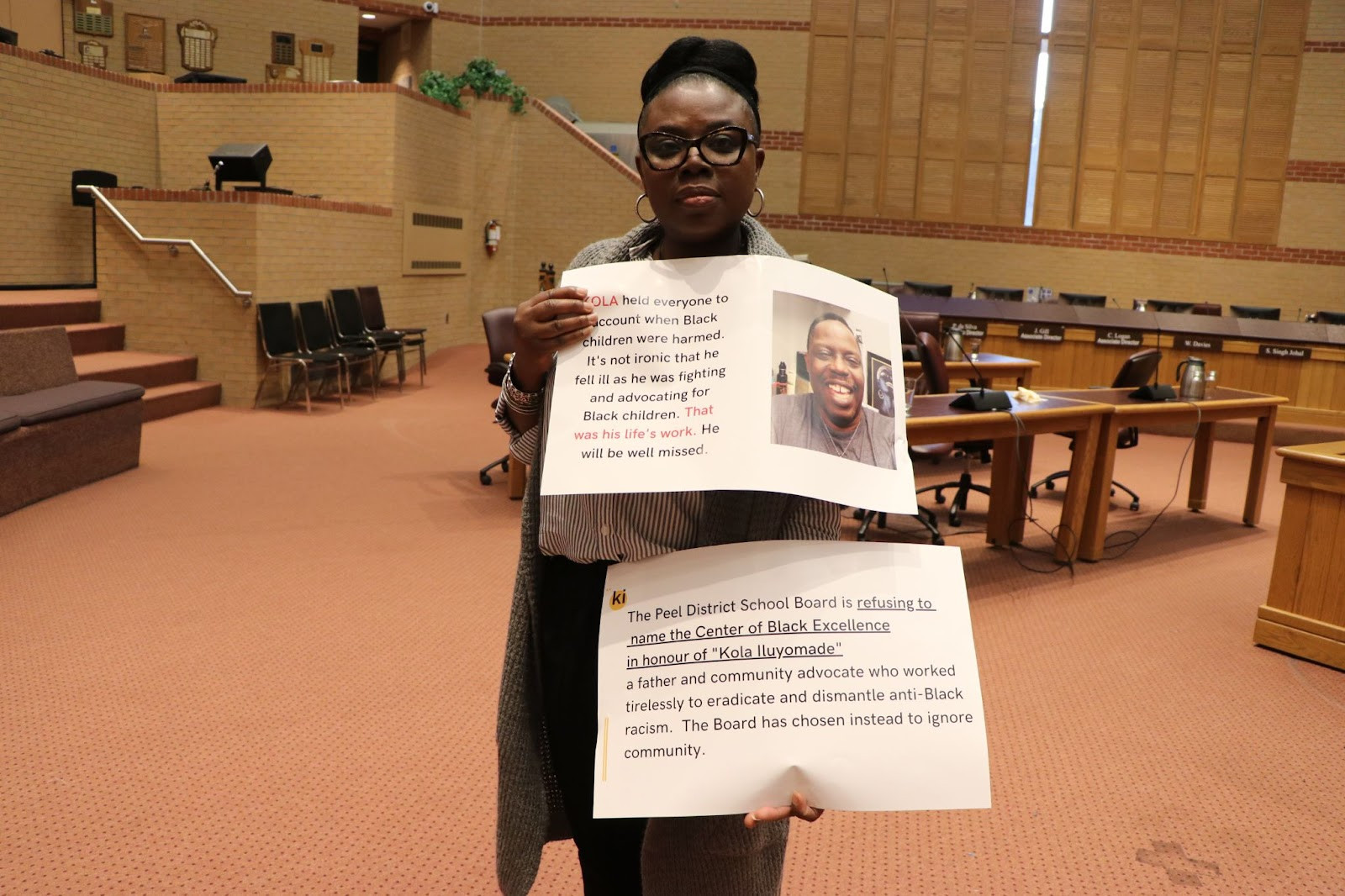 Dr. Tope Adefarakan said anti-Black racism is very prominent in schools where Black students are disciplined more than white students for the same action, adding that her son has experienced it.
(Samanah Ali/The Pointer)
A report submitted to the trustees by Swarup prior to the meeting, recognized that "In June 2022, the PDSB announced a commitment to honour community activist Kola Iluyomade in the naming of the Centre." Immediately after the motion contradicting the original commitment was announced Wednesday, the room echoed with loud chants as raised placards condemned what advocates described as a betrayal.
Iluyomade's name carries a history of fighting systemic anti-Black racism for community members, which is why they were looking forward to the Centre being named after him. His fight against systemic discrimination within PDSB, largely at the hands of trustees, dates back to 2015. "Kola Iluyomade was a staunch fighter for Black children to have because he experienced the same thing with respect to his children and he was unyielding, unyielding, unyielding, and he ended up dying, while fighting for Black children," Adefarakan said.
Many community members looked up to him as their "Black leader" who defended their rights. On June 24, 2021, he passed away unexpectedly after suffering a brain hemorrhage.
Kathy McDonald, a widely respected trustee at the front of the movement to eradicate system discrimination from the board and the only elected member who tried to honour the original commitment, proposed an amendment to make an exception to the new naming policy used as justification to remove Iluyomade's name: "...further be it resolved and amended that the Centre of Black Excellence be officially named the Kola Iluyomade Centre of Black Excellence in honour of his efforts to confront and dismantle anti-Black racism within the Peel District School Board and as a testament of the Board's commitment to work with, listen to and honour the time, effort and community-initiated process of naming and selecting a centre, as well as to honour the agreements that were made with, and received in, good faith by parents, advocates, staff and students representing Black communities," she said, as community members cheered and clapped in agreement.
Her amendment, however, was rejected. "Your amendment is contrary to the main concept of the original motion," David Green, Chair of PDSB, who has refused to support community members throughout their human rights struggle, said.
McDonald then put forward another motion to defer the naming decision to the next Physical Planning Finance and Building Committee meeting, in order for community members to have a chance to delegate about their concerns. Under an unusual new rule passed by many of the same trustees who for years confronted community members seeking equity, delegation is not permitted during the main board meetings. A new Procedure By-law, which was passed on September 28, blocks delegates from speaking at board meetings. Delegates are now only allowed to speak in committee meetings. The next Physical Planning, Finance and Building Committee meeting will take place June 1, but now that the naming decision has passed, it's unclear how the public was supposed to voice their concerns prior to the final vote on the issue yesterday.
"Now we're not able to delegate, so this is the recourse that we have, and we're going to continue to do it until they listen to us, because it's our children that are being impacted," Adefarakan said.
McDonald's second motion was not even moved by a seconder, as all the other trustees refused to add their name to the resolution, and because motions require a mover and seconder for the matter to be considered, McDonald's was not even debated.
Community members were left furious.
"We have people who are supposed to represent the community, but refused to hear from the community and refused to represent the community," David Bosveld, one of the advocates who attended the board meeting, said. "Jill Promoli, specifically, I would call her out. She is one that I see at Black History Month events, I see at schools saying 'Oh I care about this and that,' sitting beside Kathy McDonald, and would not even second the motion to defer… every single one of them, they did not have the courage or the consideration."
Promoli claimed while campaigning ahead of the October municipal election, when she won her seat as a new trustee, that she supported equity. "Our board has been under ministry supervision since 2020 due to dysfunction and inequity, and the years ahead will require everyone involved to come together for the well-being of all students in Peel," she wrote on her campaign website. "In 2020, the Ministry of Education issued 27 directives to the Peel board 'with specific focus on eradicating anti-Black racism and inequities'. The work to ensure safe, welcoming learning environments, unlimited by discrimination, for all Peel students continues," she added. On Wednesday, with advocates who have worked tirelessly to bring about the changes Promoli highlighted to get elected looking on, she ignored what they were asking for.
The Peel District School Board has been under fire for years as evidence of systemic discrimination including anti-Black racism, Islamophobia and intolerance toward visible minorities, who make up 85 percent of the student body, came forward.
A provincial review detailed alarming examples of discrimination and data that proved systemic discrimination, often supported by harmful policies passed by trustees.
The Pointer exposed shocking anti-Black racism by a PDSB principal and deeply disturbing Islamophobic behaviour by another principal.
In June 2020, the Ministry of Education stripped trustees of their governance role after enough evidence was brought up to prove their support and creation of systemic discrimination while it became clear they were incapable of changing the harmful culture they protected. The Ministry eventually appointed Bruce Rodrigues to supervise PDSB in order for practices and policies that underpinned discrimination and inequalities to be eliminated. A year later, the school board's trustees issued a letter to the Province to have him removed. The letter was ignored.
On Wednesday, many in attendance said the vindictive action to remove Iluyomade's name from a facility to support Black student success was proof that trustees have not learned from the turmoil that has transpired over recent years.
"I think a vote to eliminate his name from the Centre is a slap in his face, is a slap to his family that was approached and in principle his widowed wife and two fatherless children were many times in public on different occasions made to believe that this was going to happen," McDonald said. "Remember why we got here under supervision, we talk about building trust in a community, I think this is going to undermine trust."
Some of the community members got up from their seats with their placards held high and marched down toward the trustees, chanting "shame on you."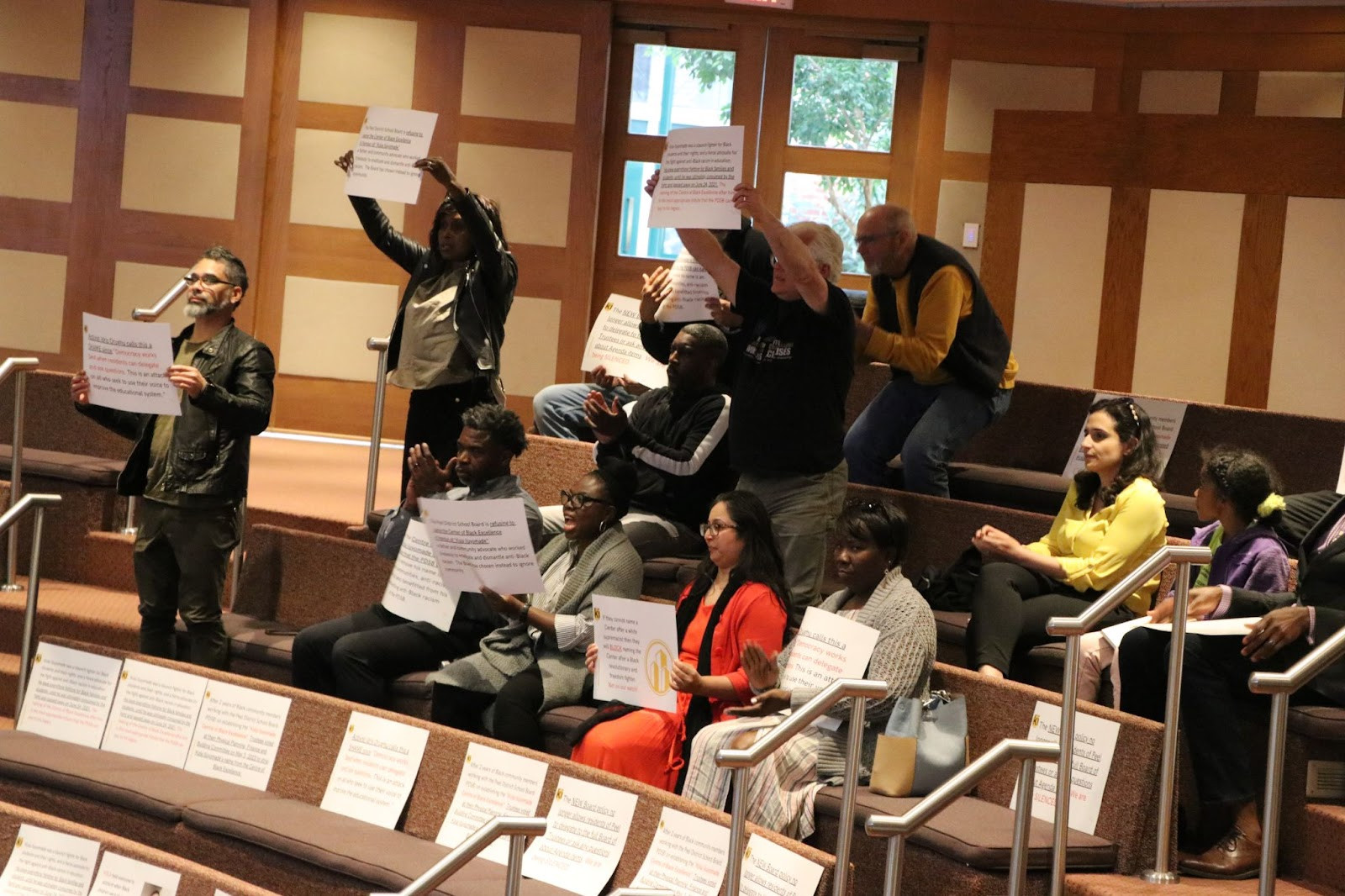 "We have no other option, we will have to take to the floor, because they won't give us the floor," Dave Bosveld, far left, said.
(Samanah Ali/The Pointer)
"We have no other option, we will have to take to the floor, because they won't give us the floor. They won't give this, this consideration it deserves, they won't give it the time that it deserves. So the only thing we can do is disrupt it. And we're gonna continue, we're not going to stop," Bosveld said.
"I think much has changed for the worse. At least under the supervisor, these people who are spineless, each and every one of them trustees, except for Kathy McDonald, were not in play, and now they're in play, and it's almost like they're exacting revenge for having their power stripped."
Adefarakan said the problems go far beyond the naming issue, but it symbolizes what parents are up against.
"Many of us have these experiences where our children are faced with anti-Black racism in the schools, and that's why we're here, we're invested in them being able to be in the school and be safe and feel safe, that they're okay, so that they can learn," she said.
The loud chanting only a few metres away from the seated trustees continued for about 30 minutes, then the Board put up a sign that the meeting was recessed as a few security guards walked in and out while trustees left the chamber.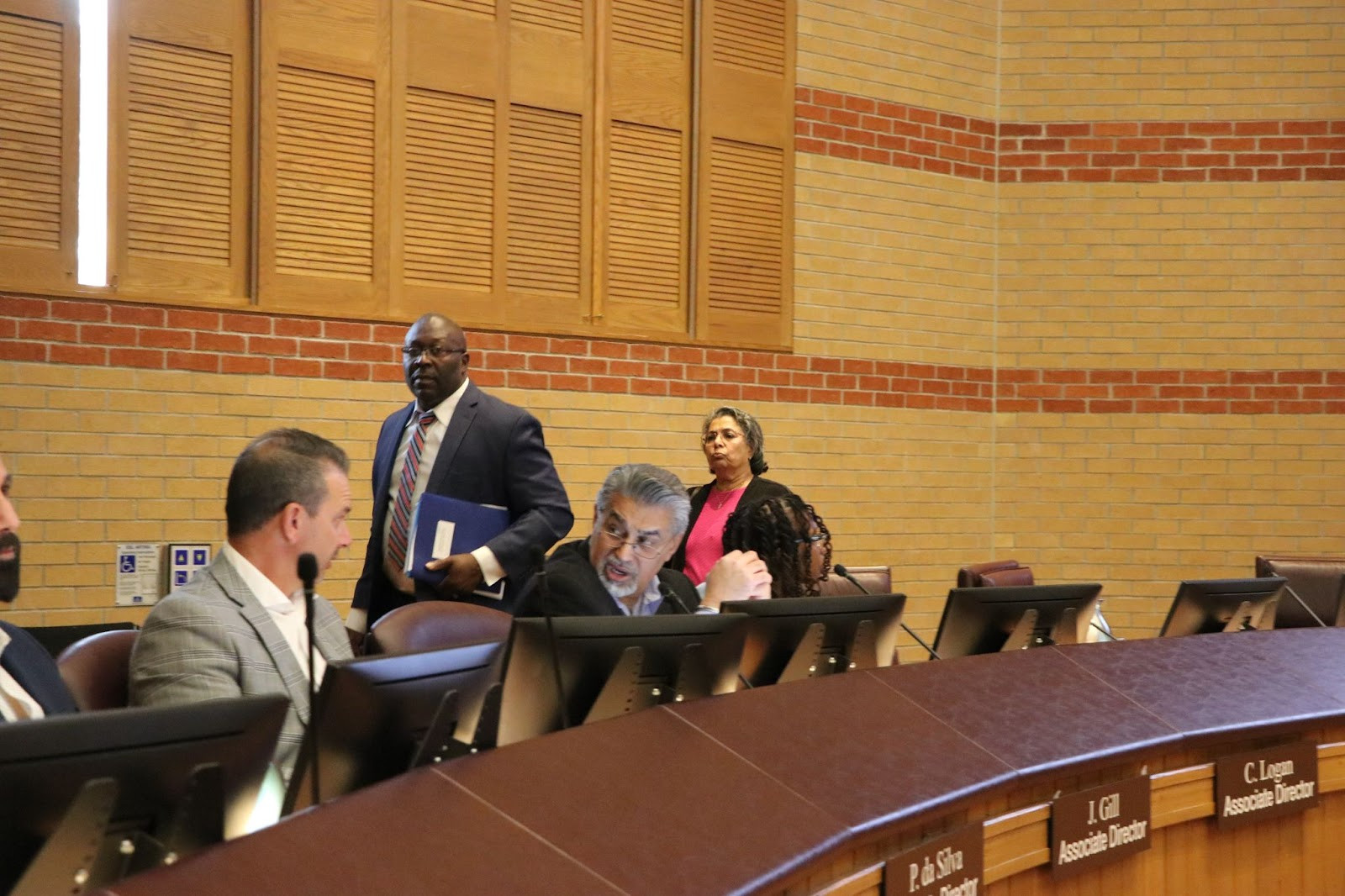 After a few attempts of continuing the meeting, David Green, Chair of PDSB, and other trustees got up to leave the room.
(Samanah Ali/The Pointer)
"They've all left, they're not attending to us, they shut down engaging the people," Idris Orughu, one of the activists who attended the meeting, said. "This is a very painful moment."
A few minutes later, the activists gathered together to have a discussion on their next steps. Not too long after, one of the members got up and saw the meeting had resumed and was taking place behind closed doors. They gathered around the chamber door and demanded to be let into a meeting that was supposed to be public.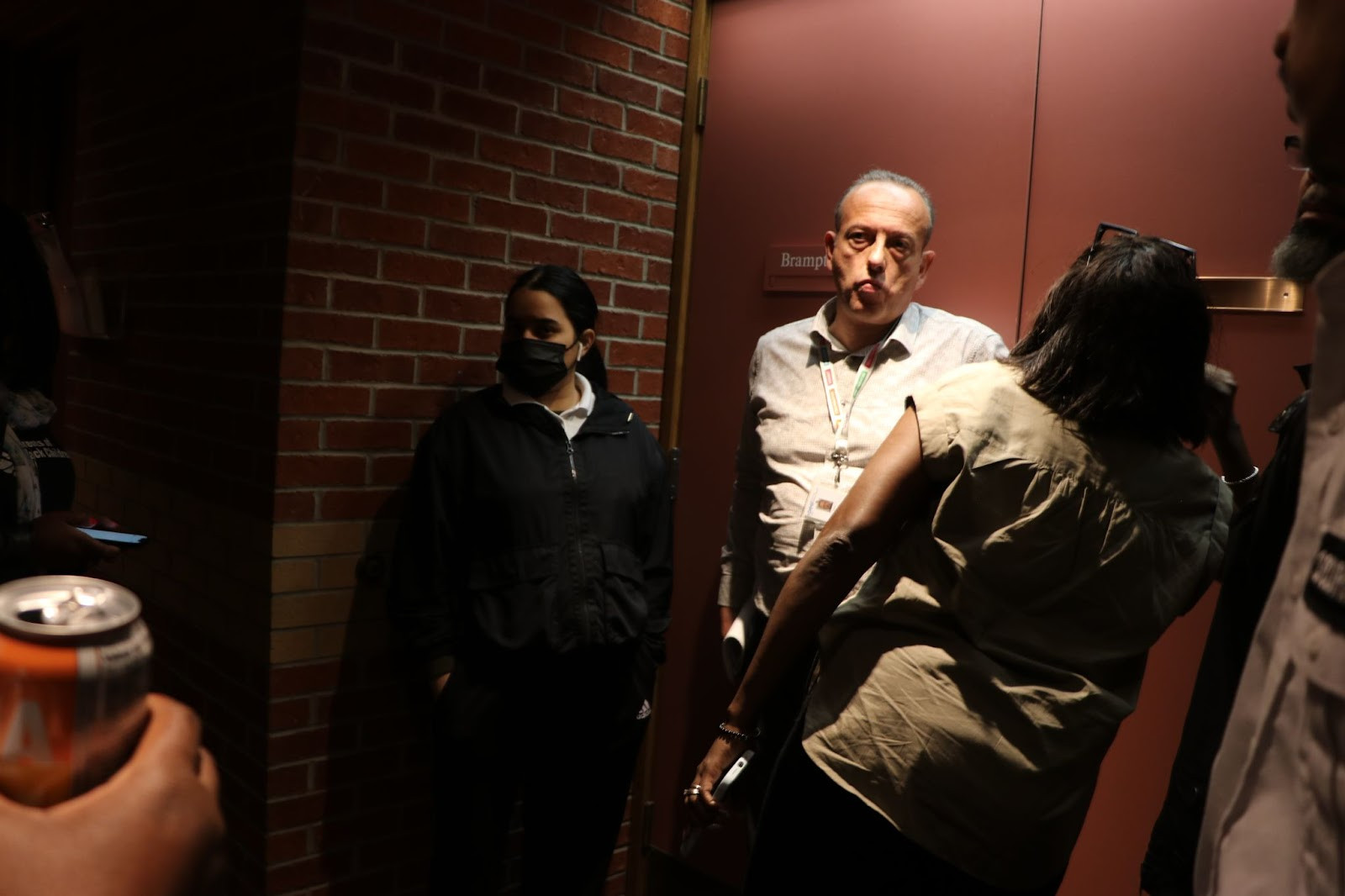 Advocates at the closed-door board meeting attempting to enter.
(Samanah Ali/The Pointer)
The remainder of the meeting, held behind closed doors, was recorded and included in the video of the board meeting posted on PDSB's YouTube channel.
Community members made it clear they will continue to advocate until the decision is reversed and the Centre is named after Iluyomade. A petition has been launched to disavow the decision to remove his name, which they said will be presented to the Ministry by the end of May. Details can be found here.
---
Email: [email protected]
Twitter: @SamanahAli
---
At a time when vital public information is needed by everyone, The Pointer has taken down our paywall on all stories relating to the pandemic and those of public interest to ensure every resident of Brampton and Mississauga has access to the facts. For those who are able, we encourage you to consider a subscription. This will help us report on important public interest issues the community needs to know about now more than ever. You can register for a 30-day free trial HERE. Thereafter, The Pointer will charge $10 a month and you can cancel any time right on the website. Thank you
Submit a correction about this story