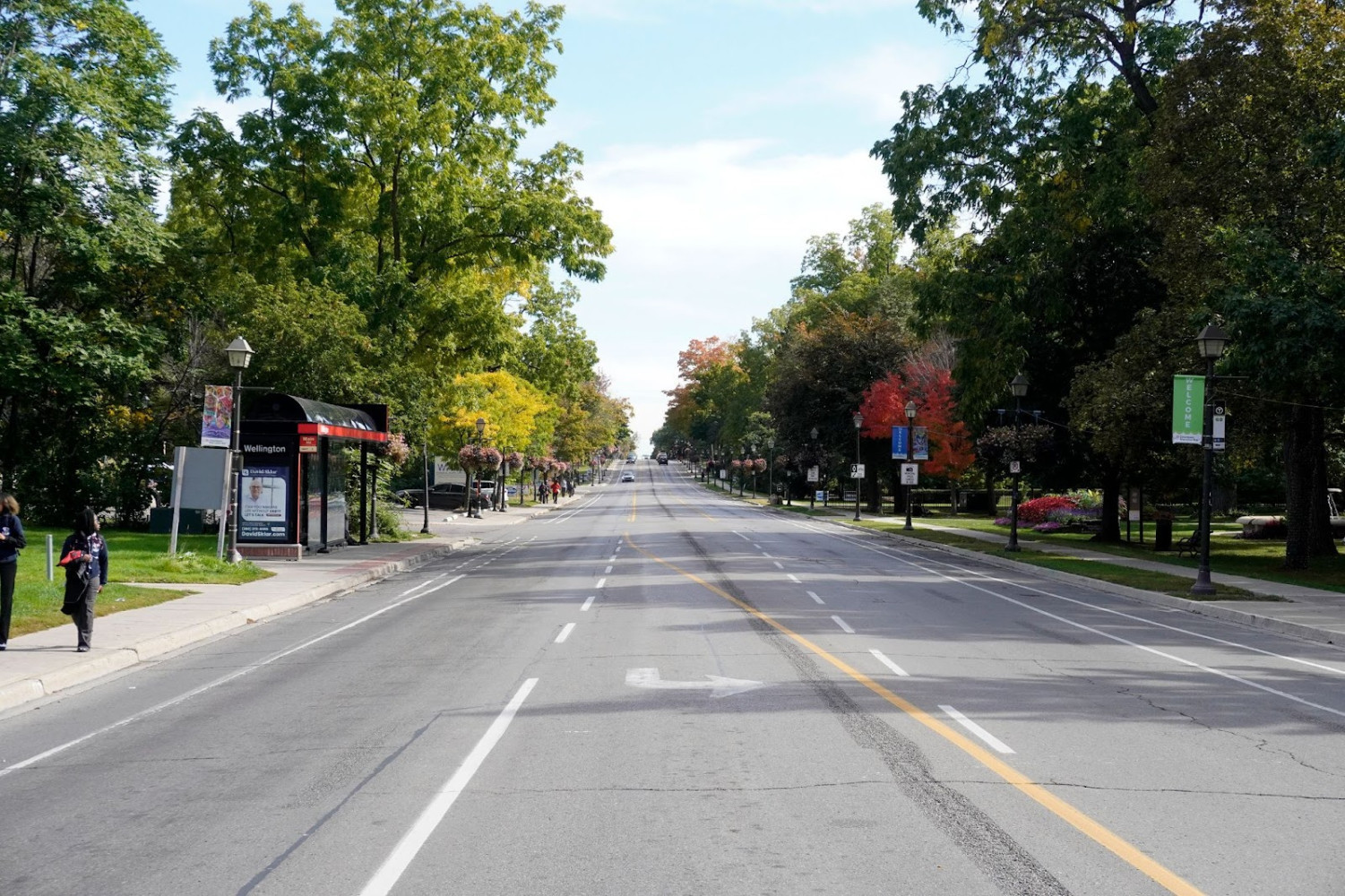 The Pointer files
After 5 years Brampton Council chooses $2.8B tunnel option over surface alignment for Main St. LRT; no funding committed
After nearly a decade of often contentious debates on how a high-order public transit system to connect Brampton's downtown to Mississauga and beyond should be designed, on Wednesday City Council finally chose a tunnel option for the still unfunded Main Street Light Rail Train.
The unanimous vote during the meeting last week saw elected members finally come together after almost a decade of division over where the LRT should be located, whether it should run on or below the surface and who will pay for it ground progress to a standstill. If it moves forward, the LRT will run along the Main Street corridor, partly underground, as finally decided by Council Wednesday.
Staff recently updated the projected cost of a subsurface alignment for the LRT's Brampton portion into its downtown: $2.8 billion for less than four kilometres, a dramatic increase from the estimate in 2019, which was between $1 billion and $1.7 billion.
The need for an efficient transportation system along the Hurontario-Main corridor between downtown Brampton and Port Credit in the south end of Mississauga was first established by Metrolinx's 2008 Big Move Regional Transportation Plan, which was the first regional transportation plan for the GTHA. By 2010, both cities completed the Hurontario/Main Street Master Plan Study and concluded the LRT system up the spine of the GTA's second and third largest municipalities was the preferred mode of public transportation.
Four years later, in September 2014, the Transit Project Assessment Process (TPAP) approved the Hurontario-Main Light Rail Transit (LRT), and the Province also committed $1.6 billion for the entire capital cost of the project in April of the following year. Almost immediately after, previous council members began debating the Brampton route, eventually voting down the Main Street option (which was the preferred choice of the province under the Liberal government at the time) due to concerns over impacts to the heritage character of the historic thoroughfare, low ridership and the lack of development opportunity along Etobicoke Creek. The Province pulled funding for the Brampton portion and the project was scaled back. It currently will turn around just south of Steeles Avenue back down into Mississauga. In a 10-1 vote council members eventually removed the surface alignment for Main Street north of Steeles as an option. Staff were then directed to look at alternatives for the LRT into the downtown area by running it either east or west of Main.
When Mayor Patrick Brown joined Council, some of the rookie members he started with demanded the LRT run along Main Street, and he said a tunnel option instead of a surface alignment would be a compromise to those who did not want a train running up and down the City's heritage corridor into its historic downtown. Despite initial opposition from Councillor Paul Vicente and others, and despite the much higher cost, the tunnel option, for now, will be the way forward.
This past Wednesday, Vicente endorsed Brown's choice. The decision comes two years after council members from the previous term directed staff to analyze the surface and underground options in June of 2021.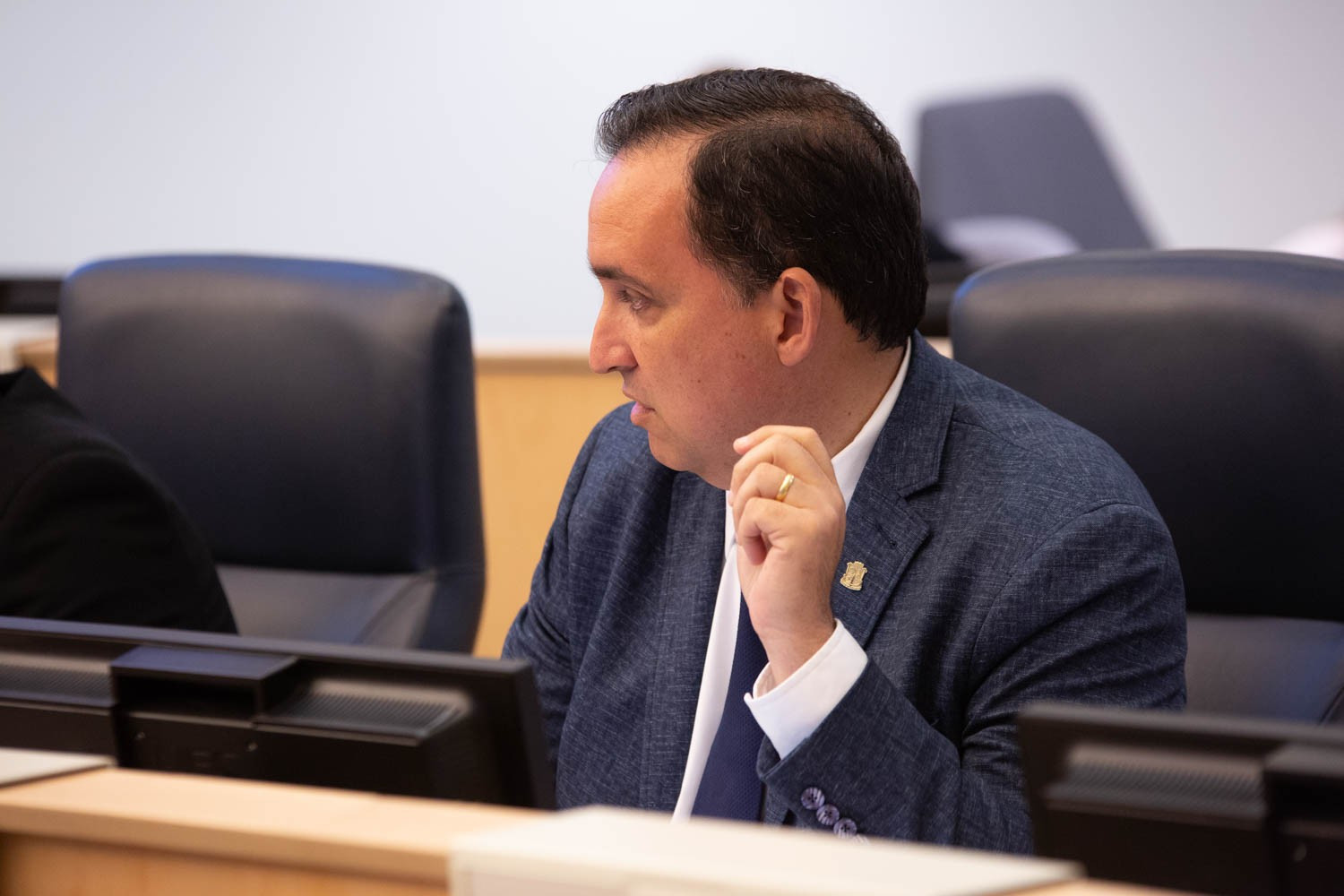 Brampton Councillor Paul Vicente
(The Pointer files)
The tunnel decision was "unanimously supported by City Council to advance funding advocacy, which could then be taken to the Transit Project Assessment Process (TPAP) and (staff will) report back in approximately six months on the outcome of these discussions," the motion details.
Brown claimed in early 2019, when he introduced the idea of a tunnel, that funding from higher levels of government was available, but he failed to follow up over the next four years.
According to the original timeline, the construction of the Hurontario LRT should have been substantially completed by 2022. This has now been extended to 2024 partly due to pandemic-related delays as the project continues to make its way north from Port Credit. Unlike the original plan to connect with Brampton's downtown GO Station, the LRT will turn around at Steeles.
The update report presented by staff Wednesday calls for six more months of discussions to cement Brampton's lobbying efforts to have the LRT extended into downtown, which will be bolstered by the decision on a preferred tunnel alignment local officials can take to counterparts at Queen's Park and in Ottawa.
Some in attendance Wednesday voiced frustration over a stalled Brampton process that has already taken almost a decade, while Mississauga celebrates billions of dollars in investments taking shape in the form of a new commuter train system and all the development pouring in alongside it.
"To what end are these discussions? What is the end objective of the six more months of discussions?" Brampton Board of Trade CEO Tod Letts, asked after staff said another six months of "discussions" are needed. "The Brampton Board of Trade recommends that you go a step further in your discussions with the senior levels of government. Please make the successful negotiation of a funding commitment a prerequisite before Council chooses to move forward on a preferred option".
A few minutes later, Council did the exact opposite. The motion to choose the tunnel option over the surface option achieved a unanimous vote.
Letts echoed what other observers also fear, that the $2.8 billion price tag for a tunnel option to cover less than four kilometres, will scare the Province and Ottawa away. He advocated for the much cheaper surface option.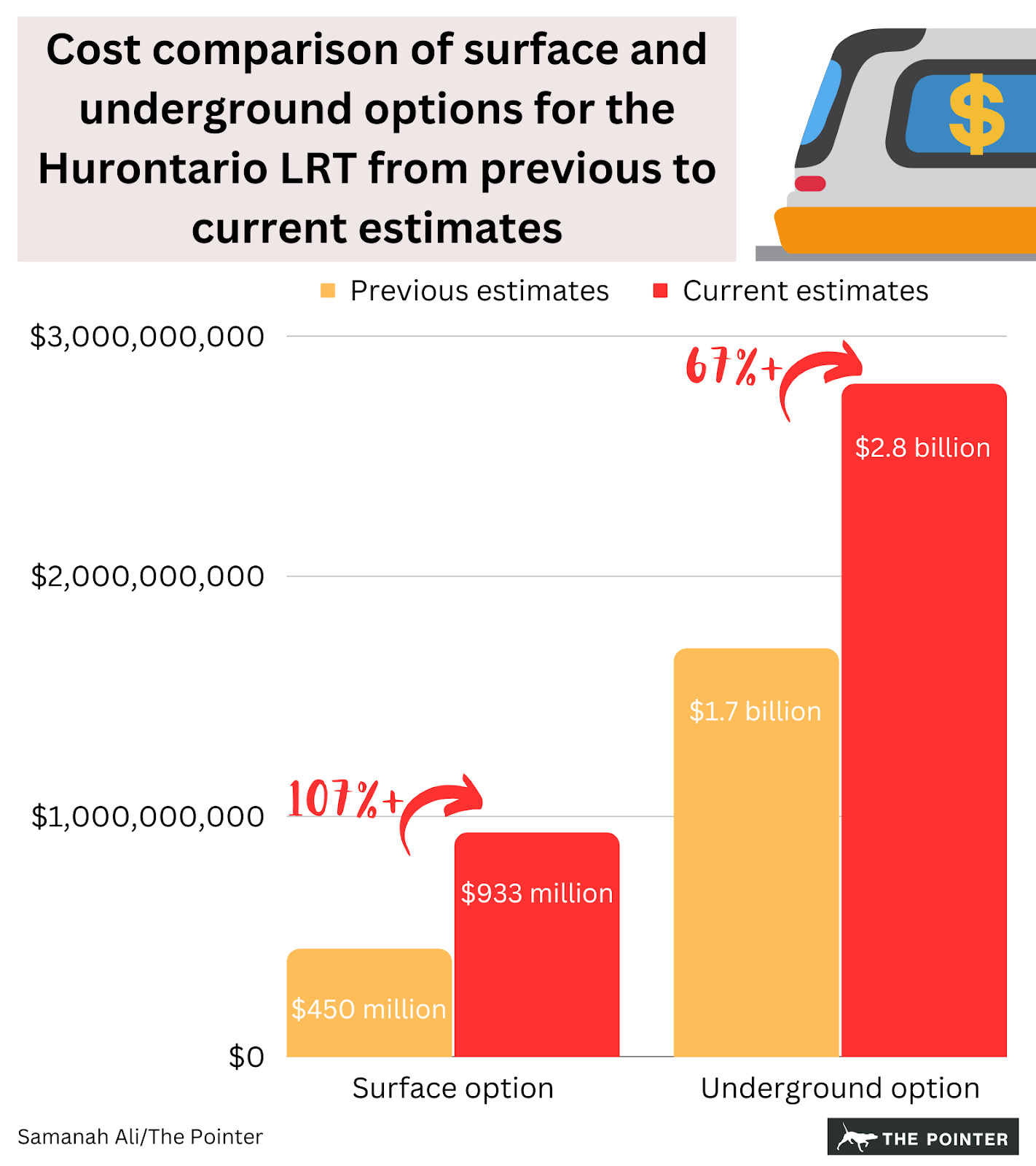 "There is a real risk that in the time it takes to present its best business case, the window of current funding opportunity will close," Letts said. "There is a sense of urgency. There's a big cost and a risk of failure by not presenting a plan that can be realistically funded." The underground option Council chose is far more expensive than a surface route, and currently has no approved funding.
Brampton's proposed 2023 budget includes $200,000 in infrastructure for the project (it's unclear what this is for), $400,000 for project office costs and $190,000 for an Environmental Assessment, which is a prerequisite to receive funding and still has not been completed yet.
Constant delays have come with dramatic increases in the total estimated cost to move the Brampton portion of the project forward. In 2019, the surface option was projected to cost between $400 million and $450 million, while the partially tunnelled alignment (underground option) would cost between $1 billion and $1.7 billion. Now, these cost estimates have increased to $933 million for the surface option, and $2.8 billion for the underground option, demanded by Brown.
He tried to justify the costs, using comparisons to other cities and the funding they have received for major transit projects. Brown failed to point out that spending almost $3 billion for less than 4 kilometres of LRT for what now would be a standalone project added onto the Hurontario line, is not the type of cost-benefit Queen's Park and Ottawa like to see.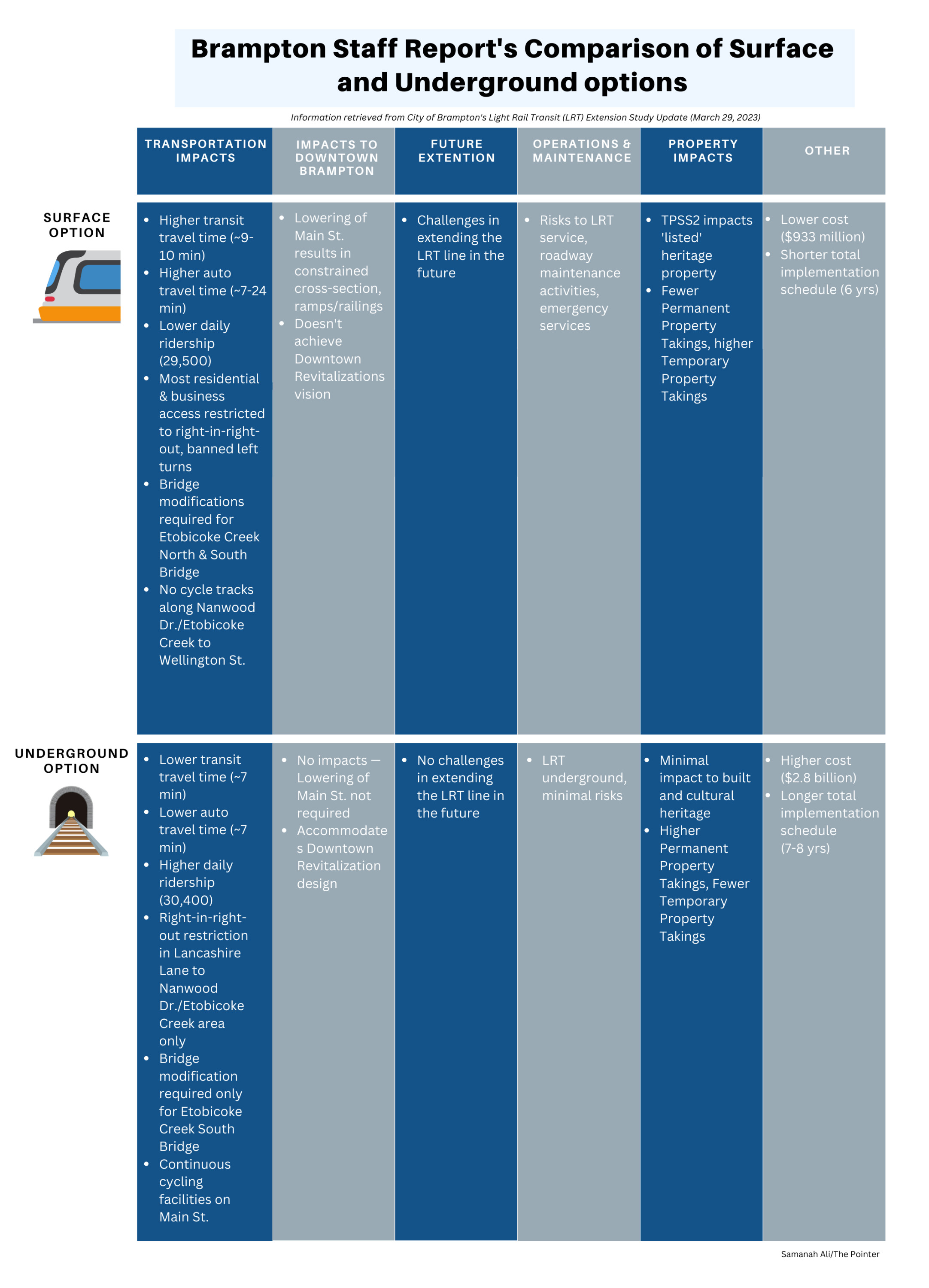 "Let's be clear, if there's no written commitment from the senior levels of government to spend three times more than necessary, for example, Council should resist the temptation to pursue a partially tunneled option," Letts said.
The same concerns, he said, have been brought forward at previous public meetings and events when the Board of Trade pushed for a smart, timely and cost-efficient way to get the LRT approved and fully funded. He said without a credible funding commitment the process could be set back for years. A tunnel option could also be "risking the money that is allocated for Brampton. This project may go to another community, other competing projects and perhaps even require the alternate more financially viable [option] to continue through this process".
Brown responded, claiming the federal and provincial governments should each contribute 50 percent toward the tunnelled project to move it forward.
"We have the same expectations other big cities in Canada do and any financial arrangement, it should be the same on a per capita basis. And the funding model should be the same. We can't accept less for our residents," Brown said. "What I've been told from both the provincial ministry and the federal ministry is there is no money right now allocated to Brampton, all the money is allocated and that's part of the challenge."
Brown was backed in his original mayoral bid by former Ontario premier and legendary Brampton resident, Bill Davis, whose stately house still sits along Main Street in the heritage district. Before he passed away, Davis made it clear to the current mayor, who commonly refers to the former Ontario leader as his mentor, that he did not want to see an LRT running in front of his Victorian home.
Letts, however, had done his research into the benefits of a surface alignment, which even Brown acknowledged. In 2015, the provincial government allocated money for Brampton, but when the slimmest of majorities, in a six-five vote, rejected the Main Street route in 2015, the money instead flowed to Hamilton's LRT project. "We don't want the same scenario to happen in this case," he said.
Brown responded: "Back then there was money on the table and it was itemized; that's gone now, there is no allocation right now."
"We have the provincial minister saying we like your tunnel idea," he claimed. "I've sat with Kinga Surma (Ontario Minister of Infrastructure) about this, but she says the feds have to add to the infrastructure allocation," adding he has also had a "very productive meeting" with Dominic Leblanc, Minister of Intergovernmental Affairs, Infrastructure and Communities, and a member of the Board of Internal Economy.
In order to receive funding, an EA application must be submitted. Without one, the City will not even be able to apply for funding. According to Infrastructure Canada, the federal government will cover as much as 40 percent of a municipal project for new public transit construction and expansion projects. The provincial intake for municipalities to apply for the latest Investing in Canada Infrastructure Program envelope for these types of transit projects closed on March 31, 2023. It's not clear when the next window for federal funding will open.
Brown said major transit project funding has gone to Edmonton, Calgary, Ottawa, Hamilton, Kitchener, Waterloo, Scarborough, and other parts of Toronto.
He did not mention that those projects had been properly planned, engineering reports had been approved, EAs were completed and the respective councils had agreed on a route that best served the public interest.
In Brampton, much of that work still has not been done, and now concerns are being raised by the city's main business organization over the price tag of a tunnelled LRT that could cost more than $3 billion, for a corridor that is less than four-kilometres long, which might scare away potential funding partners.
---
Email: [email protected]
Twitter: @SamanahAli
---
At a time when vital public information is needed by everyone, The Pointer has taken down our paywall on all stories relating to the pandemic and those of public interest to ensure every resident of Brampton and Mississauga has access to the facts. For those who are able, we encourage you to consider a subscription. This will help us report on important public interest issues the community needs to know about now more than ever. You can register for a 30-day free trial HERE. Thereafter, The Pointer will charge $10 a month and you can cancel any time right on the website. Thank you
Submit a correction about this story