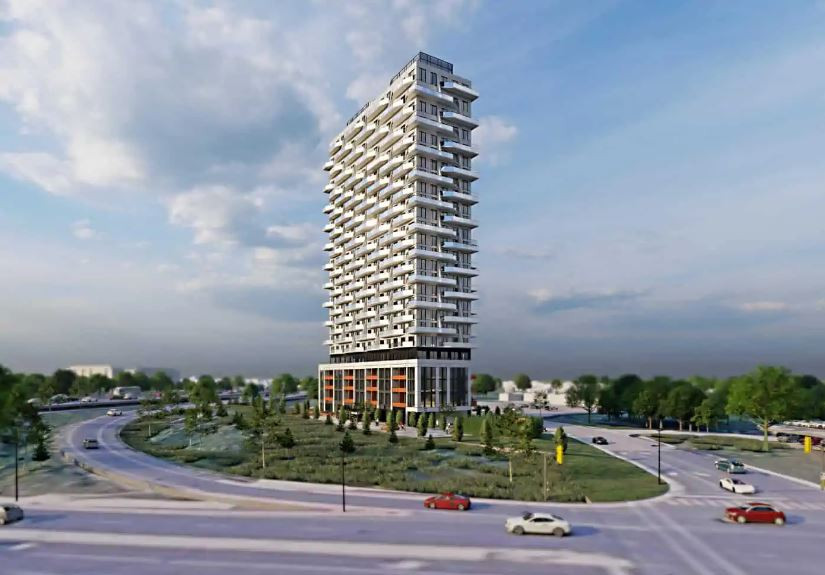 Edenshaw Developments Ltd.
After a site was listed for $1 Mississauga councillors grapple with another 'bizarre' application from local developer
Mississauga City Council is once again criticizing Edenshaw Developments Ltd. for "putting a circle in a square" with its latest development proposal, this time on the cramped site of a former OPP station—right next to the QEW—that was originally listed for $1.
During a March 27 planning and development committee meeting Edenshaw presented an information report for a development proposal at 49 South Service Road, east of Hurontario Street along the QEW. The application for a 26-storey apartment building with 352 units requires council approval for an official plan amendment and rezoning to allow the development to proceed. The proposal also includes three levels of underground parking for 137 spaces.
Council members did not hide their concerns.
"I would just say in looking at the site and how small it is and how odd it is with provincial policies of walkable livable communities, I don't necessarily see this in any way being a walkable, livable community," Matt Mahoney said, adding people would be "taking their life in their hands," to cross Hurontario on the north side.
"It's a very odd spot for a building. I personally like to see communities built that are walkable [and] livable. This is almost like it's on an island with no real access to the outside."
The PC government's controversial Bill 23 is now in effect, challenging municipalities across the province that are now being forced to hold developers in line with local planning principles, even though the new legislation allows builders to ignore many of these traditional approaches.
The PCs have established an unprecedented housing target over the next eight years, to construct 1.5 million new homes across Ontario by 2031 (120,000 in Mississauga), about three times the historic rate, allowing developers to submit applications without fear of losing an appeal to the Ontario Land Tribunal which now, under Bill 23, severely curtails the ability of municipalities to defend traditional, community-driven planning principles.
"At a macro level there are a number of factors that we have considered which we feel encourage redevelopment and intensification in this location," Roman Tsap, Edenshaw development manager, said at the March 27 planning and development committee meeting.
This isn't the first time Edenshaw has purchased a former public property in Mississauga with the hope of erecting a high-rise condo. It faced criticism when it bought provincial land from transit agency Metrolinx right next to the Port Credit GO Station, but refused to include any affordable housing units in its application despite the priority to do so around Major Transit Station Areas (MTSAs).
However, to justify its latest proposal, Tsap cited the housing supply and affordability crisis facing municipalities, which was ignored in the project slated for the GO Station precinct, a major MTSA, where affordable housing is supposed to be a priority. He said pressures from the provincial housing targets mandated under Bill 23 and the increased intensification targets along major corridors set out by the province are other reasons to support the application.
The original $1 listing price for the former OPP station was likely just a publicity stunt to drum up attention from developers.
"We have provincial targets from the Ford government that require the start of 120,000 new units in the City of Mississauga by 2031, which is approximately 12,000 new units where that is a significant increase over what is currently being constructed," he said. "This, combined with the federal government's plan of increasing immigration targets over the next few years to 500,000 persons per year, creates a significant strain on housing."
His attempt to link the development with immigration flies in the face of data and recent information that shows market-geared projects do not offer affordable housing for new immigrants and do little to alleviate the crisis faced by low-and-middle-income earners.
The claims were made despite no details from Edenshaw to show how affordable housing demand will be met by the proposed highrise.
The Ford government has been heavily criticized for failing to show how Bill 23 will align with affordable housing needs including those of recent immigrants. Yet Ford and developers keep making the claims to win support for lucrative projects that builders continue to push.
Tsap claimed the project is aligned with mandated policies for Major Transit Station Areas, which professional planners have repeatedly explained: tax dollars used to construct massive public transit projects should not pay-off developers who then construct expensive housing along these corridors whose values skyrocket on the backs of the public, while those who need access to housing and transit most are shut out.
The City of Mississauga has already been warned about skyrocketing land values created by taxpayer-funded government transit projects, which result in affordable housing along corridors such as Hurontario being replaced by luxury condos and other housing unaffordable to most.
Toronto has faced criticism for pricing-out low-and-middle-income earners who should have the closest access to major transit corridors, which are filled across the city with properties that target wealthier buyers, pushing affordable housing farther and farther away from high-order transit lines.
With construction of the Hazel McCallion LRT, coupled with the expansion of Trillium Hospital along Hurontario Street into one of the largest in the country, "development in this particular location allows for the Mineola major transit station area to meet its regionally mandated density targets while maintaining the character that it's known for," Tsap said, without explaining how his project in a major transit area will help those who need affordable housing, especially near transit hubs.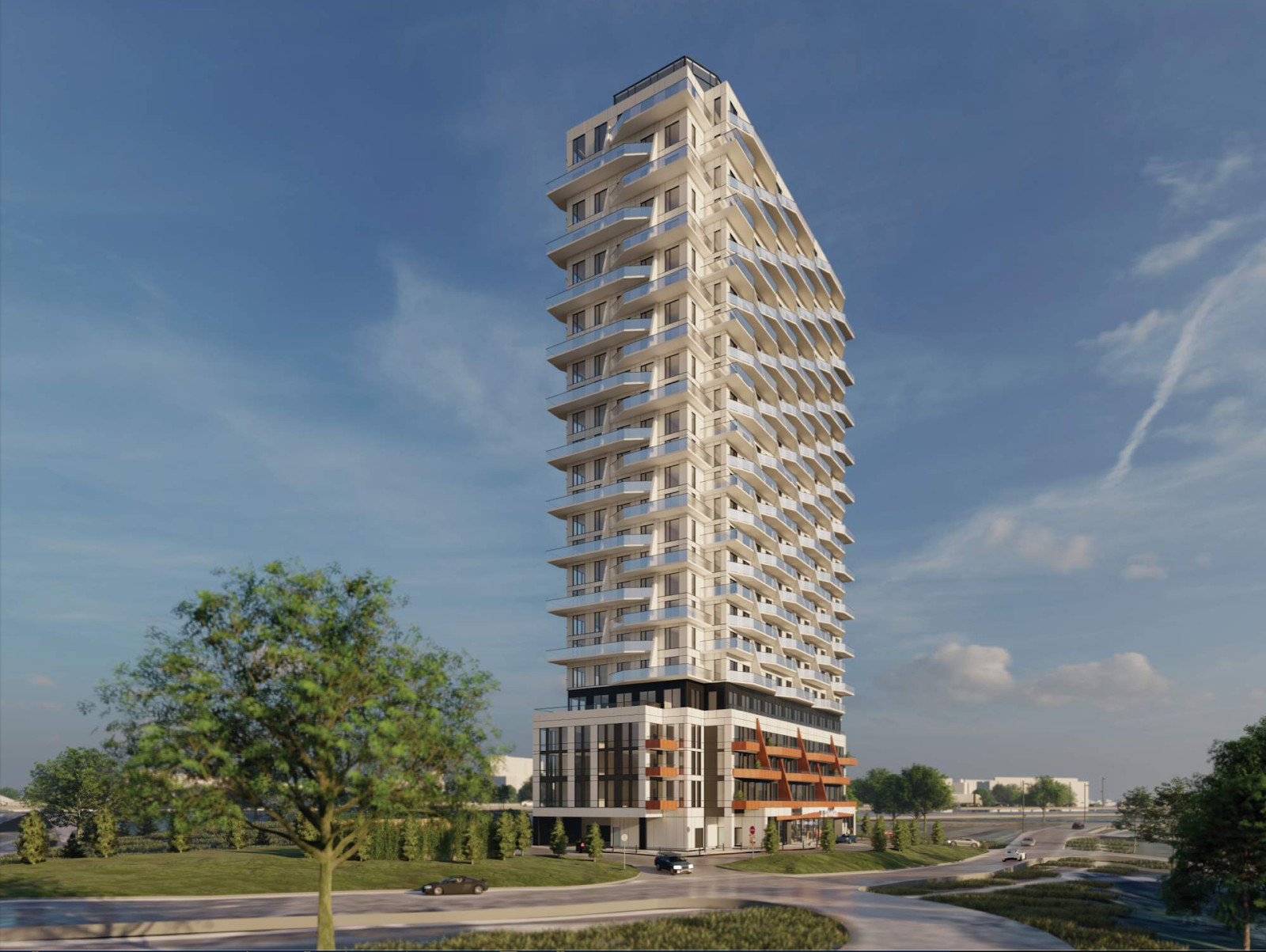 A rendering of the 26 storey apartment building proposed at 49 South Service Road.
(Edenshaw Developments Ltd.)
Dylan Dewsbury, a senior planner at Sajecki Planning, said while the density target for the Mineola Major Transit Station Area (MTSA), which surrounds the proposed development, is 50 residents and jobs per hectare, the current density is 28 people and jobs per hectare; the Mineola MTSA would need to accommodate nearly double the number of people living and working in the area to meet targets. He argued the proposed development would provide "a unique opportunity for intensification in Mineola [MTSA]."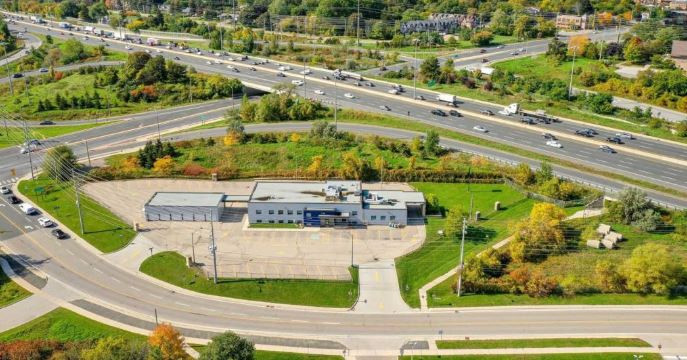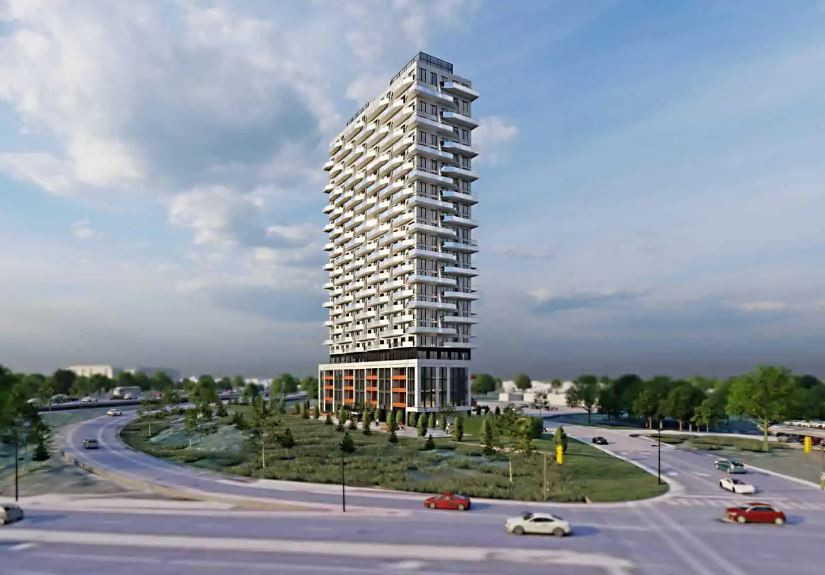 Top, the property with the former OPP station. Bottom, the proposed highrise project.
(Top, realtor.ca; bottom, Edenshaw Developments Ltd.)
The particular site, which housed an OPP station for years, raised concern among members of council.
"I'm willing to listen and be open minded, but I still have concerns that this will be the closest building built in the history of Mississauga to a 400-series highway," Councillor Brad Butt said.
"This is again, one of the tightest pieces of property I've seen for redevelopment. I just think this is an awfully tight site for something this large. But I'm really concerned that there isn't enough being offered up here to support the wider community if we're going to have this many people living in a building like this."
Councillor Carolyn Parrish noted the school board and other agencies were offered the land at 49 South Service Road but turned it down due to the space constraints of the site and the location.
This latest proposal is one of many development applications overwhelming Ward 1 which covers Lakeview, Port Credit, Mineola and part of Dixie.
Edenshaw Developments Ltd. made a second attempt in early March to push its separate development application with two high-rise towers — at 40 and 42 storeys the buildings would be double the height restrictions for the Port Credit area. The application was slammed by councillors who labelled it "insulting" last year when the proposal first came forward. The land is the former south parking lot for the Port Credit GO Station, located at 30 Queen Street East (the developers are now calling it 88 Park Street East).
When the proposed tower-development was first revealed in July 2022, City officials were shocked. Located steps from Lakeshore Road and in a MTSA, officials were expecting density, but the proposed high-rise towers would dwarf the surrounding streetscape — twice the height of the next tallest building in the area — and without any affordable housing, were not well received.
In July, after council members rejected the excessive height, the committee ordered the developer to go back to the drawing board to revise the application and significantly reduce the proposed building heights. The applicant's consultants suggested the property owner would file a resubmission that would include changes to the development proposal.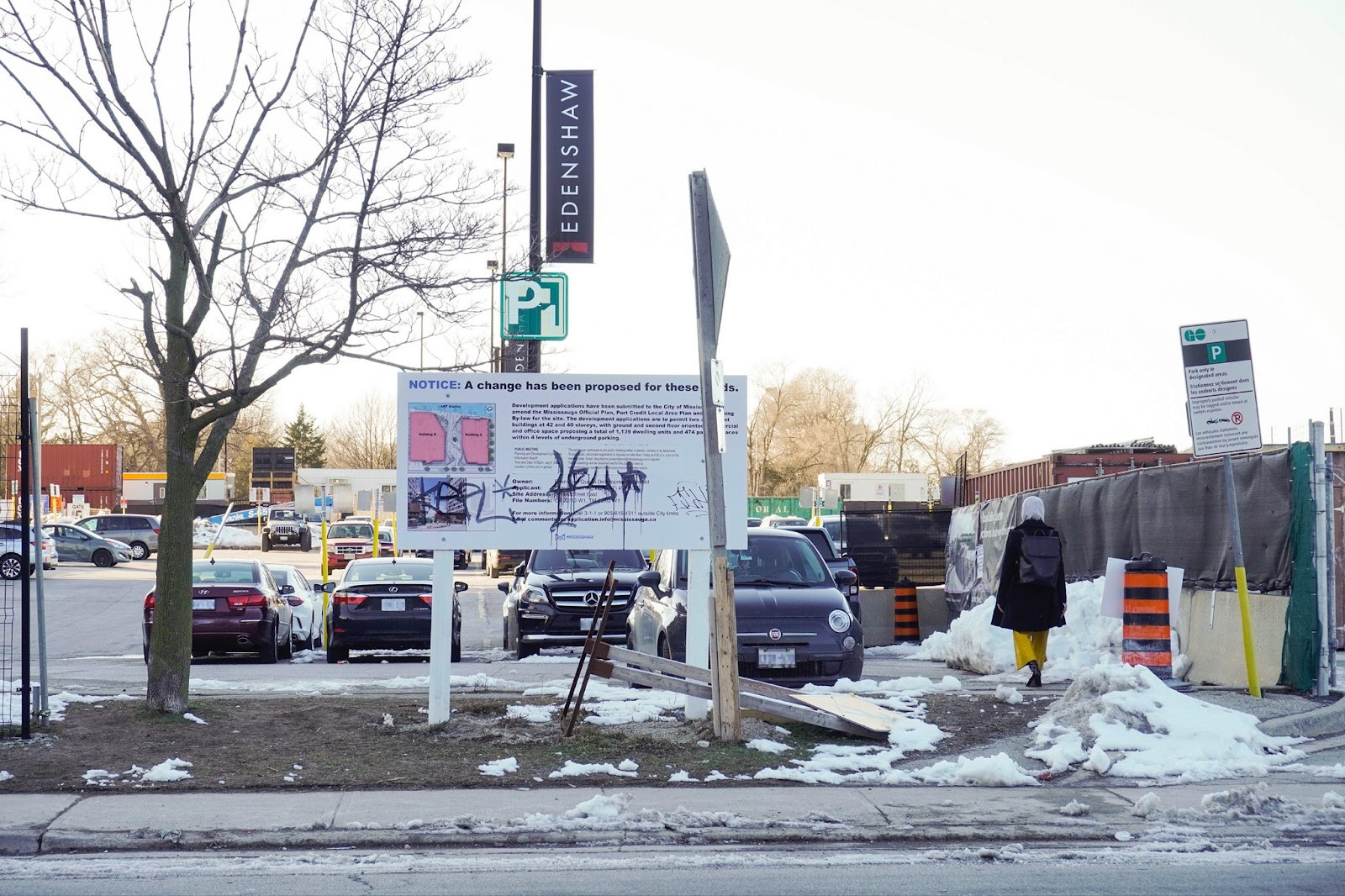 The proposed development sign for the planned highrises on the former south parking lot of the Port Credit GO Station.
(Alexis Wright/The Pointer)
However, staff confirmed at the March 6 planning and development committee meeting that no revisions had been made to the original proposal. Instead, the applications were appealed by Edenshaw in November to the Ontario Land Tribunal — a move councillors were fearful of. But it didn't stop them from pushing back against the original proposal by Edenshaw which partnered with another company on the plan. A pre-hearing conference or hearing date for the appeal have not yet been scheduled.
The Mississauga-based developer has miscalculated the community and City Hall's willingness to embrace the type of hyper-verticality and intensification it has pushed with no affordable housing considerations and little contemplation of the areas surrounding its plans.
In an email to The Pointer, a spokesperson for Edenshaw said "Both of the applications, particularly 88 Park Street East, are extremely well served by existing and planned high-order, public transportation, which is where the Province has directed density and growth to occur within cities." There was no mention of affordable housing, which is the priority for these high-order transit areas.
When the proposal for 88 Park Street East was first presented, residents questioned why developers continue to ignore local plans. The same question is now being asked by councillors.
"It's like some thumb sticking up in the middle of nowhere. You've got a highway on one side to get a service road and you've got Hurontario, which is a very busy street, so I think it's bizarre," Parrish told the committee. "As everybody here knows, I'm the queen of high rise. I like high rise buildings. This one does not belong here, this is really bizarre. Even the look of it is bizarre."
In 2021 the province listed lands, previously home to the Port Credit OPP detachment, made up of an 8,000-square-foot building with a parking lot and a garage, at 49 South Service Road for sale at just $1 to inspire bidding.
The proposed development sits on a polygonal plot of land that was previously home to the Mississauga OPP station before the province declared it surplus when the new detachment was constructed in 2020.
Edenshaw's building design features a trapezoid shape consisting of staggered balconies that would cut through the skyline. If approved, it would rise above the nearby QEW highway in an area consisting primarily of low-rise buildings.
In response to City Council's concerns, the Edenshaw spoksperson said the company opted with the location at 49 South Service Road "for a high-rise development because we see an opportunity for growth that is consistent with the City's vision. The site is located just off Hurontario Street, which is designated as an Intensification Corridor and is also within the Mineola Major Transit Station Area, both of which are identified as strategic growth areas in the City's Official Plan, exactly where density is meant to be directed."
As with previous applications brought forward by Edenshaw, despite being located in a MTSA, there is no mention of affordability of the much-needed housing units proposed in the latest Edenshaw plan – another shortcoming heavily criticized by council (MTSAs are designated for affordable housing).
The Region is in dire need of more affordable units. The Region of Peel's centralized waitlist grew 88 percent in two years, reaching 28,227 households who need affordable places to live at the end of 2021. Mississauga has the most households on the waitlist with 11,457 families in need of homes or rental places that are not more than 30 percent of their income.
Tsap told the committee Edenshaw was committed to the provision of affordable housing units but did not confirm any numbers. He noted in previous developments, Edenshaw has "committed to over $12 million worth of market value of affordable housing."
He did not clarify how "market value" is the same as affordable housing, which is around 40 percent of current market pricing in Mississauga, which is unaffordable to 80 percent of the city's residents, according to a Region of Peel report. He also distanced the projects from recent requirements for legitimate affordable housing.
"Notwithstanding that the city's inclusionary zoning bylaw does have provisions for projects that are in progress and per those rules, inclusionary zoning doesn't apply to the development. Notwithstanding, we will continue to work with staff and be able to secure a potential affordable housing contribution here," he said. Currently, Edenshaw is planning a mix of units with approximately 70 percent featuring one bedroom units with the remainder for two-bedrooms suites with the potential to merge units if the market requires it.
The City's Inclusionary Zoning (IZ) policy, a tool used to help get more affordable housing built across Mississauga, allows the City to require affordable housing units for certain new housing developments. Mississauga's IZ policy, approved by council in August 2022, applies to larger scale developments with over 50 ownership units (or 3,600 square metres of residential area). The policy requires five to ten percent of the residential area in a new building be set aside for affordable units; the percentage varies based on where in the city the development is located. Currently, the IZ policy can only be used in MTSAs or other areas directed by the Province.
"I don't know how many families would be able to afford two single units and then to put them together, I think it would obviously be better having a healthier mix of two and even three-bedroom units for families, especially in that neighborhood," Councillor Alvin Tedjo said.
"Seventy percent single units is not really family conducive. Those are things that I think we need to change as we go forward with all developments," Councillor Mahoney echoed.
In a separate email, Edenshaw noted while the company's residential developments contain a mix of one, two and three-bedroom suites, their "intention is to 'future-proof' the development by building flexibility into the structure, which will allow a future homeowner to purchase an adjacent suite and merge it, if so desired.
"Market dynamics, along with rising construction costs can make 2 and 3 bedroom suites costlier than a semi-detached or townhouse dwelling. In our experience, 1 bedroom and 1 bedroom plus den condominium suites are an equitable solution for entry-level/first-time home buyers, which represent the majority of our purchasers; while 2-and 3-bedroom suites typically appeal to downsizer/right-sizer audiences, which represent a much smaller buyer segment. Nonetheless, we are building flexibility into the development to accommodate the needs of future families, should the market present."
While questions around lack of affordability lingered, similar to the application next to the GO Station, councillors said parking once again misses the mark. Edenshaw is proposing three levels of underground parking with 137 spaces for residents and 229 bicycle spaces.
"One item we always hear is that development brings traffic," Tsap said. "So one way to alleviate that is just not to provide it." He added that with "the billions of dollars being invested along Hurontario for an LRT, we feel that of all the places these are appropriate locations along Hurontario to provide reduced parking."
With the QEW right next to the development, councillors also questioned challenges around the walkability of the location.
Despite questions around affordability, parking and location, with the provincial government's current housing targets, development applications that challenge city planning policies might become the new normal for municipalities.
"There's a litany of things that really need to be addressed before you try to move forward with this," Councillor Stephen Dasko, who represents Ward 1, said.
"Right now, unfortunately, it's just putting a circle in a square. I don't want to hear from other people that say that we're against development, etc. Just give us some good stuff that fits in with our local area plans and our official plan, and things that we can work with and that would certainly go a long way."
---
Email: [email protected]
Twitter: @mcpaigepeacock
---
At a time when vital public information is needed by everyone, The Pointer has taken down our paywall on all stories relating to the pandemic and those of public interest to ensure every resident of Brampton and Mississauga has access to the facts. For those who are able, we encourage you to consider a subscription. This will help us report on important public interest issues the community needs to know about now more than ever. You can register for a 30-day free trial HERE. Thereafter, The Pointer will charge $10 a month and you can cancel any time right on the website. Thank you
Submit a correction about this story