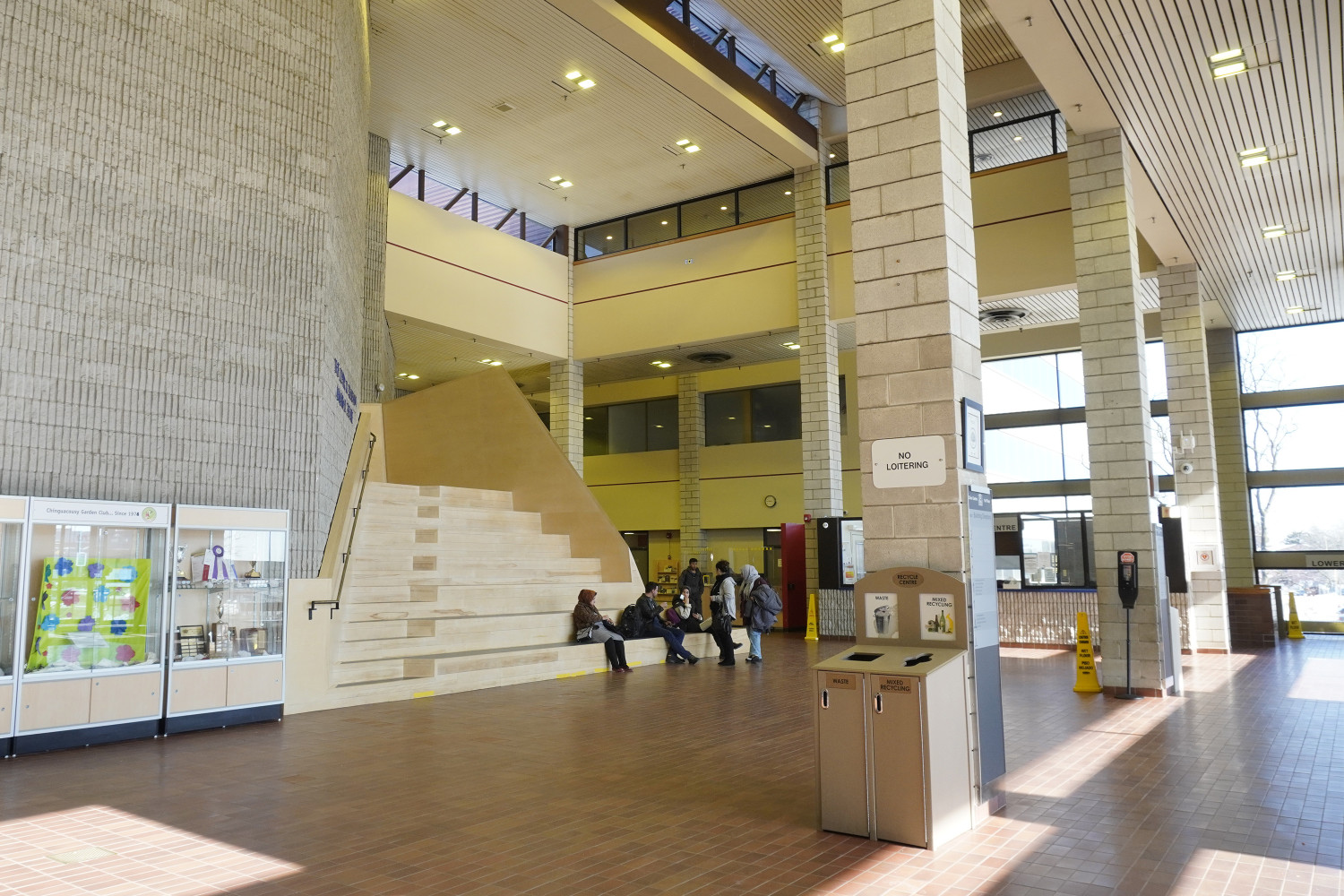 (Alexis Wright/The Pointer)
TMU answers questions on how it will open its proposed Brampton medical school in just two years
Bureaucratic cogs have begun to grind forward to support the creation of the Toronto Metropolitan University school of medicine in Brampton, which officials say will open by September of 2025.
A process that can take decades for universities more established than TMU is being fast tracked, but officials will have to demonstrate their ability to condense a typical approval timeline that can take ten to fifteen years, into a much shorter runway for the school to launch in 2025.
York University, which has a much more established science faculty, and has geared many of its healthcare-related programs toward the creation of a medical school, has been working toward opening one for more than 15 years.
Its established "Faculty of Health" has one of the country's largest Nursing programs, bachelor and graduate degrees in psychology, kinesiology, biology, biochemistry and health sciences, global health, health studies, health policy and management, health informatics, critical disability studies and neuroscience.
In comparison, TMU has a nursing program in collaboration with two colleges, and offers undergraduate programs in biology and biomedical sciences, but few other options in the health sciences, which underpins medical school education.
Typically, medical students complete much of their science education during their undergraduate work, but their four years of med school includes a range of classroom and clinical education.
The first two years are often called the "foundation" half, while the last two are called a "clerkship" when students spend most of their time in a teaching hospital partnered with the medical school to learn clinical skills, some of which are introduced during the first two foundational years.
The course work in those early years typically focuses on anatomy, lab work, pharmacology and a range of education in cognitive science, social science, community healthcare, diagnosis and treatment of diseases and other conditions, antenatal development and birth and a range of other work to prepare students for the day-to-day demands of treating and managing patients in a hospital setting.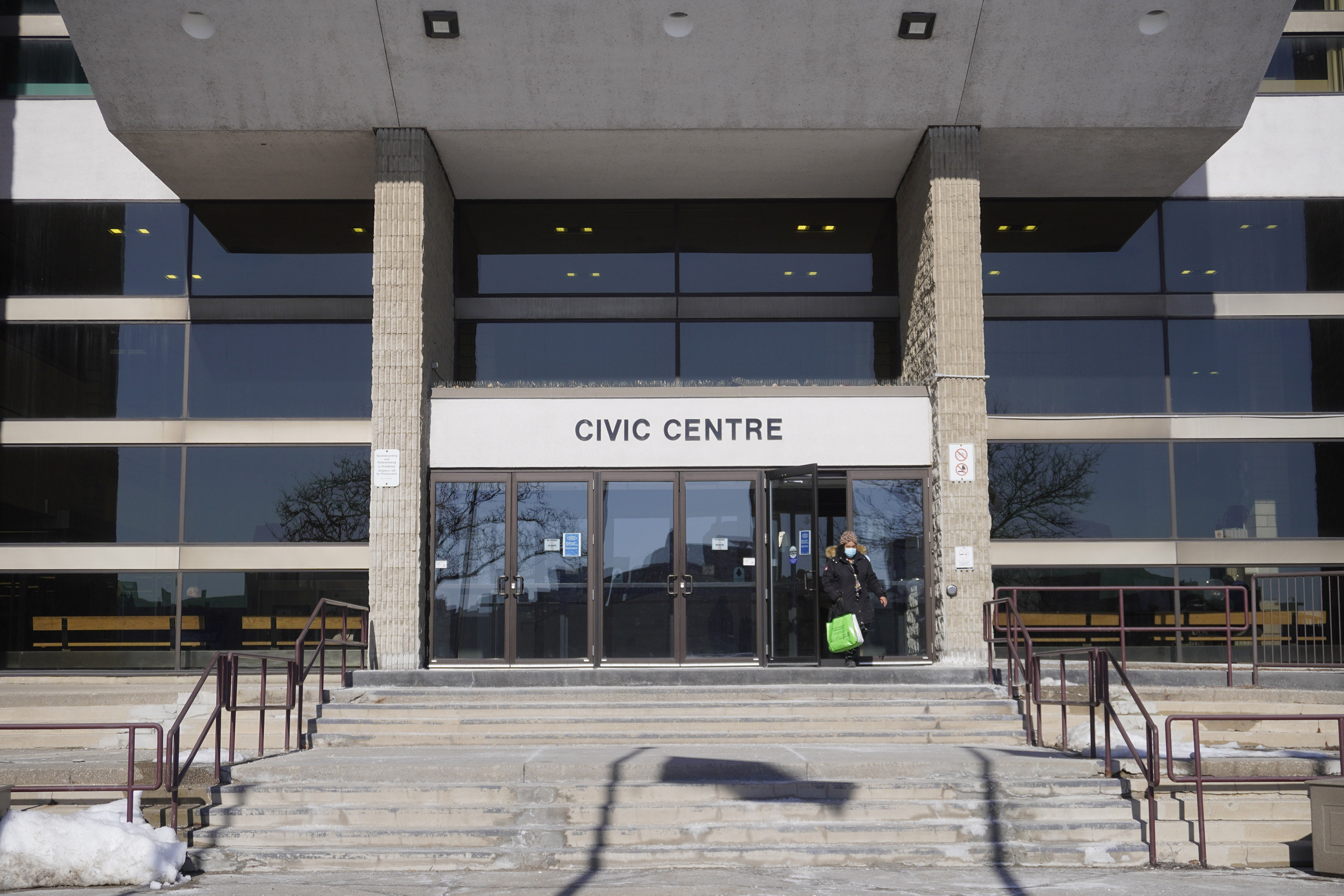 Converting the existing facilities inside the Brampton Civic Centre and Chinguacousy Library branch will pose its own set of logistical challenges for TMU.
(Alexis Wright/The Pointer)
Currently, TMU does not have a medical faculty or the breadth of academic expertise required to deliver a four-year medical school education.
The Pointer asked TMU how it will establish a full medical faculty, develop complex courses, create departments, create a teaching hospital environment at a partner facility in Brampton, and hire a founding dean responsible for the school by September of 2025. It also has to meet approval requirements from various entities, including the Ontario Universities Council on Quality Assurance and the Ministry of Colleges and Universities.
A TMU spokesperson explained that many facets of the work to open the medical school are already underway ahead of the planned start date.
"This includes, but not limited to, working with the various networks of partners to facilitate all the appropriate and required approvals, and establishing fiscal and operational budgets and timelines to ensure the 2025 start date for the inaugural undergraduate class at the School of Medicine," the spokesperson said.
"TMU's approach also includes a robust consultative ecosystem, embedded from the very beginning of the planning process, with the communities of Brampton, TMU, Osler (William Osler which manages Brampton Civic Hospital) and broader health system providers. TMU, has and continues to, work collaboratively on the establishment of its School of Medicine in Brampton with the WIlliam Osler Health System, all three levels of government, accreditation and oversight entities, the broader health system and physician communities and partners, and with the Brampton and Peel communities themselves. This collaborative approach will ensure that TMU is establishing a new kind of medical school in Brampton that will produce a new type of physician best trained to serve the health needs of the community."
While the William Osler Health System is planned to be the primary clinical teaching partner of TMU for its School of Medicine, university officials were unable to explain the process to transition one or more of Osler's hospital or healthcare facilities into a teaching hospital including all the clinical/medical programs (such as oncology, surgery, cardiology etc.) required to meet all the specific educational requirements of a medical degree and the timelines for these requirements to be in place. It's also unclear how Brampton Civic, a hospital that has been notoriously underfunded and gridlocked, will have the capacity to become a teaching hospital.
The proposed 2025 timeline does not line up with the length of time it typically takes to launch a new medical school.
TMU first announced plans for a medical school in 2021, with City Council voting in favour of a $1 million planning grant to help fund feasibility studies into the ability to lauch and host a future school of medicine in the city, matching the funding committed by the Province earlier that year. Provincial approval for the medical school, in principle, was received in March 2022.
Following City Council's tour of facilities in January, the Province, City and TMU announced the new medical school will be located at the Bramalea Civic Centre, chosen due to the proximity to both Brampton Civic Hospital and Peel Memorial Wellness Centre (both run by Osler), as well as its accessibility to municipal transportation, GO Transit and Highway 410.
Authority to establish the School of Medicine has been officially approved by TMU's senate, and approval for a Doctor of Medicine (MD) program is planned to go to the university's senate by May.
Curriculum for the TMU School of Medicine is still being developed, including courses and departments, which won't be shared with the senate until this month, and the founding dean is expected to be in place in "the coming months."
The founding dean will be responsible for the hiring process for faculty.
Those are just some of the internal approvals and work.
TMU's new undergraduate medical education program must also undergo external review by the Committee on Accreditation for Canadian Medical Schools (CACMS), which the university plans to submit accreditation documents to in August.
Additionally, as per university policy for developing new academic programs, approval will need to be obtained from the Ontario Universities Council on Quality Assurance for the MD program. TMU says it plans to submit these documents later this year.
All these steps will need to be completed before the school can open. If any of these approvals are not received, or sufficient information is not provided in this short timeline, it could lead to delays or cancellation of the plan altogether.
The Ontario Universities Council on Quality Assurance, reviews university programming to ensure it meets the proper standards for higher education and that courses will deliver the expected learning for students.
"[T]he Quality Council provides assurance to the system that the processes are sound; to the institution itself, other institutions, potential students, students, employers, and funders both public and private. It is a vehicle of public accountability to those who have an interest in the experience of those who enter, undertake and graduate from the program," the organization's website states.
Christopher Evans, executive director of the Ontario Universities Council on Quality Assurance said approval for a typical post-secondary program can take somewhere between 18 months to two years from the internal design of the program to the final approval by the Council.
"In addition to that, the Ministry of Colleges and Universities also has to do an approval and that's something we're not involved with and they have their own timelines," Evans said.
Designing a medical school is no easy task – York University has taken about 15 years and it has yet to reach Council assessment.
York created its faculty of health in 2006, and has established degree programs in a wide range of medical fields to support a future medical school education. In 2008 the university made clear it wanted to open a medical school and began the process. Fifteen years later it says it's about half way there, according to the university's own timeline.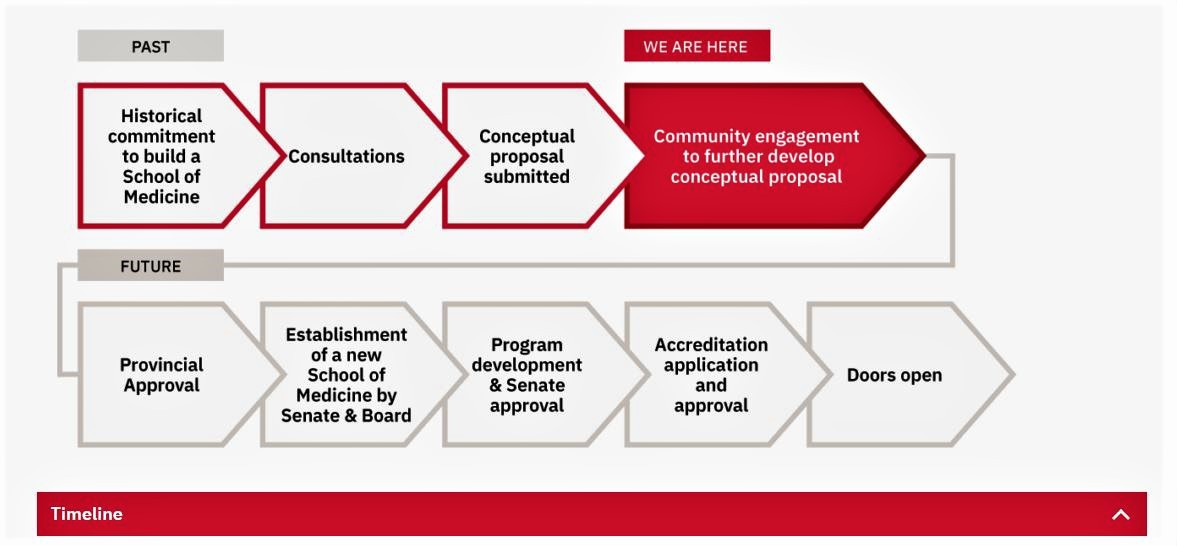 York University's timeline for its medical school plan.
(York University)
TMU has not done any community engagement for the specific design of a medical school program in Brampton, something York has recently initiated as part of its timeline.
In the last five years it has progressed toward internal and external approvals but still does not have the green light from Queen's Park. It's unclear how TMU leapfrogged York. "In 2019 York University entered a memorandum of understanding (MOU) with the City of Vaughan, Mackenzie Health, and VentureLab to undertake a feasibility study for the creation of a healthcare precinct on lands adjacent to the Cortellucci Vaughan Hospital," the university details on its medical school plan webpage.
After 28 steps since, each detailed on York's website, it is now here: "January 19, 2023 Discussion with the Council of Research Directors. Provost and VP Academic Lisa Philipps meets with representatives from the Council of Research Directors to discuss opportunities with the School of Medicine and the Vaughan Healthcare Centre Precinct."
A Ministry of Colleges and Universities spokesperson said the York proposal is under review after the Ministry received a formal Major Capacity Expansion Proposal for York University's School of Medicine on September 30, 2022.
It's unclear how, or if the Province would move forward with two new medical schools, in neighbouring cities.
There has been no announcement of funds for the Brampton school of medicine in the provincial budget. Only $1 million was committed to explore the possibility of a Brampton medical school in partnership with TMU.
While the provincial government is investing $42.5 million over two years for medical schools across the province, the investment won't be seen by TMU's school of medicine until it becomes operational.
Meanwhile, in another unusual twist under Brampton Mayor Patrick Brown, the City has entered into a capital plan for the facility that will house the proposed medical school, which was handed to TMU in a controversial decision that locked the public out of the process.
It came as a surprise to many Brampton residents when they learned weeks ago that the Bramalea Civic Centre (valued at $48 million), which houses the Chinguacousy library branch, was being given to TMU to house the proposed medical school (the library and the arts organizations hosted at the civic centre were abruptly told they have to leave).
Brampton Council members approved $20 million to renovate the civic centre for TMU. There was no public consultation, existing tenants including the library were never included in any stakeholder discussions and some elected officials have voiced frustration over the way the entire process has been handled.
When The Pointer asked TMU why the capital plan for the construction of a medical school building in Brampton has been announced before TMU has completed all the steps for approval of a new major academic program, and prior to approval by TMU's senate, university officials requested the questions be directed to the City of Brampton for a response.
The City of Brampton did not respond. Brown has not explained why he handed over a $48 million facility to TMU and pushed the use of $20 million of taxpayer funds to renovate the civic centre to make way for a proposed new medical school that could be years away from approval.
Residents interested in the future of the TMU Medical School can join a Zoom event hosted by the university on Monday May 8th from 5 p.m. to 5:45 p.m. where President and Vice-Chancellor Mohamed Lachemi and interim Provost and Vice-President Academic, Roberta Iannacito-Provenzano will answer questions from the public.
---
Email: [email protected]
Twitter: @JessicaRDurling
---
At a time when vital public information is needed by everyone, The Pointer has taken down our paywall on all stories relating to the pandemic and those of public interest to ensure every resident of Brampton and Mississauga has access to the facts. For those who are able, we encourage you to consider a subscription. This will help us report on important public interest issues the community needs to know about now more than ever. You can register for a 30-day free trial HERE. Thereafter, The Pointer will charge $10 a month and you can cancel any time right on the website. Thank you
Submit a correction about this story