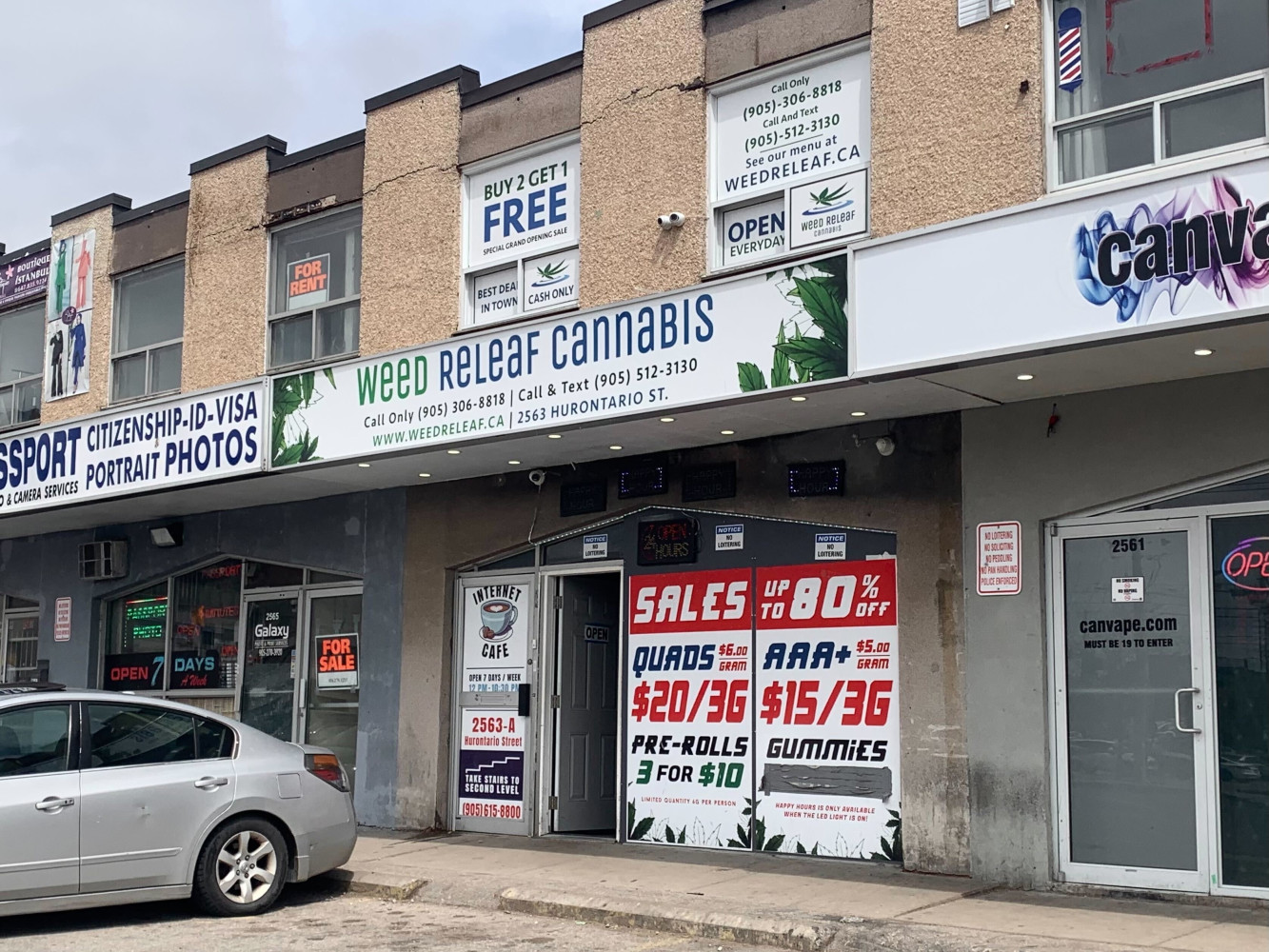 (Alexis Wright/The Pointer)
As Mississauga Council opts into legal cannabis, advocates hope benefits will drown out negative stigmas  
After weighing all the factors — store clustering, public safety and the illegal market — Mississauga is putting an end to its ban on cannabis retail across the city, leaving advocates hopeful the province's third largest municipality will soon catch up to the rest of the country.
Council chambers erupted Wednesday as the final 8-4 vote appeared on the main screen.
A turnover of certain former members who were not back after the October municipal election and a key issue that changed the mind of at least one council member, Dipika Damerla, resulted in a change of course in the largest Canadian city without legal cannabis stores.
The illicit market has thrived in the city, and the hope among many, including Damerla who brought forward the motion to lift the ban, is that legal stores, within a closely regulated government system, will now dominate a local market that has seen illegal cannabis thrive.
In a statement issued following council's decision on Wednesday, the Ontario Cannabis Store (OCS) which monitors the sale of legal cannabis in the province, voiced its support for the decision, "which will provide residents of Ontario's third-largest city with legal access to tested, traceable, safer cannabis products, while displacing the illegal market." The statement noted the decision "marks a major step forward as the cannabis industry continues to evolve within the legal framework."
In an email to The Pointer, a spokesperson with the Alcohol and Gaming Commission of Ontario (AGCO) underscored that its "focus is on the safe, responsible and lawful sale of cannabis, and the prevention of legal cannabis being diverted to the illicit market, consistent with the legislation enacted by the provincial government.
"The AGCO assesses the eligibility of all licence applicants and all licensed cannabis retailers are held to the highest standards of honesty and integrity. In order to accomplish these objectives, before issuing a licence to any operator, the AGCO undertakes a comprehensive assessment of the applicant and all interested parties, including police and background checks," the spokesperson explained.
"The AGCO will only license applicants who meet all legal and regulatory requirements."
With the decision to opt in, prospective business owners and advocates who have been waiting patiently for City Council to welcome cannabis retail want to change the dynamic around cannabis use in Mississauga.
Bret Unger, owner of Takeoff Cannabis which operates stores in Niagara and Toronto, said although Mississauga residents have been able to utilize the resources of neighbouring municipalities, they have missed out on the one-on-one educational aspect.
"I think it's great to see a city of that size move in the right direction." He said Mississauga residents have been forced into "either ordering online or probably traveling to neighboring cities where maybe it's just a quick in and out because it's a drive to get there."
An expansion into one of Canada's largest cities might be in his plans.
"It's not so much like, 'oh, let's be the first in Mississauga.' For me, it's not really the race. It's finding the right spot and what makes the most sense and how we can serve the community and finding a location that can do that in. I don't want to just open to open. I want to be in a good spot where I can serve the community and give back to the community."
Kevin Trethowan, co-owner of The Niagara Herbalist, said Mississauga has been on his radar for a while.
He believes the illegal market over time will be diminished as people recognize the benefits of legal cannabis.
"As the industry evolves and now we are starting to see people move away from your traditional smoking, we're looking at edibles now, we're looking at drinks, we're looking at all these different sort of niche products that would be considered more normal, quote unquote," he said. "I know firsthand the money that it takes, the knowledge that it takes, the investments to better produce these good, high quality products, it's not something that I think the illegal market can do and I think that's going to be the big change and it's really only a matter of time before the illegal market slowly dissipates.
"I compare from when we opened on the first to where we are now. It's chalk and cheese. It's completely different and there's something new coming in all the time… and I just think the legal market it's thriving, and it's only going to continue that way."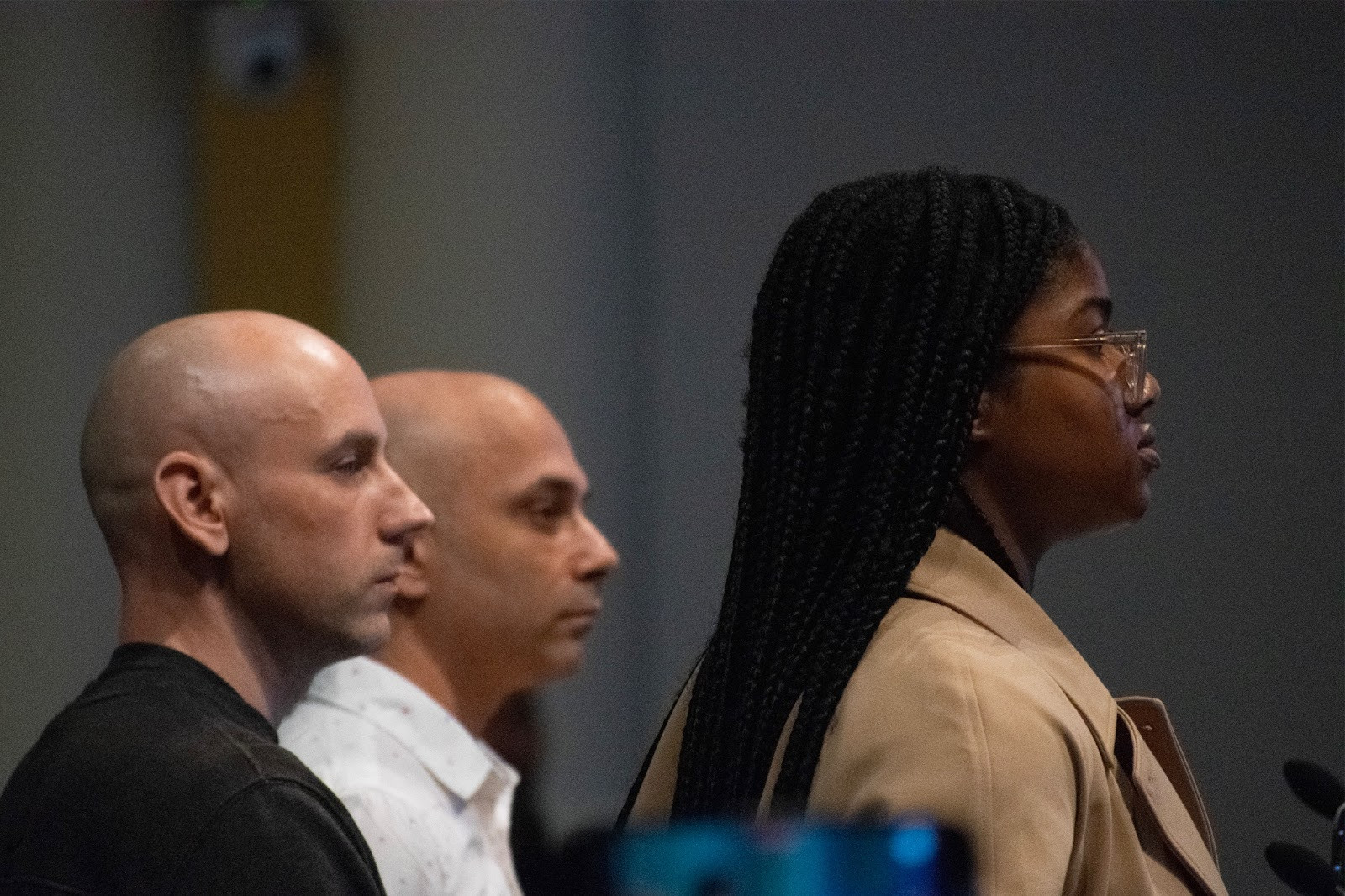 Kevin Trethowan, co-owner of The Niagara Herbalist, (left) stands alongside Cyrus Hambaz, CEO of Canadian Clinical Cannabinoids and Rianna Ford during a delegation to Mississauga council on April 19.
(Alexis Wright/The Pointer)
Having seen and experienced firsthand the potential benefits cannabis use has, Trethowan said he wants the industry to become more than just what's traditionally viewed as "pot shops".
"I've seen and experienced firsthand the potential benefits that it has, and how it's changing people's lives. And I think it was disappointing to see a city the size of Mississauga opt out initially because it's forcing people to the illegal market."
A store called Weed Releaf has operated for years in a strip plaza along one of the busiest stretches of Hurontario Street, offering residents 24/7 access to a range of illegal cannabis products. For about four years police have repeatedly shut down the store, confiscated its illicit products and issued fines, only to see the owners reopen after paying them.
The frustrating reality of illegal cannabis was highlighted in a staff report presented to Council members before last week's vote.
Now, people like cannabis retail consultant and Mississauga native Rianna Ford say the benefits of a regulated system will hopefully overshadow many of the negative perceptions around the illicit sale of marijuana.
As legal cannabis retail is introduced to Mississauga, she said there will be a portion of the population who are unfamiliar with the benefits but she says education will change that.
"I just want to bridge that gap. This is a new city, we're youthful, we're innovative, we're expanding. So why are we trying to kind of stay in the past, so to say. So I think we definitely are trying to innovate Mississauga a bit more."
She said the decision will "create more employment and job opportunities for myself and a lot of people in this industry looking to work. It's not a matter of having to buy it online. It's a matter of having the option to talk, learn [and] educate yourself a bit more from those people who are trained, who are passionate about their jobs and who are from similar communities that you're living in yourself as citizens of Mississauga."
She highlighted the wellness aspect of cannabis that gets lost when negative stigmas and stereotypes push out a more realistic understanding that comes with experience in the legal market.
"So I think supporting local really takes it one step further with now allowing legal storefronts in the city. it's just the option to now work in a city that's raised us in a sense."
Rianna Ford said she was pleased to see Mississauga City Council revisit the issue and opt-in to allow cannabis retail to operate.
(Alexis Wright/The Pointer)

It's unlikely stores like Weed Releaf or owners who have previously been fined for illegal cannabis sales will be able to legally operate in Mississauga.
The City's staff report last week noted that after Toronto, Mississauga is the top municipality in the province for the number of illegal cannabis delivery services promoted on illegal websites and "While demand is being increasingly satisfied by the legal market [elsewhere], the illegal market in Mississauga continues to operate." The report cited information from Peel Police pointing out that it's unknown whether the number of illegal delivery services in Mississauga will decrease over time with the lifting of the ban, noting that while Toronto "opted-in over two years ago, some illegal websites continue to persist in that municipality."
According to the federal government, to apply for or renew a cannabis licence, the business owner must meet several conditions, and must "have not failed to comply with any Act of Parliament (other than the Excise Act, 2001) or of a provincial or territorial legislature that deals with the taxation or control of alcohol, tobacco products, cannabis products, or vaping products or any regulations under it in the past five years," meaning Weed Releaf will be ineligible to apply for a new licence anytime soon.
Under Ontario's Cannabis Licence Act, an applicant is not eligible to be issued a retail operator licence if "there are reasonable grounds to believe that the applicant will not carry on business in accordance with the law, or with integrity, honesty or in the public interest" or if "a person… has been convicted of or charged with an offence under this Act, the Cannabis Control Act, 2017, the Cannabis Act (Canada) or the regulations made under any of them."
The staff report noted that despite the persistence of illegal operations serving Mississauga residents, Peel Police have seen no additional upward crime trends associated with cannabis in Peel Region. The report also provided data from the OCS on sales and other habits around cannabis use in the city, including that "42 per cent of Mississauga cannabis consumers report having purchased from mail order cannabis sites; 61 per cent from an individual; and 47 per cent from an illegal dispensary."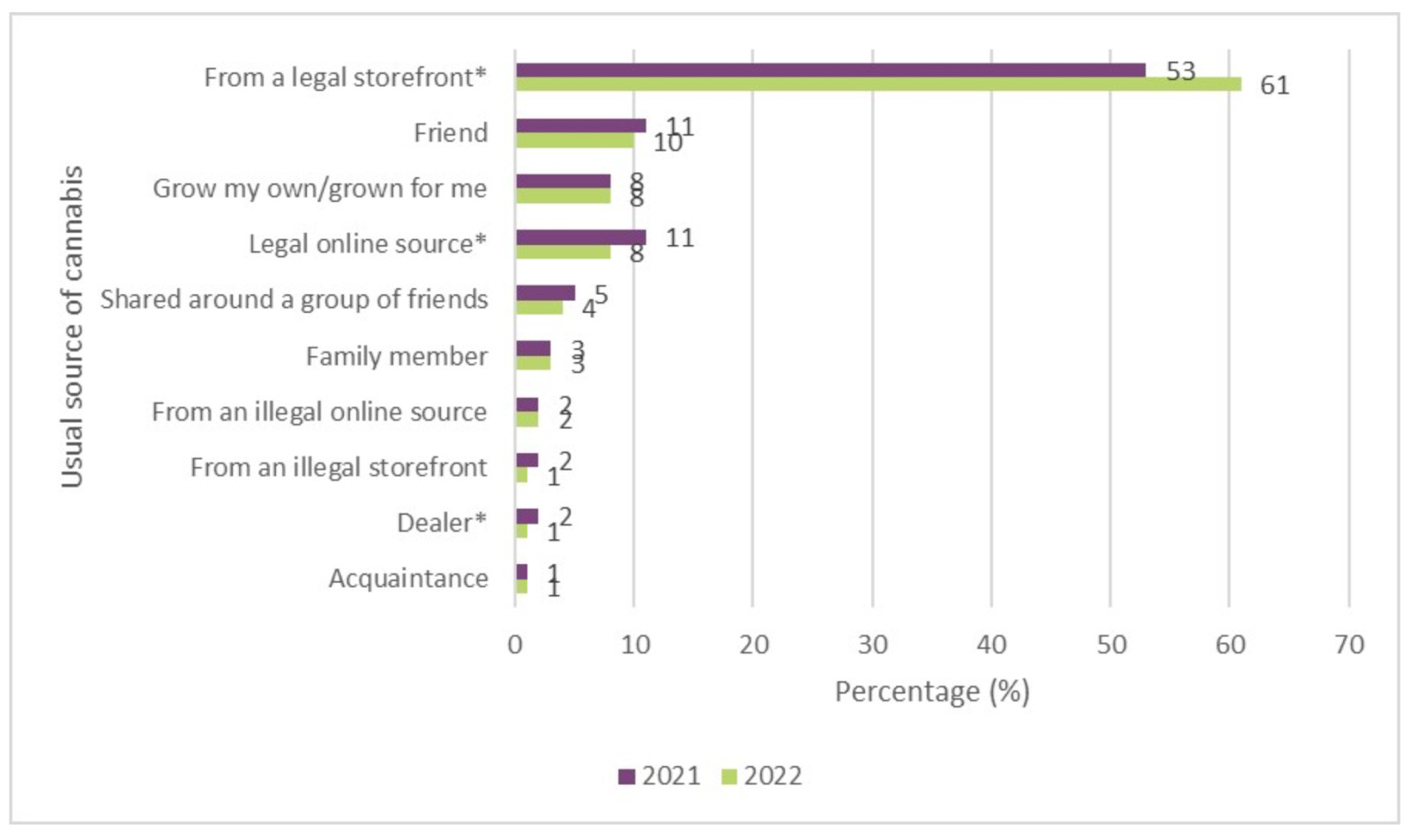 Data from the 2022 Canadian Cannabis Survey, commissioned annually by the Federal Government, found 61 percent of cannabis users who responded reported purchasing it from a legal storefront, up from 53 percent in 2021.
(2022 Canadian Cannabis Survey)
Concerns have been raised about the long-term health implications of cannabis use and monitoring is still underway to detect any potential negative outcomes from legal cannabis on public health. A public health review conducted by the Canadian Center on Substance Use and Addiction (CCSA) on cannabis legalization and regulation in Canada in January outlined several recommendations based on maintaining an evidence-based public health and safety approach to cannabis legalization and regulation in Canada.
Based on the evidence available, CCSA recommends changes to re-evaluate the need for high THC cannabis products (greater than 30 percent); taking steps toward establishing a THC standard dose or unit in Canada; requiring product testing protocols that assess appeal to youth; enhancing monitoring and enforcement of cannabis promotional activities, particularly online; and clarifying what constitutes promotion in the cannabis regulations under the Cannabis Act. The centre also emphasized maintaining strict restrictions on promotion and advertising and regulations requiring health warnings and plain, child-resistant packaging.
"These recommendations come with the view that not enough time has passed to adequately and effectively evaluate the effects of cannabis legalization and regulation. Market stabilization has not yet occurred, and essential research on public health and safety is still limited," the report acknowledges. Under the current framework, the report notes the greatest threat presented to youth in accessing and consuming cannabis is the illegal market, "due to the limited barriers preventing underage individuals from accessing cannabis, whether it be in person (e.g., from a dealer) or online. The illegal, unregulated market has no measures in place to control product quality and composition (e.g., THC limits), packaging and labelling, nor promotional activity."
Prior to its legalization in 2018, Health Canada completed a review of the Health Effects of Cannabis in 2017 which pointed to health and safety risks associated with cannabis obtained illegally. It explained the "quality and purity of illegal cannabis cannot be guaranteed." It noted the THC potency of illegal cannabis is often unknown and could lead to using a stronger product than expected which "could heighten or prolong effects such as confusion or anxiety."
Trethowan said the wellness side of legal cannabis has been kept from Mississauga residents, many of whom have continued to access the illegal market.
"On the legal side… we're seeing more and more people using it for that wellness aspect, which is something the illegal market cannot keep up with, they can't compete with," he said. "There's going to be more and more people wanting these again, quote/unquote, 'normal,' everyday products that are infused with cannabis and it's something which only the legal market is going to be able to do."
---
Email: [email protected]
Twitter: @mcpaigepeacock
---
At a time when vital public information is needed by everyone, The Pointer has taken down our paywall on all stories relating to the pandemic and those of public interest to ensure every resident of Brampton and Mississauga has access to the facts. For those who are able, we encourage you to consider a subscription. This will help us report on important public interest issues the community needs to know about now more than ever. You can register for a 30-day free trial HERE. Thereafter, The Pointer will charge $10 a month and you can cancel any time right on the website. Thank you
Submit a correction about this story