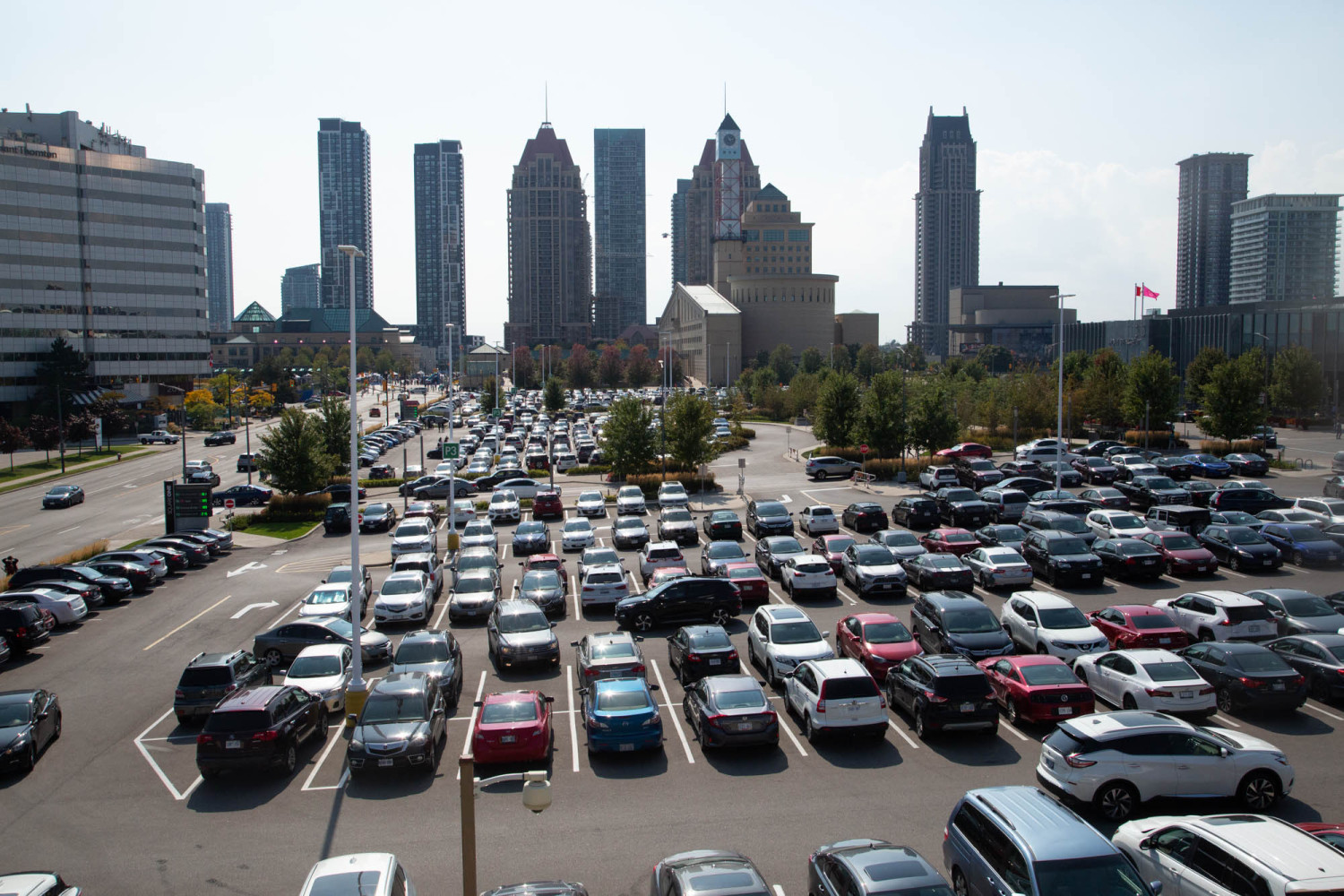 The Pointer files
Inside the workings of Canada's organized auto theft rings
On August 3, 2022, Sushil Katti, a Mississauga resident, woke up on what seemed like another ordinary morning. He had no idea a "scout" had been keeping a close eye on his home, with a "runner" waiting in the wings. Katti walked out the door around noon, but was confused by what he saw — or rather what he didn't see — in his driveway.
His 2020 Honda Civic was gone, stolen.
"I was in a state of shock to be honest, because that car had emotional value," Katti said. "My father was really proud when I had bought the car."
Katti probably did not know Hondas are the most popular vehicles targeted by car thieves in the country. According to the Insurance Bureau of Canada the company makes three of the six most commonly stolen vehicles, including the 2018 Honda CR-V, which is at the top of the list (other sources have similar findings).
Katti is among thousands of Canadians who have had their car stolen. In 2021, there were around 218 motor vehicle thefts per 100,000 residents in Canada, more than 83,000 in total, a 6.5 percent increase from the year before.
A few weeks ago, Peel Region Police recovered $10 million worth of stolen vehicles after a three-month investigation named Project R&R, which recovered 78 stolen vehicles that were set to be shipped overseas for resale. Multiple law enforcement agencies were involved including Canada Border Services Agency (CBSA), partners from the Port of Montreal (POM) and Équité Association.
"Organized crime groups are targeting Canadian vehicles to steal in purchases of export, and export being the primary reason why vehicles are stolen," Bryan Gast, associate director of the International Association of Auto Theft Investigators (IAATI) and vice president of the Investigative Services Division at Équité Association, a not-for-profit organization that helps Canadian insurers detect and prevent fraud, said.
Stealing, shipping and selling stolen vehicles is a low-risk way for criminals to make profit and it often finances other criminal activities ranging from drug trafficking, arms dealing, people smuggling and international terrorism, according to the International Criminal Police Organization (INTERPOL).
In 2004, Statistics Canada published a report on the involvement of organized crime rings in the country's stolen car network. It said, "international vehicle trafficking is more profitable than prostitution or any other black market activity," and that the cost for criminal syndicates to steal and ship cars internationally was "less than 10% of what the stolen vehicle will sell for overseas."
Project R&R intercepted over 25 containers that were held in multiple locations and ports, including Brampton, Montreal, Germany, and Spain. Many stolen vehicles were headed for the United Arab Emirates.
One way to reduce the chances of a "runner" from targeting your vehicle is to cover or block your Vehicle Identification Number (VIN), which is usually located on the front of the vehicle.
(Infographic by INTERPOL).
"People consider this to be a victimless crime or a property crime, but it's far from that. These thefts are funding their criminal organizations as well as funding terrorism," Gast said.
"In reality, [organized auto crime] is one of the top revenue generators for organized crime, only behind drugs and fraud," Deputy Chief Nick Milinovich said at the 2023 Auto-Theft Summit in Mississauga, which was hosted by Peel Police and attended by representatives from nine municipalities in Ontario that collectively lost over 27,000 vehicles in 2022.
Compared to the other provinces, Ontario has been hit the hardest in overall numbers, with 33 percent of all motor vehicle thefts. "[This is] largely because of the population of Ontario, especially in the GTA, the sheer volume of vehicles in the GTA, and the proximity to the ports, [like] the Port of Montreal," Gast said.
While a majority of the thefts have occurred in Ontario, the main route of export for these stolen vehicles is through the Port of Montreal (POM), which according to its website is the largest port in Eastern Canada. This has been the case for more than a decade.
"The highest rates of organized vehicle theft, using the rate of stolen vehicles not recovered as a proxy measure, are found in the larger urban centres of Quebec and Ontario as well as the port city of Halifax," the 2004 Stats Can report detailed, linking the proximity to ports with higher rates of stolen cars in nearby cities.
York Regional Police Detective Sergeant Pat Smyth described the various steps criminals take to remove a vehicle from a private driveway or street, to a nearby depot, then onto a shipping container bound for an overseas destination.
"Scouts" go through neighbourhoods to take pictures of Vehicle Identification Numbers (VIN), a unique code usually printed on the driver side door or door jam of a car that provides information about its manufacturing details, features and mechanical specifications. This information is then shared with someone else in the criminal network to confirm the vehicle is one that buyers on the other side of the operation want. The car is stolen often using an electronic device that picks up information from the owner's key fob to gain access to the vehicle. A "runner" then drives the car to a location where it is prepared and put in a shipping container to be transported to a port, or directly out of province before it is placed in a container to ship overseas.
There are different crime rings and criminal motives, involving different techniques for use in a range of settings.
In May last year, Toronto police, York and Peel Regional Police recovered around $1.5 million worth of stolen vehicles and arrested two suspects after a month-long carjacking "crime spree." Toronto police Inspector Rich Harris said they used "extreme violence towards victims" and believed the vehicles "were being obtained for sale to illicit businesses throughout the GTA or also for transportation overseas."
Supervising the thieves who scout and run the vehicles to depots before they are eventually shipped, are "theft crews" of as many as five people who coordinate and organize the operation. Runners are told where to drop the cars, the shipper loads them into a container in Ontario or Quebec, puts them on a truck or train and most often sends them to the Port of Montreal to be shipped abroad.
Investigators overseeing Project R&R described the operation.
"These shippers, they're paid fairly well and they're paid per vehicle, but they're at best a lower [or] mid-level individual involved in the operation," Smyth said. "There's a certain amount of knowledge involved when they're putting vehicles in their containers that don't come with the original keys, the locks are damaged. They're being loaded into containers at three or four in the morning, not during regular business hours."
People who export goods from Canada are required to fill a legal document, called the bill of lading (BoL), which provides information on the goods being shipped and where they're going. Criminals fill these documents with fraudulent personal and financial information, and often describe the items in the containers as mattresses, grains or something else.
In 2022, the Canadian Border Services Agency (CBSA) intercepted 1,310 stolen vehicles, a 96 percent increase over five years. "The CBSA uses targeted and random examination selection as a part of this risk management process," Jacqueline Roby, Senior Spokesperson of the CBSA, said.
"Proportionally, that's still a small number of vehicles," Gast said at the Mississauga Summit. "Right now, we have over a thousand vehicles identified in various countries across the world, and those are just the ones that we know that have been seized by local customs. That does not include the other thousands of vehicles that are already in the marketplace."
Stolen vehicles exported from Canada are usually sent to countries in Europe, Africa and the Middle East. Sometimes the original licence plate is kept on the car when resold, making it obvious it's stolen.
David Adams, President of the Global Automakers of Canada, points to brazen practices within foreign auto markets to illustrate how stolen cars are openly sold in some countries. Online ads highlighting cars from Canada can easily be found, even featuring vehicles that still have their provincial licence plate attached alongside the foreign one, raising public concern that some foreign authorities do not take the crime seriously.
A question that has not been addressed by Canadian authorities is what's being done to crack down on the foreign markets where stolen cars are sold out in the open, creating the huge demand for vehicles sourced by criminals in Canada.
"I am not familiar with the automotive market in Ghana, but what I can say is that those pictures widely available on the internet show how brazen the thieves have become by not even bothering to remove the provincial or state license plates," David Adams, President of the Global Automakers of Canada, said. "The presence of those plates should be a key indication to those dealers/consumers purchasing those vehicles in Ghana that they are stolen."
(Instagram)
"Canada is now a source country. Other countries are targeting Canadian vehicles to be stolen and it's grown significantly in the last year. In 2022 it grew to over a billion dollars," Gast said.
Smyth, who oversees the Auto/Cargo Theft Unit (ACTU), has been on the ground when many containers have been inspected. He recognizes that a majority of the stolen vehicles make it out, but explained that even getting 60 containers examined in a day is a big deal.
The Port of Montreal ships over two million containerized cargo pieces per year, around 6,000 daily. On a good day, only around one percent of containers are inspected.
"Sometimes we can only do maybe 20 or 25 with the resources that we have, from a time perspective," Smyth said.
Addressing this crisis
The link between organized crime and auto thefts is not a new phenomenon in Canada. In 2010, Canada legislated the "Tackling Auto Theft and Property Crime Act" (Bill S-9). Former minister of justice and attorney general of Canada, Rob Nicholson, described auto thefts as "one of the criminal enterprises on which organized crime depends." It cost Canadians around one billion dollars annually back then as well.
"What's changed? Nothing really. It all comes down to a willingness to address the issue through enforcement of the laws and provisions that exist," David Adams, President of the Global Automakers of Canada, wrote in a column for the Canadian Auto Dealer that was published on March 31.
"How about amending the penalties and punishments arising from conviction under the Tackling Auto Theft and Property Crime Act? If the opportunity is great (it is estimated that a $100,000 vehicle stolen in Canada can fetch up to $250,000 in some foreign markets), the enforcement is light and the punishment is relatively light (18 months in jail for a summary conviction) it should not come as a surprise that auto theft runs rampant."
While auto theft crimes have remained an issue over the last few decades, many cite the sudden recent spike (Peel has been particularly hard hit over the past year) as a result of semiconductor chip shortages during the pandemic, which caused a demand for them, and the increased use of push-button technology in vehicle manufacturing that makes it easier for thieves who can steal the fob key signals using special devices.
"Any vehicle that is a push button start, keyless entry, keyless remote start, those are the vehicles that are being targeted," Gast said. One of the two main ways thieves exploit such technology is through relay attacks, in which thieves stand at people's front doors with an antenna-like device to intercept the signal between the car and fob device. The second way is through connecting to the on-board diagnostic port, which reprograms the fob device.
Most cars, regardless of whether they are high-end vehicles, are at risk of being stolen if they do not have a robust anti-theft protection system.
With such technology, thieves are often able to get inside a car in under 30 seconds. Toronto Councillor Mike Colle, who called for an auto theft task force in Toronto in 2021, says one of the first steps to tackle auto theft networks is to ensure the federal government mandates auto manufacturers put in anti-auto-theft technology on all new cars. "They can do that, Transport Canada should do that," he said. "The technology is too easy to break into and steal cars."
Others cite slow police response as a reason why stolen vehicles are not recovered in time.
When Katti woke up to find his car missing in August of last year, he called Peel Police to report it stolen, but was disappointed with the response. "I gave them a call at around 12 p.m. in the afternoon, and they came at 9 p.m. at night. So yes, there is definitely something wrong over there. I don't know how it took them nine hours to be available."
Katti said he called the police multiple times almost every day after the crime, but was met with the same response — waiting on hold for around an hour then finally being told someone would get back to him if there was an update.
"Things could have been done better. I don't think they're taking it seriously enough," Katti said. "I am from India. I thought Canada is one of the developed nations and I never really thought something like this could happen in Canada."
His frustration is being felt by more and more residents across Peel.
Over the last five years, vehicle thefts in the region have increased by around 118 per cent.
Only around three percent of auto theft cases in Peel between March 2022 and 2023 were solved.
The auto theft crisis is not a simple local police matter.
"What happens is the car stolen from Toronto goes across the municipal boundary into Brampton and they get a container in Brampton, and they go out to Montreal and bang, they're in Malta or United Arab Emirates or in Nigeria, they're gone," Councillor Colle said. "Local police can't stop that without the federal government and the provincial government taking this seriously, right now they're not taking it seriously."
Police and representatives from nine different municipalities at the 2023 Auto Summit have also come to the consensus that there needs to be a more joint effort, not just at the provincial level, but also the federal level.
"The federal government really does need to acknowledge that it has a responsibility with respect to this issue and that's an issue of health and safety for Canadians, it's also an issue of significant economic costs to insurers and to consumers and it's also an issue with respect to Canada's international reputation," Adams said at the Auto Summit. "We do have certain obligations under the United Nations with respect to declarations that we've signed financing terrorism, well that's where all this money is going."
The Pointer asked the federal Safety Ministry what is being done to work with foreign governments to tackle international auto crime. The ministry acknowledged the questions but did not provide a response.
---
This reporting was done under an editorial partnership with New Canadian Media.
---
COVID-19 is impacting all Canadians. At a time when vital public information is needed by everyone, The Pointer has taken down our paywall on all stories relating to the pandemic and those of public interest to ensure every resident of Brampton and Mississauga has access to the facts. For those who are able, we encourage you to consider a subscription. This will help us report on important public interest issues the community needs to know about now more than ever. You can register for a 30-day free trial HERE. Thereafter, The Pointer will charge $10 a month and you can cancel any time right on the website. Thank you
Submit a correction about this story