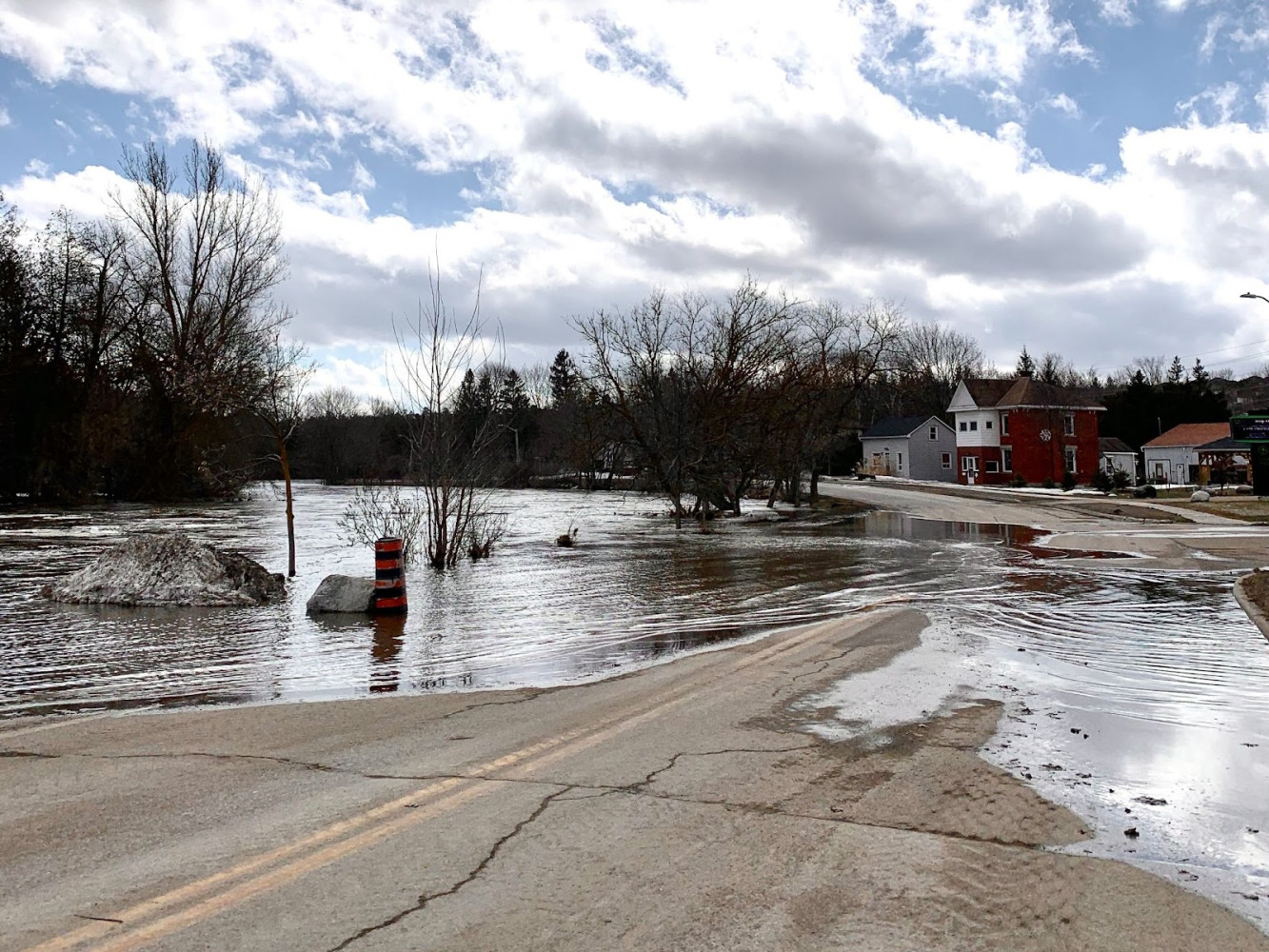 Feature Image Alexis Wright/The Pointer
PCs vote down Bill to protect residents from increased flood risks
Southern Ontario is warming at twice the rate of the global average and with increased temperature, comes increased precipitation across the unique geographic area between the St. Lawrence River and the Great Lakes.
In July 2013, walls of water caused widespread flooding and damages to Mississauga, Brampton and other areas within the GTA. Roads became lakes.
Some parts of the region received 126 millimetres of rain in 90 minutes (537 millimetres fell on Mississauga in all of 2022). The flash storm left 900,000 homes without power and resulted in 7,000 waterlogged basements. At the time, it was considered Ontario's most costly natural disaster, with damages estimated at $1 billion.
Flooding devastated the area around Brampton's Churchville Road and Steeles Avenue West in February 2022.
(City of Brampton/Twitter)
The 2013 storm was not a one off. Cities across Ontario are staring down a future where these catastrophes will only become more common. In late August, Brampton residents faced relentless rainfall leading to extensive property damage. Up to 100 millimetres fell over a 24-hour period, surpassing the "normal" amount of rain that is typically recorded at Pearson International Airport over an entire month, with much of the runoff flowing into low lying basements.
Earlier in the year, large parts of Brampton's historic Churchville neighbourhood were turned into an urban lake. Homes had to be evacuated as six feet of water submerged the area after the Credit River overflowed because of ice blockage that put homes and residents in the floodplain at risk.
"The weather of the past is no longer a good predictor of the weather of the present or the future. Wherever it rains, it can flood," Mary-Margaret McMahon, Liberal MPP for Beaches—East York, said in the legislature last week. "It's not that old-style thinking of 'I don't live next to a river or a stream or a big body of water, so I won't flood. My house won't flood.' That is no longer the case. Anywhere it rains, it can flood.
"Flooding is the number one cause of public emergency in Ontario. It's the number one natural disaster in Canada. It's costing Canadians more than any other climate issue," McMahon said.
Recognizing a dangerous gap in public awareness to deal with the modern reality of flooding, McMahon, the Liberal environment critic, drafted a private members Bill titled, Fewer Floods, Safer Ontario.
"Essentially this bill is about education, prevention and awareness," McMahon said in a press conference on March 29.
The intentions of the legislation were threefold: to establish the last week in March as Flooding Awareness Week, given the warming temperatures that give rise to melting snow and rain; to ramp up the Government of Ontario website to provide stronger resources on flood risk and mitigation measures; and to provide Ontario residents with an infographic on a variety of steps that can be taken to prevent basement flooding.
"[Bill 56] can save your residents hardship, financially, physically and mentally. We are public servants. We are here to serve the public. We all got elected because we care about our communities and we want to help make their lives better. Helping our residents avoid hardship is what my bill would do," McMahon said in a debate during the Bill's second reading following the press conference Wednesday.
"Bill 56 is a win for everyone. It's not a partisan issue. It's a win for insurers. It's a win for renters living in the basement … It's a win for homeowners, it's a win for municipalities and it's a win for the government. There is no downside to this bill, whatsoever."
Despite McMahon's efforts her Bill was voted down with 33 votes for and 64 votes against.
One PC Party member, Ric Bresee, the MPP for Hastings—Lennox and Addington spoke against the proposed legislation in the debate Wednesday. He argued local conservation authorities have the greatest expertise in the area of flooding and they should be trusted to protect residents.
"[Conservation authorities] can work with our municipal partners and the people who build those homes to ensure that mitigation measures are put in place to ensure that these homes are not damaged. There is no perfect system, but with this level of expertise and a focus on these tasks, even in the face of more extreme weather events, we can implement positive plans to minimize these risks," he said.
"We are being told by the scientific community that we are likely to see higher levels of disruptive weather, stronger storms and more frequent and heavier rainfalls in the coming years; and the CAs continue to provide the expertise and the flood or other risk management prevention. In fact, our government has moved to increase the focus of CAs on exactly these issues."
Contrary to his claims, Conservation Ontario fully supported McMahon's Bill and made no comments about any concerns over jurisdiction.
Historically, conservation authorities have monitored and predicted flood flow and water levels so local residents can be alerted if a threat arises. Some conservation authorities also provide education and planning, informing residents about risks and how to prepare themselves and their homes.
"An ounce of prevention is worth a pound of cure. In my view, this is particularly true when it comes to flood preparedness," Angela Coleman, general manager of Conservation Ontario, said in a press conference on Bill 56 last Wednesday. "We must be prepared for extreme weather and climate impacts as they take a costly toll on the well being of Ontarians, our infrastructure and the function of business and industry."
"We do a great deal of excellent work in this area. But we support this member's Bill today because we do believe more can be done. And it begins with ensuring that residents have the information they need to ensure their families are safe."
The ability of conservation authorities to fulfill the mandate Bresee described has been curtailed by his own government. In 2020, the PCs passed Bill 229 with Section 6 stripping away power from CAs, allowing the Ontario government to force a conservation authority to issue a development permit despite the responsibility to protect people, the community and the environment from risks such as flooding.
While conservation authorities were adapting through workarounds to the legislation, the PCs came down heavy fisted with Bill 23 late last year. The legislation, which received Royal Assent in December, repeals 36 regulations in the Conservation Authorities Act that once allowed these agencies to oversee the development process. "Pollution" and "conservation of land" are no longer viable arguments when weighing new developments. The Bill also made significant changes to the wetland evaluation system, and subsequent legislation made changes to the Greenbelt Act, making it easier for unchecked development to occur in areas prone to flooding.

Bill 23 poses a severe threat to the sustainability of Ontario's wetlands, which protect municipalities from flooding.
(Alexis Wright/The Pointer)
It has left flood management largely to municipalities.
Sufficient stormwater infrastructure is one of the main ways cities can help protect their residents from flood risk. In its 2023 capital budget, Mississauga put forth almost 60 percent of its investments into actions that could be considered mitigation or adaptation measures related to climate change. Twenty-one percent of the funding for mitigation and adaptation — $47 million — was allocated for stormwater infrastructure. Brampton budgeted $20 million for its Etobicoke Creek Riverwalk project, an initiative with a projected total cost of $106 million which will help prevent flooding in the city centre.
But stormwater infrastructure alone cannot prevent flooding. Studies in Niagara Falls showed the majority of the municipality's stormwater ponds need to be cleaned out, meaning they are not functioning with full efficiency. Staffing issues and a lack of financial resources have left the City of Niagara Falls in limbo on how to protect new and existing developments.
According to a spokesperson for the Ministry of Natural Resources and Forestry (MNRF), the Ministry is working with federal partners to invest as much as $200 million into municipal stormwater and wastewater projects.
But a damning audit from the province's Auditor General Bonnie Lysyk in November detailed that the MNRF — and to a lesser degree the Ministry of Environment, Conservation and Parks (MECP); Ministry of Municipal Affairs and Housing (MMAH); and Ministry of Infrastructure — were not doing enough to reduce the risk of urban flooding across the province and were providing insufficient support for municipalities and property owners.
"Our audit found that the Province does not have effective systems and processes to reduce the risk of urban flooding, nor to provide homeowners, municipalities and other decision-makers the guidance and information they need to reduce their risks of urban floods. The Province is well aware of the need to do more to address this issue," Lysyk wrote.
As the risk of flooding increases, so do the costs associated with damages. According to the Intact Centre on Climate Adaptation at the University of Waterloo, in Ontario, basement flooding is the most costly climate disaster, with an average price tag of $43,000 for damages to one home (10 percent of Canadian homes are not insurable due to flood risk).

Liberal MPP Mary-Margaret McMahon was joined by Dr. Blair Feltmate (far left) and Kathryn Bakos from the Intact Centre on Climate Adaptation and Angela Coleman (right) from Conservation Ontario at a press conference March 29.
(Alexis Wright/The Pointer)
Members from both Conservation Ontario and Credit Valley Conservation Authority were present in the legislature to show support during the second reading of the Bill on March 29.
In a statement from Minister of Natural Resources and Forestry, Graydon Smith, his office told The Pointer the ministry is taking a whole government approach to help Ontarians be better prepared for flood risks. One of the initiatives mentioned by the MNRF was a $30 million investment, over five years, to protect wetlands, "one of the biggest wetland recovery investments in provincial history". It was announced in 2020 with conservation authorities questioning the impact of the funding, which, when divided among all of the conservation authorities, would be less than $1 million each.
McMahon told The Pointer she was taken aback by the vote following the second reading — no PC MPP voted in favour of the Bill. She personally spoke one-on-one with 120 MPPs (one was away), and garnered lots of support hearing story after story about flooded basements.
Liberal MPP Mary-Margaret McMahon believed after a meeting with the Minister of Environment, Conservation and Parks, David Piccini (above), that she had his support on Bill 56. He voted against it the next day.
(Alexis Wright/The Pointer)
Shortly before the Bill went to second reading, the Minister of Environment Conservation and Parks, David Piccini, invited McMahon to his office for coffee and proposed an amendment to the Bill, according to her. McMahon said she was in full support of the amendment and felt it made the Bill stronger. At the end of the meeting, McMahon said Piccini's office said to her "let us know what else you need". Piccini then voted against the Bill the next day.
The Pointer reached out to Minister Piccini's office but did not receive a response ahead of publication.
The Pointer also reached out to 10 of the 11 PC MPPs who have ridings that cover either Mississauga or Brampton to ask about their reasons for voting against the Bill and what else can be done to support residents whose homes are at risk of flooding. None responded.
Following her Bill's defeat McMahon had strong words inside Queen's Park for her PC counterparts who refused to support the legislation.
"It just shows you tonight how we can't get anything done for Ontarians," she said. "It's a piece of paper with education that will help your residents be safe. It is nothing more. It's not difficult for you. What's the harm? Saving them $43,000? Protecting them? You are just telling Ontarians you don't care. You don't want to work together."
On the day of the second reading of Bill 56, Toronto was experiencing a wet forecast of rain and snow, leading to drenched sidewalks and minor flooding of lawns.
(Alexis Wright/The Pointer)
She told them to take the Bill and run with it without her name on it, stressing she does not need the credit, she said she just wants to protect Ontarians.
It would not be the first time the PCs took a previously proposed piece of legislation and put their name on it. In 2018, NDP MPP Jennifer French brought forward a Bill to eliminate tolls on the 412 and 418 highways. After second reading, the Bill was referred to the Standing Committee on Finance and Economic Affairs. After this, nothing came of the legislation, until it was revived by the PCs prior to the 2022 election.
After the Bill's defeat, McMahon told The Pointer the next day she had some follow-up discussions with the MNRF and the ministry seems keen to move forward.
She said she is not backing down on what she views as a critical issue for Ontarians. She said she had support from the municipal governments of both Toronto and Guelph and would consider going to other municipalities to have discussions.
She will also be sending out the infographic to residents in her own newsletter, "Because I care about Ontarians; I know other people do, and I want to save them unnecessary hardships. And I thought the government did too."
---
Email: [email protected]
Twitter: @rachelnadia_
---
COVID-19 is impacting all Canadians. At a time when vital public information is needed by everyone, The Pointer has taken down our paywall on all stories relating to the pandemic and those of public interest to ensure every resident of Brampton and Mississauga has access to the facts. For those who are able, we encourage you to consider a subscription. This will help us report on important public interest issues the community needs to know about now more than ever. You can register for a 30-day free trial HERE. Thereafter, The Pointer will charge $10 a month and you can cancel any time right on the website. Thank you
Submit a correction about this story