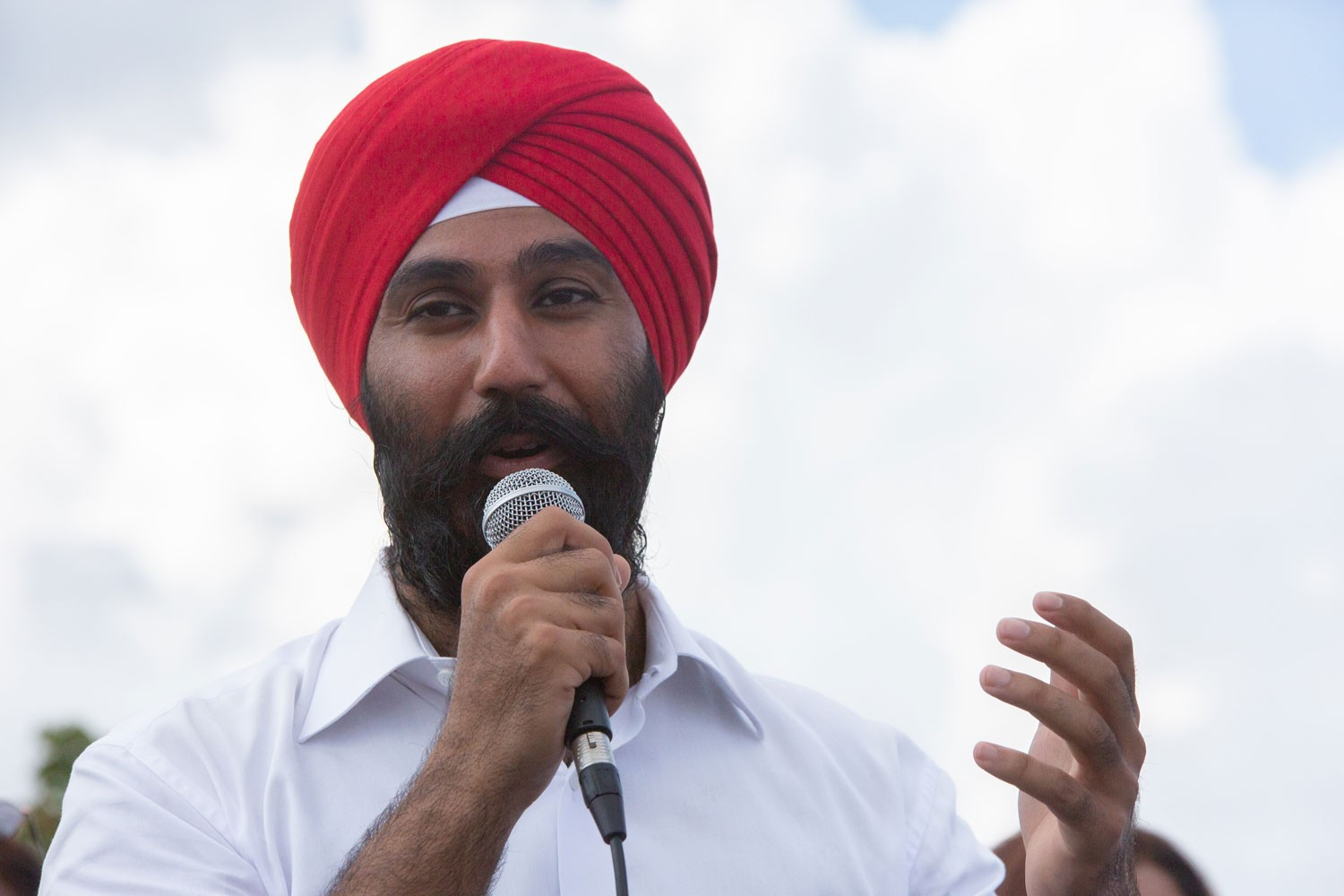 The Pointer files
Raj Grewal was found not guilty of using his MP position to solicit loans; but case exposed disturbing behaviour to feed gambling addiction 
The disquieting saga of Raj Grewal reached its latest turn on March 10. The former Brampton East Liberal MP had been a rising star in Peel politics, striking a commanding figure on stage in his signature red turban, often swarmed by adoring constituents.
He was found not guilty of breach of trust after a four-year ordeal, paraded in headlines when news first broke that he was being removed from the Liberal caucus. By the end of 2018, as attention spread nationally, he admitted that large personal debts were the result of a gambling addiction fueled by frequent visits to an Ottawa-area casino while he was supposed to be representing constituents.
In a ruling released earlier this month, the disturbing details of Grewal's behaviour during his time as an elected official representing Brampton residents in the country's highest government, were laid bare.
He was first elected in 2015 as part of Prime Minister Justin Trudeau's first Liberal government.
The lawyer turned politician at a young age was seen by Peel political insiders as ministerial material.
But his meteoric rise was outpaced by the speed of his fall from grace.
In late 2018, Grewal announced on Facebook he would be resigning "due to personal and medical reasons". A day later, the Prime Minister's office officially stated it was due to a gambling problem. In a video apology posted soon after, he admitted his gambling addiction had sunk him under millions of dollars of debt, forcing him to take a series of loans from friends and family members—which had since been repaid. In the same video, he said he was rethinking the "ill-advised" decision to resign. Following his departure from the Liberal caucus, instead of stepping down from Parliament, he decided to sit as an Independent MP, and mulled a bid for reelection but eventually decided not to run in the 2019 federal race.
He explained in his apology video that soon after his election in 2015, he began visiting the Casino du Lac-Leamy in Quebec—not far from Parliament Hill in Ottawa—where he lost large sums of money playing blackjack, sometimes as much as $100,000 in a single night. To pay back the large sums squandered at the table, he began to solicit money from friends and family.
In 2020, after a three-year-long "extensive criminal investigation", the RCMP laid five charges against Grewal for fraud and breach of trust. According to a release at the time from the RCMP's National Division of Sensitive and International Investigations, the charges stemmed from Grewal's failure to report his receipt of "millions" in personal loans to the Parliamentary Ethics Commissioner, "in circumstances that constitute a criminal breach of trust."
"It is further alleged that Mr. Grewal solicited loans for his own personal benefit in connection with the use of his public office, and that he administered his government-funded constituency office budget for his own personal benefit, under circumstances which constituted a criminal fraud or breach of trust," the release stated.
During a 9-week trial, Crown attorneys argued Grewal took loans in exchange for assistance with immigration matters and other political favours, like invites to exclusive political events, such as Prime Minister Justin Trudeau's trip to India in February 2018.
"The Crown emphasizes the importance of MPs serving the public interest and refraining from serving their private interests when performing their parliamentary duties and functions," the ruling by Justice Sylvia Corthorn, of the Ontario Superior Court, states.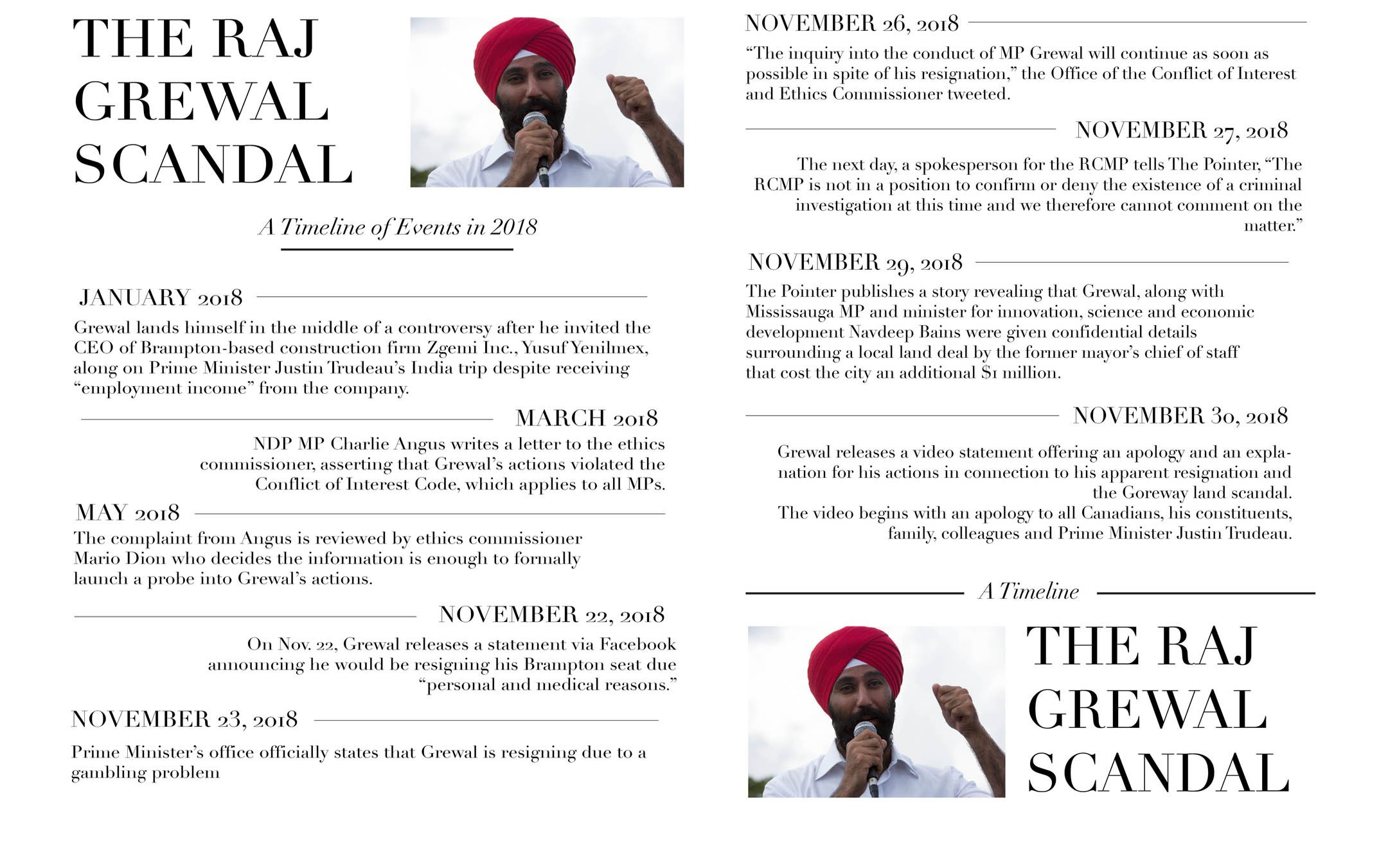 A summary of Raj Grewal's 2018 controversies.
(Joel Wittnebel/The Pointer files)
The trial dealt with a series of loans from personal friends of Grewal or his family ranging in value from $50,000 to $200,000, who also received assistance from Grewal on immigration related matters.
In the case of one lender, Lakhvir Singh, a personal friend of Grewal, he sought assistance from the Brampton MP in 2017 to help with a visa application for his cousin which had been denied twice. Grewal said he would look into why the application was refused, and provided a "standard letter" of support. The application was approved and Singh's cousin arrived in Canada on November 22, 2017.
Two days later, following a request from Grewal, Singh gave him a $50,000 loan to help with what he believed was assistance in paying back student loans or other debts.
In another instance, in 2016, Padam Tatter—a man Grewal referred to as "uncle", a term of respect for an older, close male friend in the Punjabi-Sikh community— requested help in obtaining a visitor visa for a friend. Immigration records show Grewal's constituency office emailed Immigration, Refugees and Citizenship Canada (IRCC), in support of the visa. However, the request was denied.
In 2017, Grewal solicited a $100,000 loan from Tatter. The cheque was deposited on December 4, 2017, and the same day, Grewal lost the entire amount at the casino. Grewal did the same thing with another loan from Manpreet Dhillon, a family friend of Grewal. Dhillon lent Grewal $100,000 on May 7, 2018. The same day, Grewal deposited the total amount into one of his bank accounts. He lost the entire amount at the casino later that evening.
Grewal had provided a letter of support for visa applications for Dhillon's cousin and cousin's wife in 2016. The applications were not successful.
During the trial, Grewal argued the Crown's theory that this assistance with immigration matters was done in order to make it easy to solicit future loans, ignored the routine nature of the immigration assistance provided by MPs. In addition to being given to those who lent him money the same assistance was given to thousands of other Brampton constituents, his lawyer's argued. They also argued the Crown ignored "the culturally specific form of money lending practiced within the Punjabi-Sikh community in Brampton and followed by several of the lenders."
While this cultural aspect of Grewal's defence is largely untouched in the judge's ruling, the details surrounding the loans and immigration work are explored in detail.
Grewal's office staff testified that immigration-related work, in the form of support letters and other types of assistance, made up the majority of the day-to-day tasks carried out in the constituency office. Based on one employee's experience over two summers, she estimated the immigration-related work amounted to at least 80 percent of the casework conducted, preparing hundreds of support letters. The staffer also testified that Grewal was unaware of most of the letters prepared by his staff, and "his approval was not required for the majority of the support letters prepared and provided to constituents and others," the ruling states.
As such, Grewal argued this work was standard procedure, not predicated on the lending of funds to the one-time MP.
Raj Grewal (left) alongside Prime Minister Justin Trudeau during a Brampton event in 2018.
(The Pointer files)
In addition, the lenders who testified said it was routine for people to request a support letter from an MP. They understood that support letters had no particular value in the temporary resident visa application process and they had received support letters, including at least one personal guarantee letter, from MPs other than Grewal.
Justice Corthorn wrote that she found it "unreasonable to infer that Mr. Grewal considered the immigration assistance provided…to be of sufficient significance to cause them to be more likely to provide, or more receptive to a request for, a loan."
Justice Corthorn wrote that she didn't believe the letter would be enough to sway the lender into giving Grewal money.
"The immigration assistance upon which the Crown relies with respect to Mr. Singh does not amount to some evidence to support an inference that, in Mr. Grewal's mind, the assistance would make Mr. Singh more likely to agree to a loan. To draw such an inference requires speculation and conjecture as to why Mr. Grewal would, in his mind, consider the assistance provided to be anything other than routine."
In terms of the Prime Minister's trip to Delhi in 2018, the ruling explored Grewal's invitations sent to members of the Brampton community, some of whom had lent him money, and with whom he had personal or professional relationships.
Among these figures was Yusuf Yenilmez, CEO of a GTA construction company, Zgemi Inc.
Yenilmez met Grewal shortly after he became elected as Yenilmez was a member of the "Leader Circle"—a group of the top 15 to 20 donors to the Liberal Party. After getting to know him socially, in March 2017 Yenilmez and his business partner hired Grewal to work part-time as in-house counsel for Zgemi. The Parliamentary Ethics Commissioner permitted the work.
The pair's relationship progressed over the following months. They saw each other at Liberal Party events and Yenilmez attended Grewal's wedding.
In February 2018, Prime Minister Trudeau held a trip to New Delhi. MPs were allowed to bring five guests of their choosing. Grewal invited Yenilmez. While on the trip, Yenilmez attended functions, which featured meetings and events with influential politicians, business people and bureaucrats. According to the ruling, no business materialized for Zgemi from Yenilmez' attendance at the Delhi events.
The ruling also revealed that Grewal had assisted Yenilmez with immigration matters, and accepted loans from him.
In the summer of 2017, Yenilmez's sister and niece applied for a temporary resident visa on two or three occasions; each time their applications were unsuccessful. In response, Yenilmez reached out to someone in Grewal's constituency office for help with the applications. A personal guarantee letter was provided in July 2017. The relatives' applications, which included the personal guarantee letter from Grewal, were again rejected.
Months later, Grewal approached Yenilmez for a loan. According to the ruling, the two entered into a loan agreement for $200,000, at an interest charge of $2,000. The loan was repaid, in two installments, in the latter half of 2018.
Justice Corthorn found that while there was overlap between those Grewal invited on the India trip, and those who had lent him money, there was no evidence to support the inference that the money provided was in exchange for being invited on the trip.
In addition, Justice Corthorn pointed out that MPs, including Grewal, were not given any criteria to apply when deciding whose names to submit to the Prime Minister's Office (PMO) for the trip.
It was left entirely within the discretion of the MPs, including Grewal, to compile a list of five names. The list of names gathered from MPs included the father and brother of one of the cabinet ministers on the trip. Similarly, Grewal included his father's name on the list of his five submitted names.
"In the absence of any governing criteria, and with Mr. Grewal having exercised his discretion in a manner consistent with the exercise of discretion by at least one Cabinet Minister, it is difficult to see how the inclusion of the names of the India trip lenders in the submission to the PMO falls within the range of conduct that the offence of breach of trust is intended to cover."
The Ministry of the Attorney General declined further comment on behalf of the Crown. Grewal did not reply to requests for comment.
---
Email: [email protected]
Twitter: @JessicaRDurling
---
COVID-19 is impacting all Canadians. At a time when vital public information is needed by everyone, The Pointer has taken down our paywall on all stories relating to the pandemic and those of public interest to ensure every resident of Brampton and Mississauga has access to the facts. For those who are able, we encourage you to consider a subscription. This will help us report on important public interest issues the community needs to know about now more than ever. You can register for a 30-day free trial HERE. Thereafter, The Pointer will charge $10 a month and you can cancel any time right on the website. Thank you
Submit a correction about this story