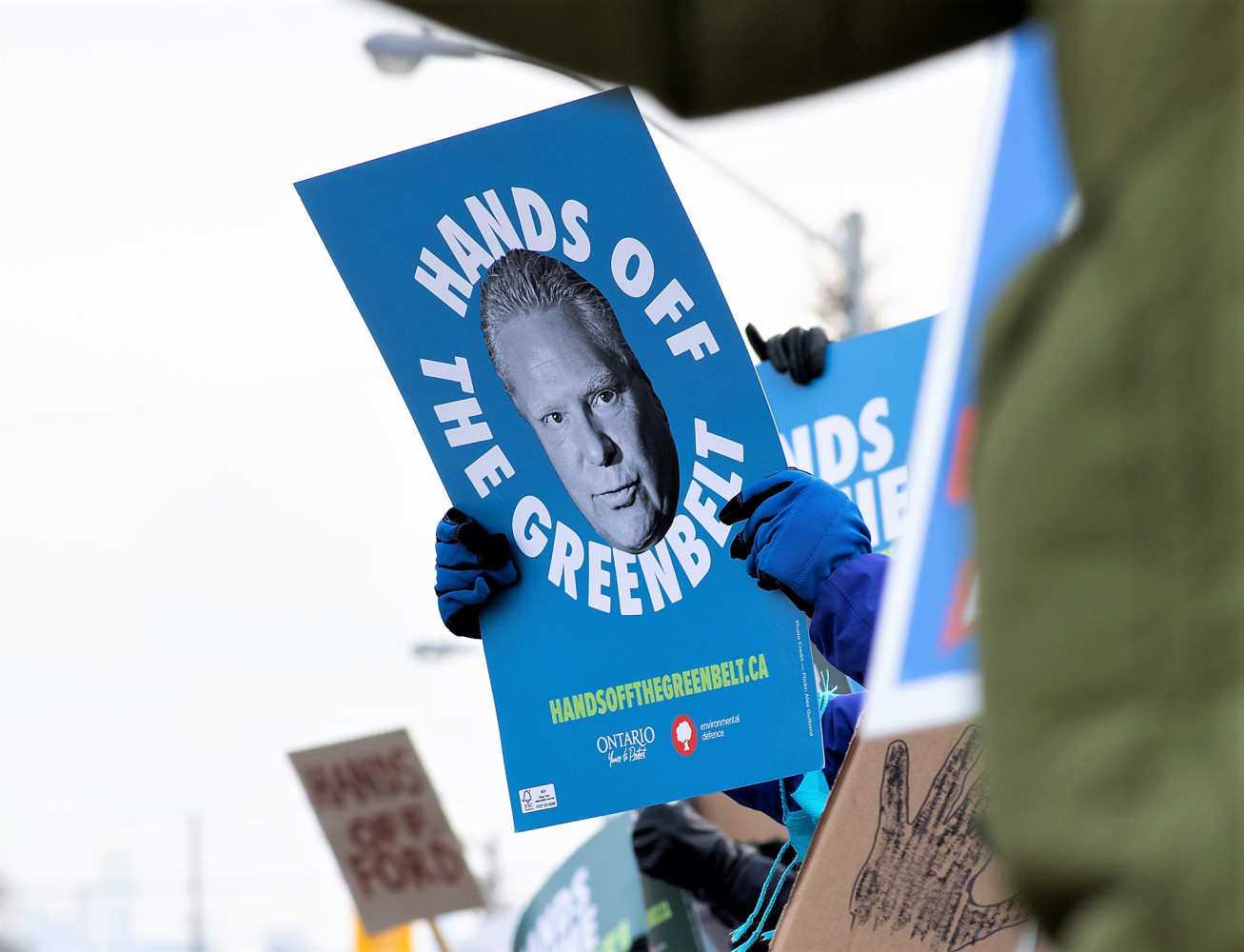 Feature image Alexis Wright/The Pointer
Doug Ford will be the master of his own demise
Doug Ford thought he was home free. But with the rise of a new multi-sector opposition to his recent planning and environmental policy changes, he may have to think again.
Following the 2022 provincial election where the majority of a disengaged public couldn't be bothered to vote, Ford secured a majority government, which he won in our out-of-date and undemocratic first-past-the-post system, with less than 41 percent of the vote.
Now was the time to enact his clearly stated pre-election plan to open up large swaths of land in the Greenbelt for his friends and funders in the development industry and to dismantle all the pesky planning and environmental rules that put sensible controls on rapacious development.
The Booing Begins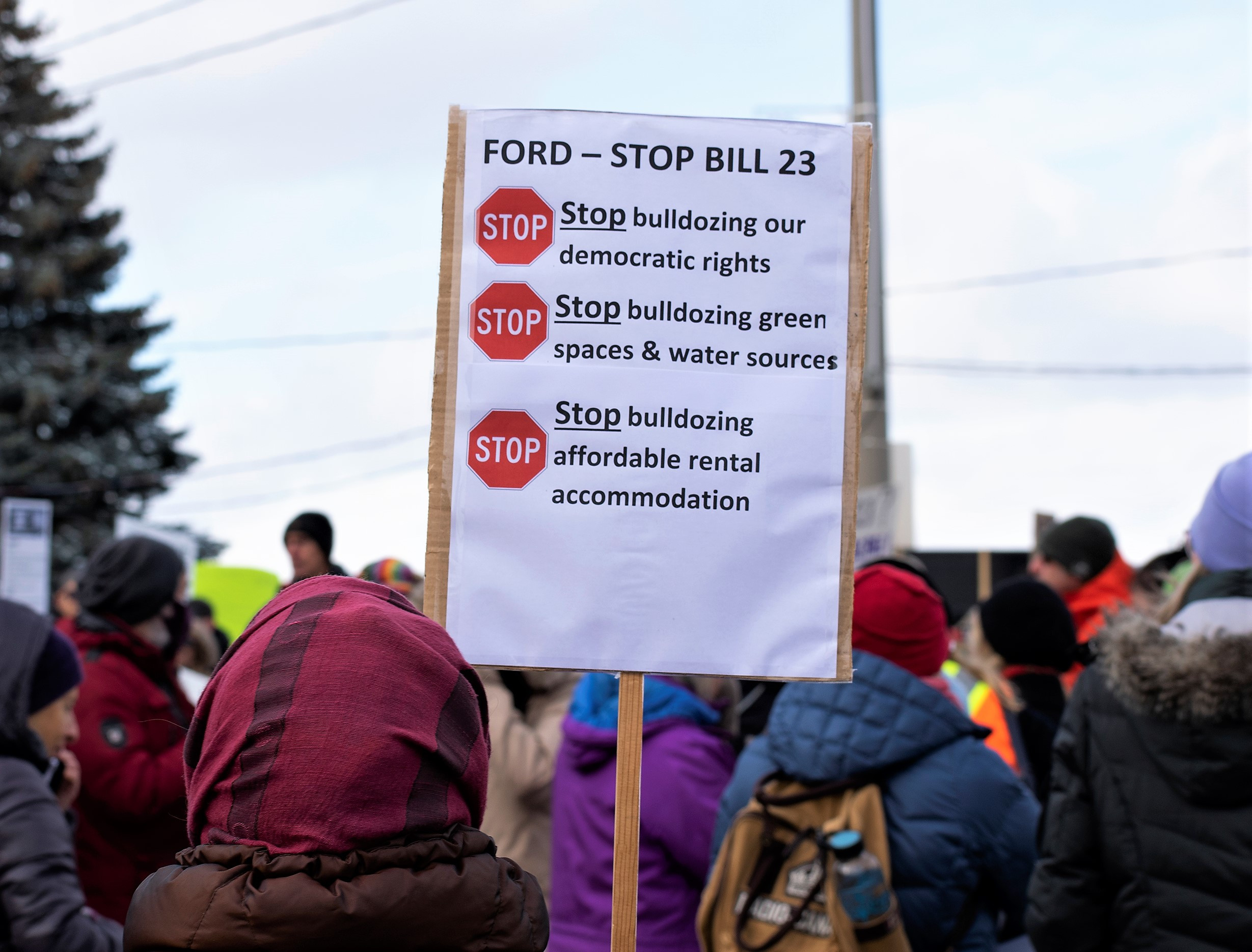 A recent protest outside Doug Ford's Etobicoke constituency office.
(Alexis Wright/The Pointer)
Although he was first elected in 2018 projecting an anti-elite, folksy charm, and promised a government that was "for the people", citizens soon lost their goodwill toward Ford, and began booing him at public appearances. His attack on public healthcare and the nurses who protect the system, efforts to install cronies in public positions, the firing of government watchdogs, the cancellation of green energy projects, the gutting of Toronto's Council and the interference in municipal politics in communities across the province, the cancellation of minimum wage increases, cuts to mental health and education funding, and so much more, opened the public's eyes to the man and the party that had actually been elected.
And Then Came COVID
COVID, a crisis of pandemic proportions saved Ford, partly because he seemed to take a reasonable course in an extremely unsettling time but also because suddenly the public had their own deeply personal problems to deal with—the broader issues affecting society, temporarily, didn't loom as large.
When the 2022 election came, people were worn out, so Ford rode the wave of disenfranchisement to another majority. And that's when hubris got the better of him.
Radical Change
Ford's government went whole hog on dismantling environmental safeguards and good planning policy. No wetland, forest, Greenbelt, endangered species or prime farmland was going to stand in the way of his friends' bulldozers now. Conservation Authorities? Who needed them? Their mandates were modified to the point of pointlessness, and they were ordered to draw up lists of their properties for future sales.
But hubris can often lead to unintended consequences and Ford's arrogance has.
Political Opposition
The NDP's capable new leader, Marit Stiles, has been hammering away effectively at the Ford government for weeks and has instigated an Auditor General and an Ontario Integrity Commissioner investigation into whether the Ford government shared information with developers about proposed Greenbelt land removals.
Meanwhile, Mike Schreiner, leader of Ontario's Green Party, continues to punch above his weight in holding the Ford government to account for connections between land speculators and the Conservative government that "do not pass the smell test".
Public Opposition — The Alliance For A Liveable Ontario
Then there are the 130 plus environmental groups, farming organizations, urban planning associations, academics, NGOs, unions, tenant and affordable housing advocates and citizen-led community advocacy and healthcare groups representing millions of Ontarians, along with more than 800 individual members, that have come together to form the non-partisan group The Alliance for a Liveable Ontario (ALO).
The ALO has one purpose: to build a liveable Ontario and stop the provincial government policies that falsely claim they will solve the housing issues facing Ontario while harming the province's communities by undermining the protection of farmland, natural areas and democratic institutions.
The Alliance's first major public action a few weeks ago was to release a report by respected planner Kevin Eby, showing that there was more than enough land designated for development to meet the province's housing goals without removing a single acre of land from the Greenbelt.
A Clear Vision
Maybe Ford's major achievement has not been opening Ontario's door wide to exploitation by the development industry. Rather it has been to consolidate disparate sectors, with their various strengths, skills and experiences, into a group with a clear, alternate vision for the Province's future.
The Alliance says a growing population can be accommodated through government/private sector/non-profit/co-operative/charitable partnerships that build affordable, mixed housing situated within communities that offer a variety of transportation options.
Their vision is for communities that are vibrant, healthy, affordable, climate resilient and surrounded by permanently protected farmland and natural areas.
The Alliance partners share the belief that Provincial and municipal governments should work in partnership to make planning, infrastructure and housing decisions — in consultation with the public — to create the kind of communities that people of all income levels enjoy and want to live in.
As well, they want all political parties to uphold democratic principles and act with transparency and accountability.
And they are working toward the day that all political parties reflect their agenda in their party platforms.
Consequences of Hubris
Some say an electorate distracted and worn out by COVID sleep walked through the last provincial election. That may be. But COVID will not be an issue in 2026 and the signs are clear the electorate is waking up.
Ford's lasting legacy may be that hubris has consequences. A consolidated, engaged multi-sector opposition fueled by expertise-based good ideas, a strong vision for a hopeful future, a willingness to work together and determination to keep going for as long as it takes, could be the legacy Ford leaves this province. If so, the painful years of Ford's premiership may have been worth it.
---
Liz Benneian is a board member of The Pointer Niagara and chair of Biodiversity and Climate Action Collective Niagara, a coalition of Niagara's environmental groups and citizens that advocates for proven municipal best practices and policies that protect and enhance local biodiversity and combat climate change.
She is also a founding member of The Alliance for a Liveable Ontario, however, she is not a spokesperson for the group, and this editorial is not written on its behalf.
---
COVID-19 is impacting all Canadians. At a time when vital public information is needed by everyone, The Pointer has taken down our paywall on all stories relating to the pandemic and those of public interest to ensure every resident of Brampton, Mississauga and Niagara has access to the facts. For those who are able, we encourage you to consider a subscription. This will help us report on important public interest issues the community needs to know about now more than ever. You can register for a 30-day free trial HERE. Thereafter, The Pointer will charge $10 a month and you can cancel any time right on the website. Thank you
Submit a correction about this story