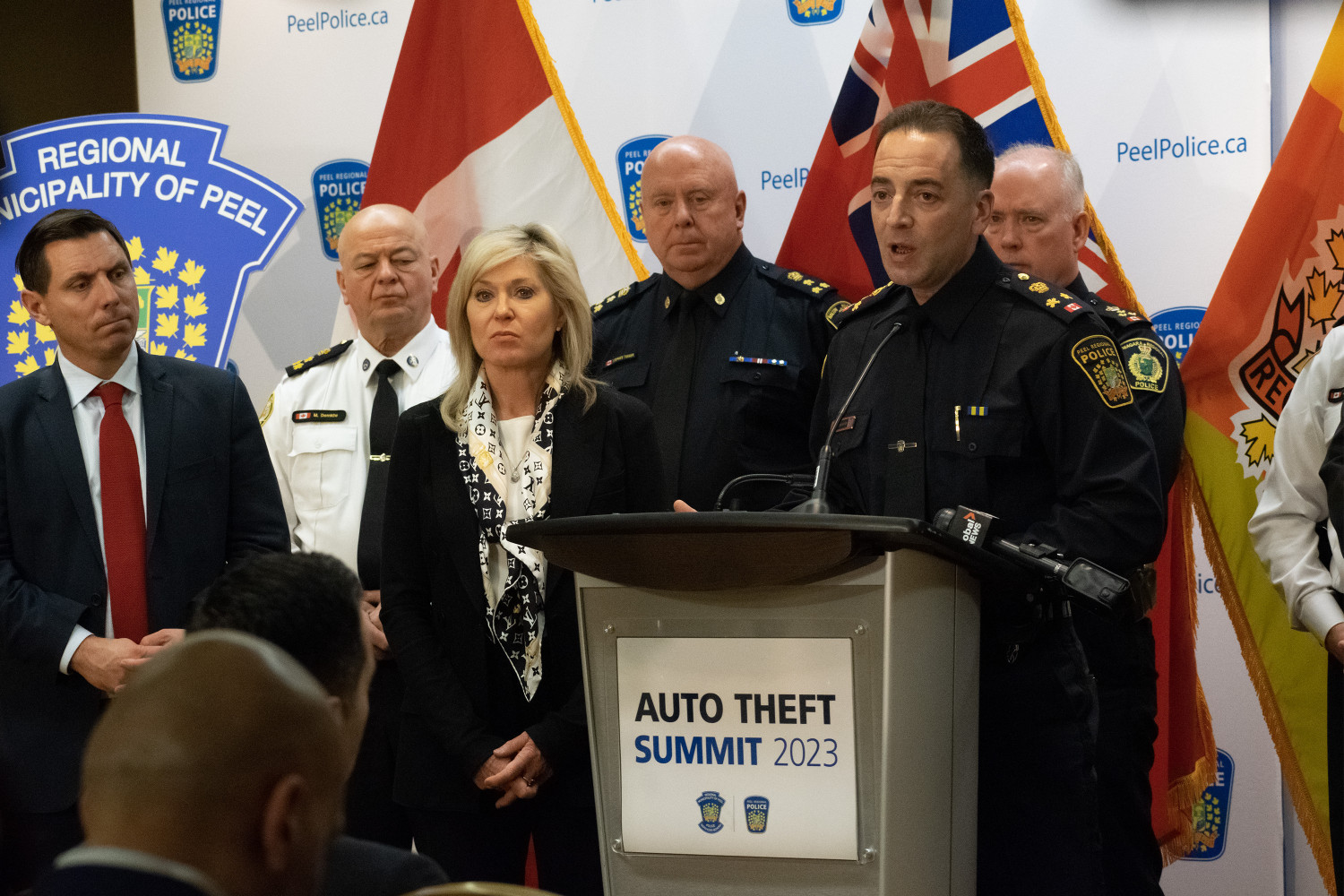 (Alexis Wright/The Pointer) 
Peel a 'cash cow' for organized crime; police to join multi-jurisdictional task force as auto thefts surge
Auto theft rates are surging across Peel and the Greater Toronto Area. To address the disturbing increase, stakeholders across the province are working to raise awareness about the growing issue and bring community partners together to forge solutions.
"There's no way to splinter off auto theft, there's no way to just isolate auto theft. Auto theft has found its way into all major crime, including organized crime," Matt Miller, a detective sergeant in intelligent services with Peel Regional Police said. "We're looking at a multimillion-dollar organized crime investigations problem [and] in one term, as has been bantered around: an absolute crisis."
Miller was speaking to a room filled with police chiefs and politicians from across the province who came to Mississauga on March 10 for an Auto Theft Summit hosted by the Peel Police and Peel's police services board.
From 2018 to 2022, auto theft across the province increased nearly 90 percent. In the Region of Peel alone, there was a 118 percent increase during the four-year period. Similar surges can be seen in other major jurisdictions across the province including Durham, Halton, Toronto, and Ottawa. Police say these spikes are partially attributed to the strained supply chain and economic hardships—a byproduct of the pandemic years.
In Peel, auto theft increased nearly 30 percent in 2022 with more than 5,500 vehicles stolen. Across Ontario, over 27,800 vehicles were stolen last year, representing an average of 75 vehicles per day. Peel was referred to as a "cash cow of organized crime," during the summit's panel discussion.
"Canada has become a source country for organized auto crime. In reality, it is one of the top revenue generators for organized crime, only behind drugs and fraud," PRP deputy chief Nick Milinovich explained, noting the majority of the theft in Canada is originating in Ontario, particularly in the GTA.
"Over the course of the last five years, we've seen vehicle thefts increase by 118 percent [in Peel]. It's not just the anecdotal concerns that we hear from our community. The reality is, it is becoming an increasing problem for our community."
Peel Regional Police deputy chief Nick Milinovich told summit attendees on March 10 vehicle thefts increased by 118 percent in Peel over the past four years.
(Alexis Wright/The Pointer)
According to the deputy chief, revenue being generated from auto theft-related crime is estimated to be as high as a billion dollars annually.
A primary focus of the Summit was the need for improved multi-sectoral collaboration between agencies to reduce auto thefts everywhere, not just in Peel. Police chiefs at the submit recognized there would be no overnight solutions.
A key recommendation was the formation of a multi-jurisdictional Joint Forces Unit, that would make it easier for police organizations in different cities to coordinate enforcement efforts and investigations into large auto-theft networks that often span different cities. The unit would improve information sharing among law enforcement agencies for effective targeting of organized auto theft groups. Success would also be contingent on federal and provincial investments into coordinated efforts to track and disrupt illegal exports of stolen vehicles. Few details around the timing for the creation of this unit were shared at the summit. A follow-up request for further details sent to PRP was not returned ahead of publication.
Police leaders said there was a significant need for intervention from provincial and federal counterparts as auto theft has evolved from a common petty theft to a serious funding mechanism for organized crime.
"This isn't about kids going out joyriding. This isn't about just taking an auto and driving for a few kilometers and dumping it. This is about organized crime. This is fueling organized crime," Miller said.
With organized crime groups continuously evolving, policing resources are being stretched.
"It's pure profitability. There's such an opportunity for that monetary gain for them," York Regional Police Detective Sergeant Pat Smyth explained.
"Really what has changed about auto theft is it's not just auto theft anymore. It's highly organized and it isn't an issue that any one service really can or should address on its own," Milinovich added. "It's cross-jurisdictional. It's interprovincial [and] transnational. It's not joyriding anymore, it's lucrative and revenue-generating."
Other priorities identified at the summit include establishing a multi-sectoral executive working group to increase public awareness about how to protect the public against auto theft and educating the community about crime trends. This group would develop an action plan for legislative and industry consideration that would be aimed at fraudulent vehicle registrations in the province, stolen vehicles being easily exported out of the country, and measures that could be adopted by auto manufacturers, insurance companies and financial institutions to enhance protection against auto theft.
PRP Chief Nishan Duraiappah said there's an urgent need for tangible outcomes. He said the summit offered a unique opportunity to shift the conversation to not just a policing discussion, but a non-policing perspective as well.
Peel police Chief Nishan Duraiappah is calling for urgent action to be taken to address the growing numbers of auto theft in Peel and other parts of the province.
(Alexis Wright/The Pointer)
"The impact on public safety is tremendous. I think we would all agree, it is the discussion in all of our communities. It is one of the fastest growing problems that we have in not just the Golden Horseshoe, but right across Ontario," he said. "The contributing factors are not just strained supply chain resources or economic hardship, but there are gaps in the whole scenario of auto theft that are being capitalized by organized crime, and of course, street-level crime, so a joint collaboration needs to happen.
"The public is being victimized. Whether it's the scenario of a carjacking, or somebody waking up in the morning and having their vehicle stolen right from their home," he added.
Early Saturday morning, not 24 hours after the summit wrapped up, a vehicle was stolen from a hotel parking lot in the area of Dixie Road and Matheson Boulevard in Mississauga. Inside the stolen vehicle was a sacred headdress, with significant sentimental value and cultural importance to the Nipissing First Nation, Duraiappah stated in a media release. Patrol officers were able to locate and recover the stolen ceremonial headdress, and vehicle belonging to its owner, on March 13 in a parking lot in Brampton.
But not everyone is so fortunate to have their vehicle turn up a few days later.
Mississauga resident Sushil Katti woke up one morning in August last year to find his car missing from the driveway. After checking with his roommates, he phoned the police to report his car stolen. Katti placed the call around 12 p.m. after waiting roughly 45 minutes to get a hold of someone on the line. Police arrived at the scene around 9 p.m. — nine hours later.
Having migrated to Canada from India, Katti said he was taken aback by the lack of response from the police. Not only was it upsetting to find the car was missing, but the Mississauga resident also said it carried emotional value for him.
"Canada is one of the developed nations and I never really thought something like this could happen in Canada. Then the car was stolen [and] I was really genuinely thinking about trying to get my car back, but nothing like that ever happened. I was in a bit of a state of shock to be honest," he said.
"I gave them a call at around 12 p.m. in the afternoon and they came at 9 p.m. at night. So yes, there is definitely something wrong there. I called them after that at 3 p.m., 4 p.m., and then 7 p.m., and every time I called them, it was around an hour wait and then… there were no cops available immediately. I don't know how it took them nine hours to be available."
Sushil Katti is just one of many in Peel Region who have voiced concerns about the lack of auto theft enforcement from Peel Regional Police.
(Alexis Wright/The Pointer)
At the time of the incident, Katti said he was reading the news and seeing the rising numbers of car thefts, but he never thought it would happen to him. When he asked the police about the chances of getting his car back they said it was possible, but warned him it was not likely.
"The sad part is I think Brampton is a real hotspot here. The cops know about it, but they're not doing enough about it."
The hold time for calls in Peel has received criticism from local councillors. For a Priority 3 or 4 call, which includes stolen vehicles, current response times stretch multiple hours, at times even into the following day. For a stolen car, the victim can be waiting up to 9 hours for a police officer to arrive.
The Peel Regional Police recently garnered an 8.2 percent boost to its bottom line in its 2023 budget — approximately $40 million more than it received in 2022 — to address rising rates of violent crime, fraud and auto thefts in Brampton and Mississauga. The increase in funding brought with it an additional 70 officers and 50 civilian positions.
In November, Duraiappah said the additional 70 officers for 2023 is already a scaled-back request. Realistically, the force would need to hire 303 new officers to keep up with the day-to-day demands of the region.
To watch the full 2023 Auto Theft Summit, click here.
---
Email: [email protected]
Twitter: @mcpaigepeacock
---
COVID-19 is impacting all Canadians. At a time when vital public information is needed by everyone, The Pointer has taken down our paywall on all stories relating to the pandemic and those of public interest to ensure every resident of Brampton and Mississauga has access to the facts. For those who are able, we encourage you to consider a subscription. This will help us report on important public interest issues the community needs to know about now more than ever. You can register for a 30-day free trial HERE. Thereafter, The Pointer will charge $10 a month and you can cancel any time right on the website. Thank you
Submit a correction about this story