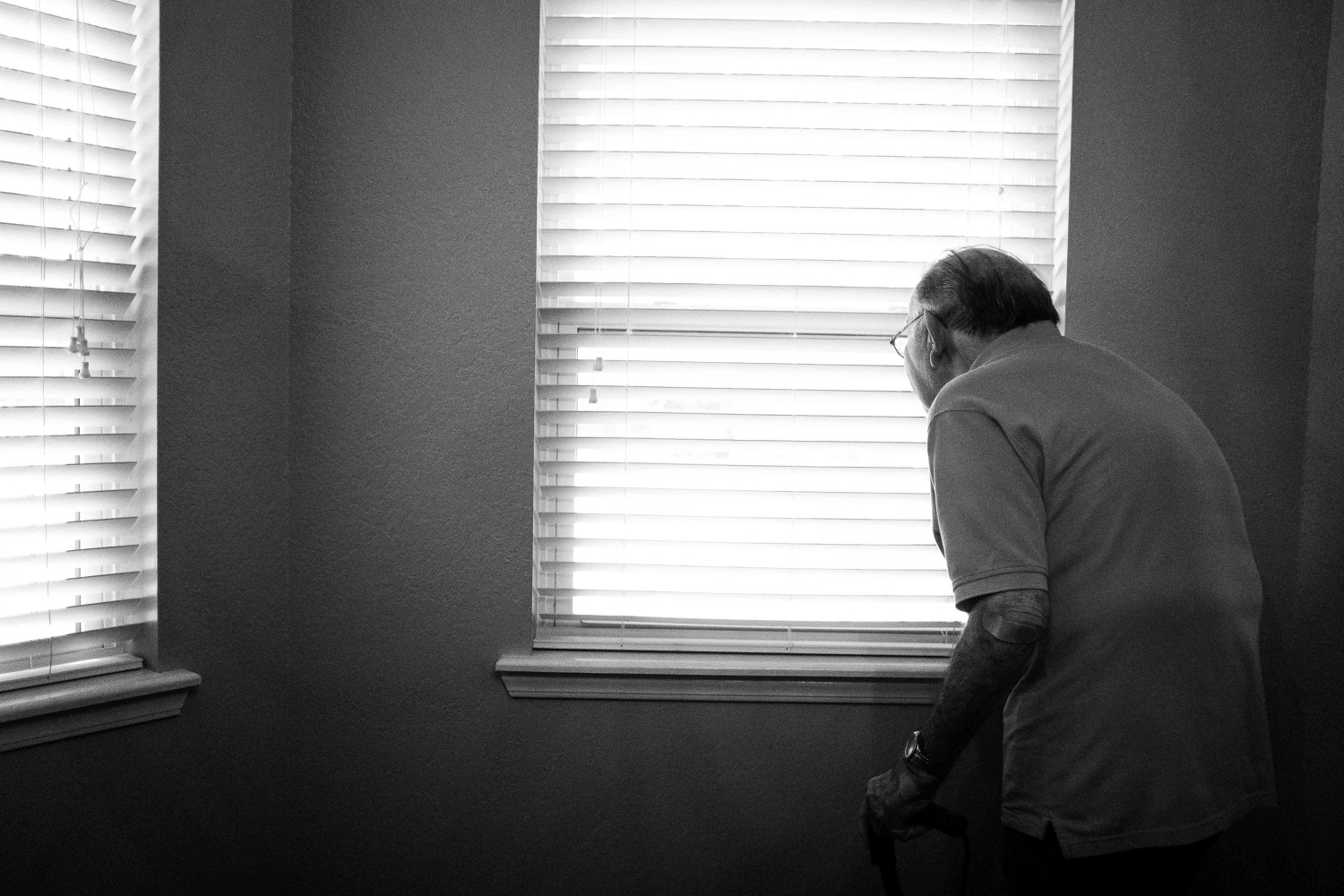 Alex Boyd/Unsplash
As residents live longer and longer, Peel funds study into disturbing rise of elder abuse  
According to the 2021 Census, the number of Canadians over the age of 85 has more than doubled over the last two decades. This senior cohort is the fastest growing of any age group in the country, increasing by 12 percent since 2016 to over 861,000 people. By 2046, this number is expected to more than triple as advances in modern medicine keep people alive even longer.
Extending life comes with a host of challenges for social support institutions designed to help aging residents kept alive as they suffer cognitive decline, the ravages of disease or any number of curveballs the human body is being asked to swing back at later and later in life.
"The abuse of older people, also known as elder abuse, is a single or repeated act, or lack of appropriate action, occurring within any relationship where there is an expectation of trust, which causes harm or distress to an older person," the World Health Organization wrote last year in a groundbreaking report on the rise of elder abuse. "This type of violence constitutes a violation of human rights and includes physical, sexual, psychological and emotional abuse; financial and material abuse; abandonment; neglect; and serious loss of dignity and respect."
The study brought together data and research from 28 countries.
"Abuse of older people is an important public health problem. A 2017 review of 52 studies in 28 countries from diverse regions estimated that over the past year 1 in 6 people (15.7%) aged 60 years and older were subjected to some form of abuse. Although rigorous data are limited, the review provides prevalence estimates of the proportion of older people affected by different types of abuse.
"Data on the extent of the problem in institutions such as hospitals, nursing homes and other long-term care facilities are scarce. However, a review of recent studies on abuse of older people in institutional settings indicates that 64.2% of staff reported perpetrating some form of abuse in the past year."
Elder abuse takes many forms and occurs both inside and outside institutional settings.
(World Health Organization)
Across Peel, like in so many other parts of the world, these problems are getting worse. Unique dynamics such as cultural traditions and the resulting pressures faced by many in the region's diverse communities, pose unique challenges. For example, residents in some of Peel's large South Asian-Canadian communities have reported financial abuse which arises when adult children exploit elders living in the same household.
The World Health Organization data show "living alone" actually decreases the risk of elder abuse. In Peel, this is a particular challenge, as many seniors in specific cultural communities are part of traditions that expect elders to live with their adult children in multi-generational settings.
Mistreatment can take many forms.
Punjabi Community Health Services, one of Peel's largest South Asian social support organizations, was one of three lead partners in a recent provincial study titled Elder Abuse in South Asian Communities.
"While we spoke with South Asian seniors, representing distinct cultural and linguistic communities, in four separate regions of the province, there was minimal variation in the findings," the report's authors wrote. "The seniors were asked to describe the kinds of challenges and/or problems that they experience inside and outside of the home."
A number of complex factors were revealed, "For example family dynamics are influenced by multiple factors and stressors in the home, i.e. financial challenges for their adult children as immigrants who find it difficult to find a job and have to work 2-3 low paying jobs in an attempt to support their extended family."
The most common problems in the home reported by seniors whose personal experiences were highlighted in the report were: "Exploitation and control; Emotional abuse, neglect and/or negative treatment by their family members; Financial abuse; Lack of money; Dependency on their adult children; and Poor mental and physical health."
Reported abuse or lack of support outside the home included: "Services and supports not linguistically and culturally sensitive and responsive; Racism and discrimination; Lack of understanding of how systems operate in Canada; Difficulty in getting around; Lack of affordable and appropriate housing; Lack of job opportunities; Financial fraud; and Discriminatory policies and legislation."
The report detailed complex dynamics that can lead to elder abuse in South Asian-Canadian communities, for example the clash of cultures when grandparents and their adult children disagree under the same roof about how grandchildren should be raised, as tensions rise due to differences between traditional Canadian values and those seniors grew up with in India or other South Asian countries.
Another layer of abuse, often expressed in various forms of physical and medical mistreatment, became all too obvious during the pandemic, when reports detailing the horrific treatment of seniors dominated the news shortly after COVID-19 arrived.
The pandemic opened the general public's eyes to the significant issues plaguing the long-term care sector, one of the pillars of support for the aging population. As the virus spread unabated through these unprepared and understaffed settings, leaving behind numerous stories of anguish as loved ones were left to die alone, it triggered some change. A new set of national standards for long-term care was released at the start of 2023 to ensure seniors homes across Canada maintain safe and healthy conditions for their residents.
"Every senior in Canada deserves to live in dignity, safety, comfort and respect, regardless of where they live. The Government of Canada is committed to meeting the needs of seniors, including helping to ensure they can access the safe, quality health care they need and deserve," reads a joint statement from Jean-Yves Duclos, federal Minister of Health, and Kamal Khera, Minister of Seniors.
While long-term care has had its time under the microscope, other issues plaguing seniors populations have yet to get the attention they need.
According to data from the Peel Regional Police approximately 21 percent of Brampton and Mississauga's population is over the age of 60 (based on a 2021 population of 1,497,090 for the two cities). Peel Region's senior population is increasing at three times the rate of the rest of Ontario and Canada.
In 2021, PRP reviewed 3,509 occurrences, 2,716 of which were advanced for further review as potential elder abuse. This was a 15 percent decrease from the 4,041 incidents recorded in 2020, but still indicative of a disturbing broader trend that has seen incident numbers on an upward trajectory for years.
Starting in 2017, when incidents increased 115 percent from the year before, the number of seniors facing physical, emotional or financial abuse—often at the hands of a family member—have continued to rise. Incidents increased 204 percent between 2017-2018; 110 percent the following year and 46 percent the year after that.
"Elder abuse continues to be a priority for Peel Regional Police with the continued growth in our aging community and the impact felt from reduced programming and access to resources during the Covid-19 pandemic," the PRP 2021 Persons at Risk report states.
(Peel Regional Police)
Yet, the region remains unprepared to deal with the demand for service and care that is on the horizon, and is not properly funded to know what this demand will look like. For a regional public health system that is also drastically underfunded by the government of Ontario—delivering programming with some of the lowest per capita funding of any public health unit in Ontario—and a hospital system stretched thin by a lack of resources and investment, these problems will only get worse as the population continues to age.
"Globally, the number of cases of elder abuse is projected to increase as many countries have rapidly ageing populations," the World Health Organization (WHO) report warns. "Even if the proportion of victims of abuse of older people remains constant, the global number of victims will increase rapidly due to population ageing, growing to some 320 million victims by 2050, as the global population of people aged 60 years and more increases to 2 billion by 2050."
Demographic data show the scale of demand will increase significantly, but what this demand will actually look like is veiled in uncertainty. Will this surge in seniors require significantly more long-term care, or home care? Will the demand for dental support continue at the current rate or decline? The ongoing youth mental health crisis continues to dominate headlines (rightfully so) but little attention is paid to the mental health challenges faced by the aging population. Will there be a significant demand for these types of assistance as stressed millennials get older?
"Individual level characteristics which increase the risk of becoming a victim of abuse include functional dependence/disability, poor physical health, cognitive impairment, poor mental health and low income," the WHO reported. "Individual level characteristics which increase the risk of becoming a perpetrator of abuse include mental illness, substance abuse and dependency – often financial – of the abuser on the victim. At the relationship level, the type of relationship (e.g., spouse/partner or child/parent) and marital status may be associated with an elevated risk of abuse, but these factors vary by country and region. Community and societal-level factors linked to elder abuse may include ageism against older people and certain cultural norms (e.g., normalization of violence). Social support and living alone reduce the likelihood of elder abuse."
All of these factors can contribute to a rise in elder abuse as tensions between family members increase over medical needs, financial vulnerabilities or cognitive ability.
Family Services of Peel (FSP) and the Peel Elder Abuse Prevent Network (PEAPN) recently received a nearly $75,000 grant from the Region of Peel to find answers to these questions.
The study marks one of the first attempts to gather hard data on elder abuse and other seniors issues with a lens focused directly on the Region of Peel. Similar to the groundbreaking work done by FSP with its human trafficking needs assessment in 2019, the organization hopes this new study will provide the data and knowledge needed for upper levels of government to step in and address the issues impacting the wellbeing of seniors in Peel.
Sandra Rupnarain, the executive director of FSP says the grant is a significant step toward helping seniors in Peel who have mostly been ignored by upper levels of government that have neglected the need for public supports.
"I think the knowledge is there, I think the awareness is there; the interest is not there," she says. "There are some real gaps that we really have to address."
This lack of attention could speak to a real, human instinct to avoid that which makes us uncomfortable. The thought of getting older or getting ill, or becoming financially or physically dependent on someone else is difficult to accept, especially when still gifted with the ease of movement and good health. This can make it difficult for many—policy makers and elected officials included—to dedicate the time and energy necessary to understand the significant issues faced by the aging population, while the tidal wave of challenges that society as a whole is facing is often ignored.
"I see people shy away from it," Rupnarain says. "I think in what we are afraid of we don't want to address…What we don't understand we try not to delve into it."
Rupnarain admits she has had her own struggles with this problem. Several years ago, while providing training for staff inside a Peel seniors home that was seeing increasing levels of violence from staff toward residents, what she saw inside the home stuck with her, profoundly.
"When I saw the aging population in there, it was scary for me," she admits. "It was scary to see the suffering, to see the loss of dignity. I came home and I couldn't eat dinner that afternoon…I saw myself in that moment becoming one of those persons."
The sad reality is these unsuitable living conditions that put senior's lives at risk, or incidents that steal a senior's remaining dignity continue today; and long-term care homes, hospitals and public health units are forced to confront a problem that Ontario has shown it is completely unprepared to handle.
For example, inspection reports from the Ministry of Long-term Care of Camilla Care Community in Mississauga from November found a staff member putting the entire population of seniors inside the home at risk. The unnamed staffer received a positive COVID-19 test result during their shift, but instead of immediately leaving the premises, they pulled the results from the fax machine, tore it up and continued to work. In December 2022, a report from Brampton's Peel Manor described a resident feeling "disrespected, demeaned, and helpless because the way the PSW (personal support worker) treated them" while assisting when using the bathroom. A November report from Erin Mills Lodge details how one staffer watched a PSW roughly handle a trio of residents, but failed to report the incident for four days.
The list goes on.
Staff failing to provide a pain assessment at the Cooksville Care Centre, leaving a resident in pain for an unknown amount of time; rough treatment of loved ones caught on nanny cams—"Staff did not allow the resident to express what they wanted during care. Non-courteous comments were made by the staff during the care, which lowered the resident's respect, dignity, and self-worth," the inspection report states—a failure to follow medication schedules leading to a deterioration in a resident's health; And these are only from Mississauga inspection reports in the last two months.
The struggles in long-term care are only a small microcosm of the larger issue Municipalities across Ontario will have as their populations get older.
"I think we don't have the answers on aging, we don't have the answer on how to support our aging population. So I think everybody just prefers to just do as much on the surface as we can, when we really need to dig deeper and do something more structural," Rupnarain states.
She hopes the new study, which has already begun through FSP's research arm, the Peel Institute of Research and Training, will be able to provide a path forward to deal with some of these worsening problems.
Solutions could come in large structural changes—Rupnarain would like to see a ministry at the provincial level solely dedicated to issues of elder abuse—or smaller, more niche programs to help with the different stages of aging. For example, providing support and opportunities for those approaching retirement age to prevent what is often seen as a rapid decline in quality of life when those 65 and older leave the workforce.
Many advocates in Peel's large number of culturally distinct communities have demanded specific action to address the unique problems dealt with by organizations such as Punjabi Community Health Services.
"The stigma, fear, and shame that prevents families from naming problems of conflict and reaching out to get help," is one of the unique factors highlighted in the report on elder abuse in Ontario's South Asian communities. "Seniors may not leave abusive situations because they either have no alternative housing options or they do not want to leave their partner or family. It is often challenging for many providers to effectively access South Asian families, due to cultural and language barriers. Other challenges identified were: Front line workers in mainstream agencies do not recognize that a South Asian senior may be experiencing abuse; Hospitals are used as means to get 'rid' of seniors by their adult children; For police, seniors won't talk to them, difficult to determine abuse with so many living in one home and challenges when investigating deaths due to language issues and there is not enough South Asian officers; Challenges in using family members to translate; Policies and systems can have a detrimental effect on seniors, for example seniors not being eligible for Old Age Security for 10 years, seniors not applying for Ontario Disability Support Program for fear of reprisal on their sponsor or not applying for Long Term Care, also for fear of their adult children as their sponsors, being penalized."
Many Peel families cannot even find culturally appropriate long-term care, as the system is designed for linguistic, dietary and other cultural norms that do not reflect diverse needs.
As more and more residents age out of work, Rupnarain says challenges will continue to mount.
"I have a lot of folks who are 65 and over who work in the organization," she says. "They are afraid that if they retire they will be put out to pasture so to speak and stats are showing that when people retire they get ill very quickly, their lifespan decreases very quickly.
"We have to create some kind of program for seniors who have retired but still have something to offer back to organizations like us," she adds.
The regional funding is a one-year grant, but Family Services of Peel is hopeful that should the early work for the study begin to show promising results, additional funding could be committed by the Region into 2024 and beyond.
---
Email: [email protected]
Twitter: @JoeljWittnebel
---
COVID-19 is impacting all Canadians. At a time when vital public information is needed by everyone, The Pointer has taken down our paywall on all stories relating to the pandemic and those of public interest to ensure every resident of Brampton and Mississauga has access to the facts. For those who are able, we encourage you to consider a subscription. This will help us report on important public interest issues the community needs to know about now more than ever. You can register for a 30-day free trial HERE. Thereafter, The Pointer will charge $10 a month and you can cancel any time right on the website. Thank you
Submit a correction about this story