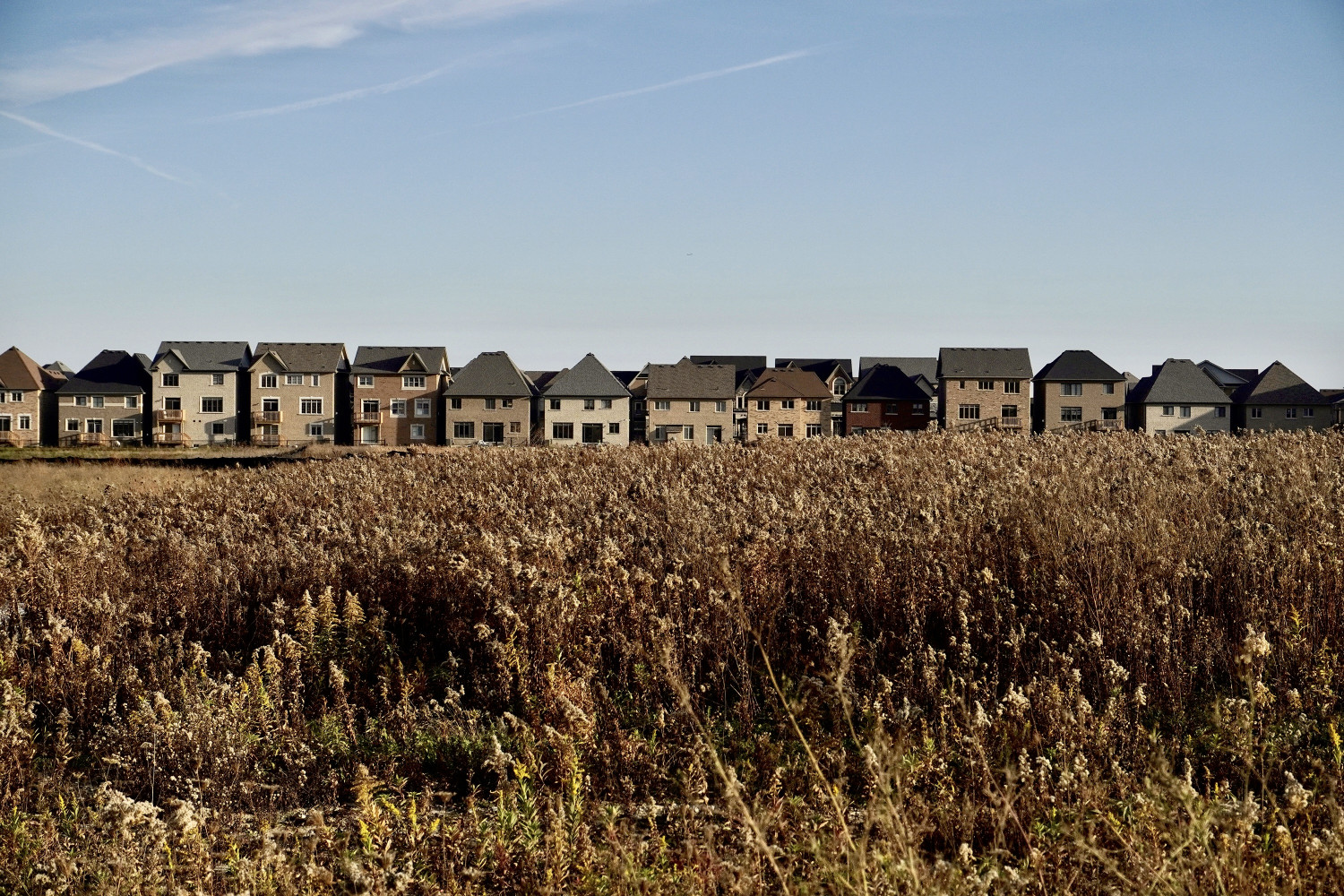 Alexis Wright/The Pointer
Peel needs over $20 billion to service Doug Ford's housing explosion which could force more sprawl 
The unprecedented financial demands of the PC government's accelerated housing plan are becoming clear to the Region of Peel. A presentation being made to councillors Thursday states the Region will need approximately $20.4 billion between now and 2031 to build the critical infrastructure necessary to support the hundreds of thousands of housing units mandated for Peel by Premier Doug Ford's PC government.
The hyper-ambitious housing target—more than double the projected growth Peel had initially planned—will also require the region's housing expansion until 2051 to accelerate at more than twice the pace compared to the previous decade (2011-2021), raising a number of practical questions about how to find the materials, tradespeople and construction companies to build so many homes in such a short period of time, even if the unprecedented infrastructure needs are met.
"We can deliver a serviceable lot, but we can't deliver a house, the industry has to do that and market conditions, labour, material shortages, that could all impact that," Antonietta Minichillo, Director Planning Department and Chief Planner for Caledon, told town councillors Tuesday during a planning and development committee meeting.
(Region of Peel)
Under Bill 23, Mississauga has been mandated 120,000 units; Brampton, 113,000; and Caledon 13,000 as part of the PC government plan to build 1.5 million new homes between now and 2031. The development push has received significant backlash from residents and other critics, environmental advocacy groups and municipalities for disregarding environmental protections, stripping revenues away from towns and cities and forcing growth into areas that are not serviced to support it.
In staff documents that have gone to councils in Caledon and Mississauga this week, both municipalities have indicated they will be able to accommodate the mandated number of units, but only if the provincial government provides financial support to build the necessary infrastructure to service these homes.
In Brampton, councillors have called the legislation a "trainwreck" and raised questions about the feasibility of making the housing pledge a reality.
During a planning meeting earlier this year, Councillor Michael Palleschi stated he's spoken with building industry stakeholders in the city who have told him they couldn't meet that target if they wanted to.
"That was based off our historic highs? Like, 15 years ago when we were pumping out permits, fastest growing city in Canada and we still didn't even come close to that number?" Palleschi, who is the City's planning chair, said to staff.
During a visit to Mississauga earlier this year, Premier Ford indicated the Province would make municipalities "whole"; and provide financial support to build the required infrastructure needed to service the 1.5 million homes. But details remain scarce on when and how this assistance will be delivered.
"No details have been made available on this possible funding," Minichillo said.
The Region of Peel staff presentation also raises a number of practical concerns that bring into question the foundation of Bill 23 and how realistic the plan really is.
If new residents want fresh, clean water to pour from their taps, and toilets that flush waste away from their homes, key pieces of underground infrastructure are necessary for basic needs. But building these water and wastewater services for new housing developments can take a significant amount of time. Regional staff, in this week's presentation, use the example of the Hanlan water main project, a $400 million, 14.5 kilometre system to support the water demands of Mississauga's city centre. It took 11 years to go from environmental assessment to construction—longer than the entire time frame of Bill 23.
The housing legislation has also removed fees and charges municipalities could previously charge developers to support growth while creating other pieces of infrastructure like parks, community centres and fire stations. The PCs have forced more growth onto local municipalities while removing many of the revenues cities and towns previously used to pay for it.
Mississauga staff reported the City "stands to lose almost $1 billion in revenue (over 10 years) previously used to pay for new parks and infrastructure like roads, trails, community centres, fire stations, libraries and more… which results in savings for developers but doesn't guarantee that homes will be built or be affordable."
Region of Peel staff project between $2 billion and $6 billion in lost revenue.
These losses could see residents pay as much as 10 percent more for property taxes with large increases on their utility bills, Mississauga and Region of Peel staff have warned.
This past week, Durham Region staff reported Bill 23 will cost their government $281 million over five years, revenue that taxpayers will be forced to make up.
The Association of Municipalities of Ontario estimates the legislation will cost cities and towns at least $5.1 billion by 2031, most of it pushed onto tax payers, and this does not include the billions that will be needed to create all the infrastructure to support millions of residents who will move into the 1.5 million new homes.
This is of particular concern for the Town of Caledon, where most of the new development will be on greenfield land. While Brampton and Mississauga have benefited from certain development charges for years to support their growth, Caledon, in its infancy in terms of urban expansion, will not be able to take advantage of the same revenue tools. This has the town concerned it will be unable to construct complete communities, in a less sprawling approach to planning than in the past, under the new PC housing plan.
The Province has not indicated it will provide any future support for infrastructure outside of critical services (roads, water and wastewater) leaving municipalities with the options of either placing the burden on existing residents by drastically increasing taxes, or going into debt (which will eventually be covered by tax payers and those who pay a variety of municipal user fees).
"Greenfield growth is largely on undeveloped, vacant, rural, or agricultural land and we can't just build housing in greenfield area, as you know that housing needs amenities, jobs, stores, schools, parks, fire stations, hospitals and community centres," Minichillo said.
Caledon's chief planner also told councillors the Town is being flooded with development applications from outside its existing settlement area, many of which are not within existing timeframes for service construction, providing credence to the critical assessment that Bill 23 would open the floodgates on development applications in areas that are not prepared, or even zoned, to support residential and commercial growth.
There are also early indications that Bill 23 is actually slowing down the development process. The legislation restricts the ability of conservation authorities to consult with municipalities on environmental aspects of applications. This has forced cities and towns to find their own outside experts to consult on these critical questions. For the Town of Caledon, they have no such environmental experts on staff (one such position has been approved as part of the 2023 budget).
"Some of the changes have actually impacted the development application process in a negative way," Minichillo said, adding that while one staffer will certainly help, it does not completely close the gap in service previously filled by conservation authorities.
"That is a function that entire teams in the conservation authorities were dedicated to," she said.
To accommodate the proposed growth, the Region of Peel is recommending urban expansion be focused in areas that already have the required infrastructure to support new housing. This includes major corridors like Hurontario Street in Mississauga and Queen Street in Brampton. However, this will require a change to current population and growth projections that see much of the expansion occurring in greenfield areas like Heritage Heights in Brampton and Palgrave in Caledon.
Upcoming planning decisions around Bill 23 will pit sprawl and density against each other, with elected officials powerless to oppose developers whose applications can no longer be appealed by municipalities under Ford's new legislation.
The Region would like to see areas outlined in black (major transit station areas) be allocated for future intensification and population growth.
(Region of Peel)
The amount of mandated growth was originally intended to be spread out over the next three decades to 2051—it is now expected in just eight years.
The pace of growth for Peel to support Bill 23 is unprecedented. The presentation that will be made Thursday to regional councillors shows, compared to the last decade, more than twice as many homes will have to be constructed each decade to 2051, compared to the rate of growth over the last decade.
The Region of Peel's planned growth will have to increase by two-and-a-half-times, from about 100,000 new units to 250,000 by 2031.
Despite ramming through their suite of legislation late last year to push the housing explosion, Ford and his PC colleagues have failed to explain how hospitals, schools, GO Transit, roads and other provincial infrastructure will be paid for and built in just eight years, when the 1.5 million homes are supposed to be completed.
---
Email: [email protected]
Twitter: @JoeljWittnebel
---
COVID-19 is impacting all Canadians. At a time when vital public information is needed by everyone, The Pointer has taken down our paywall on all stories relating to the pandemic and those of public interest to ensure every resident of Brampton and Mississauga has access to the facts. For those who are able, we encourage you to consider a subscription. This will help us report on important public interest issues the community needs to know about now more than ever. You can register for a 30-day free trial HERE. Thereafter, The Pointer will charge $10 a month and you can cancel any time right on the website. Thank you
Submit a correction about this story