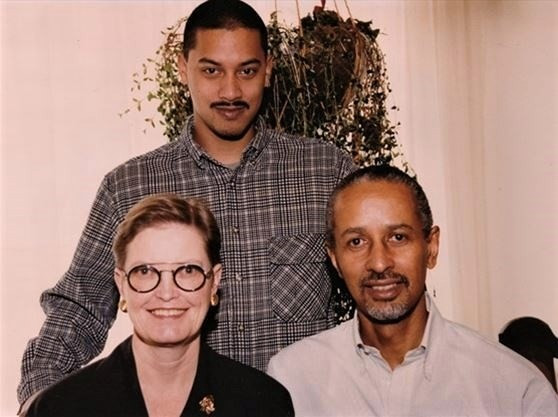 Facebook
Ordeal continues in tragic Harrison family case: Retrial ordered for Melissa Merritt, previously found guilty in murder of ex-husband 
Many thought the tragic story of the Harrisons—three family members found dead in the same house, one after the other four years apart—was finally closed for good, with justice served to those responsible for at least two murders.
The nightmarish saga, centered around a vicious custody battle between Caleb Harrisson, his ex-wife Melissa Merritt and her new partner Chris Fattore, began in April 2009 when Bill Harrison, Caleb's father, was found dead inside the washroom of their family home at 3635 Pitch Pine Crescent in Mississauga. Investigators ruled his death a medical episode—despite strange markings on his neck and a fractured sternum which indicated foul play. The case, even with all the telltale signs of wrongdoing ignored by Peel police, was closed.
A year later, Bill's wife Bridget was found dead at the base of the staircase inside the same home. Again, investigators from Peel Regional Police ruled the death a terrible accident, concluding it was the result of a fall down the stairs. There was strong evidence that Bridget was the victim of an attack and the fall down the stairs was staged to cover it up.
In the backdrop of the two murders, Merritt and Fattore, escalated verbal attacks on the family as the ugly custody arrangement between her and the Harrisons involving the two children grew increasingly tense.
Finally, on August 23, 2013, Caleb, the father of the children, was found dead in his bedroom at the same house after not showing up for work. He was 40-years-old. This time, investigators quickly determined the scene was staged to look like a robbery gone wrong and found defensive wounds on Caleb's hands which indicated he fought back against his attacker.
Caleb's homicide immediately raised questions about the deaths of his parents in the same house. The three Harrison family members were found dead in the span of four years. Despite strong evidence of wrongdoing in Bill's death, no charges were laid in his case. But the murder of his son finally triggered a sprawling investigation by Peel police which eventually ensnared Merritt and Fattore. Merritt and Fattore were convicted for first degree murder in Caleb's death and Fattore was convicted for the same offence in Bridget's case. Merritt and Caleb had separated nearly ten years before he was killed.
She and her new partner were arrested in January 2014 in Nova Scotia, where they had moved soon after Caleb's death. Four years later, both were found guilty and sent to prison. Fattore was convicted in the deaths of both Caleb and Bridget. Merritt was tried jointly with Fattore in the deaths of Caleb and Bridget on the theory she encouraged him to carry out the killings.
While she was acquitted in Bridget's case, a jury found her guilty of first degree murder in Caleb's death.
But in a Court of Appeal decision released earlier this month, Merritt has been granted a retrial after a three-judge panel ruled there were errors made by the trial judge when directions were given to the jury that could potentially have swayed the decision toward Merritt's conviction for Caleb's murder.
Fattore's appeal was dismissed as the judge said there was "compelling evidence" linking him to Caleb's death, including DNA found under Caleb's fingernails that was consistent with DNA found in latex gloves retrieved from the garbage outside Fattore and Merritt's home. Both DNA samples matched Fattore's. Black Walmart shoes were found in Fattore's garbage that had his DNA as well as hairs matching Caleb's dog.
In the decision released January 5, Justice David Paciocco wrote the trial judge made two critical errors in his instructions to the jury on how they should handle two particularly contentious pieces of evidence against Merritt—a partially unintelligible statement made at the airport while being recorded as the pair were transported back to Ontario which the Crown argued was an admission of guilt in Caleb's death, and an omission Merritt made during her initial police interview related to shoes purchased by Fattore and later linked to the murder scene that was presented as an attempt to hide her guilt.
"The Crown had no direct evidence implicating Ms. Merritt, and, in my view, a properly instructed jury could be left with a reasonable doubt on the circumstantial evidence as to whether Ms. Merritt was an accessory after the fact to Caleb's murder, rather than a party to the killing," Justice Paciocco wrote in the decision. "It is best that I not engage in a more detailed evaluation of the evidence to explain my thinking, given that I would set aside conviction and order a retrial."
"Ms. Merritt is thrilled that the Court of Appeal for Ontario overturned her murder conviction on the basis of unreliable confession evidence and the potential misuse by the jury of circumstantial evidence. This is a significant step in clearing her name," her lawyer Mark Halfyard said. "Ms. Merritt has always maintained—and continues to maintain—her innocence in the deaths of the Harrison family. Understandably, the allegations that she was involved in the planned killing of her childrens' father and their grandmother have been extremely difficult for her and her family. She will continue to vigorously defend these allegations in Court."
The Walmart Omissions
Caleb Harrison's death sent shockwaves through the Peel Regional Police. Not only was it a high profile homicide investigation, the third death in the same house over a four-year period, but the obvious signs of murder raised questions about what could potentially have been missed in the deaths of both his parents?
The investigation that would follow, and the internal review conducted by Peel police into the handling of the deaths of Bill and Bridget, revealed a startling level of incompetence by professional detectives who missed obvious signs of wrongdoing in both cases.
In the days that followed the discovery of Caleb's body, police immediately interviewed Fattore and Merritt. The pair had been previously interviewed following the death of Bridget in 2010 and Peel police investigators failed to properly corroborate the alibis the two provided. There would be no such mistake after the third death.
In her initial interview with police, Merritt told investigators that she and Fattore spent the previous evening at a softball game, followed by a trip to the mall to eat dinner.
During the interview, Merritt did not mention that during this mall trip, Fattore visited Walmart and purchased a pair of black shoes that were the ones he wore during Caleb's murder, and found in the trash by police investigators.
Melissa Merritt and Chris Fattore.
(Facebook)
During the initial trial, the Crown argued Merritt deliberately omitted this detail during her police interview to hide the fact she knew what Fattore was purchasing the shoes for and that she was involved in the death of Caleb, and not just an accessory after the fact as her lawyers argued.
Justice Paciocco wrote that when considering this type of "after the fact conduct" evidence—conduct that would be consistent with the actions of a guilty person—a jury must be properly informed about considering possible innocent explanations for an accused person's behaviour.
The trial judge did explain this to the jury, but Justice Paciocco found that an error was made due to contradictions in testimony by Fattore about when, exactly, Merritt found out about her partner's murderous plan. The trial judge, Paciocco ruled, did not properly clarify to the jury how to handle Fattore's unreliable evidence, which should not have tainted potential evidence by Merritt supporting her innocence.
Merritt's argument that she didn't know about Caleb's murder until she was told by Fattore, making her an accessory after the fact, was supported by Fattore's testimony that he killed both Bridget and Caleb without her knowledge. However, this evidence was unreliable as Fattore had changed his story about when, specifically, he told Merritt about the killings, first claiming to police she was made aware of the murders before she talked to detectives, but later changing his story and telling investigators Merritt was only informed about the killings after she spoke with police.
At trial, the judge directed the jury that if they rejected Fattore's testimony, they could also reject Merritt's argument about when she was told about his actions. There was no direct evidence confirming Merritt knew Fattore had purchased the shoes during that mall trip.
Put simply, it was an error by the trial judge to tell the jury that if they rejected Fattore's inconsistent evidence, they should also reject Merritt's, without explaining the possibility that she had other evidence of her innocence that was not tied to Fattore's faulty testimony.
"It is inconsistent with the presumption of innocence to invite a jury to reject an innocent inference unless such affirmative evidence exists," Justice Paciocco wrote.
The airport intercept statement
Shortly after Caleb's murder in 2013, Fattore, Merritt and their children moved to Nova Scotia. Under investigation at the time, police gained permission to plant recording devices in their house and car to potentially collect evidence. Investigators even tried to spark conversation between the couple. Detectives, posing as a victim liaison officer and an insurance investigator, disclosed ongoing "results" from the police investigation in Ontario. These results were not always factual, but did elicit some surprising admissions from Fattore.
After being informed that police had linked him to Bridget's death through DNA evidence, Fattore can be heard talking to Merritt about the killing, stating it must be from his hair because Bridget had never touched him.
Recalling Caleb's murder, he was recorded saying either "I killed him fuckin' perfect" or "I killed him, then fuckin' prove it" (there was a discrepancy in the accuracy of the recording's transcription). Then later that same day he is heard saying, "I went in there and that fuckin' coward didn't even fight."
One of the key pieces of evidence that led to Fattore's conviction was his DNA found under Caleb's fingernails, which indicated that Caleb did indeed fight back against him.
In relation to Fattore's "I killed him" statements, Merritt is heard saying "I know but". She was also informed about the DNA evidence linking Fattore to Bridget's death and expressed no apparent surprise.
The tapes also recorded her discussing strategies with Fattore for avoiding getting caught, including what she should say about the Walmart shoes.
Following their arrest in January 2014, the pair were taken to the airport by police to be transported back to Ontario. While waiting for the flight, the two were left alone, and unknown to them their conversations were being recorded. It was during one of these exchanges where the contentious piece of evidence, whose mishandling by the judge contributed to her new trial, emerged.
During their hushed conversation, Fattore told her he had confessed to investigators that he had killed Caleb and Bridget, telling Merritt he was taking the rap in order to get her the lesser charge of accessory after the fact.
Then this exchange occurred:
Merritt: (whispers) You shouldn't have said anything to them
Fattore: Huh
Merritt: You shouldn't have said anything
Fattore: (whispers) I was thinking about (unintelligible) and the children
Merritt: (whispers) (unintelligible) the audio tapes would've fucked us anyways.
During trial, the Crown argued that Merritt's final words in this exchange are an admission of her involvement in Caleb's murder.
But her lawyers argued that the "unintelligible" portion before the final statement—which was transcribed by police—could be heard, and what Merritt actually said was, "They think the audio tapes would've fucked us anyways."
Further, her lawyer argued that Merritt was not talking about being "fucked" in relation to a murder charge, but being an accessory after the fact, which the two had been discussing before the statement was made.
"What is in fact clearly established in the audio tapes she was referring to is that she was an accessory after the fact. Moreover, immediately before the airport intercept statement was uttered, Ms. Merritt and Mr. Fattore were discussing her jeopardy as an accessory after the fact, giving a context to the airport intercept statement that could cast significant doubt on its meaning," Justice Paciocco wrote. "In this context, unless jurors determined that they could hear the 'unintelligible' words, there was a realistic risk that they would not be able to determine what the airport intercept statement meant from its context. This made it gravely important for jurors to understand that if they could not hear the part of the statement marked 'unintelligible' and could not determine the meaning of the airport intercept statement as a whole from its context, the partial or incomplete statement that they could hear could not be used as an admission of her guilt."
According to Justice Paciocco, the trial judge failed to give the jury proper direction around how to handle the recording and its transcription.
"The trial judge gave directions that can only be understood as communicating to jurors that after considering context and that there are missing words, they are free to make what they will from partial statements. This, of course, is a misdirection," the ruling states. "The trial judge should have told jurors that if after having taken into account that a statement is only a partial statement they cannot determine the meaning of what the accused said, they must disregard that partial statement."
It remains unclear when the new trial will take place.
One big question mark hangs over key pieces of evidence against Merritt that were previously thrown out due to the botched investigation by Peel Regional Police. Google data seized from devices at Merritt and Fattore's home, which showed someone in the house searching for "How long until someone dies from being choked"; "How to get through a locked patio door"; and "Easy ways to kill and get away with it", "How to make poison" and "How to know if your home phone is tapped" were dismissed at the trial after Peel Police investigators failed to obtain a proper warrant to search the devices.
---
Email: [email protected]
Twitter: @JoeljWittnebel
---
COVID-19 is impacting all Canadians. At a time when vital public information is needed by everyone, The Pointer has taken down our paywall on all stories relating to the pandemic and those of public interest to ensure every resident of Brampton and Mississauga has access to the facts. For those who are able, we encourage you to consider a subscription. This will help us report on important public interest issues the community needs to know about now more than ever. You can register for a 30-day free trial HERE. Thereafter, The Pointer will charge $10 a month and you can cancel any time right on the website. Thank you
Submit a correction about this story