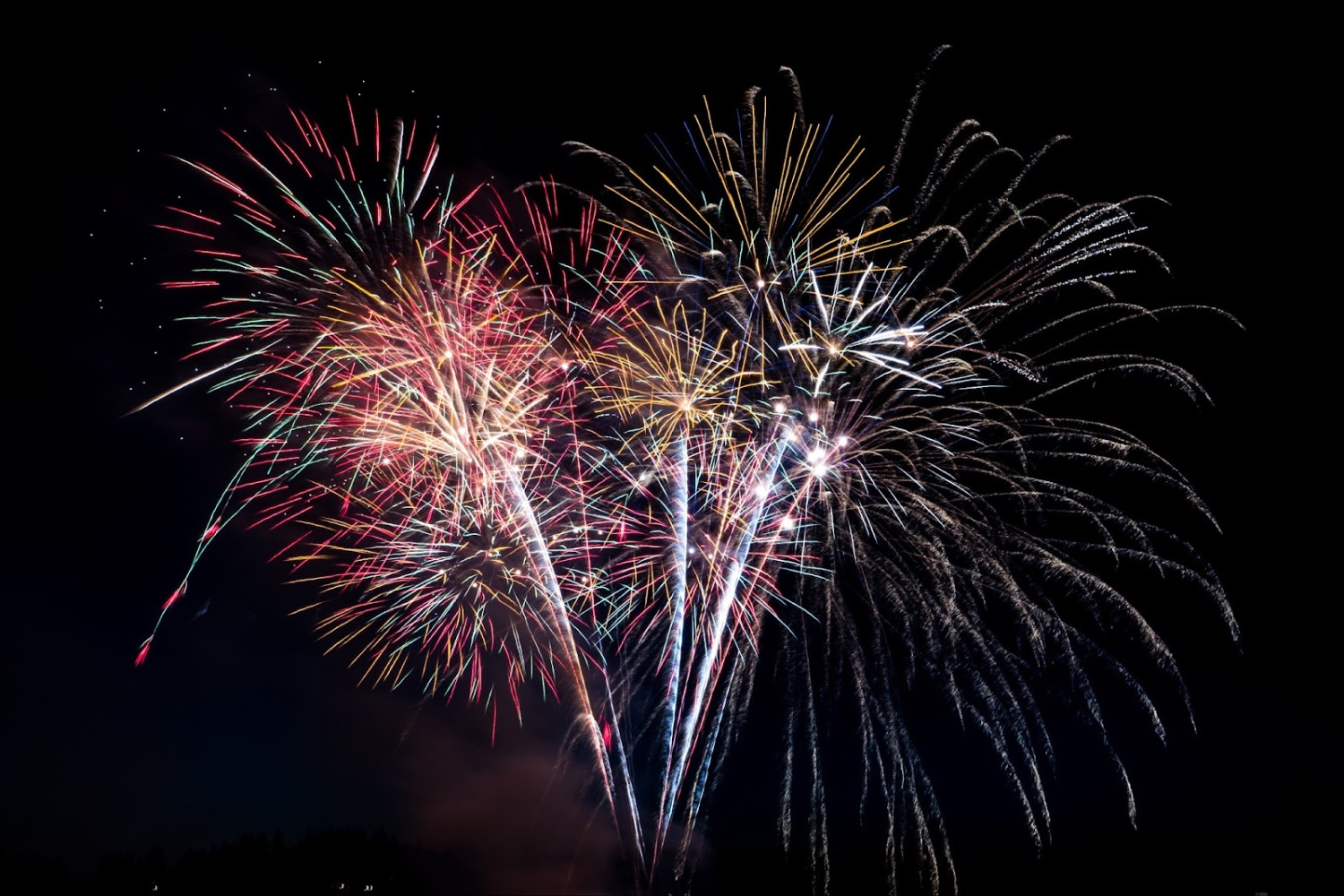 Elisha Terada/Unsplash
Diwali, business interests take centre stage in fireworks debate at Mississauga council 
A motion to adopt tighter restrictions for the City of Mississauga's current fireworks by-law has been heavily criticized, with several delegates and a member of council concerned the proposed regulations target Diwali celebrations and would be unfairly punitive to businesses.
The conversation on January 18 around the use of fireworks in a city as pluralistic as Mississauga illustrated the complexities of balancing equity/inclusion expectations with evolving community values. A motion presented to council called for several new regulations on top of the City's existing by-law, including imposing strict restrictions for vendors' permits for the sale of fireworks and limiting special events that include fireworks for "multiple days of celebration" to a single date, set by the municipality. This would establish when fireworks can be discharged — a move criticized by delegates and some members of Council as being discriminatory toward Diwali.
But the councillor behind the motion, Ward 5's Carloyn Parrish, insists she is trying to advocate on behalf of her residents including those in Malton, the vast majority of whom are South Asian. She does not want to see a repeat of what happened in Brampton, which passed a ban on personal-use fireworks after the recent Diwali celebrations, a decision that has outraged that city's huge South Asian community. Parrish says rules simply need to be tightened to avoid what happened in some parts of Peel this past Diwali, when fireworks were set off well after the cut-off time and some celebrations became unruly.
Parrish has pointed out this was largely because, after two years of pandemic lock downs, some younger community members were overly expressive in their celebrations and rules were not enforced properly. She told The Pointer's What's the Point podcast that some youth were "revved up on alcohol" during some of the celebrations that received widespread media attention, which she described as exaggerated accounts that zeroed in on one particular video taken in Malton that went viral, showing hand-held fireworks and other types being set off in the smoke-filled parking lot of a local mall.
Her goal, she has stated, is to avoid an outright ban so community members can enjoy Diwali celebrations in the spirit of the occasion, while basic community values most residents share are respected.
Also known as the Festival of Lights, Diwali is one of the most important religious/cultural holidays in Hinduism, Sikhism and Jainism and fireworks are one of the biggest parts of the five-day celebration which involves families gathering together for prayers, feasts, sharing gifts and celebrating the representation of light over darkness through nighttime fireworks displays (Sikhs celebrate to mark the time when the faith's Sixth Guru was freed from imprisonment).
"For those who don't celebrate Diwali the best analogy I can give, especially for children, is the waiting of the fireworks is a lot similar to waiting for Christmas gifts," Ward 7 Councillor Dipika Damerla told her colleagues.
Mississauga's current fireworks by-law allows only low-hazard recreational fireworks on private property without a permit on Victoria Day, Canada Day, Lunar New Year and Diwali. To set off fireworks on private property on any day other than these holidays, residents are required to apply for a firework display permit. Fireworks are not sanctioned on public streets or parks without a permit.
The South Asian diaspora has brought different cultural practices and traditions to a city that is now home to one of Canada's most rapidly diversifying populations. According to the 2021 Census, 61.9 percent of Mississauga's population identified as a visible minority. Of that number, roughly 25 percent of the city's residents identified as South Asian.
Yet, despite this sweeping diversity, there are few elected officials that reflect the continued cultural shifts across the city. In the term prior to 2018, Mississauga council had no visible minority members until Damerla, a former provincial cabinet minister, was elected in Ward 7.
Ward 7 Councillor Dipika Damerla, first elected in 2018, is one of the few diverse elected officials on Mississauga City Council.
(The Pointer files)
As the lone member with a South Asian background, Damerla noted the motion, which she called "unfair" and "disingenuous," doesn't clearly set out the problem council is trying to solve. The key issues facing the City, she explained, are the aggressive use of fireworks in the community and their use after hours. She called for a less regressive motion, noting the one proposed regulates the sales so heavily the City is virtually going to make it next to impossible for business owners to sell a key product while demonizing the use of fireworks as an expression of celebration in the process.
"There is a small elephant in the room and that is the emotional part," she said. "There are some things that are linked to your identity or your religion. What is happening is there is a disproportionate reaction every time something goes wrong with fireworks.
"I will not deny, and this an emotional thing to say, that it's hard to put yourself in someone else's feet but it's hard not to feel targeted because there's always such a reaction to fireworks… [and] the intent in this motion was so heavy."
Nearly 20 delegates spoke in opposition to the restrictive motion, most presenting the business case against it while a few also offered their cultural perspective to others inside the Council chamber.
"Fireworks communicate across cultures," delegate Kranthi Gangavarapu said. "I'm an Indian, we have an entire festival that is dedicated to lights and fireworks. I've come to this country as an immigrant leaving my home, family and loved ones behind. The only thing I can't leave behind is my culture. Nothing in this world comes risk-free… but with proper rules and regulations these risks can be minimized."
His remarks were echoed by others.
"These festivals, they bring a lot of joy to our monotonous life and fireworks are an important part of it. I remember when I was a kid when I would celebrate Diwali I would wait for my parents to do their ritual so I could go out and do fireworks," Vineeta Rawla, another delegate, said. "People can say that they cause noise pollution but it used to be a music to my ears going out in the dark night dressed up nicely with all the lights and doing fireworks."
Aleem Kanji, chief advocacy officer for the Canadian National Fireworks Association, questioned the message the City would be sending to its diverse South Asian population if the motion is approved.
"Why is the motion written with prejudicial language and unconscious bias and a very, very clear microaggression when it states 'some holidays with multiple days of celebration.' It is clear the motion is referring to Diwali and Lunar New Year without actually saying it. What [message] are we sending to Mississauga's diverse community?" he asked.
The motion was also heavily criticized by business owners for having many flaws, according to them, including loss of education on firework use at the retail level, gaps in enforcement and restrictions so strict they would essentially ban the sale of fireworks in Mississauga, resulting in the loss of jobs and revenue for the industry.
Councillor Parrish, who referred to herself as the "queen of fireworks," reiterated the motion before council was not to impose a ban on fireworks, but simply to build on the current by-law which she said was "thin."
Ward 5 Councillor Carolyn Parrish is calling on staff to review the City's current fireworks by-law and consider imposing stricter regulations that would limit the sale of fireworks and cultural celebrations.
(The Pointer files)
"I put everything in there but the kitchen sink and I hope [staff] will go through it very carefully. It's given them some guidance and some direction. Anything that doesn't work here or can't be enforced will never come back in a report," she reassured council. The safety and proper discharge of fireworks from an enforcement perspective is the essence of the motion, she explained.
Ward 8 Councillor Matt Mahoney agreed the motion is not a shot at the industry or at small businesses, but is an opportunity to tweak the current set up to work together toward solutions around enforcement.
The general sentiment around the table was not to be punitive to businesses but to impose more stringent safety measures around the use of fireworks. Staff told council they will bring a strategy for heightened enforcement on the issue, noting that more information on enforcement and potential changes to service levels will be included as part of the research. No timeline was provided as to when the report will be brought back to council.
"The Malton fiasco this year brought a lot of attention," Parrish said. "This is an outline, it's got faults as has been pointed out, [but] it has a lot of good points in it. Brampton's ban is going to make Mississauga, and particularly my village of Malton, a target for all the shenanigans that went on up in Brampton so I would love us to get a good, solid by-law in place that is pretty extensive."
As of November, residents in Brampton were no longer able to set off fireworks within city limits after a motion approved by council clamped down on the residential use of fireworks by individuals, a reaction that was considered to be an extreme response to a series of events that unfolded during the recent Diwali celebrations. The motion came in response to a surge in complaints related to safety, noise and debris. The City of Brampton said it would add an annual city-run Diwali celebration event with fireworks, similar to those on Canada Day and New Year's Eve, in 2023. The decision has left many in Brampton's sizeable South Asian community angry with Mayor Patrick Brown who endorsed the ban, which many have said targets non-traditional celebrations.
In October, residents were calling for stronger action against the unlawful use of fireworks following the aftermath of boisterous Diwali celebrations across the region that lasted a few days. The past year's festivities led to several reports of dangerous use of larger fireworks and noise complaints past midnight. Peel police said its 911 line had received "an influx" of calls related to fireworks complaints on Diwali and encouraged residents to contact City Hall for by-law-related complaints.
Videos posted to social media showed footage of dazzling displays of fireworks exploding on and above streets in residential neighbourhoods. Others showed them being set off between parked cars, accidental fires and crowds firing off small rockets in parking lots – Peel police intervened in an incident, deemed a "street brawl," involving 400 to 500 people after a large crowd descended into the parking lot of Malton's Westwood Square, firework displays and all, to celebrate Diwali. It was the incident in her Ward which Parrish referred to, calling the coverage and social media posts an exaggeration based on an isolated incident at one point in time, which made the celebration appear much more rowdy. Police were on scene and did not report anything beyond a gathering of mostly young people, some of whom were confronted and told to disperse.
While Parrish has been adamant that the Malton celebration was blown out of proportion, she believes some of the behaviour this past Diwali was clearly out of line with basic community values residents are expected to respect during any celebration. There were concerns that the volume of fireworks used in parts of Peel this past Diwali was so heavy, air quality was visibly impacted for hours in certain areas.
"As far as multicultural population, I think celebrating festivals here make people who've come to this country feel more at home… but when you go for days and days and days without any limitations you have problems," Parrish said. "I am absolutely shocked by some of the emotional reactions to this, it's merely a request for an investigation, it's not any final by-law, it's not banning fireworks. It's a request to staff, it's one that is long overdue."
Mayor Bonnie Crombie acknowledged the unique perspective Councillor Damerla brought to a council that is primarily white, asking councillors to take a step back and recognize the significance of these decisions and the way they may be perceived by the community in a post-multicultural world.
"Councillor Damerla brings a different perspective to our council, one which we have needed for a long period of time, and I do want to be sensitive to her view on how this could be perceived," Crombie said. "I in no way want to penalize small businesses or make anything additionally punitive for them or allow many of our communities here in Mississauga to feel how somehow, in some way, we are preventing them from celebrating their holidays or not allowing them to feel welcome in any way.
"She brings a lens and a view that many of us don't share and don't understand and maybe that's why some of you have reacted so viscerally but this is important and she feels this way and I think we need to take note of that, that she doesn't think this motion is addressing a problem at hand and she feels there could be tones which don't make communities feel welcoming."
The motion for staff to review the City's current by-law and bring a report back to council passed 11-1 with Damerla the lone vote against.
---
Email: [email protected]
Twitter: @mcpaigepeacock
---
COVID-19 is impacting all Canadians. At a time when vital public information is needed by everyone, The Pointer has taken down our paywall on all stories relating to the pandemic and those of public interest to ensure every resident of Brampton and Mississauga has access to the facts. For those who are able, we encourage you to consider a subscription. This will help us report on important public interest issues the community needs to know about now more than ever. You can register for a 30-day free trial HERE. Thereafter, The Pointer will charge $10 a month and you can cancel any time right on the website. Thank you
Submit a correction about this story