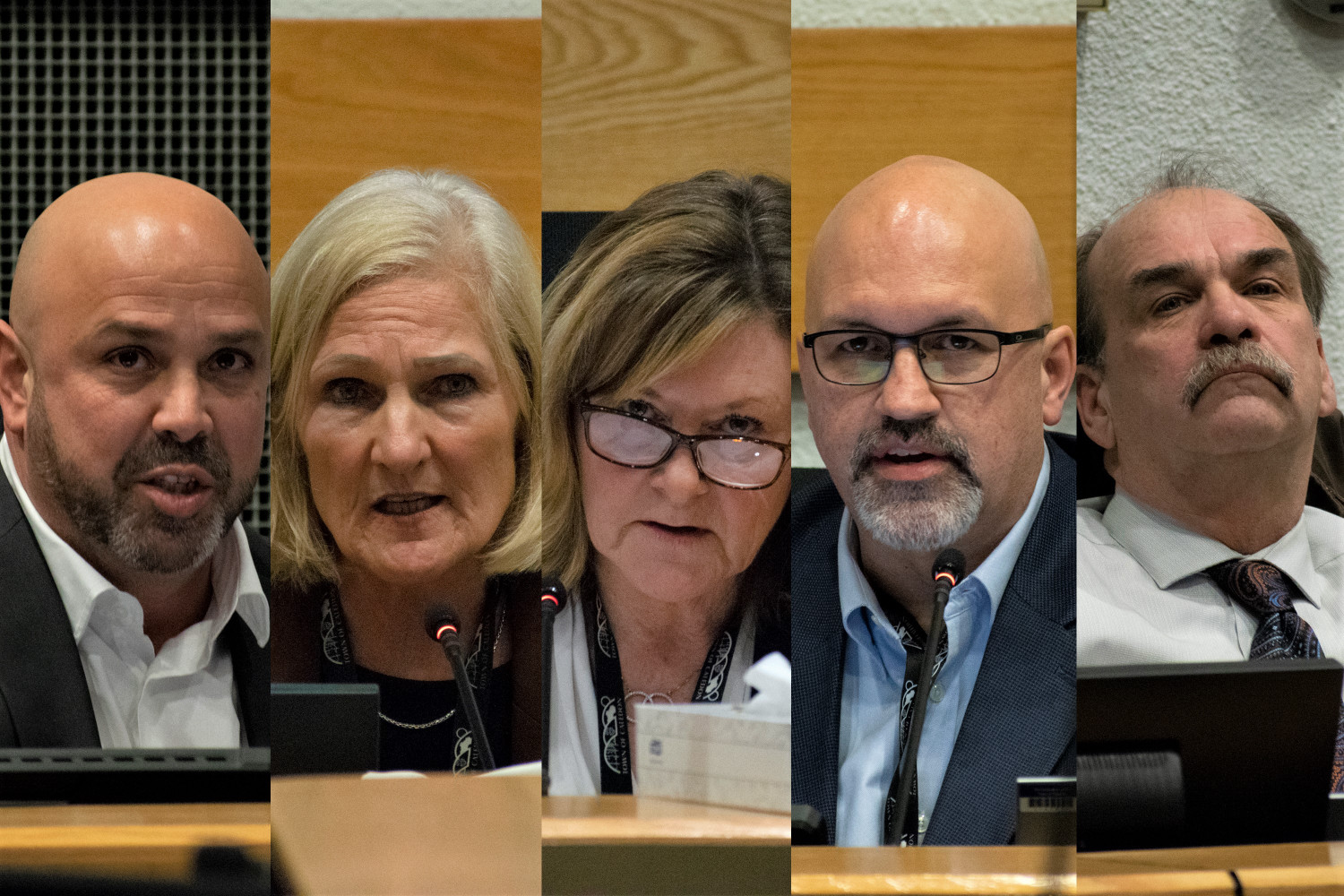 Alexis Wright/The Pointer
Five Caledon councillors refuse to reverse 25% pay increase sparking outrage from citizens
A vote on whether or not to scrap a recent 24.5 percent pay increase divided Caledon council members Tuesday with five in favour of the increase and four against.
In a general committee meeting on July 12, 2022, council voted in favour of a staff report that recommended a pay increase for both councillors and the mayor, as well as additional benefits and expenses. The Town retained ML Consulting firm to investigate Council compensation ahead of the 2022 municipal election. Along with Laura Hall, Director of Corporate Services and the Town's Clerk, and Tracey McKenna, Director of People Services, Marianne Love from ML Consulting recommended that the base salary for councillors be increased to $49,841 from the previous salary of $40,080 and that the mayor's be increased to $116,830 from $98,625.
"I don't know that this is the time to be giving, and to be approving, these raises given the circumstances that we have and the climate that we have with respect to inflation and everything else that is going on," Annette Groves, who was a regional councillor at the time (she is now the Mayor), said in the July 2022 meeting. "I do believe that this is something that the next term of council should be considering, not this council."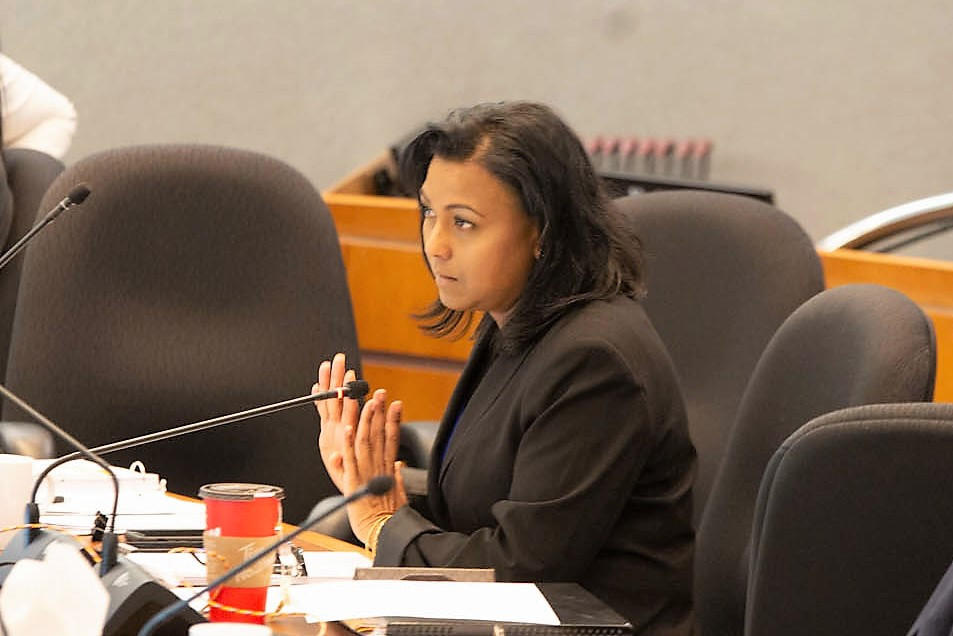 Caledon Mayor Annette Groves, tried to turn back a 25 percent raise that her colleagues on council voted for shortly before the October election. She voted against it then and her effort to rescind the decision failed this week in another vote she brought forward.
(The Pointer file photo)
Now that the new council members have had time to settle into their roles, with four fresh faces in the chambers, Mayor Groves, who defeated Jennifer Innis (one of the councillors who voted for the hefty raise last year) in the October mayoral race, brought forward a motion to reduce the base salary for councillors back to $40,080 and hers to $98,625.
"I know that a lot of our families here are struggling," Groves said.
The mayor said she made a promise to citizens that she would bring the issue back up with the new council after many constituents had expressed concerns with the raises in light of the current economic situation, increased cost of living and dramatic interest rate hikes.
"This is why I brought the motion forward, because I did make a commitment to those residents to say 'I will bring this back to council for reconsideration'," she said. "It certainly wasn't intended to divide our council or create any type of friction amongst our members of council."
Despite Groves' intentions, Council was immediately divided.
"During the election, I heard many times about how Caledon Council needed to work together, not divide into camps and not divide the community," Ward 2 Councillor Dave Sheen, who is serving his first term, said. "I came here content on doing that. Sadly, I can think of no topic that can be more polarizing or divisive than this one."
Sheen went on to describe the issues that he deals with as a councillor including illegal dumping on farmland, road safety and the Ontario PC government's controversial housing legislation, Bill 23, which he said deserve far more attention than what a councillor's salary accounts for.
"And yet, here we are distracted from all this important work over an issue that has already gone through the very public process of creating a bylaw," he said, failing to point out that councillors who would not even be around the council table made that decision. Now, he has to explain to his own constituents why he voted to give himself a raise, instead of hiding behind the actions of members who would not even benefit from the move.
All four delegates at Tuesday's council meeting were in favour of Groves' motion to rescind the pay raise and expressed disappointment with the claims made by Sheen and other members who supported the large pay boost, which is about ten times the average rate of inflation. Residents said they feel they are not being represented by elected officials who are supposed to protect them, not their own bank accounts by using the taxpayers' hard-earned money.
Enzo Villa, a Caledon resident, said when he calls his councillor's office he is almost always referred to a town staff member and does not get the opportunity to speak with an actual councillor. He said councillors should not be in their roles for the money, as a higher salary will not necessarily attract better candidates.
"If someone is genuinely concerned about their community, they will get involved," he said.
Cheryl Connors, another delegate, who unsuccessfully ran for council in the October 2022 municipal election, said the role of councillors has become ceremonial, a comment which upset Councillor Lynn Kiernan.
"I take offense to that because I know how hard I work," she said. "And I know the amount of hours I take away from my home and my family. And I know there is no nine-to-five, Monday-to-Friday for me."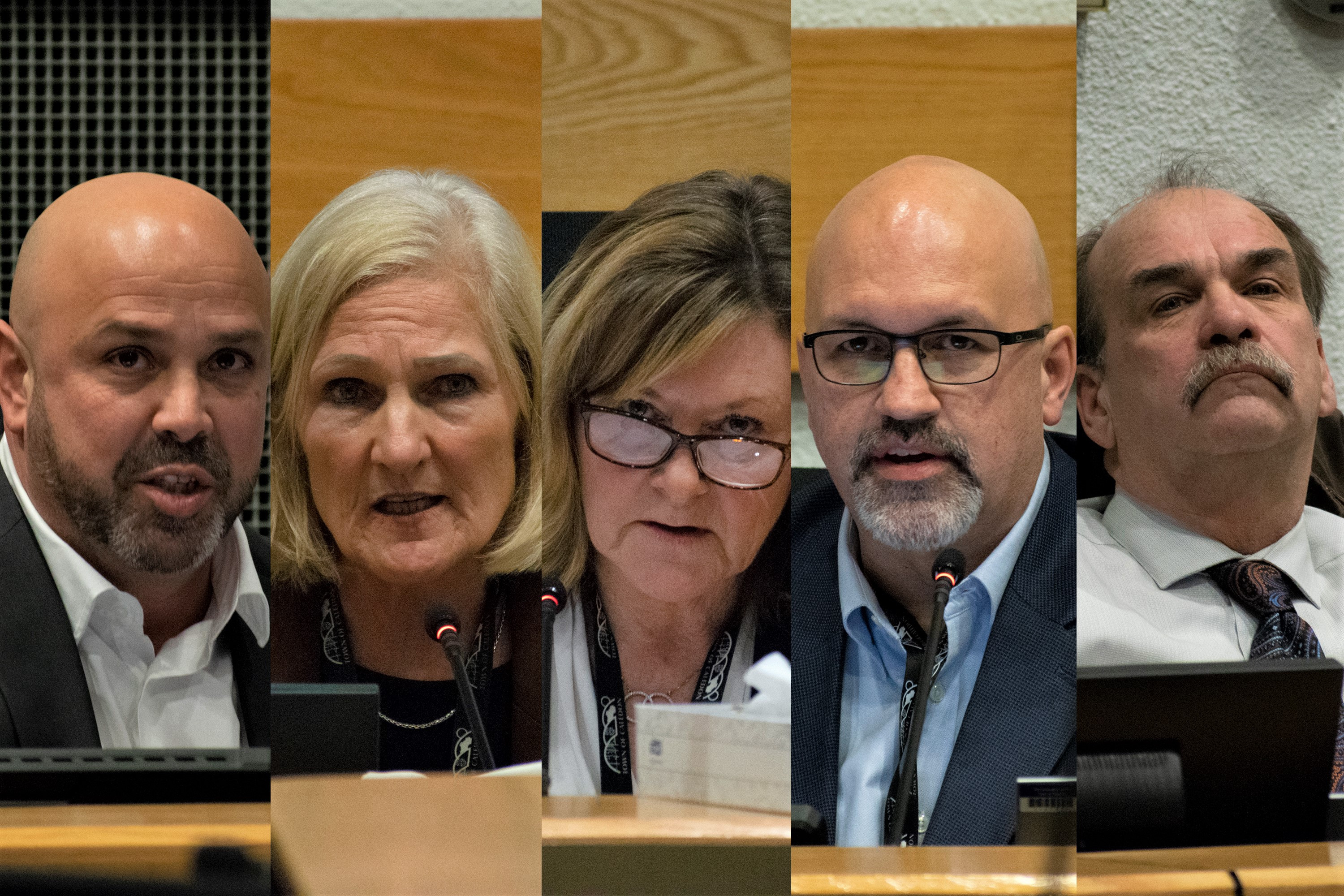 The five Caledon councillors who voted to keep the 25 percent raise that some members voted for just before the October election: From left, Mario Russo; Christina Early; Lynn Kiernan; Dave Sheen; Nick deBoer
(Alexis Wright/The Pointer)
Kiernan was supported by councillors on both sides of the debate who refuted the claim by delegates that council is a part-time job.
"I was led to believe that this is a part time position," Councillor Tony Rosa, who voted against the pay raise in July 2022, said, stating his position has not changed. "But please, for the record, I just want to state that if you're going to do this job well, and you're going to represent your community, you're going to advocate for them. This is a 24/7 responsibility."
The Town, alongside ML Consulting, analyzed salaries of other municipalities to see how compensation compared.
But for Villa, this comparison did not hold a lot of merit.
"Different councils do not share the same responsibilities and therefore their respective salaries should not be compared," he said. Another delegate, John Rutter, agreed stating the same job title does not equate to the same workload.
With eight councillors (this does not include the mayor who does not represent a specific Ward) and a population of about 80,000, each one, on average, works for about 10,000 Ward constituents. By comparison, Brampton's 10 councillors, represent, on average, almost 70,000 constituents and have to deal with large files such as transit, which Caledon does not have. In Toronto, with one of the biggest transit systems in the world, and some of the largest planning and policing files in Canada, each councillor has about 120,000 constituents.
In 2018, Brampton council voted to increase the base salary of councillors 4.8 percent from $84,495 to $88,573 and an increase of the mayoral salary by 25.9 percent prior to a new council being elected in the 2018 municipal election. Linda Jeffrey, who was the mayor at the time, had cut her salary by $50,000 after she took office in 2014. Patrick Brown, unlike Groves, made no effort to turn around the large pay raise he received as the new mayor in 2018.
Caledon is currently at the epicentre of some major issues in the province around growth. Bill 23 is just one example and will have drastic effects on Caledon's future housing plans. Issues like these require much more attention from councillors.
"I've been around this table for quite some time and the job has changed and one of the reasons that the job has changed is our community," Councillor Nick deBoer, who has been sitting on council since 2003, said. When he started the job 20 years ago it was part time, he added, but now he has weeks where he is working over 50 hours. But despite the amount of hours worked, he emphasized the importance of leading a community that will be one of the fastest growing municipalities in the province.
Council members can vote themselves a pay raise, something unheard of in the private sector. Even in the public sector, a 25 percent pay boost is highly unusual. Doug Ford's PC government is still dealing with the fallout from its legislation that limited nurses and other public sector workers to a one percent annual pay increase for three years. Last year, the Ford government also froze the salaries of MPPs, an example Mayor Groves said council should learn from.
Perhaps the biggest disconnect came from the councillors who claimed Caledon residents did not care.
"It was a non-issue for me during the campaign," Sheen claimed.
This did not square with residents who filled half the council chambers and seemed very upset by the self-approved salary jump shouldered by taxpayers. Connors said many residents who she met during the election campaign were not even aware of the pay increase, and when she informed them, they were shocked.
"By supporting the motion put forward by Mayor Groves you'll be showing your fellow residents that you stand with them," Villa said. "On the other hand, if you vote against the motion, you will be telling us that you are more important."
Mayor Groves as well as Coucillors Doug Maskell, Cosimo Napoli and Rosa voted in favour of the motion to rescind the raise. Councillors DeBoer, Christina Early, Lynn Kiernan, Mario Russo and Sheen voted for the 25 percent increase.
---
Email: [email protected]
Twitter: @rachelnadia_
---
COVID-19 is impacting all Canadians. At a time when vital public information is needed by everyone, The Pointer has taken down our paywall on all stories relating to the pandemic and those of public interest to ensure every resident of Brampton and Mississauga has access to the facts. For those who are able, we encourage you to consider a subscription. This will help us report on important public interest issues the community needs to know about now more than ever. You can register for a 30-day free trial HERE. Thereafter, The Pointer will charge $10 a month and you can cancel any time right on the website. Thank you
Submit a correction about this story