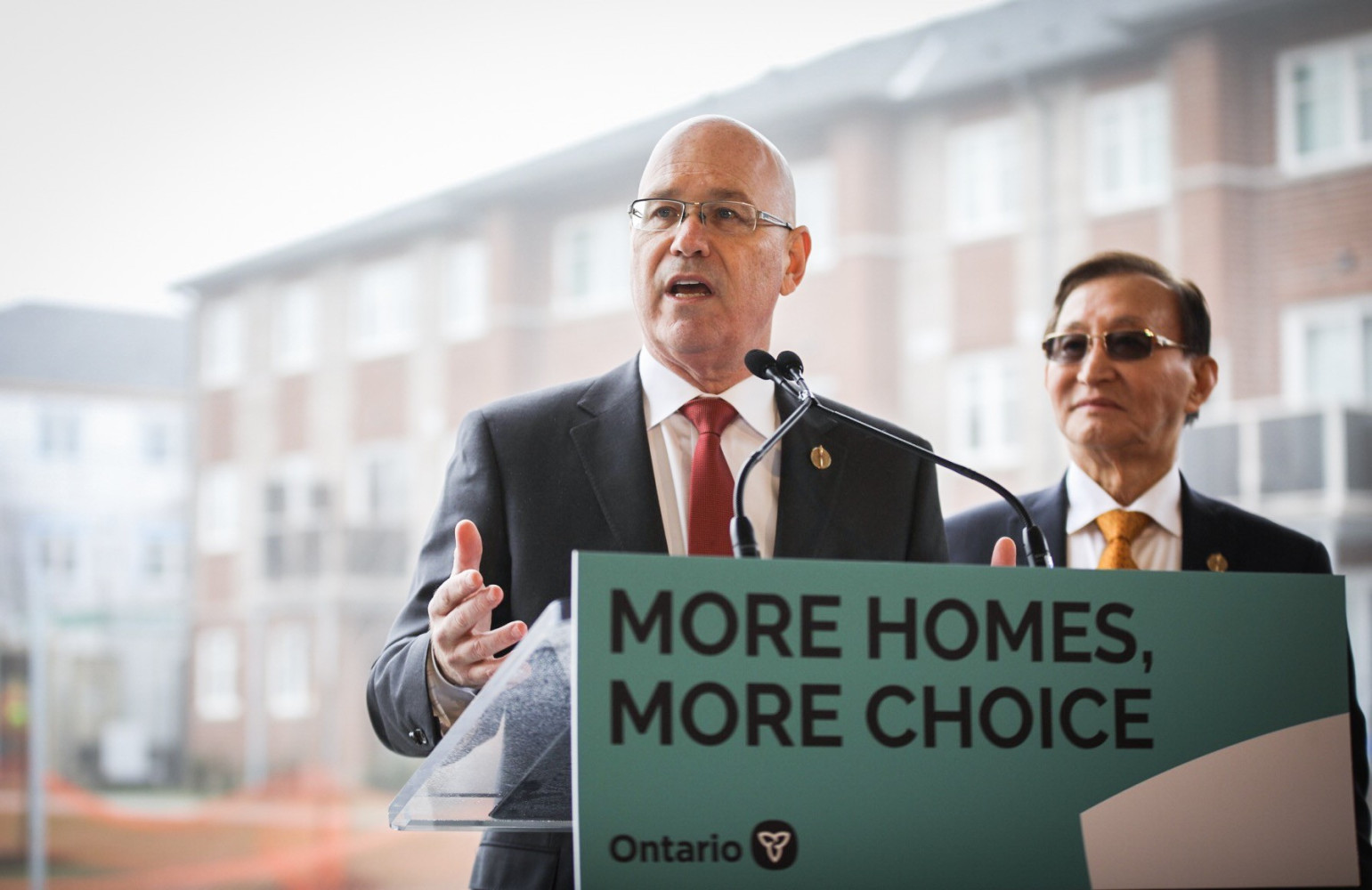 Government of Ontario
With PC majority, will anything change after integrity commissioner, AG investigations into Greenbelt?
Ontario's integrity commissioner is set to investigate whether Steve Clark, the Minister of Municipal Affairs and Housing, broke laws governing the conduct of elected officials at Queen's Park related to conflicts of interest and "insider information" when he moved legislation that opened up 7,400 acres of Greenbelt lands and the Duffins Rouge Agricultural Reserve for future development.
The Doug Ford PC government has identified 15 specific parcels that make up the 7,400 acres. Some of them have recently been bought up by developers, raising questions about how land speculators could have known which properties inside the Greenbelt would be selected for future development. Had the land remained protected, developers would have no interest in assembling them for future residential subdivision construction.
In 2018, ahead of that year's election, Ford was caught on video at a private event in a room filled with builders saying he would open up a "big chunk" of the Greenbelt, following discussions with "some of the biggest developers in this country".
After the video was leaked by the Liberals, causing backlash across the province, Ford backtracked right before the 2018 election. "The people have spoken. I'm going to listen to them, they don't want me to touch the Greenbelt, we won't touch the Greenbelt."
It is in this context that many Ontario residents want to know how developers would have known Ford would go back on his promise, and how they would have known which specific parcels of land to purchase, ahead of the PC government's recent announcement identifying the 15 Greenbelt properties that will be opened up for development.
Ontario's Auditor General Bonnie Lysyk has also confirmed she will be looking into the context of how the PCs' Greenbelt legislation was shaped and approved.
The investigation announced by Ontario's integrity commissioner David Wake Wednesday morning, comes after multiple complaints about the PC government's decision to remove 7,400 acres of Greenbelt lands from protected status. The PCs have repeatedly claimed the move is actually an "expansion" of the Greenbelt with 9,400 acres to be added elsewhere, but have not explained how those lands were chosen or how they will provide the same ecological value as the sensitive, formerly protected greenspaces now slated to be paved over.
The announcement Wednesday follows a complaint filed by NDP Leader Marit Stiles in early December. She asked Wake for an opinion on whether Clark violated Sections 2 and 3 of the Members Integrity Act.
Section 2 relates to conflicts of interest and states: "A member of the Assembly shall not make a decision or participate in making a decision in the execution of his or her office if the member knows or reasonably should know that in the making of the decision there is an opportunity to further the member's private interest or improperly to further another person's private interest."
Section 3, titled "insider information", prohibits members from using information that is not available to the general public "to further the member's private interest or improperly to further or seek to further another person's private interest".
"I am relieved to see that this matter is being treated with the seriousness that it deserves and pleased to see this response from the Integrity Commissioner and the Auditor General," Stiles declared in a statement released Wednesday. "Ontarians are owed answers about the Greenbelt, and I am confident that today is a step in the right direction to understanding what happened. I am hopeful that Ontarians will be able to get answers in a thorough, timely manner because of these investigations."
Green Party Leader Mike Schreiner filed a similar complaint against Clark and Premier Doug Ford—which Wake dismissed—but said Wednesday he was glad to see more information would be forthcoming.
"There are serious unanswered questions about how certain Conservative-connected land speculators knew to buy the parcels in question – some of these transactions occurring mere months before the government's announcement," Schreiner tweeted Wednesday.
If the integrity commissioner finds evidence of wrongdoing during his investigation, he can recommend a penalty or reprimand for Clark—the harshest punishment is the removal from public office. However, any recommendation must be approved by a majority of MPPs in the legislature, and with a strong PC majority government, it's unlikely Conservative members would be willing to vote in favour of a recommendation to remove one of their own from Queen's Park.
There is also the possibility of a delay in the integrity commissioner's investigation. The Ontario Provincial Police have signaled the force is currently reviewing information provided to officers, and will determine if it warrants a criminal investigation. If a criminal probe is launched, the Members Integrity Act states the integrity commissioner shall suspend his investigation until the criminal one is concluded.
The legislation to remove sections of the Greenbelt is part of the PCs' push to get 1.5 million homes built in Ontario by 2031. Minister Clark has repeatedly claimed the parcels of land being removed from protection in the Greenbelt are necessary for the construction of 50,000 homes.
Critics have pointed out there is already more than enough available land within the existing urban boundaries of the GTA's largest cities, and turning the Greenbelt into "swiss cheese" is a dangerous move, especially as Ontario will see some of the most damaging impacts of climate change.
Earlier this year, the government's Housing Affordability Task Force published a report urging the PCs to review their land use planning policy before expanding into more greenspace.
"A shortage of land isn't the cause of the problem," the report cautioned. "Land is available, both inside the existing built-up areas and on undeveloped land outside greenbelts."
Parcels of land slated to be removed from the Greenbelt.
(Government of Ontario)
Investigations conducted by several media outlets, including the Toronto Star, The Narwhal, Globe and Mail and the CBC revealed several of the parcels of land removed from protection were purchased in recent years by large developers, one as recently as September of last year. Many of these developers have been significant donors to the PC Party.
The rezoning of these lands for residential development will see their commercial value increase at least ten times, real estate experts have estimated.
Following the media investigations, Minister Clark refused to address the controversy at Queen's Park, ignoring requests from opposition MPPs to answer the question of whether developers were tipped off about the unexpected legislative changes to the Greenbelt. It was only after two days of questioning that Clark finally denied that any developer received insider information.
"I'm going to be assisting the integrity commissioner in his investigation. I look forward to being vindicated and I look forward to the apology from the official Opposition," Clark said when pressed for an answer in November.
The NDP also asked for Ontario's auditor general to investigate this "carve up" of the Greenbelt.
"Environmental experts warn that removing pieces of the Greenbelt threatens all of it. There have been several investigative reports by the media identifying the suspicious timing of recent purchases of Greenbelt land by powerful landowners with donor and political ties to the Ontario PC Party," Stiles wrote in a letter sent to Bonnie Lysyk in November. "More than half the properties proposed for removal have been purchased since the PC Party formed government in 2018."
Liberal Leader John Fraser confirmed on Twitter that Lysyk has informed him and Stiles she will be moving forward with an audit of the controversial Greenbelt legislation.
Environmental Defence and Democracy Watch have requested a criminal investigation be launched into the decision to open these lands for development.
"It seems very likely that before any authorized public disclosure of the province's plans to remove these specific lands from the Greenbelt, some government official, government MPP or employee leaked that information privately," reads a joint statement released in December. "Given that the integrity of the Ontario government's policy making process is essential and fundamental to ensure the public interest is upheld and protected, and the significant potential negative financial, social and economic consequences of the decisions in question for other landowners and the Ontario public, it is imperative that the OPP investigate whether this apparent leak of the government's secret plans to break its Greenbelt pledge constituted a criminal Breach of Trust by Public Officer."
Recent reports state the Anti Rackets Branch of the Ontario Provincial Police (OPP) is reviewing information in order to determine whether a criminal probe should be launched.
When Ontario's integrity commissioner finishes his investigation, the report will be filed at Queen's Park and made public on the IC's website.
---
Email: [email protected]
Twitter: @JoeljWittnebel
---
COVID-19 is impacting all Canadians. At a time when vital public information is needed by everyone, The Pointer has taken down our paywall on all stories relating to the pandemic and those of public interest to ensure every resident of Brampton and Mississauga has access to the facts. For those who are able, we encourage you to consider a subscription. This will help us report on important public interest issues the community needs to know about now more than ever. You can register for a 30-day free trial HERE. Thereafter, The Pointer will charge $10 a month and you can cancel any time right on the website. Thank you
Submit a correction about this story