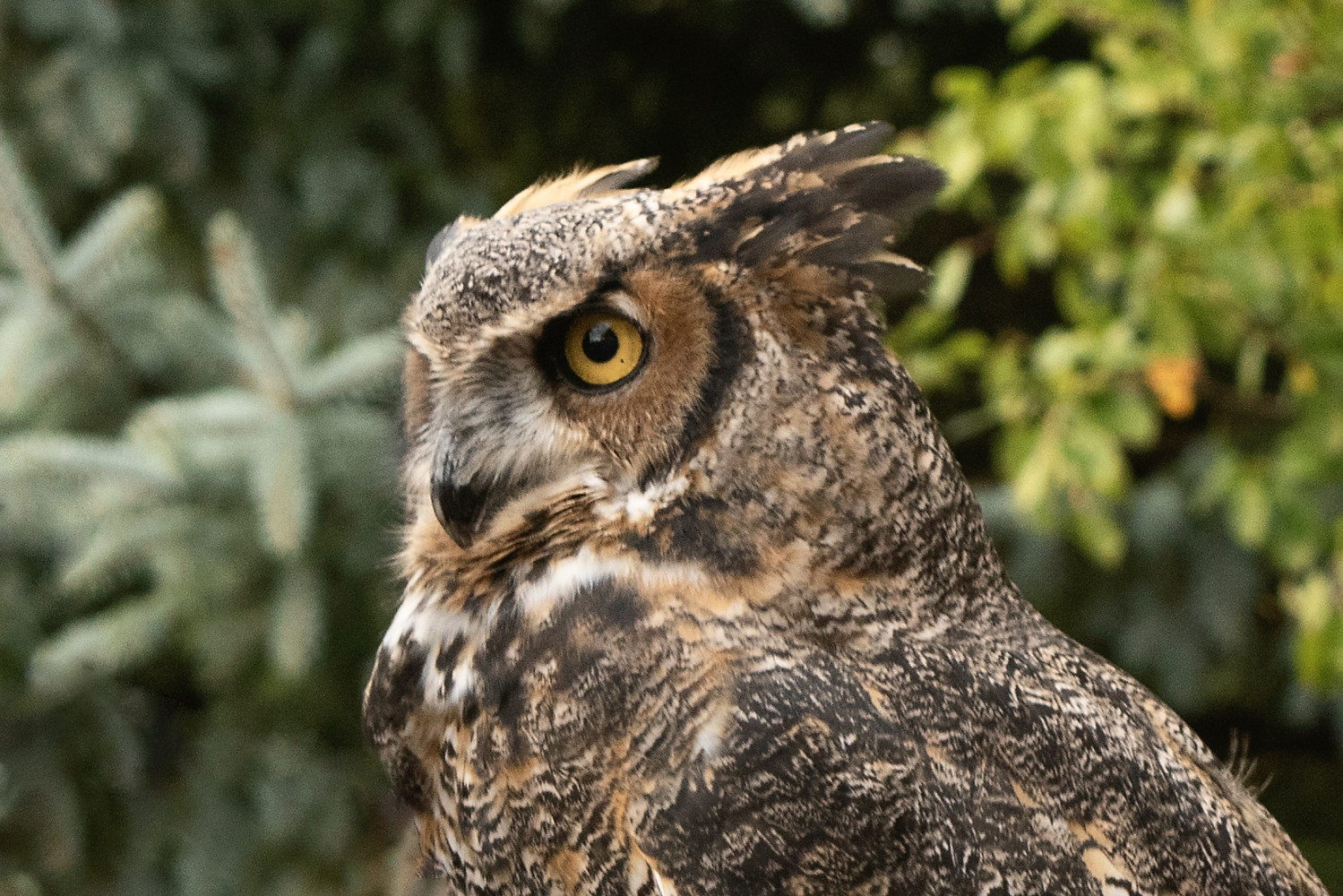 Alexis Wright/The Pointer
National Wildlife Centre to build first full field hospital in Caledon East this year
On a crisp winter evening, falling snow absorbs all ambient noise. To an unsuspecting ear the illusion of a peaceful, silent calm settles over the night.
Trees are blanketed in darkness, the shimmering white flakes are bathed by the moonlight.
The harsh cold sweeping in keeps most inside.
But the frigid temperatures cannot deter a Field mouse running low on food stores. The tiny creature must eat before entering its long winter torpor, preventing it from freezing solid during the coming months.
Before he enters this stasis, the mouse has no choice but to venture out into the deep black void.
Even with its night vision, gifted through millions of years of evolution, it has minimal visibility and is unable to sense the preying eyes above.
It dashes across a sheet of white—what looks like an open field—to an ideal spot for foraging, unaware of the danger cloaked by darkness.
A Great Horned Owl drops from his perch, its silent wings gliding hard down at the busy mouse.
Its hooked beak is about to open...
Suddenly, out of the darkness, bright lights and a heap of unyielding metal screams over the landscape.
The owl is clipped, its hunting dive upended by a transport truck that sends the predator careening into a crash of broken bones and twisted feathers.
The mouse is gone; the driver doesn't have a clue his rig has just disrupted the natural order.
The mouse was not crossing a field.
It was a highway.
Another Great Horned owl (top) that has healed from human-caused injuries, yet is no longer able to survive on its own. Wild Ontario operates out of the University of Guelph, with the unique opportunity to provide environmental education across the province while giving long-term homes to injured or orphaned native birds-of-prey that cannot be re-released into the wild.
(Alexis Wright/The Pointer)
These incidents are common across Southern Ontario. The Toronto and Region Conservation Authority (TRCA) states that approximately 1.1 million animals are killed in collisions on roadways every year within its jurisdiction—a number described in a TRCA report as "staggering".
Thousands more are hit, but do not immediately die. It's a tragic fate…. Unless a nearby rescue centre can care for their unique needs (and a kind soul who takes them there). Without risk intensive procedures or medication to battle severe infections, the animal will suffer a slow death, and the world loses another piece of its vital biodiversity.
After years of extensive work to create a network of rehabilitators, a new vision for Caledon East hopes to be a catalyst for change, to save countless lives.
Dr. Sherri Cox is the medical director and co-founder of the National Wildlife Centre (NWC) established in 2014. The 'centre' was originally a mobile van transformed into a basic veterinary hospital.
After a defining moment that pushed her to make the switch from business to the veterinary world in the early 2000s, she decided to commit herself to the betterment of wildlife all over the world.
"I've always been interested in wildlife. I took a trip to volunteer during the Prestige oil spill back in 2002 in Spain," Dr. Cox tells The Pointer.
"When I was there, there was a Northern Gannet — which is a beautiful white seabird — you don't usually see them unless they're sick or come ashore to nest," she says. "This bird was full of oil, sitting on the edge of this fishing boat. It was November and very, very cold, and we couldn't get to him in time, and it perished."
"Over 300,000 seabirds died in that spill, and it was preventable. It was at that time that I decided that I wanted to dedicate my life to helping wildlife."
Dr. Sherri Cox is the Medical Director of the NWC, which she co-founded with Octavio Perez. She also sits on the board of the National Wildlife Rehabilitators Association as vice president.
(NWC)
"Wild animals don't have owners, they have no one to really speak up for them, and we are stewards of our environment," she says. "We have an opportunity to help these animals who have no voice, so we can eliminate their suffering, help restore their health and get them back into the wild where they belong."
Cox studied for nearly nine years to earn her veterinary degree and ended up at a wildlife centre in Toronto soon after.
Working at an urban centre with better access to life saving medical equipment and supplies than rural areas inspired her idea to create the mobile hospital and begin her path. Dr. Cox travelled across the country aiding sick, injured, and orphaned wildlife while also training wildlife veterinarian interns and rehabilitators.
Along the way, the NWC partnered with Hope for Wildlife (HFW) — an established wildlife rehabilitation centre in Seaforth, Halifax — through a placement veterinarian training program.
"We have recently expanded and now provide medical care to sick and injured wildlife through a partnership with HFW in Nova Scotia. One of our veterinary internships is based at this location and the accredited veterinary hospital facility at HFW is the first NWC satellite wildlife hospital," NWC's website states.
"It's protecting our ecosystems, the environment, animals, certainly wildlife, so it's important to show the public just how important the work is that Hope does," Cox said in a previous report.
The partnership is a seven-year relationship working with HFW and the veterinary interns who receive valuable experience from treating the wide array of wildlife who come through intake, 'from moose to mice, and turtles to terns.'
To perform medical procedures like surgery on injured wildlife requires specific licenses which Dr. Cox carries. From lynx, to bears to beavers, she has seen and saved hundreds of animals in bad shape.
(NWC)
She has helped save the lives of over 5,000 helpless animals across 200 native species over the last nine years, and has made it her mission to educate more people so they too can be part of the solution to an otherwise increasing problem as more highways, roads, and houses are built in the habitats where animals have existed for tens of thousands of years.
Along with her tireless volunteer work, Dr. Cox is an assistant professor in Integrative Biology at the University of Guelph. She teaches wildlife medicine and rehabilitation while training student veterinarians and biologists locally and from around the world.
"I would say pretty much every day I get x-rays from veterinarians or rehabilitation centres from around the world asking for advice, or about 'what do you think about this fracture' or 'how could we approach this case'. So we consult a lot."
The future National Wildlife Centre location in Caledon will make a significant difference for many wild animals across Southern Ontario.
In June 2020, a Black bear was shot by London police during a fourteen-hour standoff with Dr. Cox present.
It was a nearly five-hour drive to the nearest centre equipped to handle acute care for a young bear — named London — who then suffered a very serious infection from the bullet fragments that became widespread by the time they arrived at Bear With Us Rehab For Bears. In future cases like these, they potentially could travel just two hours to a state-of-the-art facility fully equipped to treat large animals like bears, deer, moose, and much more before they are then transported to their respective centres for rehabilitation.
Bear With Us and other wildlife centres are integral resources for the surrounding rural communities.
London the bear runs free after being rehabilitated and released just one month after being shot, thanks to the Ontario organization, Bear With Us.
(Bear With Us Facebook)
These places are often overburdened, especially with the sharp rise in cases over the last few years. Dr. Cox's travels across parts of Canada only reaffirmed her desire to open the facility in Caledon.
NWC secured a one-hundred acre plot of land in Caledon East in 2019 with the support and startup funds from the Gordon and Patricia Gray Animal Welfare Foundation with a goal to raise a total of $6 million and shovels hopefully in the ground by early 2023.
The new facility "will act as a hub of new discovery and dissemination of knowledge in support of the next generation of wildlife specialists across Canada," according to the NWC website.
It will be mostly clinical space, and open to the public, allowing NWC to service the Caledon region and surrounding communities such as Brampton, Bolton, Orangeville, and Guelph, as well as surgical space to support wildlife rehabilitators from all across Ontario.
Currently, Dr. Cox's team consists of:
Octavio Perez, medical assistant, animal transport, co-founder and former board member;
Diana Kouril, executive director;
Dr. Fanny Peytoureau, a veterinarian from France studying at HFW with plans to establish an NWC location in Winnipeg
Dr. Mikaela Jahncke, a NWC veterinary intern based onsite at HFW
Dr. Cassandra Lapham-Simpson, an NWC veterinary intern based onsite at the Alberta Institute for Wildlife Conservation
Dr. Nellissa Stalenhoef completed a veterinary internship in wildlife medicine and is based at the National Wildlife Centre headquarters in Ontario
Dr. Taryn Ellis, a veterinarian from the Ontario Veterinary College.
"The NWC is trying to build a network of capacity and support to help wildlife. We're not trying to build the biggest centre in the world, we're trying to help others help wildlife," Dr. Cox tells The Pointer.
The plan is to open the NWC facility in two phases.
Phase one will start construction and plans to be open to the public in 2023. This will immediately relieve the patient intake and longer transportation times usually required to get the patient to their respective rescues for treatment. Phase two comes later, with plans for a fully operational teaching hospital, physical and virtual, to educate aspiring wildlife veterinarians and rescuers across the world.
Phase one of NWC facility includes building a wildlife field hospital to immediately service injured, sick or orphaned animals and will be open to the public.
(NWC)
In December 2020, NWC released a statement noting Dr. Cox's most recent, and extremely rare, accomplishment.
"Dr. Sherri Cox, DVM, MBA of Caledon, Ontario has been certified as a Diplomate specializing in Avian Practice by the American Board of Veterinary Practitioners (ABVP), one of four in Ontario, 6 in Canada and only 97 in the world. This year's examination was held on October 14, 2020."
The Centre will provide training for future wildlife rehabilitators, responders, conservation and wildlife biologists, rescue staff and veterinarians in native wildlife issues. It will also be a resource for wildlife emergency prevention, preparedness and response training across Canada.
Along with announcing her new credentials at the time, the fundraising campaign had reached $2,800,000 or almost 50 percent of the goal.
To meet the fundraising goal for the facility by the planned construction date, NWC hosted a gala with sponsors and silent auction donations from small businesses, organizations and companies like The Airlie Foundation, Canon Canada, YETI, Ganawendan Wildlife and Sanctuary, and IDEXX, in September 2022.
"Our experience so far across Canada working with wildlife rehabilitators is that they are a fantastic group of individuals who are incredibly dedicated to helping wildlife. We're not the only ones," Dr. Cox says.
Along with the board and partnered foundations, 175 guests raised $75,000 in one evening.
"It doesn't take one person or organization, it takes a lot of people working together for the betterment of animals."
The event included an education opportunity with Wild Ontario to see birds of prey, a dinner, a live auction by Layne the Auctionista, followed by presentations by Mike and Ella from Bear With Us, Dr. Cox herself, along with a special guest — astronaut and renowned wildlife photographer — Dr. Roberta Bondar.
She continues to work diligently educating people about the importance of our diverse environment and its extraordinary evolution.
As someone who has travelled both around and above the globe, she has personally witnessed changes to Earth's sensitive biodiversity.
"One of the reasons you're here tonight is to remind other people when you leave about the ethics and responsibility we have for our environment," Dr. Bondar said at the gala.
During her gala presentation, Dr. Roberta Bondar (bottom) talked about the IUCN Red List's 147,500 species — mentioning the 41,000 being threatened with extinction, like the monarch butterfly.
(NWC)
"Climate change itself is going to have a big, big influence on the kinds of things that Dr. Cox is going to see in her practice, and any veterinarian will see in their practice. We see it in human beings, so I'm sure we're going to see it in wild animals," she said. "There are more trained professionals that we need to have to be able to deal with the natural world."
"We're not separate from our natural world. And the ethics to be able to help animals with no voice is an extraordinary opportunity. it's one that I embraced after my space walk."
Dr. Bondar took questions from the audience regarding her work, and one guest asked what it means for the endangered species and unique biodiversity if we continue to fragment habitats by building and widening roads.
"Any time we disrupt habitat, fragment it, it's not good," Dr. Bondar said, referring to the construction of roads and highways. "One thing we can do right now is put in wildlife overpasses."
If proposed projects like the GTA West Corridor (or Highway 413) go through, it will increase human-animal incidents, putting more pressure on rehabilitation centres across the province.
Wildlife overpasses are a successful way of lowering vehicle-caused casualties, yet it has been proven time and time again that prevention is always a better approach than reaction. There is only one such overpass in the province which sits across highway 400.
If these structures were a mandatory part of our highway infrastructure, that Great Horned Owl may have had a chance to live.
Luckily people and organizations like the NWC and Dr. Sherri Cox and her team, Bear With Us, and Dr. Roberta Bondar have a vision to help animals in the future, as we humans continue to encroach into their natural world.
---
Email: [email protected]
Twitter: @lextoinfinity
---
COVID-19 is impacting all Canadians. At a time when vital public information is needed by everyone, The Pointer has taken down our paywall on all stories relating to the pandemic and those of public interest to ensure every resident of Brampton and Mississauga has access to the facts. For those who are able, we encourage you to consider a subscription. This will help us report on important public interest issues the community needs to know about now more than ever. You can register for a 30-day free trial HERE. Thereafter, The Pointer will charge $10 a month and you can cancel any time right on the website. Thank you
Submit a correction about this story