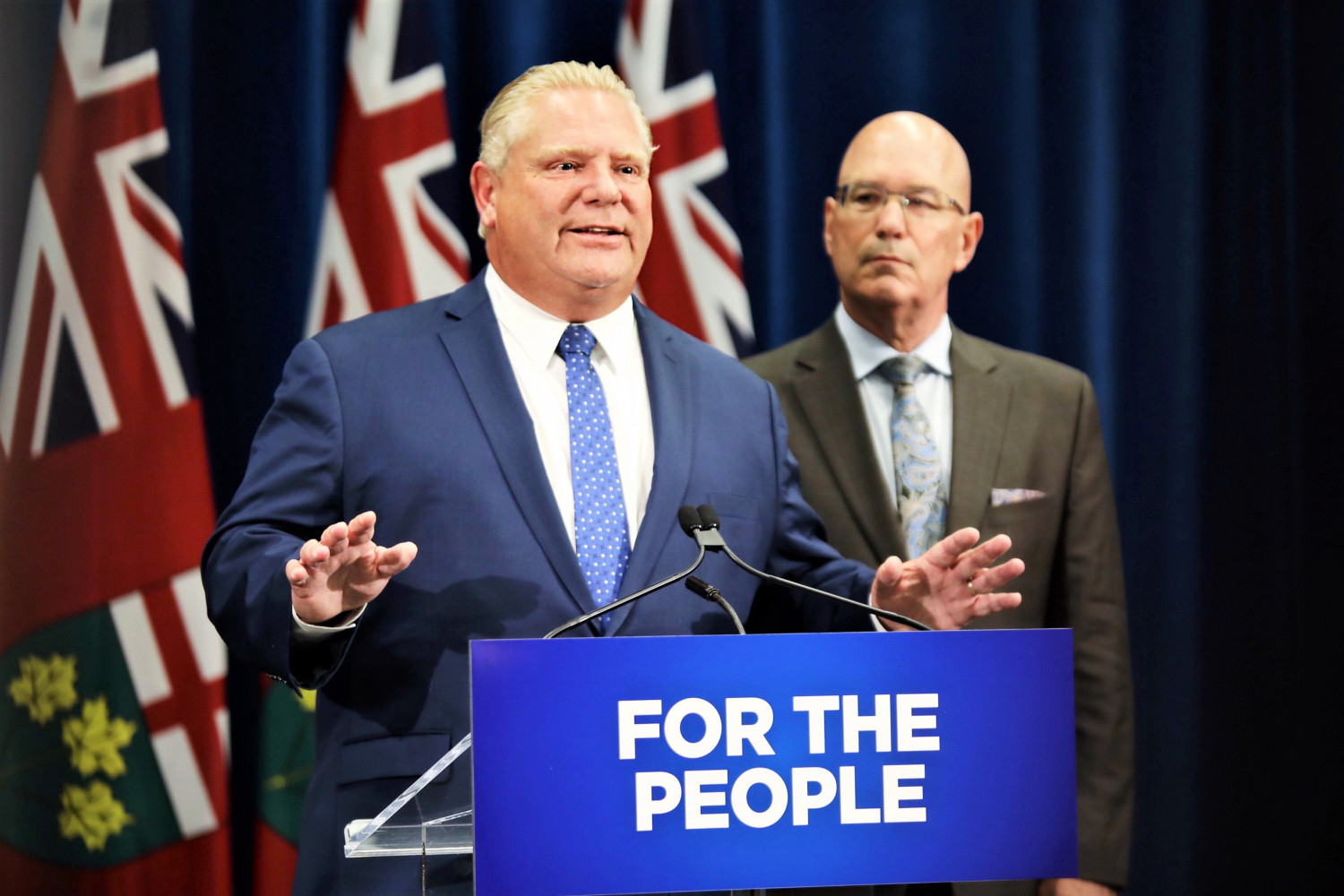 Government of Ontario-Twitter
Reorganizing Peel is just another Doug Ford power grab
In 2018, Doug Ford told municipal politicians he was done tinkering with municipal restructuring. He made that clear, after reducing the number of elected municipal wards in Toronto from the planned 47 to 25, and stopping the election of regional chairs in Peel, Muskoka and York. He added later that political interfering with municipalities was over, 'for the near future'.
As of December, we were back to the 'near future'!
Tinkering is back and the Better Municipal Governance Act, passed the first week of December, is another phase in this game that provides more tools for the strong mayors of Toronto and Ottawa (and presumably other GTA municipalities, including Brampton and Mississauga).
Doug Ford says that the BMG Act is a necessary and important step. But it's nothing more than 'a sneaky' power grab by the province. You don't get the Strong Mayors, Better Municipal Governance 'goodies', unless you play ball with the Ford government. If you play ball, you get to use the un-democratic one third of council to pass anything the Premier wants.
He and the Minister of Municipal Affairs and Housing, Steve Clark, point to the 1.5 million homes they say are needed in the next decade to house hundreds of thousands of residents, including immigrants arriving in Canada and making their way to Ontario…many to the GTA. It is a provincial priority.
Municipalities, according to Ford, stand in the way of providing 1.5 million new homes because cities, towns, townships, counties and regions slow things down by insisting that development unfold under local planning processes, and priorities which have for the past decade favoured density over sprawl, allowing growth to pay for itself.
The Ford government argues Ontario won't be ready for the demand over the next ten years, if municipalities are not checked. There is no discussion about where newcomers might settle, the type of housing they actually need and which provinces require their skilled labour most urgently, nor is it ever mentioned that immigration is a federal jurisdiction, which needs discussion between the provinces led by Ottawa.
To porch sitters, all of the Ford government's rationale is a 'crock'. None of it passes the smell test because numbers were set years ago and services were either provided or planned for large population densities. To mediate planning disputes, the previous Ford government created the Ontario Land Tribunal, locally nominated and provincially appointed by the government and responsible to the Attorney General of Ontario.
Not only are municipalities checked at the door by this supposedly objective agency (now run by people with close ties to the development industry) but the issuing of an MZO, Minister's Zoning Orders that give the Minister of Municipal Affairs and Housing flexibility to counter municipal controls, has become the defacto policy used to usurp planning authority from towns and cities. So why do you need the Strong Mayors' Act and the Better Municipal Governance Act unless you want to strangle local government?
Doug Ford's priority issue in 2023 is 1.5 million homes in the next decade. The protected Greenbelt has been an effective control over development in southern Ontario but it is now facing a frontal attack. This attack on municipal government creates provincial control, through legislation, over lands in Peel, Durham and York, including the Greenbelt. The province has always been in charge of the numbers, through various pieces of legislated development plans; now they will be managing municipal councils through the More Homes… Strong Mayors… and Better Municipal Governance Acts.
The Better Municipal Governance Act proposes revamping regional governments in Peel, York, Halton, Durham, Niagara and Waterloo by appointing provincially-appointed facilitators to assess the best mix of roles and the responsibilities between upper and lower tier governments with the end result of achieving the provincial goal of creating 1.5 million homes by 2031. Make no mistake, the object of this review is meeting the housing goal, driven by the development industry, without municipal oversight.
Locally elected officials and the constituents they are mandated to speak for have been sidelined. Complete communities, transit and all the other smart growth policies that lead to healthy municipal budgets, have been thrown out the window at Queen's Park.
If you think this is the most un-democratic undertaking by a provincial government, you would be right. In the BMG Act and others recently passed, majority rights are up-ended and strong mayors can get away with un-democratic actions sanctioned by the provincial government, as long as they meet the provincial housing goals and various other priorities of the PCs.
Much has been said by the Premier about the mayor being the only person on a municipal council who must answer to all of the people, but has only one vote. Ford despised his foes on Toronto Council (especially those who stood for an urban agenda) during his tenure there while his brother served as mayor. They ran City Hall the way he now runs Queen's Park, as a kingdom. Municipalities are no longer separate entities, their own governmental jurisdictions which answer to the property taxpayers and other residents who once shaped their own communities. They are being turned into fiefdoms, and if they step out of line, their feudal lord will show no mercy.
In 2019, Minister Clark hired two special advisors to review regional governments and lower tier municipal governments all in the space of 10 months. The special advisors were tasked with providing expert advice and recommendation on opportunities to improve regional governance and service delivery. Included in their mandate were the magic words efficiency, representation, alignment and opportunity… which translates to amalgamation. They sought advice from everyone. Only a select few have ever seen the advisors' report on their regional review.
The exercise did not amount to any changes (for now) but it had its intended effect. Senior municipal staff and local politicians heard the message loud and clear—municipalities exist at the pleasure of the Premier, and with the stroke of his hand, they can be radically altered.
In December Ford announced he was ready to tinker again and this time by appointing a new crop of facilitators to study regionalism in Durham, Niagara, Halton, Peel, Waterloo and York. The meat of this exercise is the three regions surrounding Toronto—Peel, Durham and York.
He has local leaders who represent more than three million Ontario residents in the palm of his hand. The weak and blindly ambitious are already cowering. Leaders like Mississauga's Bonnie Crombie, who has stood up to Ford, will need courage to keep standing up to him. She would be wise to follow her mentor, Hazel McCallion's lead. The Hurricane stared down numerous premiers who huffed and puffed but could not blow down her city. She was a singular force, and Mississauga is the better for it.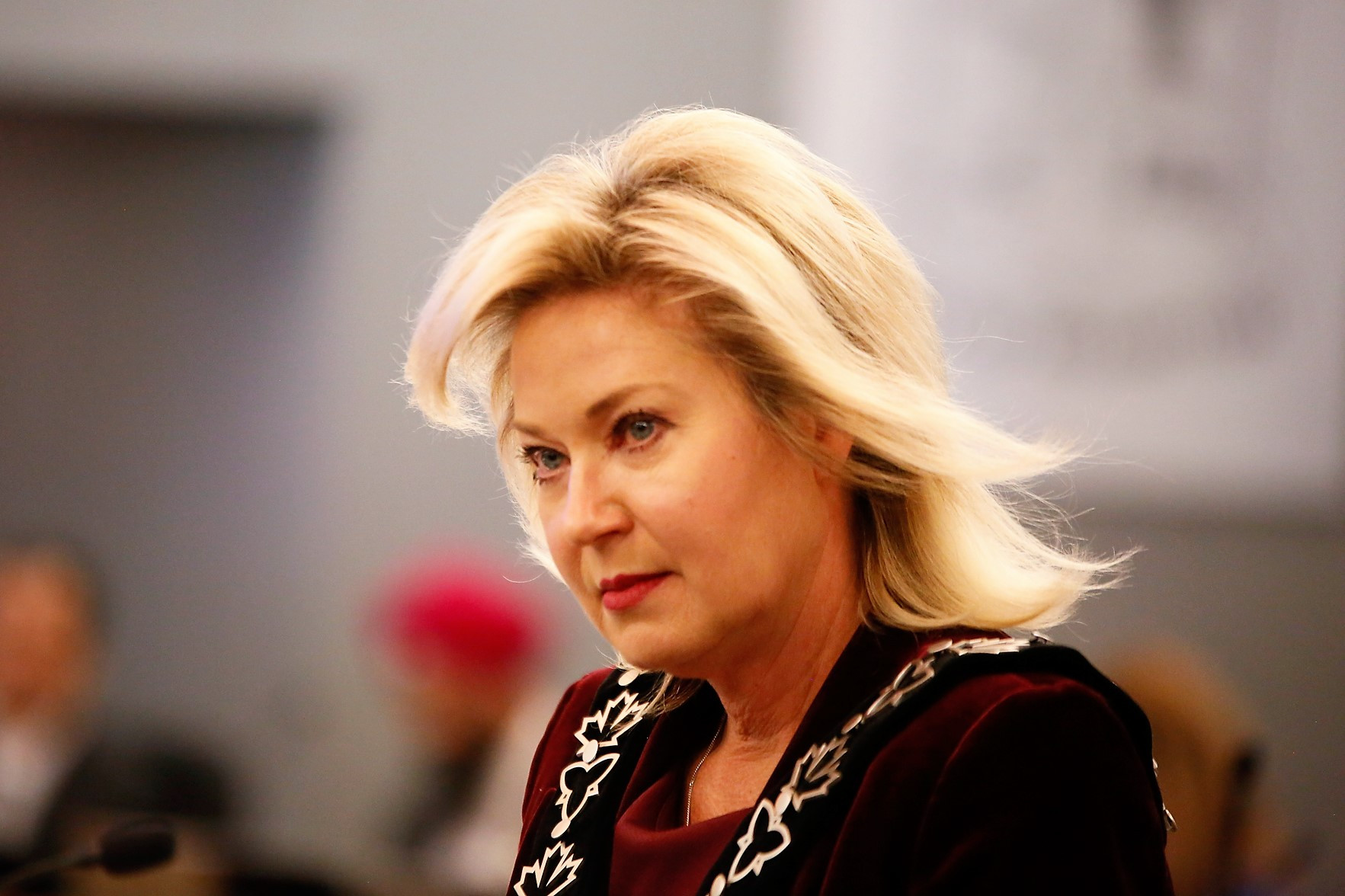 Mississauga Mayor Bonnie Crombie has stared down many men during her political career and in her days working with Fortune 500 corporations. Her style of strong local leadership, standing up to bullies like Doug Ford, is in contrast to weak men like Patrick Brown, who act to advance their own personal interests.
(The Pointer file photo)
If the lower tier of Peel, Durham and York municipalities were amalgamated, in each of those regions, the new city of Peel would be well over 2 million people in a couple decades. The new city of York would be close to 1.8 million and the new city of Durham, another million. These three cities of over 5 million people, would complete the provincial molding of Toronto. Twenty lower tier municipalities would be replaced with three.
Instead of dealing with twenty municipalities, the province deals with three. Not a bad start, if your aim is municipal downsizing.
In 1974, when the Region of Peel was established by the Province of Ontario, there were 10 municipalities. The province merged all ten into two cities and one town and that was that. The Region of Peel Act amalgamated and dissolved municipalities. What was created was a 'make over' for the County of Peel, first established in the late 1860's, and continued today.
Peel is really the best region for Ford's tinkering and experimenting. All the provincial legislature members are Tories and there are only three local municipalities. But not so fast! Mississauga wants out of Peel and if that happens, the regional government collapses. Brampton has indicated, if Mississauga is given leave from the region, it should receive the same treatment.
So what happens next?
If the Premier experiments with Peel, he could do so without a mandate from the people of Peel. He could simply create a new Region of Peel Act and strike out the old one. The Premier could choose one of three alternatives: 1) continuance of the status quo; 2) Mississauga's and by extension Brampton's succession from the Region of Peel; 3) implementation of a unicity… The City of Peel.
Status Quo: The region continues to manage garbage disposal, major roads, social services, regional plans, debenture financing, public health, policing (in Brampton and Mississauga) and utilities (water and sewer).
Separation and Devolution: If Mississauga, the largest municipality, separates from the regional setup believing, as it does, that it has become a mature city, it could easily take on the functions of the region. The Conservatives hold all six Mississauga ridings in the Legislature, so the Premier could accede to Mississauga's request for secession without much political fallout and allow that city to withdraw from the Region of Peel. The devolution of regional responsibilities in Mississauga could be absorbed in and by the province's third largest city.
If the Premier decided to grant Mississauga separation from the Region of Peel, the Region would not be viable and for all practical purposes cease to exist because Brampton and Caledon couldn't sustain the revenue loss. Likely, Brampton, Canada's ninth largest city, would become independent as well and take on those responsibilities currently handled by the Region, just like every other single-tier municipality (Hamilton, Kingston, London etc). The Premier might decide that Orangeville and Dufferin have a place for Caledon.
Unicity: The third option the Premier might consider is the one devised for Metropolitan Toronto by his conservative predecessor Mike Harris… unicity! Harris restructured Toronto down from 100 politicians to 44 and united the boroughs into one city using the New York model.
The Premier might decide that uniting Brampton and Mississauga, both urban centers and still growing, makes sense from an economic and ease of decision-making perspective. He might decide that the new City of Peel with nearly two million people makes imminently good sense, especially if it mimics Toronto by having the same number of wards as the federal and provincial ridings.
What if the Better Municipal Governance Act and the Strong Mayors Act are just useful tools to accomplish the boxing in of Toronto and control over local government in Ontario? What if the government thinks that a 2-million-person city, on Toronto's west side, makes sense? What if the plan has already been drafted by the government and sliced and diced so that its implementation will take place over the next couple of years or alternatively the plan is set to go and elections for a newly redrafted set of big cities are to take place in October of 2026?
What if all of this is a dress rehearsal for the near future?
Some might say that all of this is imaginary, will never happen; is too contrived. Politics is a strange domain with rules made up on the fly and the Ford government has made it clear: it will try to do anything it wants. So don't be surprised at changes that rationalize and game the system… changes that enable the Ford government to deal with fewer and bigger municipal entities.
That's the real game here!
If the government gets its way, 1.5 million homes will be built in less than ten years and it will maintain control in Ontario for the foreseeable future.
If it is wrong, by badly misjudging Ontario and the power of communities, the PCs might once again be forced to sit out four government cycles while other parties rule.
---
Terry Miller is a longtime Brampton resident, former Peel Region and Brampton City councillor and former vice chair of the Central West Local Health Integration Network.
---
COVID-19 is impacting all Canadians. At a time when vital public information is needed by everyone, The Pointer has taken down our paywall on all stories relating to the pandemic and those of public interest to ensure every resident of Brampton and Mississauga has access to the facts. For those who are able, we encourage you to consider a subscription. This will help us report on important public interest issues the community needs to know about now more than ever. You can register for a 30-day free trial HERE. Thereafter, The Pointer will charge $10 a month and you can cancel any time right on the website. Thank you
Submit a correction about this story