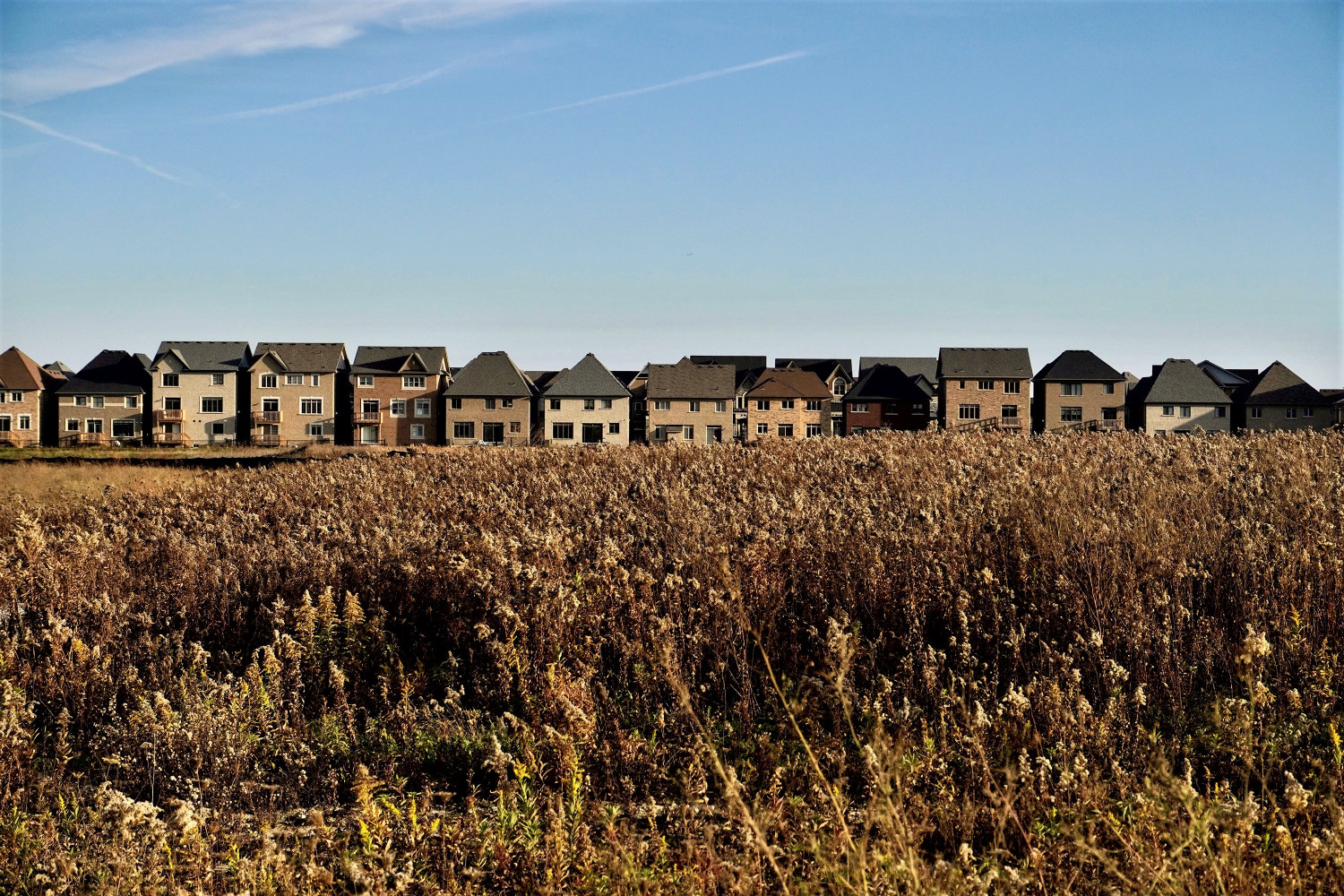 Alexis Wright/The Pointer file photos
Mississauga signs onto COP 15 Montreal Pledge; municipalities have to stop environmentally destructive sprawl 
Many remember road trips twenty or thirty or fourty years ago—stopping every so often to clean the windshield, license plates and windows that were crusted with dead insects.
It's not that different today. Families and friends crowd into vehicles to travel where the road takes them. But there is one subtle difference: it's called the windshield phenomenon.
It's a term coined by entomologists and conservation scientists to illustrate the decline in insect populations.
Nowadays, drivers seldomly have to clean their cars of insects.
One 20-year study in Denmark from 1997 to 2017 measured dead insects on car windows and found an 80 percent decline. While the windshield phenomenon has its critics, who point to more aerodynamic vehicles that have less frontal surface area for bugs to hit, other evidence shows the global insect population is in crisis.
Canada's David Suzuki Foundation reports that "From eye-catching fireflies and bumblebees to less-alluring critters like beetles and worms, invertebrate species have declined 45 per cent over the past four decades."
"We can no longer ignore science. The facts are speaking for themselves," Montreal Mayor Valérie Plante said in her opening address at COP 15 Biodiversity Conference in Montreal.
According to the World Wildlife Fund (WWF), the world has lost 69 percent of global wildlife populations over the last 50 years. One million more species are threatened with impending extinction. According to the United Nations Environment Programme, this is the largest loss of life the planet has experienced since the extinction of the dinosaurs.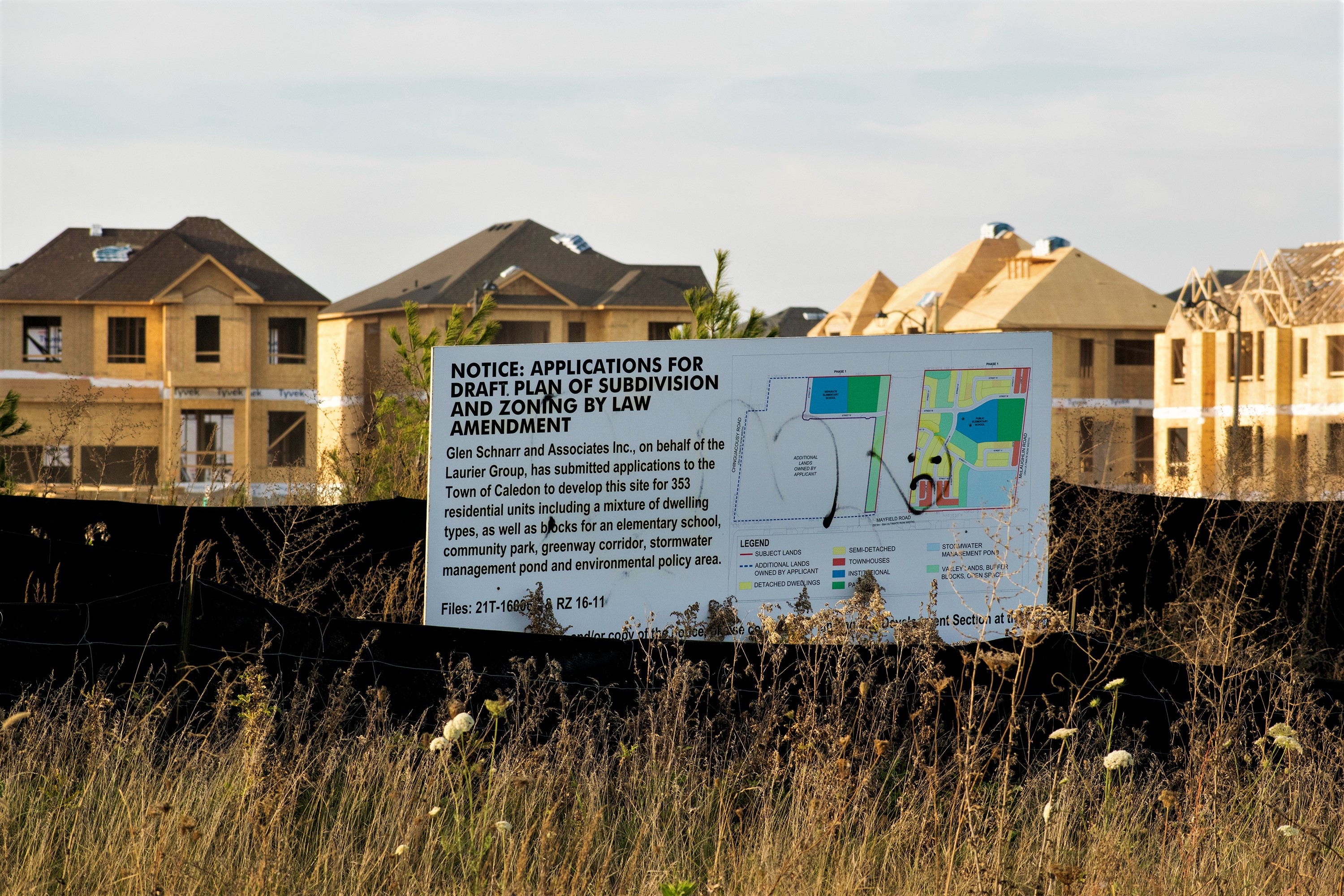 Municipalities across the GTHA have been pressured by developers to allow subdivision sprawl, which devastates agricultural lands and greenspaces.
(Alexis Wright/The Pointer)
Arguably, climate change and biodiversity loss are the two biggest issues of our time, yet they are often viewed independently. There is a movement to integrate the two and come to an understanding that climate change and biodiversity loss have a lot of the same drivers and, in fact, they can drive each other.
International bodies such as the Intergovernmental Panel on Climate Change have made it clear that individual cities and local regions have a huge role in combatting climate change and biodiversity loss.
Urban sprawl, developer driven land use policies, poor watershed management, and increasing greenhouse gas (GHG) emissions are just some examples of how municipalities can speed up species and habitat loss, temperature increase and the destruction of critical ecosystems. With the rapid rise in human population (which hit 8 billion in November; it was just 1 billion two hundred years ago) we are crowding out millions of other species.
Recognizing the vital role cities can play in protecting Earth's precious ecosystems and organic life, Plante launched the Montreal Pledge in accordance with COP 15 which sets out 15 actions for municipalities to take to create more sustainable cities.
"Hosting the COP in the Metropolis of Quebec demonstrates the importance of the role of large cities in protecting biodiversity and maintaining the quality of life of populations," she said.
Montreal has long been a symbol for environmental change. In 1987, the Montreal Protocol was signed to close the hole in the ozone layer. The agreement forced governments into action which rapidly turned around ozone loss (experts believe it will now be fully closed within our lifetime). Plante is hoping the Montreal Pledge can have the same impact on climate change and biodiversity loss.
The actions mandated by the pledge fall into three categories: reducing threats to biodiversity; sharing the benefits of biodiversity; and solutions, governance, management and education. Key examples of actions include increasing protected greenspace, decreasing pesticide use and eliminating plastic waste.
"Beyond words, you need to lay concrete actions," Plante asserted.
There are 47 cities across 5 continents that have signed onto the pledge to protect the earth's biodiversity, 10 of which are Canadian.
Canada has a unique role to play, with some of the world's most sensitive ecosystems. We have 24 percent of the world's freshwater and 24 percent of the world's wetlands.
"Biodiversity is under threat and, like many large urban areas, much of Toronto's native biodiversity has been lost," wrote Toronto Mayor John Tory in a statement to Plante to confirm the City's participation in the Montreal Pledge on December 12. "Over many decades, the built environment, the increased use of our natural spaces, and climate change have impacted the health and function of the ecosystem."
Toronto and Mississauga are the first two Ontario cities to make the pledge. Support from Mississauga is unsurprising given Mayor Bonnie Crombie's efforts in support of sustainable development. Crombie was recently targeted by Premier Doug Ford for her refusal to support his developer driven land use policy under Bill 23, which will see valuable greenfields and agricultural properties gobbled up to build more subdivision sprawl across Ontario.
"As Mayor, protecting our City's biodiversity is a top priority as we continue to build Mississauga into a thriving urban centre in the heart of the GTA," Mayor Crombie told The Pointer in an email statement. "Through our official plan and supporting strategies, the City of Mississauga is already taking a comprehensive, holistic approach to protect biodiversity and to support the health of our natural system – which aligns with the 15 tangible actions outlined in the Montreal Pledge."
Despite support from two out of Ontario's three largest cities, municipalities across the province have historically acted in ways that put biodiversity in harm's way.
In April, Peel Region voted to approve its Official Plan to 2051 which included a boundary expansion of 11,000 acres, which means valuable farmland and greenspace will be bulldozed for sprawl. The boundary expansion, which received large backlash from Peel communities and environmental advocates, pushed the settlement expansion boundary into areas of Brampton and Caledon that were previously left out of plans for future development, after planners determined growth could be easily managed within existing urban boundaries.
Now, the Montreal Pledge, aims to stop this type of municipal planning, which pushes more spread out, low density development instead of creating urbanized communities supported by transit and complete neighbourhoods in a more compact built form.
The expansion of the urban boundary will encroach toward the Greenbelt where many species and critical ecosystems are protected. The boundary expansion and Bill 23 will have devastating consequences, experts have warned.
A previous investigation by The Pointer found 29 species listed as either endangered, threatened or of special concern along the route of the proposed Highway 413, another policy pushed by Ford and his PC government to trigger subdivision developments which powerful builder have lobbied for.
Municipalities along the route of the approved highway (its future depends on the government in Ottawa which will determine if it violates federal legislation) passed motions in opposition to the highway; Brampton and Caledon, under Mayor Patrick Brown and former mayor Allan Thompson, both aligned with the PC government, did not. While the highway is a project controlled by the provincial government, the opposition of municipalities represents what local residents desire.
According to Plante, at the local level, biodiversity and quality of life are closely connected.
The Town of Erin is in the preconstruction process of its new wastewater treatment facility. The project, which is opposed by many residents and activists, will dump effluent into the West Credit River. It is one of the last natural spawning grounds for the Brook Trout which need cold water temperatures. If the warm effluent, treated waste, is discharged without being properly cooled, the water temperature will become unsuitable for Brook Trout spawning and survival.
Protecting the Brook Trout is crucial to the future of the surrounding natural habitat and the intertwined ecosystems of the Credit River watershed.
Some cities are adopting sustainability into policies. In 2019, the City of Toronto approved its first Biodiversity Strategy, recognizing the importance of biodiversity for our collective wellbeing, as well as its crucial ecological value including climate resistance.
"The Biodiversity Strategy set out a plan to protect habitat that supports biodiversity from further loss; restore and enhance degraded natural areas, including water and soils that are the foundation for healthy ecosystems; and raise awareness about biodiversity and why it is important," Tory wrote.
Toronto's Biodiversity Strategy contains 23 actions under the themes of protect, restore, design and engage.
The City of Hamilton has also committed to developing a Biodiversity Action Plan. It will be developed in coordination with local environmental NGOs and conservation authorities. While the City of Hamilton told The Pointer in an email statement that the Action Plan focuses on the same three key areas as the Montreal Pledge — reducing threats to biodiversity, sharing the benefits of biodiversity, and management and education — the City did not give a concrete answer on whether it plans to join the pledge.
Hamilton refused to expand its urban boundary, but Ford and his PCs steamrolled the local government, imposing its recent legislation which overrides the municipality's earlier, sustainable, decision.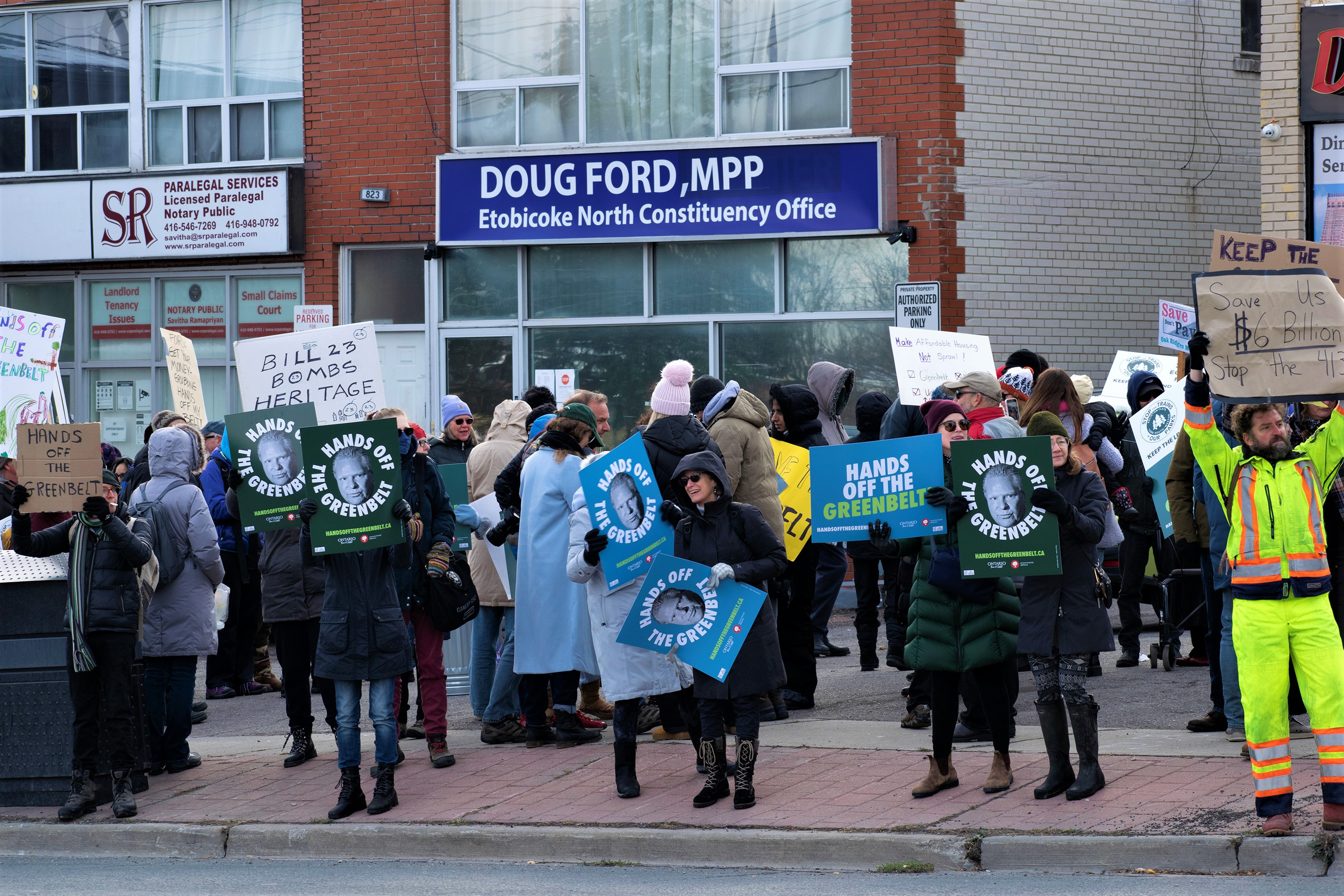 Protests against Doug Ford and his developer driven agenda have taken place across Ontario.
(Alexis Wright/The Pointer)
"Cities have the capacity to act quickly and effectively when it comes to protecting biodiversity and natural habitats," Plante said.
Protests across the province and discussions in council chambers have proven there is fear surrounding Bill 23 and the proposed changes to the Greenbelt legislation under the PC plan to force subdivision expansion across much of Ontario. After overruling the Official Plan in Hamilton and pushing Bill 23 through Queen's Park, Ford has made it clear that ecological and environmental concerns are not a priority for him.
For Plante, this is why having cities at the table is crucial. Cities are the closest level of government to the people and communities they serve and they are also closest to the natural spaces that are affected by legislation.
Plante has laid down the challenge in Montreal: if other levels of government continue to cause harm to the planet, cities are the last safety net.
"My message is that you can do a lot," she said. "You just need to support us and invite us around negotiation tables and give us the means to act."
---
Email: [email protected]
Twitter: @rachelnadia_
---
COVID-19 is impacting all Canadians. At a time when vital public information is needed by everyone, The Pointer has taken down our paywall on all stories relating to the pandemic and those of public interest to ensure every resident of Brampton and Mississauga has access to the facts. For those who are able, we encourage you to consider a subscription. This will help us report on important public interest issues the community needs to know about now more than ever. You can register for a 30-day free trial HERE. Thereafter, The Pointer will charge $10 a month and you can cancel any time right on the website. Thank you
Submit a correction about this story