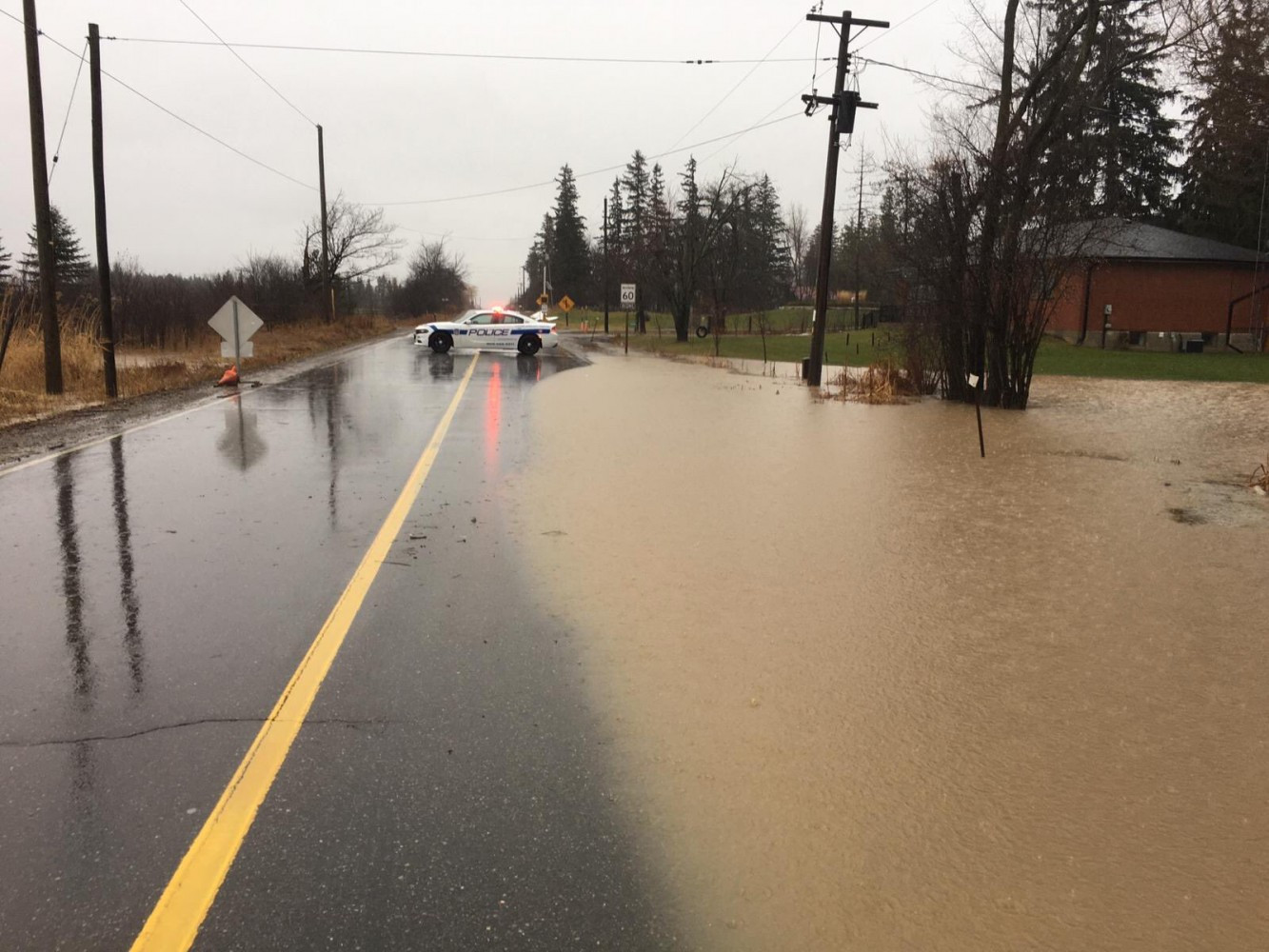 Peel Regional Police
Auditor General finds PCs' Bill 23 could put Ontarians at increased risk of flood disasters
In late August, Brampton residents were tormented by an onslaught of rain leading to extensive property damage and numerous calls to the City and emergency services. As walls of water came down, rivers of brown runoff flowed into low-lying basements, causing widespread damage across parts of the region. Up to 100 millimetres of precipitation fell over a 24-hour period, surpassing the "normal" amount of rain that is typically recorded at Pearson International Airport over an entire month.
Earlier in the year, large parts of Brampton's historic Churchville neighbourhood were turned into an urban lake. About 100 homes had to be evacuated as six feet of water submerged the area after the Credit River overflowed because of ice blockage that put homes and residents in the floodplain at risk.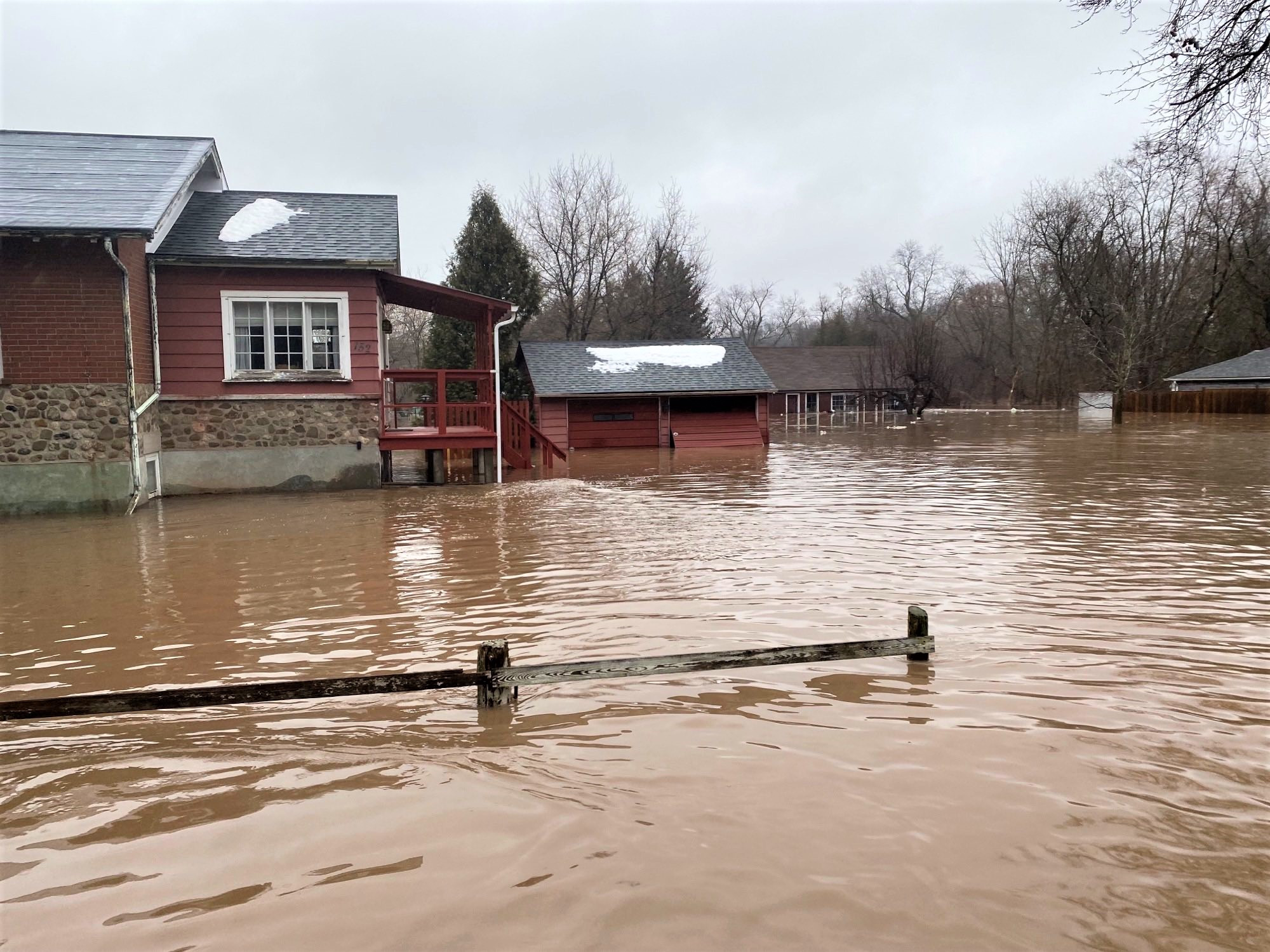 Flooding devastated Brampton's Churchville neighbourhood in February of this year.
(City of Brampton/Twitter)
Cities across Ontario are staring down a future where these types of severe weather-related events, and the damage they bring, will become much more common. Brampton's destructive flash event in August was only the latest in a long line of severe storms that have shocked Ontario residents. In 2013, record breaking rainfall hit Toronto causing river valleys that meander through the city to flood, overwhelming urban infrastructure, and resulting in 7,000 waterlogged basements, 900,000 households left without power and damages amounting to $1 billion. The same system also overwhelmed parts of Mississauga and Brampton, where homes across numerous neighbourhoods were left with swamped basements. It was the most costly flood disaster in Ontario history.
Severe storms have also been recorded in other areas of the province including Thunder Bay and Hamilton in 2012, Burlington in 2014, and Windsor and Tecumseh in 2016 and 2017, respectively, each causing insured losses over $80 million.
Any of these events could have been a teachable moment for the province's PC government; a chance to consider the increased risk faced by municipalities, and the responsibility Doug Ford and his cabinet have to help mitigate looming threats as climate change makes severe events more common. A recently released report from Ontario's Auditor General Bonnie Lysyk exposes the PC government's lack of action to mitigate the significant risk urban flooding poses across the province.
"The Province does not have effective systems and processes to reduce the risk of urban flooding in Ontario, or to support and encourage municipalities and property owners to reduce the risk of urban flooding," Lysyk wrote.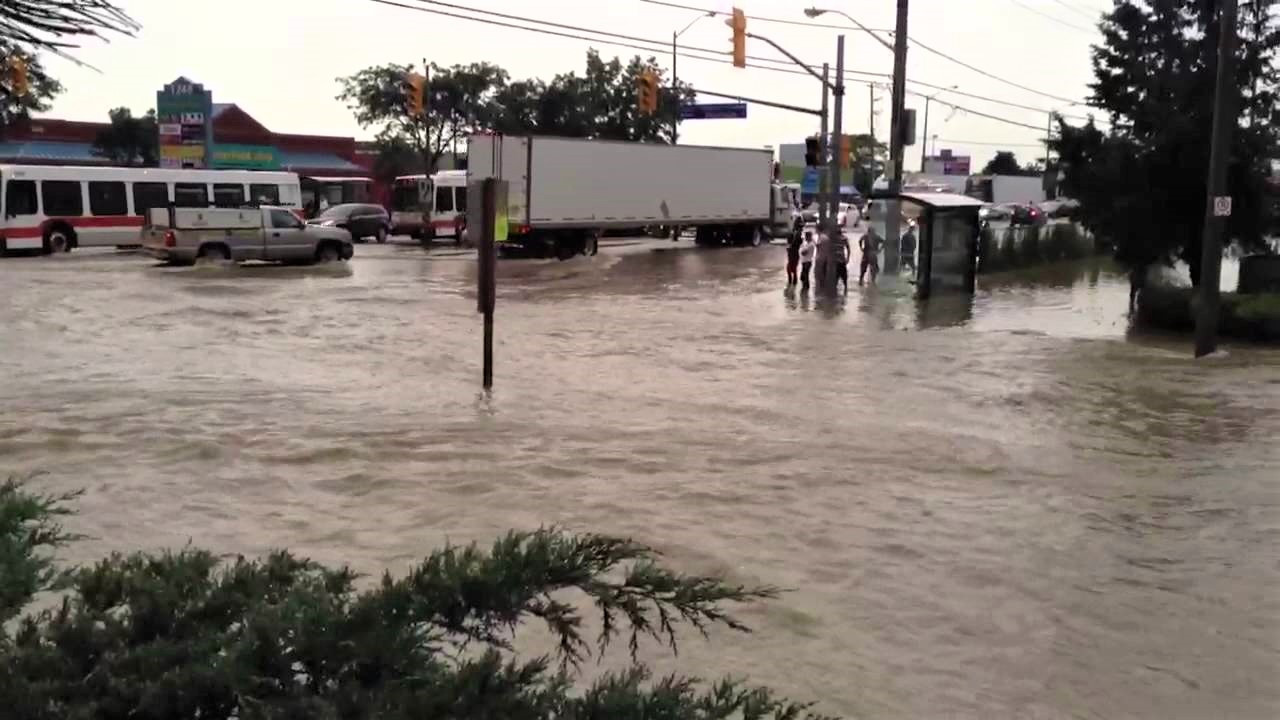 In 2013, flooding overwhelmed parts of Mississauga, turning busy intersections into rushing rivers.
(Screengrab/Youtube)
The blistering study suggests Ford and his developer-driven housing agenda will actually make things worse for future homeowners who will be put at risk due to policies that ignore the threats of building in floodplains or areas without proper stormwater infrastructure.
According to data from Natural Resources Canada, the number of heavy precipitation days across the country—defined by the accumulation of greater than 10 millimetres of rain in 24 hours—increased from 135 days in the 1950s to 158 days in the 2000s.
The increase in heavy precipitation is directly linked to climate change. A warming atmosphere increases the rate of evaporation from bodies of water leading to more moisture in the atmosphere and heavier rainfall events. Peel's infrastructure is at risk due to the trends. The region is warming twice as fast as the global average, and the need for mitigation to prevent destruction due to climate change is immediate. A report by the Credit Valley Conservation Authority in August of 2021 stated local average annual temperatures have increased by 1.75 degrees over the last 80 years, a dramatic rise that, if not slowed down, will devastate local infrastructure.
Warming will increase average rainfall amounts and the frequency of severe weather events.
After Hurricane Hazel ravaged Ontario in 1954, leaving 81 people dead and causing over $100 million in damages, the provincial government strengthened the mandate of conservation authorities to protect communities and watersheds from future calamities.
There has been no indication from the PC government under Premier Doug Ford that it plans to take any significant action to reduce the risk of these flooding events in the future.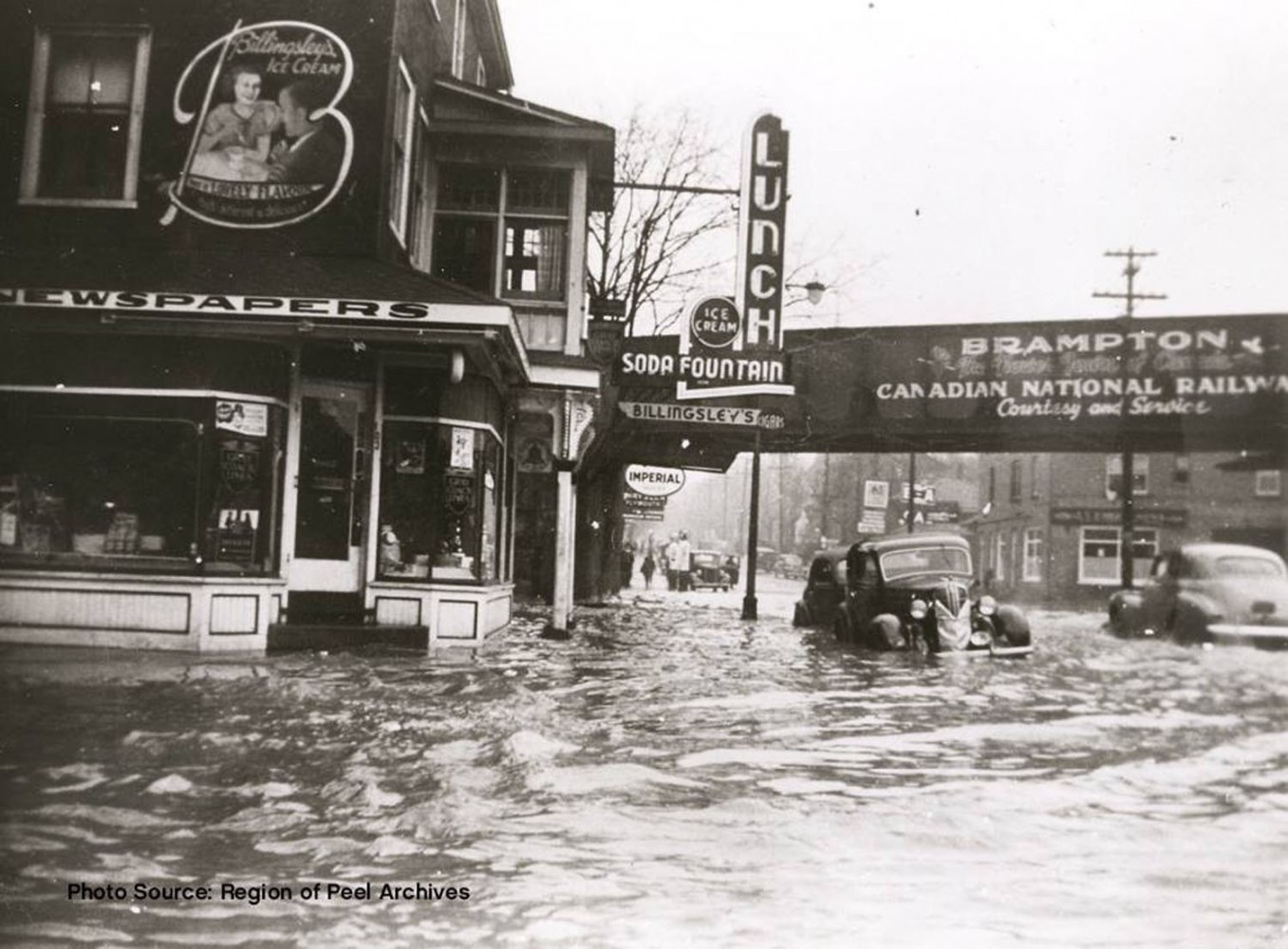 It has been known for years that Brampton's downtown is particularly vulnerable to flooding as it sits in a floodplain. Historic images show the damage done by a flood in 1948.
(Region of Peel Archives)
The scathing audit by Lysyk, released late last week, shows the Province is doing very little to protect its citizens and infrastructure from urban flooding.
"Our audit found that the Province does not have effective systems and processes to reduce the risk of urban flooding, nor to provide homeowners, municipalities and other decision-makers the guidance and information they need to reduce their risks of urban floods. The Province is well aware of the need to do more to address this issue. No fewer than four reports and plans… have identified specific actions that need to be taken to help Ontario reduce urban flood risk. Yet the Province has never clarified provincial roles for addressing and co-ordinating actions needed to alleviate the risk of urban flooding, with the result that gaps in responsibility persist and actions and commitments have never been implemented."
In many ways, the PCs are actively doing the opposite, with the widely panned housing strategy—Bill 23—having the potential to increase the risk of flooding across large parts of Southern Ontario.
One of the main culprits of urban flooding is the loss of valuable greenspace and other natural features, which help to absorb rainfall. According to the audit, 31 of 33 large urban centres in Ontario saw the amount of greenspace within their boundaries diminish over the last 20 years. In Mississauga, a parks strategy released earlier this year found that the City was actually in a "deficit" when it came to its parkland and greenspaces.
Woodlands, wetlands and meadows act like a sponge, filtering water and slowing runoff, which can prevent man-made infrastructure like storm sewers and ponds from becoming overwhelmed. But when these natural spaces are paved over, rainfall hits impervious concrete and is left with nowhere to go but the municipal sewer system, and as history shows, many of these systems across the province, even in Ontario's biggest cities, are not able to handle the volume of water pouring from the sky.
Lysyk found that between 2011 and 2015, southern Ontario lost an average of 1,825 hectares of wetlands per year, three times more than the previous data period of 2000 to 2011. The Ford government's introduction of Bill 23 threatens to accelerate this trend.
The Bill will fundamentally change the way wetlands are classified in Ontario, making it harder for smaller wetlands to receive protections. Previously, natural areas could be grouped together and be classified as a "wetland complex", but Bill 23 eliminates this, allowing individual properties that have in the past been protected under a larger umbrella, to now be opened for development. Under the new legislation, which passed last week, the presence of endangered species will no longer classify a wetland for protection.
Lysyk noted that the changes under Bill 23 (which were yet to be approved while she was writing her audit, but have since received Royal Assent) will potentially increase the risk of flooding in Ontario.
"If passed, these proposals could potentially contribute to the further loss of critical green spaces, which may increase the risk of urban flooding in surrounding communities," Lysyk writes.
When it comes to protecting our natural features that can prevent flooding, Lysyk said the Province needs to substantially increase its efforts.
Lysyk found that the PC government has effectively abandoned the previous Wetlands Conservation Strategy approved in 2017 by the former Liberal government without consulting the public—an apparent violation of the Environmental Bill of Rights—has no system to track the loss of greenspace in Ontario; and is failing to provide critical climate related data to municipalities in order for them to effectively plan for the flood risks in their areas.
Replacing greenspace that has been lost is next to impossible and can take decades to become effective—time municipalities do not have. So this leaves municipalities to manage the expensive task of updating existing infrastructure to be able to handle the increased volumes of water these severe weather events will bring.
Flooding occurs when stormwater systems and other drainage infrastructure are overwhelmed by heavy amounts of rain. The audit found that the majority of municipalities do not have access to reliable sources of funding to finance this stormwater infrastructure.
A 2008 joint study completed by the Association of Municipalities of Ontario (AMO) and the City of Toronto concluded that it would take an investment of at least $788 million per year for 10 years to bring existing stormwater infrastructure to a state of good repair and accommodate anticipated population growth.
"However, we found, based on 2009–20 municipal Financial Information Returns, that capital investment in Ontario urban stormwater systems in the years after that report averaged about $457 million per municipal fiscal year," Lysyk wrote.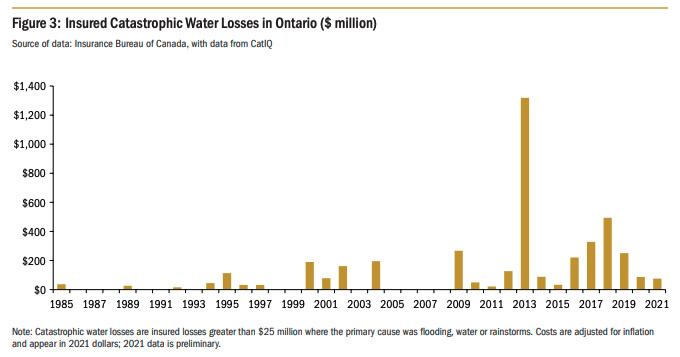 Damages from flooding in Ontario have been consistently higher over the last decade when compared to other times in history.
(Ontario Auditor General)
Lysyk described an array of government ministries responsible for managing the urban flood risk in Ontario, all of which are not working in tandem to deal with this significant threat. The audit identified four ministries which have a role to play: Ministry of Environment, Conservation and Parks (MECP); Ministry of Natural Resources and Forestry (MNR); Ministry of Municipal Affairs and Housing (MMAH); and Ministry of Infrastructure.
While municipalities are the ones who make local planning decisions and approve local development, guidance from the Province is needed to ensure that communities are protected from flood events.
"We found that the Province has never clarified provincial roles for co-ordinating and managing urban flooding, resulting in gaps in responsibility," the audit states.
Lysyk laid out 16 recommendations for improving on the failures outlined in her report; the PC government dismissed many of them.
"All Ontarians who live in cities, towns and smaller communities may be at risk of flooding," Lysyk said. "The Province could make changes to reduce the risk by updating the Building Code and improving urban flood risk mapping tools, and better protecting the greenspaces and natural spaces, such as wetlands, that provide natural protection for communities."
Lysyk found there is a simple change to Ontario's Building Code that could be mandated and result in a significant benefit to Ontarians.
Many homeowners need assistance when it comes to understanding the flood risk around their home and to adopt preventative measures. The Ministry of Municipal Affairs and Housing (MMAH) is responsible for administering the Building Code Act which lays out rules concerning the construction of new buildings and the renovation of existing ones. Under the Code backwater valves are required at the time of construction for drains that "may" be subject to backflow. A backwater valve is a device that is used to prevent outbound water from re-entering one's home. The flap in the valve opens to allow water to run out, but then closes to prevent backflow. Homes without backwater valves are more likely to experience a backflow of sewage.
Lysyk points out that the ambiguity of the term "may" "hinders the widespread installation of these devices". A survey of 52 chief building officials completed by the Auditor General's Office found that 27 percent require backvalves for all new homes, 37 percent do not require any mandatory installation and 37 percent require backwater valves for some new homes.
Not only does the absence of a backwater valve increase the risk of damage to the home from an urban flood event, the cost is also greatly increased if one is not installed during initial construction. A backwater valve costs approximately $250, at the start of construction. However, this cost skyrockets to between $2,800 and $4,800 post-construction, depending on the renovation, according to the report, and not including costs of damages from a flood event.
The MMAH is currently updating the Code on a range of topics with the intent to publish a new version by mid-2023, but no changes are proposed for the wording around where backwater valves are required.
As amounts of rainfall increase along with the potential for flooding, it is important that municipalities have access to information regarding flood risk. The AG found that the Province is providing contradictory guidance on using projected climate change data, leaving many municipalities to rely on historical data, which is outdated, for their development plans, leaving homeowners at risk of having infrastructure that does not protect them against the very real impact of today's and tomorrow's climate change reality.
"The Provincial Policy Statement instructs municipalities to prepare for the impacts of a changing climate in land-use planning decisions," Lysyk writes. "Conversely, the Municipal Affairs Ministry requires that building authorities use the climate design data set out in Ontario's Building Code, which is based on historical weather observations, when approving building designs."
There is also little provincial data available for flood mapping. The Auditor General's Office surveyed municipalities across the province and found that 77 percent are unable to map urban flood risk areas.
The passage of Bill 23 has only added to the pressure municipalities face when trying to protect residents from the increased risk of flooding, in a province whose government continues to ignore the impacts of climate change.
---
Email: [email protected]
Twitter: @rachelnadia_
---
COVID-19 is impacting all Canadians. At a time when vital public information is needed by everyone, The Pointer has taken down our paywall on all stories relating to the pandemic and those of public interest to ensure every resident of Brampton and Mississauga has access to the facts. For those who are able, we encourage you to consider a subscription. This will help us report on important public interest issues the community needs to know about now more than ever. You can register for a 30-day free trial HERE. Thereafter, The Pointer will charge $10 a month and you can cancel any time right on the website. Thank you
Submit a correction about this story