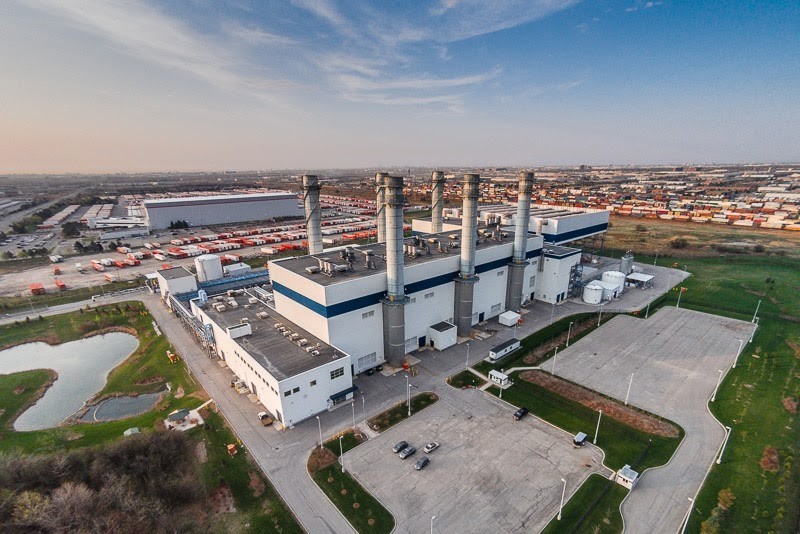 Feature image from Capital Power
Report shows GTHA emissions moving in wrong direction; PC plan for electricity production will make things even worse
Electrification is a key tool to fight the climate crisis, but a new report shows pollution due to energy consumption in Ontario is not trending in the right direction.
It raises questions about how the province plans to produce energy in the future. Instead of investing in green technologies, the Doug Ford PC government has decided to pursue natural gas, a harmful polluter, to produce more electricity.
New data about carbon emissions across the GTHA in 2021, which increased by 4.5 percent, indicate municipalities and the provincial government are not pursuing the types of policies required to achieve the 8 percent annual decrease needed to hit 2030 emissions reduction targets.
Natural gas use in the energy sector is a major problem.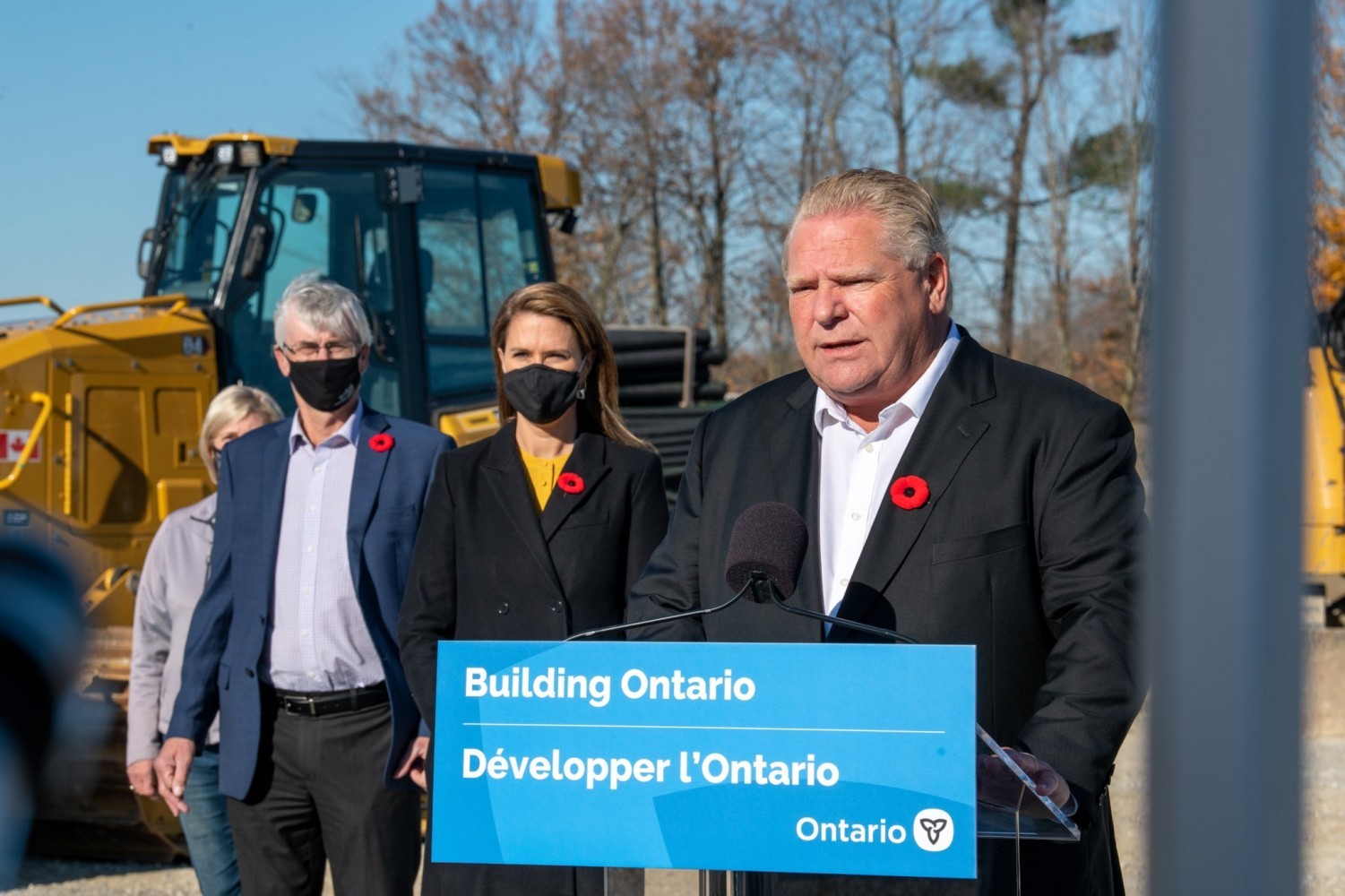 Premier Doug Ford has weakened Ontario's climate plan and has moved to increase investment in natural gas electricity production, pushing the province's emissions in the wrong direction.
(Government of Ontario)
A report released Tuesday by The Atmospheric Fund (TAF) shows, "Emissions from electricity rose by a staggering 28% in 2021 due to the increasing use of natural gas-powered generating plants, which increase the carbon intensity of the Ontario electricity grid overall."
The data in the report considers lower emissions during the pandemic, explaining that they have already climbed "swiftly" across the GTHA to pre-pandemic levels: "The overall flatlining trend reflects little progress since 2015."
At a time when we need to dramatically reduce emissions to avoid crippling climatic changes, the country's most heavily populated region is not doing enough to curb carbon use.
Electricity generation to support the needed energy transition away from fossil fuels, to help power zero emissions vehicles (ZEVs), heat and cool buildings and light up our cities, can actually be a net negative if harmful pollutants are the byproduct of creating that electricity.
This is exactly what the Doug Ford government has decided to do.
News last month that the PC government is investing in the additional generation of up to 1,500 megawatts of electricity from natural-gas (up from 10,000 currently produced by gas plants) came a week before the World Meteorological Organization (WMO) warned that the supply of electricity from clean sources must be doubled by 2030 to limit global temperature increase.
Current pledges by countries are falling short of what is needed to meet the objectives of the Paris Agreement which committed nations to a global temperature increase of no more than 1.5 degrees above pre-industrial levels. There is currently a 70 percent gap in the amount of emissions reductions needed to meet this goal.
"Our goal is to ensure that the residents and business within Peel Region have the necessary resources and information to rapidly transition to zero emission vehicles to continue on the road to a low carbon healthier community," stated Jodi Robillos, Chair of the Peel Climate Change Partnership and Commissioner of Community Services at the City of Mississauga, in an opening comment on Peel's ZEV strategy that was released in the early summer.
The TAF report shows Peel has a long way to go. Carbon emissions across the region increased 3.7 percent in 2021, heading in the wrong direction from its ambitious reductions targets.
Moving to electrification will only be beneficial if that electricity is coming from clean sources.
Ontario currently has one of the cleanest electricity grids in North America, accounting for only about three percent of all emissions in the economy. According to Ontario's Energy Profile from 2019, about 92 percent of the electricity across the province was produced from non-carbon sources; fifty nine percent came from nuclear and 33 percent from hydro, wind and solar.
This will change with the provincial government announcement that natural gas expansion will be used to produce additional electricity. The decision could threaten Ontario's reputation as a clean energy player. In 2019, seven percent of the province's electricity came from natural gas. Increasing this could have serious consequences for the province and the environment.
There is currently no shortage of electricity here; Ontario has been operating with an electricity surplus for over a decade. According to the province, without building any new electricity resources, supply will continue to meet demand until 2025.
The Independent Electricity Systems Operator (IESO) predicted through its 2021 Annual Planning Outlook (APO) that overall energy demand will grow at an average rate of 1.7 percent per year over the next 20 years (2023-2042). Energy demand will surpass supply beginning in 2025-2026.
As a result, the IESO recommended in a report released the same day as the province's announcement, that Ontario acquire 4,000 megawatts of new electricity generation and storage to support projected demand across the province. This will include at least 1,500 megawatts of stand alone energy storage resources, up to 1,500 megawatts of natural gas generation and the remainder coming from other resources.
"Without a limited amount of new natural gas in the near term the IESO would be reliant on emergency actions such as conservation appeals and rotating blackouts to stabilize the grid," reads the IESO Resource Eligibility Interim Report.
"Anything short of radical and immediate action will ultimately eliminate the chance of staying on the 1.5°C path," Francesco La Camera, Director General of the International Renewable Energy Agency, said in a recent press release from the United Nations.
Natural gas is anything but clean energy. Environmental Defence previously told The Pointer that it is better off being called a "fossil gas" because the chemical emits carbon dioxide and water vapour when used. Its name is misleading and people often mistake it for a cleaner form of energy, meanwhile it is quietly adding to severe air pollution and climate warming around the globe.
The World Meteorological Organization states that investments in renewable energies, instead of sources such as natural gas, need to triple by 2050 to reach the goal of net zero emissions by the same year.
Ontario has done it in the past. During the phase out of coal between 2005 and 2017, pollution from the province's electricity system decreased by 93 percent. In addition, between 2009 and 2016, Ontario built over 2,000 megawatts of solar power and about 3,000 megawatts of wind power.
"Rather than building new gas plants or re-contracting existing ones, the province could and should be investing in renewable energy and bringing down electricity emissions," reads an October statement from Environmental Defence.
But the PC government has shown it is no friend of the environment. In the last term, the PCs cancelled over 750 renewable energy projects.
It is estimated that greenhouse gas emissions from Ontario's gas plants will increase by almost 400 percent by 2030 and by more than 600 percent by 2040 when compared to 2017 levels. The IESO expects that carbon emissions would increase by 0.2 to 0.4 megatonnes or a two-to-four percent increase above 2021 APO projections. The IESO calls this increase "incremental" and does not expect it to significantly increase emissions from the system.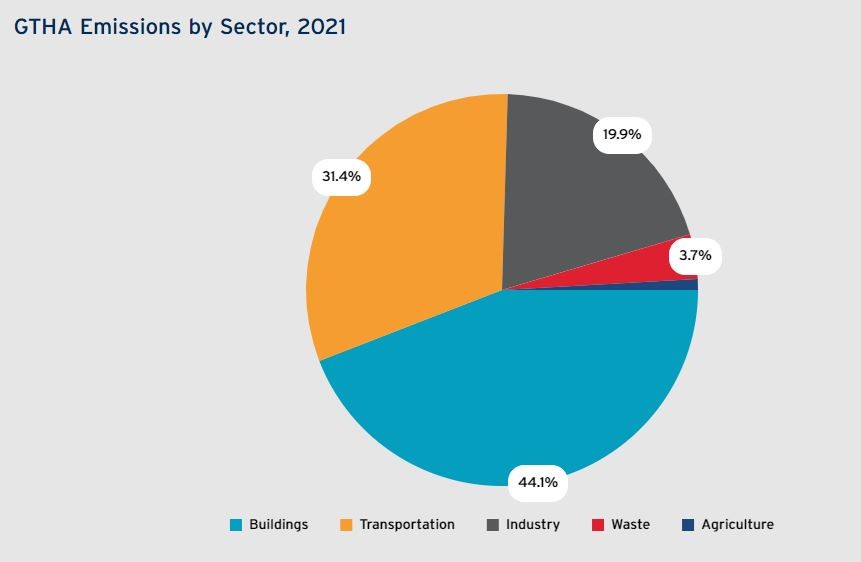 Transportation emissions increased 2.3 percent in 2021, but the levels had declined significantly the year prior due to the pandemic. Industrial emissions increased by about 11 percent.
(The Atmospheric Fund)
Routine extreme weather events around the globe show this is no time for "incremental" increases.
"Time is not on our side, and our climate is changing before our eyes. We need a complete transformation of the global energy system," WMO Secretary General Petteri Taalas, said in a press release from the UN.
The procurement of additional natural gas is one of several actions the Ontario government is taking to meet increasing energy needs. On September 29, the province announced its support of Ontario Power Generation's (OPG) continued operation of the Pickering Nuclear Generating Station to 2026, after it was slated to close in 2025.
Operation of the station beyond 2026, which is now being considered, would require a complete refurbishment; however, this could result in an additional 30 years of clean, zero-emission electricity from the facility. Keeping the station operational would contribute to a 20 percent reduction in emissions from the electricity sector in 2026, the equivalent of taking almost 650,000 cars off the road annually.
The OPG requires approval from the Canadian Nuclear Safety Commission for its revised schedule for the Pickering Nuclear Generating Station. It is not known whether this additional electricity generation is accounted for in the 4,000 megawatts recommended by the IESO.
The IESO stated it will provide further recommendations on the role of natural gas in the province's electricity generation sector in another report later this year.
In the meantime, it's recommended that each municipality and region across the GTHA find ways to significantly decrease emissions. The TAF report calls for the following:
"Effective, mandatory standards will ensure low-carbon growth, greater housing affordability, and healthier homes and communities.
Invest in public transportation and infrastructure to support walking and cycling. Municipal authority also positions municipal governments to directly impact zero-emission vehicle (ZEV) adoption and see the benefits of improved air quality and quieter streets.
Existing buildings offer the largest opportunity to reduce emissions in the region. To retrofit buildings at the scale and pace needed, municipalities should develop emissions performance standards modeled on policies in leading North American cities including New York City, Boston, and Vancouver.
Provide incentives and resources for retrofits in multi-family buildings and ensure new buildings are EV-ready through parking bylaws and/or green development standards.
Develop, or accelerate fleet decarbonization plans for municipal fleets and transit with a ZEV requirement for replacements.
Revise licensing and/or bylaws to require 100% of ride-hailing fleets to be zero-emission by 2030."
---
Email: [email protected]
Twitter: @rachelnadia_
---
COVID-19 is impacting all Canadians. At a time when vital public information is needed by everyone, The Pointer has taken down our paywall on all stories relating to the pandemic and those of public interest to ensure every resident of Brampton and Mississauga has access to the facts. For those who are able, we encourage you to consider a subscription. This will help us report on important public interest issues the community needs to know about now more than ever. You can register for a 30-day free trial HERE. Thereafter, The Pointer will charge $10 a month and you can cancel any time right on the website. Thank you
Submit a correction about this story