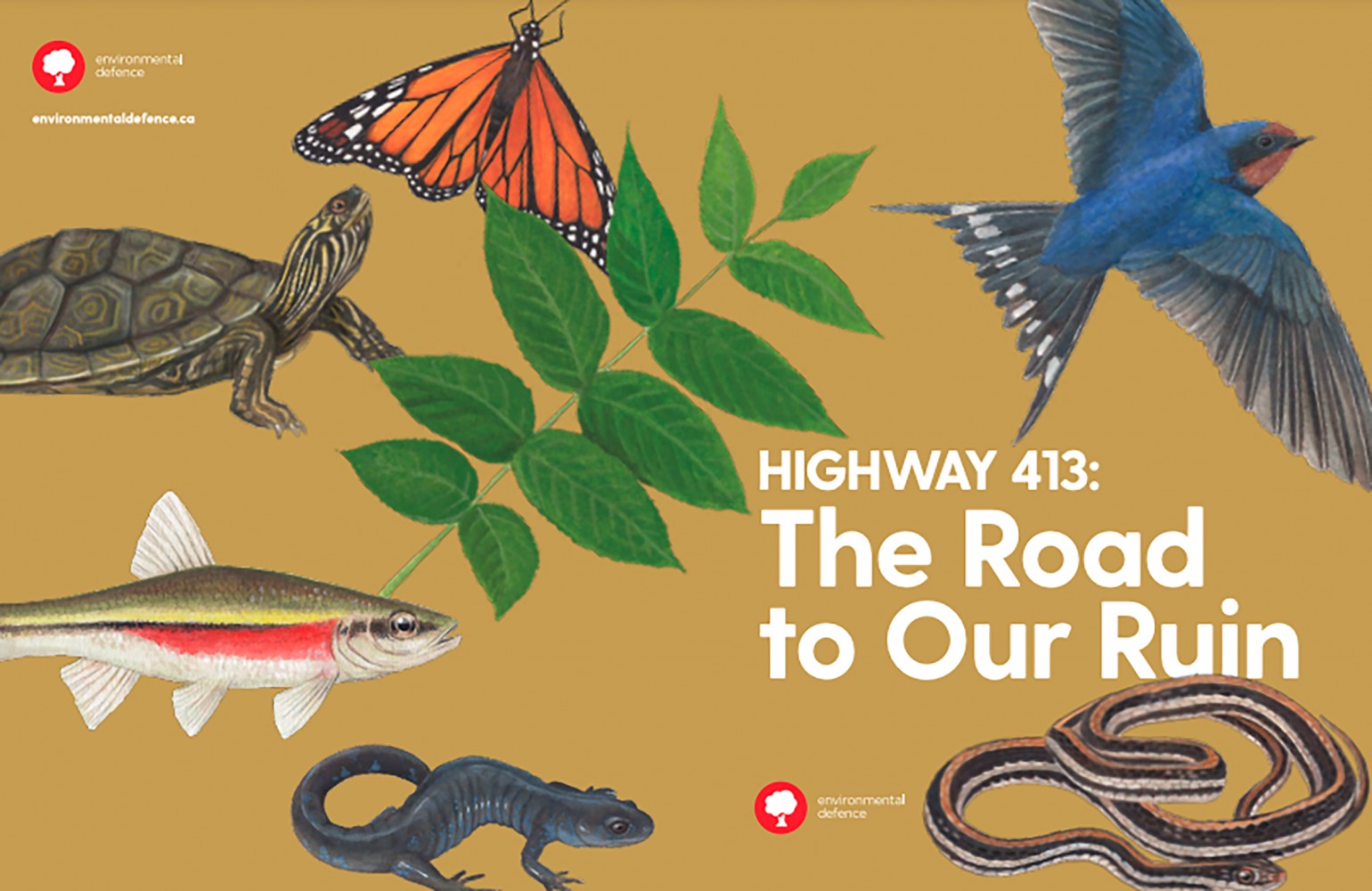 Environmental Defence
New report exposes dire threat Hwy 413 poses to endangered species: PCs have ignored the risks; will Ottawa listen?
"On all sides, from every quarter, has been heard the same sickening tale of merciless, ruthless and remorseless slaughter."
These words were written in a report to the Ontario government in February of 1892, in a document published after a two-year investigation by the Royal Commission on Game and Fish. It was created to analyze hunting and game laws in the province to determine if rules were being followed, and whether enhanced protections were required to save the province's wildlife.
"Where but a few years ago game was plentiful, it is hardly now to be found; and there is great danger that… even those animals which have been so numerous as to be looked upon with contempt, will soon become extinct," the report warned.
The findings were gruesome: beavers being "mercilessly slaughtered" to the point of near extinction; otters were "hunted incessantly"; the white-tailed deer had nearly disappeared from Ontario; and following "indiscriminate slaughter" it was probable that moose, "like the buffalo, will be seen no more in Canada."
The report shocked Ontario legislators who, only one week after its receipt, launched the Royal Commission on Forest Reservation and National Park. This effort, and the work that flowed from it in the coming years, would lead to the creation of what was then the largest protected forest reserve in Ontario, and in the ensuing years would become—Algonquin Provincial Park, the first of its kind in Ontario.
The grizzly descriptions of the Royal Commission's report spurred legislators into creating a sanctuary for Ontario's natural heritage and provided an opportunity for the people of this province to immerse themselves in its preserved beauty. As James Dickson, an early surveyor of what would become Algonquin Park, captured elegantly in his 1886 book Camping in the Muskoka Region:
"To see this section of country in all its varying beauty, one would have to visit it during the depth of winter, when the forest is clothed in its mantle of white, and the water of lake and river lie still and hushed beneath their icy covering. Again in the early spring days, when the buds of the gray wood are unfolding into the green leaf…and again in the fall of the year when the green leaves are turned to red and golden yellow."
On Tuesday, a similar report was made public, 125 years after the Royal Commission. It details the dire threat to a number of endangered species in Ontario—and some of the most threatened animals in all of Canada. It lays bare how the destruction of lush forests, wetlands and yellow grass prairies, has left a number of species with no place to live, breed or feed. It tells of toxic, man-made chemicals dumped into Ontario's once pristine waterways, deforming shorelines, warming water once perfectly chilled for its inhabitants to thrive and species suffocating on salt as their freshwater streams turn to something more akin to a chemical bath. It tells of turtle shells crushed like porcelain bowls beneath the wheels of commuter vehicles; bee populations dying off as our climate warms; trees ravaged by invasive beetles and fungal infections; and countless animals that die bloody, horrible deaths. They are the victims who fail to make the precarious journey to their historic breeding grounds, felled by an asphalt habitat criss-crossed by highways and roads.
This report, The Road to Our Ruin: How Highway 413 Would Impact Threatened and Endangered Species, follows extensive research by University of Guelph professors Ryan Norris and Karl Heide, which found that at minimum, 29 threatened, endangered or species of special concern on Canada's federal species at risk list will face dire consequences if the Ontario government proceeds with its plan to drive a highway from Milton to Vaughan, cutting northeast through Brampton and Caledon and portions of the protected Greenbelt. The project is opposed by almost every municipality along its route, and has been condemned since its reintroduction by the PC government in 2018 for being an environmental disaster waiting to happen—one that will not solve Ontario's congestion woes as it was initially billed—and the PCs continue to claim.
The Bobolink (left) and Eastern Meadowlark, both at-risk species, will face some of the most dire consequences should Highway 413 be built, as their habitat is ubiquitous along the proposed route.
(Environmental Defence)
The results of this study match that of an investigation completed by The Pointer in April 2021, which found 29 species either listed as endangered, threatened or of special concern have been spotted along the highway's route in the last 6 months, 21 of them inside the areas where proposed interchanges could be built, transforming valuable habitat into a hub of automobile traffic and human activity. There are differences in the species categorized by the University of Guelph experts and The Pointer, which could be a result of the timeframe—Ontario's Natural Heritage Information Centre used by The Pointer and in this recent report is updated every six months—and could be a result of The Pointer's investigation being limited to the area directly around the highway's route. The complementary studies suggest that the number of species that actually stand to be impacted by Highway 413 is much higher than just 29.
Ontarians can not expect a reaction to this report similar to that sparked by the 1892 document. This PC government has repeatedly shown itself all but numb to the concerns of environmental groups or the criticisms that have been levied at the administration for its disastrous handling of critical environmental files, like the protection of species at risk, or its utter disregard for the work of conservation authorities—which it gutted under Schedule 6 and is once again trying to remove more regulatory power from through Bill 23, the More Homes Built Faster Act.
But Environmental Defence isn't counting on the Ford government to act.
"This report is also paired with a more technical report that we're going to send to the Federal Impact Assessment Agency and to the Honourable Steven Guilbeault, Federal Minister of Environment and Climate Change," explains Keith Brooks, Programs Director for Environmental Defence in a press release. "The Ontario government has been a disaster when it comes to protecting endangered species, which is why the federal government has the duty, responsibility, and clear authority to step in. We are urging Minister Guilbeault to take that responsibility seriously."
In Ottawa there may be a more sympathetic ear.
In May of last year, the federal government announced it was considering Highway 413 for a federal impact assessment—a much more stringent review process—citing concerns about species at risk.
"Highway 413 would push endangered species in the area even closer to the brink, while we're in the midst of a global biodiversity crisis. Some scientists are referring to this period as the sixth great extinction – and Highway 413 would accelerate that," Brooks states. "It's unconscionable."
While the federal government is still waiting for the PC government to submit what is called the Initial Project Description, which would then trigger a planning phase during which the public and indigenous groups will be able to review a summary of the report and provide feedback. It's unclear why the report has yet to be submitted by the Province.
---
In addition to the 29 species listed as federally at risk that would be impacted by the highway proposal, Norris and Heide also identified 122 species of birds protected under the Migratory Birds Convention Act, another piece of federal legislation, would be harmed by the highway's construction.
"We have a duty to protect biodiversity here. Every species is important in this environment, all environments. But this highway would do the opposite: it would be seriously chipping away at biodiversity," Norris states in a press release.
Professor Ryan Norris with the University of Guelph has repeatedly raised the threat that Highway 413 poses to at-risk wildlife in Ontario.
(Joel Wittnebel/The Pointer files)
The Environmental Defence report paints a vivid picture of how Highway 413 would be a disaster for Ontario wildlife from construction through to its completion and eventual use by thousands of vehicles a day.
For certain species, there is really no worse place to put a highway. The Rapids Clubtail—an exceedingly rare type of dragonfly—is only found along four rivers in Canada. Two of those rivers are the Humber and Credit, both of which will be bisected by Highway 413. The Redside Dace, a colourful minnow, has suffered greatly beneath the weight of urbanization in the GTA, which has forced these fish outwards in search of cleaner, cooler water. This means that because downstream populations have been so decimated, the core of the species may now lay directly in the path of Highway 413.
The Rapids Clubtail is one of Ontario's most endangered dragonflies and Highway 413 will degrade two of the four rivers it is known to live along in Canada.
(Environmental Defence)
For other species, the danger may not come in the form of a speeding vehicle, or the eventual "ecological trap" this highway corridor will create for endangered species like the monarch butterfly, as two expanses of forest cover separated by open space encourages them to fly low over the roadway, directly into the path of a vehicle. According to the Environmental Defence report, as road width and traffic volumes increase, so do monarch casualties.
But like an infection spreading from an open wound, the side-effects of Highway 413 will be felt beyond the initial site.
"Even with careful control measures in place, Highway 413 will still likely leach sediment and pollutants into waterways that would travel downstream into ephemeral wetlands," the report states.
That is even if any control measures are put in place at all. A report from Ontario's auditor general Bonnie Lysyk released last year found that the Province does not perform inspections to ensure contractors and developers are implementing the mitigation measures proposed to protect species at risk; the auditor general found examples where mitigation measures put in place as part of the permitting process are ignored, leading to direct harm to endangered species. It was one of many disturbing findings in her audit, which was labelled one of the most searing indictments of a government department ever recorded.
Lysyk made 21 recommendations, with 52 action items, in her 100-page report, all with the intent of fixing the broken system that is actively harming Ontario's species at risk. Many of these, if implemented, could have significant implications for the Highway 413 project should it ever reach the construction phase. However, the PCs ignored the large majority of these crucial recommendations, preferring to leave the system as is.
Species like the Western Chorus Frog, found in wetlands along the west edge of Brampton, are particularly sensitive to changes in the water quality of their habitat as, like all frogs, they breathe through their skin. The Northern Map Turtle could struggle as a key food source, mollusks are particularly sensitive to contaminants.
In her report, Lysyk stated that Ontario's Environment Ministry was acting in opposition to its mandate. Instead of protecting species at risk, their systems "facilitate and enable harm to species at risk and their habitats."
That would continue with the construction of Highway 413, and after years of steep declines, many of these species are at serious risk of disappearing from Ontario, or the globe, for good.
The Short-eared Owl has suffered one of the steepest declines of any federally listed species, with over 90 percent of this bird's Canadian population lost since 1966. They are known to live in areas around the east end of the Highway 413 route where it connects to Highway 400.
"Disturbance in this area resulting in the loss of grassland or other open habitats could drive away any remaining individuals in this population," the report states, adding that the hunting strategy of owls makes them incredibly vulnerable along roadways like the 413.
Species like the Eastern Milksnake and the Blanding's turtle will be impacted by the degradation that Highway 413 will cause to Ontario waterways and downstream ecosystems.
(Environmental Defence)
Perhaps one of the most dire consequences could be felt by the rusty-patched bumblebee, a species that is critically endangered, and historically lived along the East Humber River, just south of where the highway would be.
On top of all this, several of the species listed by Environmental Defence have been absorbing blows from government permits for years.
Lysyk's report found the Province has never denied a permit to harm species at risk or their habitat; permits to harm species at risk have increased more than 6,000 percent since 2008. Most of the permits are approved automatically.
In 2020, 96 percent of the 935 approvals granted under the Endangered Species Act (ESA) were automatic conditional exemptions. These do not go through a review process by staff, unlike other permits and agreements. These exemptions harmed 123 different species at risk. Since 2013, 50 percent of the conditional exemptions handed out by the Province harmed the bobolink, the eastern meadowlark, the barn swallow, the butternut tree, and the Blanding's turtle. All of these species lie in the path of Highway 413.
"In recent years, Ontario has watered down the Endangered Species Act, removing protection for species that are endangered locally but also live elsewhere, an approach that scientists have condemned," the report states. "Ontario also launched the controversial 'pay to slay' fund that allows developers to destroy endangered species habitat, provided they pay into a fund managed by the province. Given the province's track record on endangered species, there's a real need for federal oversight and a full federal Impact Assessment."
---
Email: [email protected]
Twitter: @JoeljWittnebel
---
COVID-19 is impacting all Canadians. At a time when vital public information is needed by everyone, The Pointer has taken down our paywall on all stories relating to the pandemic and those of public interest to ensure every resident of Brampton and Mississauga has access to the facts. For those who are able, we encourage you to consider a subscription. This will help us report on important public interest issues the community needs to know about now more than ever. You can register for a 30-day free trial HERE. Thereafter, The Pointer will charge $10 a month and you can cancel any time right on the website. Thank you


Submit a correction about this story