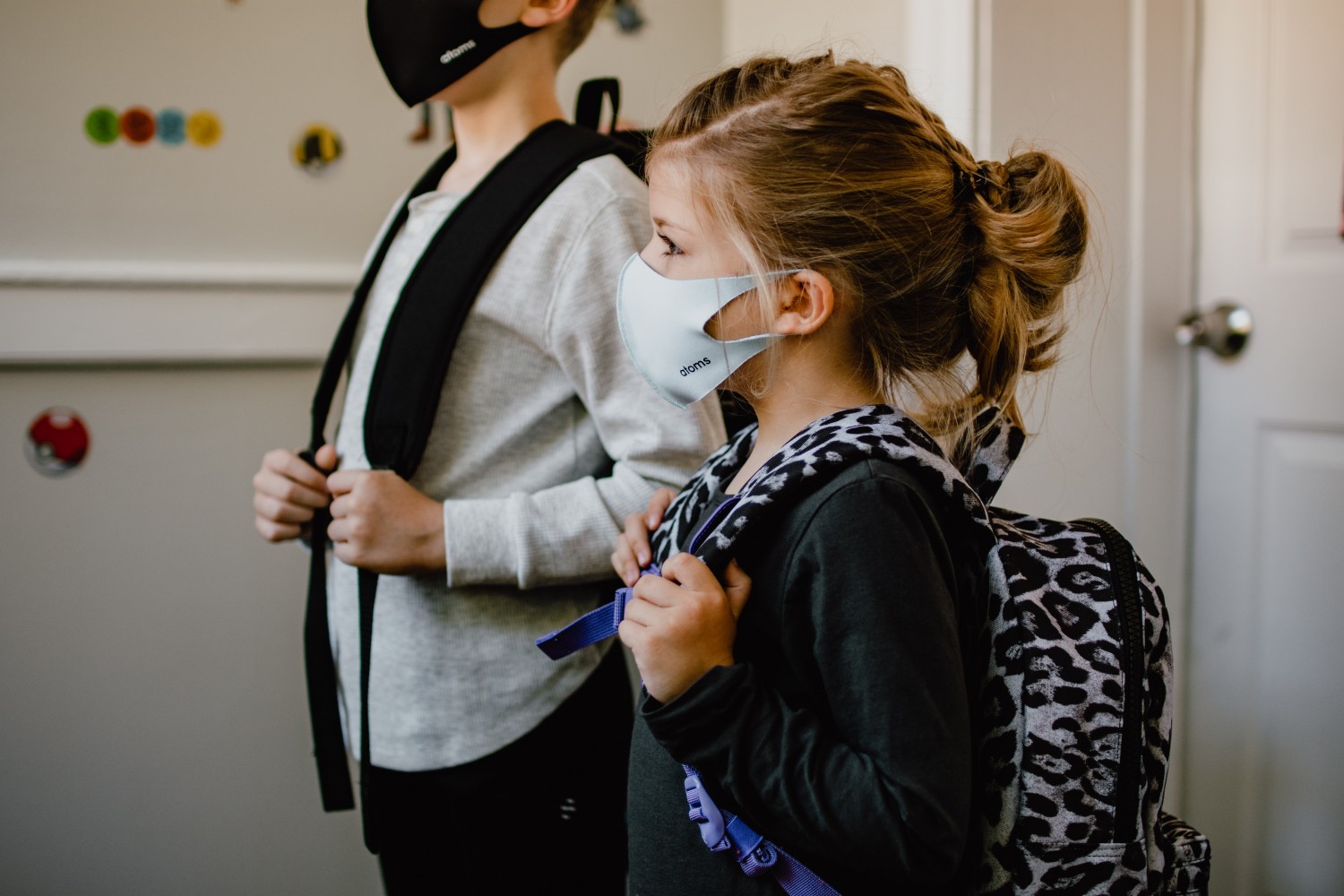 Kelly Sikkema/Unsplash
Parent demands answers about COVID-19 protocols, safety at PDSB school
Previous COVID-19 safety measures and protocols have not been in place at local schools this academic year, and that concerns a Brampton parent who wants to know why the Peel District School Board will not answer questions about conditions in her daughter's classroom.
Masking requirements and many other protocols aimed at reducing the spread of COVID-19 were dropped by the Province in March, with no indication of possible changes as cases ramp up once again.
Previous pandemic measures like physical distancing, cohorting, testing and screening were also slowly scaled back after Ontario's Chief Medical Officer of Health and Premier Doug Ford said the province needs to "learn to live" with COVID-19.
Although the Ford PCs have maintained they are following the advice set out by the Chief Medical Officer of Health, some parents believe the government should be doing more.
Laura Bowman, whose daughter attends Agnes Taylor Public School in Brampton, feels the PDSB is not prioritizing the health and safety of its students and is not adequately addressing the concerns of parents advocating for the safety of their children.
Bowman contacted the school's principal and local trustee to voice her concerns about the ventilation systems and if they were up to provincial standards. Among her questions, Bowman was looking for answers about:
Whether Agnes Taylor/PDSB has engaged a trained professional to assess the adequacy of mechanical ventilation and the sizing, appropriate speed etc. of the HEPA filters in the classrooms;

If Agnes Taylor has concluded based on the advice of a trained professional that the HEPA filter in her daughter's classroom is adequately sized to remove aerosols when the room is occupied by 20 students and the windows are closed; and

If the school/PDSB has a policy that has been clearly communicated to staff, students, and parents that students with active COVID-19 or COVID-19 symptoms will not be permitted to attend the school.
She also sent questions about staff training on COVID-19 protocols, and whether the board has a clear isolation policy in place for staff and students that test positive for COVID-19 or have symptoms.
Bowman initially reached out to the school's principal and local trustee on September 4, and again on September 14 after receiving no response to her first inquiry. She then took her concerns to the board, and had a meeting with the principal and a board staffer, but has yet to receive a direct response to her questions.
Meanwhile, as infection rates climb, calls to bring back some mandates are coming from different corners of the medical community.
Dr. Fahad Razak, a physician at Toronto's St. Michael's Hospital and former head of Ontario's COVID-19 science advisory table, wants mask mandates to be reintroduced, as Omicron subvariants currently spread twice as fast as the dominant strain.
He told the CBC last week that hospitals experienced the type of stress in September usually seen at the height of a bad flu season, and the situation has grown much worse since.
Razak said mask mandates should be brought back in essential settings including schools.
"For anyone who says, 'Let's not do that,' I would ask, 'What is the alternative at this point? How do we keep the system that has so little capacity, how do we get it to continue to run over the winter?"
Ontario reported 1,921 COVID-19 hospitalizations on October 27, the highest rate in almost eight months.
In Peel, new COVID cases had dropped to around 50-a-day in mid-June, but have spiked in October to close to 150 daily cases about a week ago.
Between October 26 and 28, Peel Region reported 327 new cases of COVID-19.
While her daughter is currently learning in person, Bowman said she's not sure how much longer she will be sending her given the lack of response to basic questions about safety. She told The Pointer she's going to keep trying to get action.
"We still have so many schools in Peel that don't have proper ventilation in them," she said. "This is something that should have been addressed, pre-pandemic, and the fact that's still not being addressed, at this point, is doubly concerning.
"And of course, when you remove the other mitigation measures, like requiring vaccination and masking and requiring isolation, having still not put in adequate ventilation in the room, you're just adding on to the existing pre-pandemic risk, astronomically."
In a COVID-19 update for the 2022-23 school year, PDSB noted that many of the pandemic procedures that ended the previous school year would still be in place, including recommended masking, daily screening and providing Rapid Antigen Tests.
Those guidelines, while recommended, are no longer mandated and some parents are advocating to have school policies reviewed and new measures implemented.
Peel Region has experienced higher case counts than most municipalities since the start of the pandemic. In September of 2020, Brampton's rate of new cases was between four and five times higher per capita than the province overall.
As the situation improved early this year, the provincial government began lifting mandates.
Ahead of its dissolution, the Ontario COVID-19 Science Table laid out its recommendations for the 2022-23 school year. This included maintaining permanent measures like adequate indoor air quality, hand hygiene, environmental cleaning and disinfection, students and staff staying home when sick, and up-to-date routine and recommended immunizations for students and staff.
The Science Table suggested temporary measures like masking, physical distancing, cohorting, active screening and testing should be modified and implemented in correlation with any resurgence of COVID-19 cases.
Under the Ministry of Health's public health measures and advice page, the ministry continues to recommend masking in settings where there are individuals who are at high risk for severe outcomes. Masking is also still required in long-term care homes and retirement homes and is strongly recommended in settings with people who are at higher risk of severe outcomes from COVID-19, like congregate care and living spaces.
Peel Public Health also recommends masking at all times if an individual is recovering from COVID-19 symptoms and is no longer isolating, has tested positive for COVID-19 and does not have symptoms for 10 days from the positive test result or has been identified as a close contact of someone with COVID-19 symptoms and/or has had a recent positive test result.
For those who have COVID-19 symptoms, the ministry instructs them to stay home and self-isolate until symptoms have been improving for at least 24 hours (or 48 hours for nausea, vomiting and/or diarrhea), they no longer have a fever and additional symptoms have not developed.
A group of concerned parents has started an organization, called Ontario School Safety, and launched a fundraiser to raise money to confront the Ford PC government in court over its response to the alleged lack of COVID-19 measures in schools across Ontario.
As of October 13, the organization had raised $29,186 of its $75,000 goal.
Parents with Ontario School Safety say despite the rise in COVID cases in many communities across the province, the level of protection hasn't increased.
The grassroots organization is calling on the government to re-implement evidence-based and data-driven protections to safeguard Ontario students. This includes introducing a test-to-return policy, in addition to enacting proper air quality standards and appropriate masking policies.
Bowman, who is not affiliated with the organization, said ignoring proven mitigation measures is very disturbing to her.
"So that's why I'm fighting for it," she said. "I could just keep her home, but it doesn't solve the problem. It doesn't solve the problem long term, and all the kids in that school deserve a better environment, not just her. It's not just about her.
"And a lot of these kids' parents, they don't even know the risks they're putting their kids at, because the public health messaging isn't there," Bowman added. "And I just find it so troubling that people just don't know what the risks are."
Bowman previously tried to get in touch with the school's principal ahead of the school year to find out what room her daughter would be learning in and to get information about ventilation, staff training and isolation requirements.
It wasn't until right before school started that she heard back from the principal who wasn't able to provide direct answers to the majority of Bowman's questions.
"There's obviously been no training for the principal or the staff about how to do adequate ventilation," she said.
In a September 15 email, the school's principal, Norman Baker, responded to Bowman, confirming there is no mechanical ventilation in Bowman's daughter's classrooms as they are part of the school's original structure.
"The PDSB has shared with schools the importance of open windows in classrooms, ensuring that classrooms are able to maintain the minimum threshold temperature," Baker's response read.
He added that the HEPA (High Efficiency Particulate Air) units installed at all PDSB schools meet the size and space requirements outlined by the ministry.
"It has been communicated to principals that HEPA units should run at full power from two hours prior to two hours post-instructional hours to ensure that the air is appropriately filtered," Baker explained. "All HEPA units have programmable timers to support this practice."
In a subsequent meeting with the principal and a PDSB staff member, they assured Bowman the filters are running all the time, but then also noted the noise requires them to be shut off at times. They said, according to Bowman, additional filters would not be placed in her daughter's classrooms.
Bowman said the school and board were also unable to provide an engineering report detailing the capacity of the HEPA units, and whether or not they could meet safety targets for air quality.
The Ministry of Health has stated that school boards must continue to implement ventilation best practices and make upgrades to improve ventilation in all classrooms, which includes increasing fresh air intake, running ventilation systems longer and using the highest-grade filters possible, as well as increasing the frequency of filter changes.
Dr. Kieran Moore, Ontario's Chief Medical Officer of Health, has previously said the province needs to "learn to live" with COVID-19.
(Ontario Legislative Assembly)
It also includes "using standalone [HEPA] filter units in every occupied kindergarten class and in all occupied learning spaces without mechanical ventilation."
The PDSB states on its website that, when possible, schools will keep windows open to encourage natural ventilation, adjust HVAC system settings to increase the amount of fresh air into the building, minimize the use of fans and portable air conditioners as much as possible and ensure clean filters and preventative maintenance schedules are rigorously followed.
"Beginning in June 2020, the board initiated and is continuing to undertake steps, to improve the air quality, filtration and operation of HVAC and heating and ventilation systems in PDSB schools and other facilities," the board's website reads, although it doesn't detail what those steps are and how the board is improving those systems.
Bowman said she believes that in-person schooling is important, but chose to keep her daughter learning from home until March of this year when she could finally get her vaccinated.
"But that's not something that can continue forever," Bowman said. "She needs to interact with other kids, she needs better learning than she can be provided with online or at home.
"Kids should be able to go into the school environment, with their parents knowing that they will be safe within reason."
Once her daughter was able to get vaccinated, Bowman sent her in-person with a mask, which was still required by the province at that time. The mask requirements were later lifted and Bowman debated what to do, but with the seasons changing to warmer weather, the school was keeping the windows open in the classrooms, which offered some reassurance.
"We managed to get a booster shot before school started this year and we were nervous but hopeful that people would still be masking but nobody was masking when we dropped her off on the first day," Bowman said.
She sends her daughter to school every day with an air quality monitor, which alarms if the levels get too high. She says her daughter tells her it hasn't been going off too often, with the exception of rainy days when the classroom windows are closed.
"They're not meeting the ministry standards," she stressed. "The reality is that the [HEPA unit] that they purchased is so loud that you need a bunch of them in there to get adequate air exchange.
"It's very frustrating," she added. "Peel District School Board should be systematically installing full mechanical ventilation in all their schools. But I can find nothing showing that they've even discussed doing that."
Bowman has since filed a Freedom of Information request to the PDSB asking for the board's staff reports on the ventilation systems in its schools. "But I'm coming up empty as to them actually acknowledging that you should not have partially mechanically ventilated schools," she said. "Why don't they have a plan to prioritize upgrades to full mechanical ventilation because ultimately, that's what you need.
"You can only put so many HEPA filters in the room, they're only going to retain so much air," she added. "This is not a big money investment for a handful of rooms. They just have to acknowledge that they need to do it."
In an email, a PDSB spokesperson said the board has prioritized the maintenance and replacement of ventilation systems based on their age and condition.
This also includes ductwork cleaning as part of ventilation system upgrades, including ductwork in older schools to maximize performance. 
"We have deployed all additional HEPA units provided by the ministry to classrooms and workplaces as needed," the spokesperson said. "PDSB has used all ministry-provided funding for ventilation enhancement.
"All of our work to improve the ventilation systems within schools is to reduce the spread of COVID-19 and improve the air quality for the continued safety, health and well-being of our students and staff."
The board said it will continue to follow the COVID-19 guidance and directions of the Chief Medical Officer of Health and Peel Public Health.
PDSB also circulated a letter from Peel Public Health to Peel students and families at the start of the school year stating that students and families were encouraged to screen for respiratory illness symptoms on a daily basis, to stay home when they're sick, and to wear a mask at school, especially when returning to school from illness. But, again, it is not mandated.
The PDSB spokesperson did not address whether or not the board has any communication protocol for responding to parents, like Bowman, that have COVID-19 concerns.
The Pointer contacted David Green, PDSB trustee for Brampton Wards 1 and 5, to determine why Bowman was forced to write two letters in an attempt to get answers to basic questions about her child's health and safety, and if he is confident the PDSB is doing everything it can to keep students safe from COVID-19.
PDSB trustee for Brampton Wards 1 and 5 David Green says staff and student safety must be a priority.
(www.electdavid.ca)
Green did not directly answer the questions, but said in an emailed statement, "our staff and student safety must be a priority, and if the board staff are not responding to parents I have an issue with that.
"Parents need to know that when they send their children to school, they are in a safe environment that is conducive for learning," he said.
In addition to the ventilation concerns, Bowman is also struggling to determine whether the board has any sort of policy clearly communicated to schools and families about isolation requirements when an individual tests positive for COVID-19 or is showing symptoms of the virus.
As of June, school boards were no longer expected to report absences and closures to the province's Absence Reporting Tool.
Although reporting positive COVID-19 cases to Peel Public Health is no longer required, the board has said it will continue to notify students, families and staff of the impacted class(es) when a school becomes aware of a positive case.
This includes monitoring PDSB school absence rates on a daily basis. If a daily absence rate surpasses 30 percent, the school principal is required to consult with Public Health.
PDSB "expects that staff and students who become symptomatic will stay home until their symptoms have improved for at least 24 hours," Baker explained in the September 15 email. "Upon return to school, the student or staff member is expected to be masked for 10 days post-symptom onset."
Bowman has already taken her daughter out of class for a week after parents were informed of a positive COVID case in the school.
After reaching out several times and receiving no response from the school board, and minimal response from the school's principal, Bowman feels the school and the board aren't prioritizing the health and safety of its students.
"It makes me feel like it's not a priority, like there's a culture of impunity around adequate environmental health and they don't think they have to answer to parents," she said.
"It makes me feel like I'm getting the brush off, and maybe they know that they have a problem, and they don't want to admit it."
In the coming weeks, Bowman hopes the school will install more HEPA filters and that the board will commit to upgrading the ventilation systems in its schools.
"It's never perfect safety and I know that but I think when there's cost-effective, easy ways to make it much, much safer, then those should be implemented."
---
Email: [email protected]
Twitter: @mcpaigepeacock
---
COVID-19 is impacting all Canadians. At a time when vital public information is needed by everyone, The Pointer has taken down our paywall on all stories relating to the pandemic and those of public interest to ensure every resident of Brampton and Mississauga has access to the facts. For those who are able, we encourage you to consider a subscription. This will help us report on important public interest issues the community needs to know about now more than ever. You can register for a 30-day free trial HERE. Thereafter, The Pointer will charge $10 a month and you can cancel any time right on the website. Thank you
Submit a correction about this story