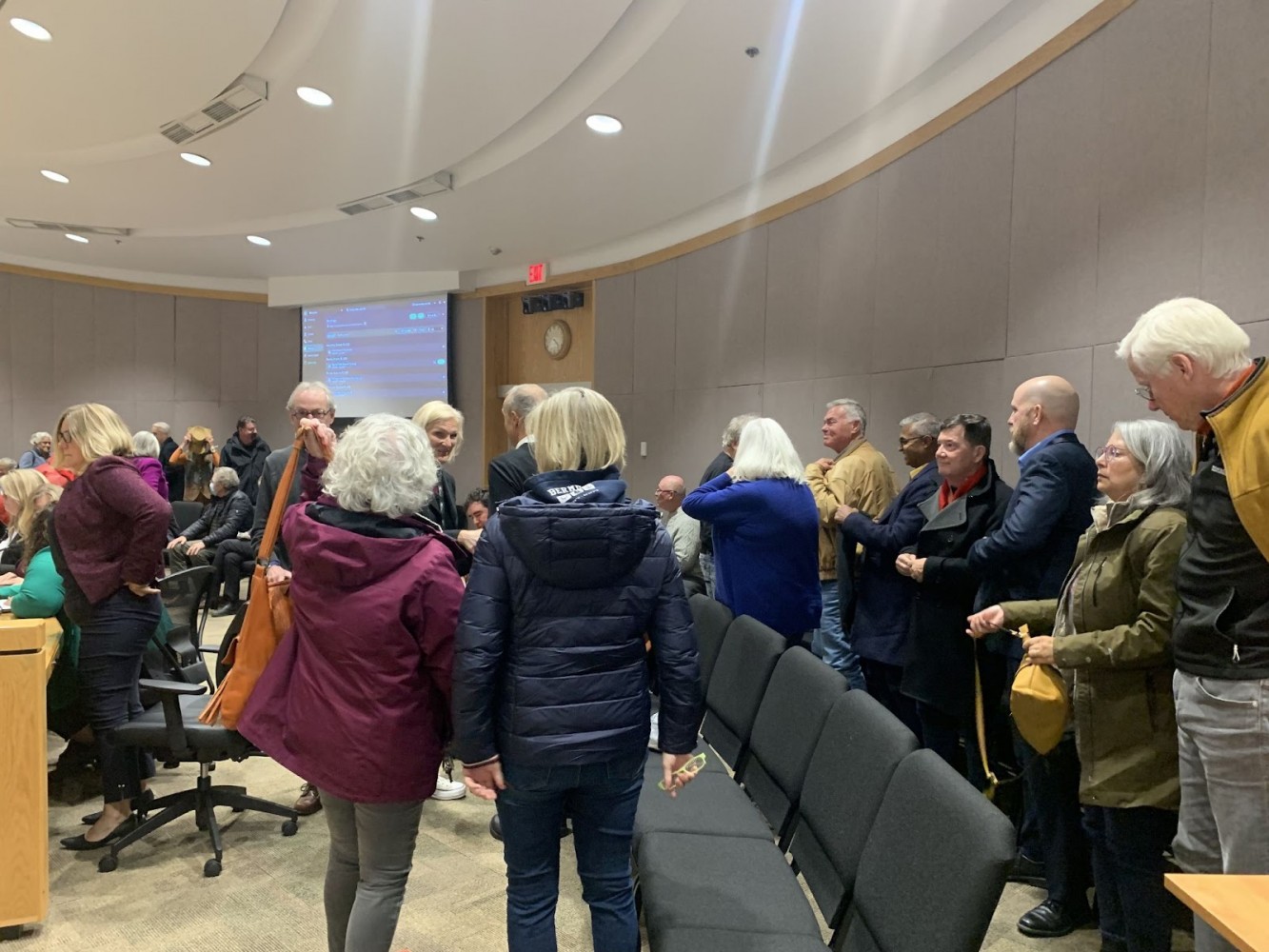 (Rachel Morgan/The Pointer)
Jennifer Innis faces criticism at special council meeting on aggregate industry called days before election
Caledon's council chamber was filled Tuesday afternoon, as residents criticized elected officials for a lack of action to safeguard the town from the growing aggregate industry.
The special meeting was called just days before the October 24 municipal election and led to the unanimous passage of a new interim control bylaw (ICBL) that freezes applications for new quarries or pits in specific areas of Caledon for one year.
The meeting was called by mayor Allan Thompson at the request of councillors Lynn Kiernan and Jennifer Innis, a mayoral candidate who has been questioned for her support of the aggregate industry, despite the wishes of her residents. Many have repeatedly voiced dire concerns about the destruction of sensitive local ecosystems and the presence of heavy commercial vehicles in and out of these operations.
While many local residents were in favour of the freeze, they questioned why the move was being done so close to the election, after years of ignoring their growing concerns.
"The golden group need to do the right thing and defer the matter of the interim bylaw until after the election some six days away," said Robert Nimmo, a community member who has been outwardly critical of a group of council members, including Innis, that has supported developers and the aggregate industry through numerous votes that have gone against community interests. "Stop playing politics," he said, referring to the meeting called days before voters go to the polls. He called on leaders to serve pressing community needs through a council term dictated by publicly-driven priorities, "not some self-serving agenda to dupe the election."
Even some local councillors were surprised by the sudden special meeting.
"I feel quite helpless. I'm trying to make comments and expand the importance of some of the points, but I'm working behind the 8-ball," Councillor Ian Sinclair, who is not running for re-election, said. "I'll have to support what's put in front of us, but I find it quite flawed."
One of Sinclair's main concerns revolved around the timeframe. According to the Town, the freeze will remain in place for one year, but the wording allows for it to be repealed earlier if council chooses. The intent of the bylaw is to allow for further study of aggregate-rich areas of Caledon and to study existing policies. Sinclair is worried that it will be difficult to complete the work necessary in just 12 months while the temporary bylaw is in place.
"I'm just very nervous when I see ideas that we'll get this done in a year. My experience is well, no, it's probably going to take longer," Sinclair said.
He pointed to OPA [Official Plan Amendment] 161, the Town's Mineral Aggregate Resource Management Policy that was enacted in 2004 to inform the Town's Official Plan. He said the entire process took nine years and cost the Town and Region upwards of $2 million. According to a staff report, the supplemental study being completed will cost $50,000. It's possible the scope of this work could be expanded following the inauguration of a new council. During an election period, Ontario's Municipal Act prohibits councils from making expenditures that exceed $50,000.
The strong turnout inside Caledon's council chambers was a sign of how important the aggregate issue is. Four community members—two who are running for a seat on the new council—and former councillor Barb Shaughnessy, stood to speak.
During part of Nimmo's delegation both Innis and Kiernan were seen laughing, prompting Thompson to admonish the two councillors who claimed to be concerned about the issue. Innis was booed while on stage last week during a public meeting called by residents who want to stop the proposed St. Mary's Quarry. She has previously pushed aggregate operations, in opposition to her own residents.
It was not the only time Thompson had to confront Innis for her inappropriate conduct. Multiple times the mayor asked her to stop speaking out of turn, when she did not have the floor, stating, "This is my meeting, not yours".
Thompson has been closely aligned with Innis, causing some raised eyebrows due to his tough stance toward her.
Most of the public comments reflected the desire to curtail the aggregate industry.
"We do have a responsibility to protect those people in the area that are living nearby these pits and this potential quarry," said Councillor Annette Groves who is running against Innis for mayor.
While Cheryl Connors, a councillor candidate for Ward 4 and a community activist said she supports an ICBL, she questioned why leaders like Innis failed to take similar action when aggregate applications across Caledon have been approved with little debate from council members.
"What struck me, and made me really angry. [The report] says, 'recent aggregate development pressures have resulted in unprecedented community engagement'," she said. Connors argued recent community action is not unprecedented and pointed to two examples of Caledon residents uniting in opposition to the aggregate industry.
Pressures have existed for more than a decade, not just recently, but Innis and others around the council table ignored them.
Cheryl Connors delegates before Caledon Council, citing many other attempts to bring attention to concerning aggregate applications and operations while the majority of Council all but ignored her and many other residents.
(Screenshot)
"We had a meeting at the Palgrave school with 500 members for our community, who objected to the Brock pit. We didn't get an interim control. We didn't get any assistance from the Town of Caledon at all," she said. "When the Melville pit application came in, there were hundreds of people here from that organization that fought. We didn't get any assistance from anyone. So what's different now, what is different between our applications and this one?"
The projects referred to by Connors include an application from Brock Aggregates in 2012 to expand its Tottenham pit and mine below the water table. It was eventually approved in 2015. She also mentioned the Melville pit, which is in reference to an application from Olympia Sand and Gravel for a 300-acre pit that was approved following an appeal to the Ontario Municipal Board in 2015.
Ramat Gill, a former Peel Region police officer and a candidate for regional councillor for Wards 1, 2 and 3, suggested the reason certain councillors suddenly care about aggregate policies is because they have realized, prior to the election, it's an issue that could cost them votes.
Regional councillor candidate, Ramat Gill, kept his delegation short and made the point that a decision like this should not come so close to an election.
(Screenshot)
"I feel like this is just a token appeal to the residents a few days before the election," Gill said, "and something we should have been acting on many, many years ago. Although it is a good first positive step, but just the timing of it is very inappropriate."
David Sylvester, president of the Forks of the Credit Preservation (FCP) group was happy to see that some action was finally being taken. Last week, the FCP group held a meeting where approximately 200 Caledon residents showed up in opposition to the St. Mary's Quarry. Sylvester and the entire FCP group have been tirelessly fighting quarries and pits near the sensitive watershed for years.
He said the group has worked with two councillors and the mayor to ensure that the ICBL happens. He did not name the councillors.
"Thank you for not politicizing the process," he said.
Many residents feel the presence of the aggregate industry is heavily politicized.
"It seems to me to be a somewhat lame duck attempt to cast a more favorable light on a couple of candidates," Bob Shapton told The Pointer. While he was not present at the meeting Tuesday, his work with the group Gravel Watch has been instrumental in the fight against the aggregate industry for many years.
In his role as communication coordinator, Shapton said he issued an invitation to all candidates for their views on aggregate issues. He said he received two responses, only one of which was valid.
"I think one of the candidates in particular, is feeling quite threatened," Shapton said. While he did not name the candidate, he was clearly referring to Innis, who has faced criticism for suddenly flip-flopping after years of supporting the industry. "And the voting public has been encouraged to check the voting records of the various incumbent candidates. And it doesn't look good for them, because of how they've voted on gravel."
While the bylaw approved Tuesday afternoon will freeze any new pit or quarry applications in Caledon, many citizens were not convinced their local councillors had suddenly reversed their long-standing support for the aggregate industry.
In 2016, Councillor Annette Groves, who is running against Innis for mayor, and Shaughnessy, the councillor for Ward 1 at the time, brought forward a motion that the Town of Caledon be "directed to form a working group regarding aggregate and related matters". The vote was defeated five to four with current councillors Johanna Downey, Nick de Boer and Innis, and Mayor Thompson opposed.
At the council meeting Tuesday, Groves retabled the idea of an aggregate task force. She was told by Thompson to introduce it with the new council. She would have to be elected as mayor to do so. Groves has long fought against the aggregate industry in Caledon and has been the most vocal council member opposed to the use of valuable agricultural land to extract materials below the surface for use in the construction industry. She has repeatedly called for the preservation of Caledon's greenspaces and valuable farm properties.
She has been repeatedly out voted.
In 2020, a motion was brought forward to expand the James Dick pit in Erin across the border into Caledon that would include digging below the water table. The only councillors opposed to the motion were Groves and Sinclair.
Coucillor de Boer, apparently unaware of his own votes and the sustained concerns of residents across Caledon, said on Tuesday that he always believed strong aggregate policies for managing the industry within the Town's borders were in place. Town staff partially agreed, noting that the policies surrounding gravel pits were strong, but lacking when it came to quarries. The comments received laughter from citizens.
It has been obvious to anyone who has watched how the industry has operated for more than a decade that Caledon has lacked the types of policies seen in neighbouring municipalities and regions across Ontario where such operations are much more difficult to establish.
While the terms pit and quarry are often used interchangeably, there is a significant difference. A pit—Caledon has several—involves the excavation of loose aggregate (sand or gravel), it does not involve any blasting. A quarry is the excavation of "consolidated aggregate" or solid rock, which requires explosives in the earth to blast it free. There are currently no blasting quarries in Caledon, but that is exactly what is being proposed by CBM, the company trying to get the St. Mary's Quarry approved.
According to Registered Planner Susan Robertson, who spoke at the FCP gathering last week, of the Top Aggregate Producing Municipalities in Ontario (TAPMO), Caledon ranks last for the strength of its policies and actions, using nine criteria.
The ranking suggests de Boer, a long-serving council member who has routinely backed the aggregate industry, has been aided in his support by weak policies, contrary to what he said during the meeting, when he claimed Caledon has responsible mandates to safeguard residents.
The nine themes that TAPMO used to rank the top aggregate producing municipalities were air quality, blasting, cumulative effects, First Nations consultation, haul routes, hydrogeological, natural heritage, noise and surface water.
(TAPMO)
Shaughnessy said that to her knowledge the Town of Caledon does not have an aggregate planner on their team. Town staff did not deny this.
"If you don't hire one, then you're telling the residents of Ward 1 and Caledon then that it doesn't really matter. And I believe it does," Shaughnessy said.
Her comments were echoed by Groves who said the Town needs to have staff that are well versed in environmental and aggregate issues. It's part of holding the Town accountable to the demands of residents who elect council members to represent them, she said.
"What is fair during election time is holding the people accountable for their record over the term they served, what you did, and what you didn't do," Shaughnessy added. "When the councillors bring motions forward at the last minute, last week of a campaign, you have to ask yourself, why?"
---
Email: [email protected]
Twitter: @rachelnadia_
---
COVID-19 is impacting all Canadians. At a time when vital public information is needed by everyone, The Pointer has taken down our paywall on all stories relating to the pandemic and those of public interest to ensure every resident of Brampton and Mississauga has access to the facts. For those who are able, we encourage you to consider a subscription. This will help us report on important public interest issues the community needs to know about now more than ever. You can register for a 30-day free trial HERE. Thereafter, The Pointer will charge $10 a month and you can cancel any time right on the website. Thank you
Submit a correction about this story