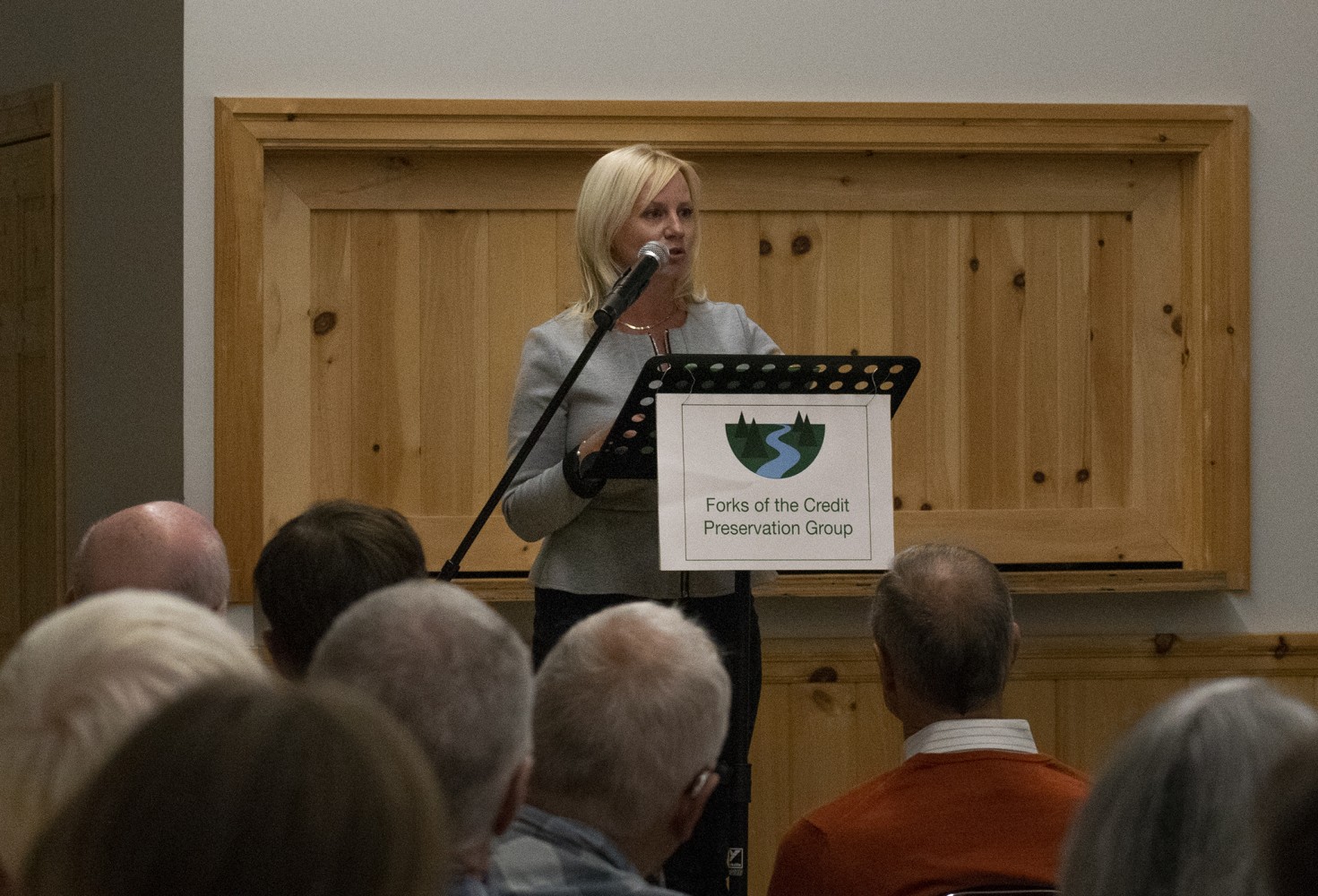 Alexis Wright/The Pointer
Booed last week, Jennifer Innis left a meeting on the St. Mary's Quarry; calls for special meeting on aggregate industry days before election
A special meeting has been called for Caledon Council Tuesday October 18 to discuss a bylaw related to the aggregate industry. The meeting, called by Ward 1 area councillor Lynn Kiernan and seconded by regional councillor and mayoral candidate Jennifer Innis, has left many residents confused as Innis has shown time and again her support of the aggregate industry, despite the wishes of constituents.
"Councillor Kiernan has put in an official request for Mayor Thompson, of which I've seconded, to call an urgent council meeting to enact an interim control bylaw on aggregate for Caledon," Innis said just before the end of her speech at a community meeting in opposition to the St. Mary's Quarry last week.
She was booed by many in attendance after years of supporting the aggregate industry, which residents have voiced concern over, due to the devastation of local ecosystems, the constant flow of heavy trucks and the release of particulate matter into the local airshed.

The aggregate industry has transformed large swaths of Caledon into desolate spaces that are incredibly difficult and expensive to rehabilitate through a process that can take nearly half a century to reach previous levels of biodiversity.
(Google Maps)
Open pits and quarries have been a major issue across Caledon for years, but Innis has supported the industry since she was elected in 2014.
She's now changing her tune, days before the municipal election.
"This will ensure that any application received including this application or any future application be received prior to the updating our official plan," she said of a proposed interim control bylaw being pushed after no such action was taken by Innis throughout the council term. "It will not be processed under the old policies that we have."
She said it's an issue that shouldn't be politicized.
The meeting Tuesday (a link to watch the meeting at 3 p.m. can be found here) has been called to vote on the proposed interim bylaw that will protect parcels of land in Caledon from further aggregate projects. The interim control bylaw, if passed, would prohibit "the use of land, buildings or structures within the municipality or within the defined area thereof for such purposes as set out in the By-law, where the Council of the municipality has directed that a review or study be undertaken with respect to land use planning policies that apply to the subject area," according to the council agenda for today's special meeting.
The areas of Caledon that would be protected under the interim control bylaw.
(Town of Caledon)
Annette Groves, who is challenging Innis for the mayor's chair, made it clear that she supports an interim control bylaw, but does not support how the matter has been handled. She faced interference from Innis and other councillors this past summer when Groves tried to have a control bylaw addressed.
"Why was this interim control bylaw not done two months ago or three months ago? And why did I get blocked from town staff trying to do this over a month ago?" Groves questioned.
She also raised Innis's track record of supporting the aggregate industry, opposing her own residents when pushing approvals for environmentally devastating operations such as the controversial James Dick pit.
Groves said Innis has fully supported aggregate producers, and now, a week after getting booed at a public meeting last week to address the St. Mary's Quarry, she's suddenly changed her position.
She says today's meeting is about "theatrics" so Innis can save face in front of voters (days before Monday's election) who have grown frustrated by her refusal to listen to constituents over the years.
"We need to be genuine and not do things at the eleventh hour because we're looking for votes," Groves emphasized. "It's just political posturing."
Part of the report being presented to Caledon council Tuesday afternoon includes the request for $50,000 to fund a "Supplementary Aggregate Resources Policy Study" which, according to the staff report, is required "in order to determine and develop appropriate land use designations and zoning for Caledon's High Potential Mineral Aggregate Resource Areas, which areas are experiencing active aggregate development pressures." This study will be undertaken following the completion of a review currently underway in conjunction with the Region of Peel.
The report does not make clear why this additional study is necessary now, after an in-depth study of Caledon's aggregate potential, identifying areas for future pits or quarries, was completed as part of the study for Peel's updated official plan approved earlier this year.
According to the Region of Peel's website, as part of the study for the updated official plan, a review was conducted of the Region's aggregate strategy to "ensure Peel's policies align with provincial policies and that address Regional and local needs and interests", as well as to "update HPMARA [High Potential Mineral Aggregate Resource Areas] mapping to show new provincial bedrock mapping and constraints". Why an additional review, following the official plan study, and the ongoing review with the Region of Peel, is necessary remains unclear. Town of Caledon staff did not respond to questions from The Pointer seeking clarification.
Tuesday's special meeting also raises red flags about what councillors are legally allowed to do during a campaign period.
Under Ontario's Municipal Act, local councils are restricted from making big decisions during an election period. Colloquially this time frame is characterized as a "lame duck" period of council. Section 275 of the Ontario Municipal Act restricts council members from hiring or firing staff members; selling or acquiring property that exceeds $50,000; and "making any expenditures or incurring any other liability" that exceeds $50,000.
According to the staff report the additional aggregate study will cost $50,000.
Such issues, especially ones that represent significant public interest, are usually left to the new council to decide. With a number of current Caledon council members not seeking election, including mayor Allan Thompson, current members will be taking votes today even though they will not be responsible for the bylaw when it's actually implemented.
There have been numerous studies undertaken around the aggregate industry in Caledon, how and where it will grow in the years ahead and how to handle the impacts of the industry. The Town has also completed a Rehabilitation Master Plan, which went before Town council in November of last year. According to the recent staff report, the additional study would build on the work already completed, and "would result in updated policies and mapping for the New Caledon Official Plan, incorporating the best practices and recommendations from the Joint Aggregate Review as well as the Rehabilitation Master Plan."
It's unclear how an incomplete study would be able to inform the official plan as the report explains, as the timing does not appear to line up.
The staff report indicates the new official plan is scheduled to be brought to Caledon council "mid 2023", but "the Supplementary Aggregate Resources Policy Study will not be completed until Q4 of 2023."
According to Town staff: "The timing of the OP is associated with different timelines, namely the approval of the Regional Official Plan and the two processes will be coordinated. Staff also plan to phase the Supplementary Review so that any work that might impact OP policies will be part of the first set of deliverables."
This does not explain how the new council will be able to make decisions on the new OP without having crucial information available, beyond what is already published, regarding an industry that has increasingly posed significant problems to planning and growth across much of the municipality.
Councillors and Mayoral Candidates Jennifer Innis (left) and Annette Groves made speeches at the beginning of the Forks of the Credit Preservation meeting against the CBM/St. Mary's Quarry.
(Alexis Wright/The Pointer)
Groves believes the interim control bylaw on today's special meeting agenda is not a genuine effort by Innis to push back against an industry she has previously supported, one that has already transformed large portions of Caledon's greenspace. Innis is on the record for voting in favour of aggregate projects that residents were adamantly opposed to.
Groves says the sudden change is just an election ploy and questions why, if Innis was serious about protecting her residents and the communities they live in, she has failed to take any action over the past eight years on council.
Groves says a permanent bylaw is needed, instead of a temporary one for a year, which can be rescinded any time by council, according to the motion on today's agenda.
"Where was Jennifer Innis on the night of the debate?" Groves questioned. "That debate was organized and that was an important debate for the people in Ward 1."
Innis's sudden support for an interim control bylaw comes after the public meeting last week held by the Forks of the Credit Preservation Group regarding the St. Mary's Quarry. About 200 residents of west Caledon gathered in opposition to the proposed quarry. Innis was booed from the stage while answering questions about the project. The night before, Innis failed to show up for a debate held in west Caledon.
Kiernan, running for reelection in Ward 1, was also absent.
At the meeting on the proposed quarry, Innis promised to form an aggregate task force to provide input on the Town of Caledon's Official Plan.
"We must have sound and strong aggregate policies within our official planning and this can only happen by all of us working together," Innis told those in front of her. "Our aggregate policies do not, and I repeat, they do not adequately address things such as the cumulative effects of mining, social impacts."
Her words directly contradicted Innis's previous actions.
In 2016, a motion was brought forward to the Town of Caledon by councillor Groves and former Ward 1 councillor Barb Shaughnessy to form the same type of working group to address "aggregate and related matters" and keep the industry in check. Innis voted against the motion. The only current council member who voted in favour was Groves.
A record of the 2016 vote to form an aggregate resources working group in Caledon. Despite a promise from Innis to form such a group now, she voted against the same idea a few years earlier.
"If they were really sincere and genuine, they would not have voted in support of [the] James Dick [pit] and they never would have voted, Jennifer Innis would not have voted against the aggregate advisory committee that Councillor Shaughnessy and I proposed last term of council," Groves said.
While Innis now claims to be against the St. Mary's Quarry, she has actively supported aggregate projects in the past, such as the expansion of the James Dick pit in 2020. It will see the existing pit in Erin expanded across the municipal border along Winston Churchill Boulevard into Caledon. The approval will allow for James Dick to remove 1.8 million tonnes of aggregate from the 300-acre site each year.
In March, after supporting the James Dick project and others that have been heavily criticized for the ecological impacts including irreperable damage to local watersheds, as anger mounted ahead of the election Innis voiced concerns about mining projects going below the water table.
She has also historically received support from the aggregate industry to fund her reelection campaigns. During the 2018 municipal election, Innis received a $1,200 donation from James Dick, the founder of James Dick Construction Ltd. A year later she voted in favour of the company's project.
The James Dick Pit or "Erin Pit Expansion" east of Winston Churchill crosses the Erin border into Caledon which is what led the Town of Caledon Council to vote on the matter. The voting record above shows Jennifer Innis supported the controversial project.
(Google Maps)
If Innis has suddenly changed her position, it is unclear why she is not proposing more concrete legislative action instead of a temporary interim control bylaw that can be repealed any time, and does not offer a long-range solution to the many ongoing challenges Caledon faces as the aggregate industry continues to gobble up land while expanding across the town's landscape. According to the Town, the bylaw would be in place for one year, but there is no guarantee it won't be pulled earlier.
A bylaw that could be reversed as soon as the new council takes has raised doubts about Innis's commitment to stopping new pits and quarries from popping up across the largely rural municipality. While the terms pit and quarry are often used interchangeably, there is a significant difference between the two types of operations. A pit—Caledon has several—involves the excavation of loose aggregate (sand or gravel), it does not involve any blasting. A quarry is the excavation of "consolidated aggregate" or solid rock, which requires explosives in the earth to blast it free. There are currently no blasting quarries in Caledon, but that is exactly what is being proposed by CBM, the company trying to get the St. Mary's Quarry approved.
This is not the first time Innis's words have contradicted her actions.
Despite massive pushback from residents citing lack of public consultation and the threat the project posed to sensitive ecosystems, Innis was one of the councillors who disregarded the concerns and approved an MZO request from Tribal Partners in October of 2021 to build a 390,000 square metre (nearly 4.2 million square feet) warehouse on lands that are currently zoned for agriculture. The giant warehouse will encroach onto the Greenbelt. An MZO, or a Minister's Zoning Order, allows the Province to approve a project without local planning authority and without the required studies and public consultations, including research and reports meant to protect the environment, while maintaining the broader urban vision of a municipality.
A record of the vote from October 2021 to approve an MZO request by Tribal Partners to move forward with the special zoning request to the Province, switching the use from agricultural to commercial/industrial to build a sprawling Amazon Warehouse. The online retail giant can now legally avoid public consultation and ignore potentially detrimental environmental impacts to the area.
Today's special council meeting takes place at 3 p.m.
---
Email: [email protected]
Twitter: @rachelnadia_
---
COVID-19 is impacting all Canadians. At a time when vital public information is needed by everyone, The Pointer has taken down our paywall on all stories relating to the pandemic and those of public interest to ensure every resident of Brampton and Mississauga has access to the facts. For those who are able, we encourage you to consider a subscription. This will help us report on important public interest issues the community needs to know about now more than ever. You can register for a 30-day free trial HERE. Thereafter, The Pointer will charge $10 a month and you can cancel any time right on the website. Thank you
Submit a correction about this story