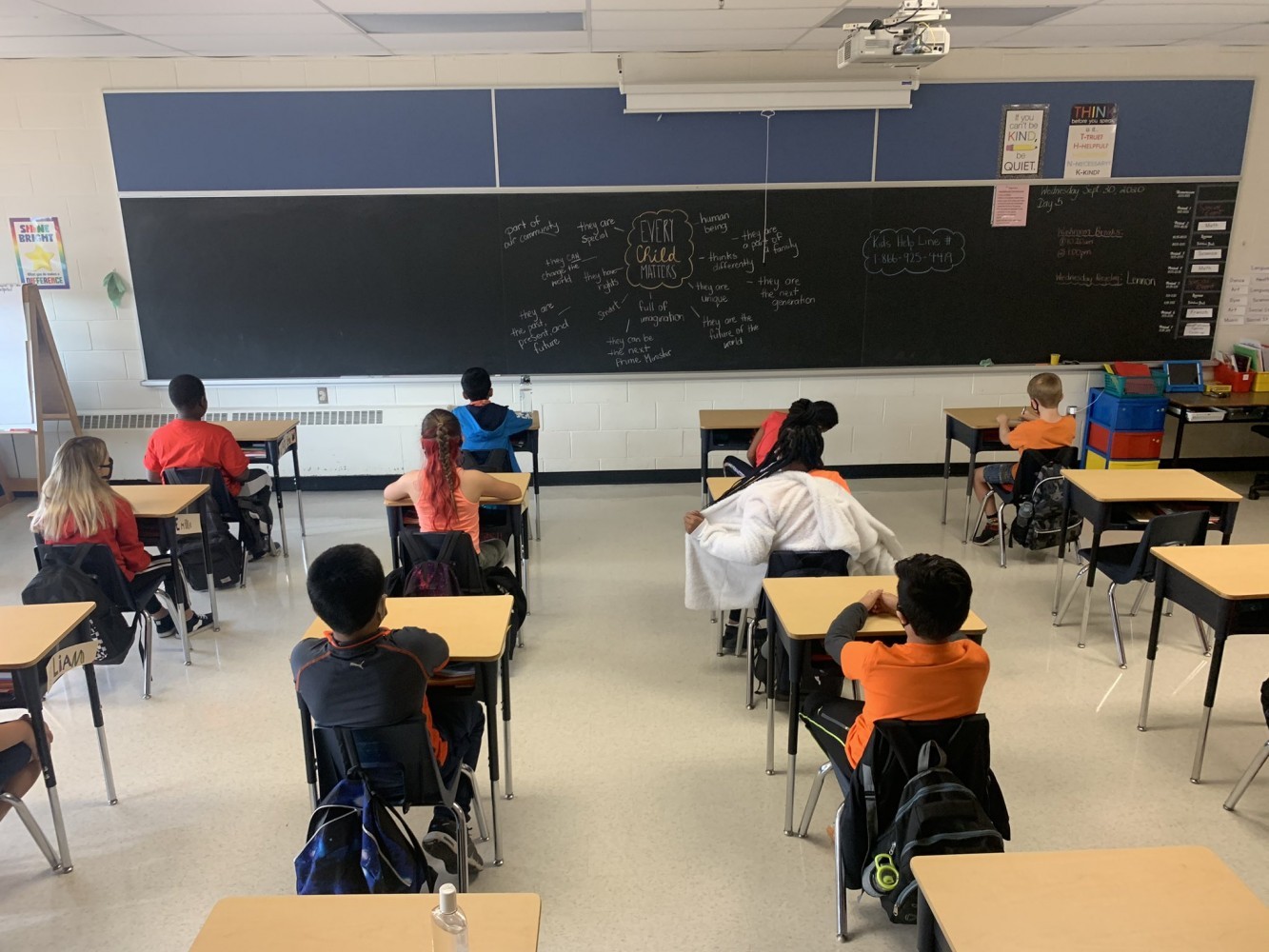 Peel District School Board
'We have families that we need to feed': Peel education workers struggling; union pushes strike action 
As education workers across the province consider taking strike action, workers in Peel Region are struggling to support themselves and their families, subsisting on inadequate wages as the demands of their jobs increase.
"The vast majority of CUPE 1628 have families," says Evelyn Blackwell, president of The Canadian Union of Public Employees (CUPE) 1628, which represents office and technical staff across the Peel District School Board (PDSB). "We have families that we need to feed, we have families that we need to get from point A to point B with the price of gas, we all have families, and we are losing income every day.
"The last place our people want to be is on the picket line," she said. "But we also can't maintain taking care of our own families."
After months of unsuccessful talks with the Conservative government, education workers across Ontario voted overwhelmingly in favour of taking strike action on Monday unless a deal could be reached that includes a wage increase, along with solutions to current staffing demands and increased job security.
Blackwell said she hopes the overwhelming support behind the vote—which saw 96.5 percent of 45,000 education workers vote in support of a strike—sends the message that education workers are tired of the wage freezes and one percent pay increases that have taken place over the last decade.
"We need living wages, we need job security and we need to be treated with respect and dignity."
Ontario school board workers gave bargaining notice to the provincial government on June 3, the day after the provincial election and the first day they were legally allowed to do so, in an attempt to ensure workers had service guarantees in place ahead of the 2022-23 school year.
However, the government has delayed and failed to provide guarantees for the services students need, or provide a livable wage that can help train and recruit qualified education workers, the union states.
"While the vote doesn't guarantee that a strike will happen, it does make one thing clear: an unstoppable majority of education workers in Ontario have had enough with the [Premier Doug] Ford government's underfunding, undervaluing, and undermining of public education," reads a statement from CUPE National President Mark Hancock. "They have said enough with the unfair and indefensible status quo that hurts workers, students, families, and communities."
During bargaining discussions between the Province and teachers unions in August, the Ontario government proposed a four-year deal that offered to give education workers making less than $40,000 a two percent raise and a 1.25 percent raise for all other employees.
CUPE has said the government's offer amounts to merely an extra $800 a year for the average worker.
The previous contracts were subject to Bill 124, introduced by the government in 2019, which capped wage increases to one percent a year for three years for public sector workers.
While the Ford Government is seemingly content with its offer, the Ontario School Board Council of Unions (OSBCU) is saying much more needs to be done to address the needs of education workers. The union is proposing an annual increase of 11.7 percent—or $3.25 per hour—citing wage restraints, staffing shortages and job security as top priorities in recent negotiations.
The increase, if approved, would help to address the cost of living and inflation and compensate for the wage restraint created by Bill 124.
Education workers are also bargaining for more educational assistants, an early childhood educator in every kindergarten classroom, more library workers and custodians, and adequate staffing of secretaries in schools.
As with many boards across Ontario, Blackwell said the pressing issues facing Peel are wages and job security. With the last central agreement expiring on August 31, she said workers in the board have already lost a key piece of their job security.
Staffing pressures are another major concern facing the board. Blackwell said while members of the union want to help families and be supportive, they often don't have enough time because they're so understaffed.
"We're not hiring enough staff," Blackwell explained. "We don't have enough staff to replace people, so people are going on stress leaves because the expectation is to do double the work or more work because we are understaffed.
"The demands and the pressure being put on the membership is too much and people just can't take the pressure," she added.
CUPE announced on October 3 that its members, which include early childhood educators, administration staff and custodians, voted 96.5 percent in favour of taking strike action against the Conservative government.
The vote saw 45,433—or 82.6 percent—of the 55,000 members respond between September 23 and October 2.
While the vote doesn't guarantee a strike will happen Laura Walton, educational assistant and president of CUPE-OSBCU, said the bargaining team can return to the negotiating table with a clear indication of the level of support behind their proposals.
"My coworkers and I have great proposals on the table to settle… that are reasonable, necessary, and affordable," Walton said during a news conference on October 3 at Queen's Park, the day after the vote closed.
"These proposals come from what frontline education workers and families from across Ontario say we need to improve the quality of children's education and to make education jobs something that school boards can actually retain and recruit qualified people to do."
Laura Walton, educational assistant and president of CUPE-OSBCU, speaks during a press conference on October 3.
(Queen's Park Video)
In response to the results of the vote, Minister of Education Stephen Lecce said while he was "disappointed," he wasn't surprised given education unions' history of voting in favour of strikes.
"As CUPE moves ahead towards a strike that hurts kids and disrupts families—leaving behind a reasonable offer that also protects the most generous benefits and pension plan in the country—we will continue to remain at the table to make sure kids stay in class without interruption right through to June," he stated.
Since taking office in 2018, the Conservatives have made significant cuts to the province's education system.
Education Minister Stephen Lecce says the offer provided by the PC government to education workers is "reasonable".
(Government of Ontario)
This has included removing a $100-million budget for school repairs (due to cancellation of the cap and trade system); slashing $25 million in funding (from the Education Programs-Other fund) for specialized programs in elementary and secondary schools in the province; and increasing class sizes.
"Tens of thousands of education workers across this province voted to send a message to the Ford government that education cuts are not acceptable, that more front-line education staff is urgently needed for students to succeed and it's time for a meaningful wage increase for us," Walton said.
"Education workers are standing up and saying in one unified voice: we demand better," she added. "Workers need a long-overdue raise and students deserve more staff to guarantee services."
Blackwell said one of her concerns for PDSB is that the board doesn't have any trustees with formal governing powers right now.
PDSB has been under ministry supervision since 2020 after becoming the subject of intense criticism from the public over allegations of systemic discrimination and anti-Black racism within the board's administration.
"We don't have anybody to speak up on behalf of the people that live within the community of Peel," Blackwell said. "That's supposed to be the role of the trustees, but all power has been taken away from them."
Party opposition critics also took to the podium on October 3 to express their disappointment with the Conservative government's handling of the situation.
Mitzie Hunter, MPP for Scarborough–Guildwood and deputy leader of the Ontario Liberal Party, stressed there is still time for Lecce and Premier Ford to "reverse course and get to the negotiating table to hammer out a fair deal for education support workers."
Mitzie Hunter, MPP for Scarborough–Guildwood and deputy leader of the Ontario Liberal Party, said there's still time for the Conservative government to reach a suitable deal with education workers.
(Queen's Park Video)
She also pointed to the Ford government's ability to entertain the idea of providing the province's education support workers with "the compensation they deserve".
"By short-changing those that play such an essential role in our children's lives, this government has done nothing but put our students' success at risk," Hunter stated.
Ontario NDP Education critic Chandra Pasma also criticized the Conservative's approach, stating it will lead to further school disruptions.
"Premier Doug Ford and Minister Stephen Lecce have been using our children's school year as a bargaining chip, to bully the lowest-paid education workers," Pasma stated. "By cutting public education, trying to hold wages behind inflation, and lobbing constant attacks at education workers, Stephen Lecce and Doug Ford are putting our kids' supports at risk."
Ontario NDP Education critic Chandra Pasma has criticized the government's approach, stating it will lead to further disruptions in schools.
(Queen's Park Video)
According to OSBCU, education workers—including part-time and casual employees—earn an average of just over $39,000 per year.
"A decade of wage restrictions imposed by the government have meant that education workers' wages have fallen 10 percent behind inflation and below the wages earned by employees who work in the private sector," the union noted.
As a result, education workers' wages have increased by only 8.8 percent since 2012 while inflation in Ontario has been over 19.5 percent for that same period.
According to a study conducted in March by CUPE, not only have the wage gaps had arduous effects on the personal and financial well-being of education workers, but local CUPE unions and school boards have indicated that low wages have resulted in recruitment and retention problems.
Looking forward, Blackwell said the union is hoping the message behind the strike mandate results initiates meaningful conversation at the negotiation table that will lead to a mutual agreement.
"We want it resolved, our members want to be at work," she said. "I don't believe anybody wants to go on strike, we want to be just treated with the respect and dignity that all people in Ontario should be treated with."
She noted many of the union members have told her they can't afford to go on strike, but the government's current offer isn't a liveable wage with the cuts that have taken place over the last decade.
"This will come at a great financial cost to them, but they believe that they have no choice left, but to fight for what they believe is a fair contract," she said.
Many of these workers are often laid off in the summer, during Christmas, or during March Break.
"There's a lot of lost income through the years for us to do this job," Blackwell said. "And people do it because they love it and because they enjoy the children and they want to work with the children.
"But if it becomes unlivable, who's going to be watching your children, who's going to be the person in the office when they're sick, who's going to be running all the financial ministry reports, doing all the ordering for the schools between furniture, PPE and everything?" she asked.
"There's so much more to the job and people do need to realize that."
---
Email: [email protected]
Twitter: @mcpaigepeacock
---
COVID-19 is impacting all Canadians. At a time when vital public information is needed by everyone, The Pointer has taken down our paywall on all stories relating to the pandemic and those of public interest to ensure every resident of Brampton and Mississauga has access to the facts. For those who are able, we encourage you to consider a subscription. This will help us report on important public interest issues the community needs to know about now more than ever. You can register for a 30-day free trial HERE. Thereafter, The Pointer will charge $10 a month and you can cancel any time right on the website. Thank you
Submit a correction about this story