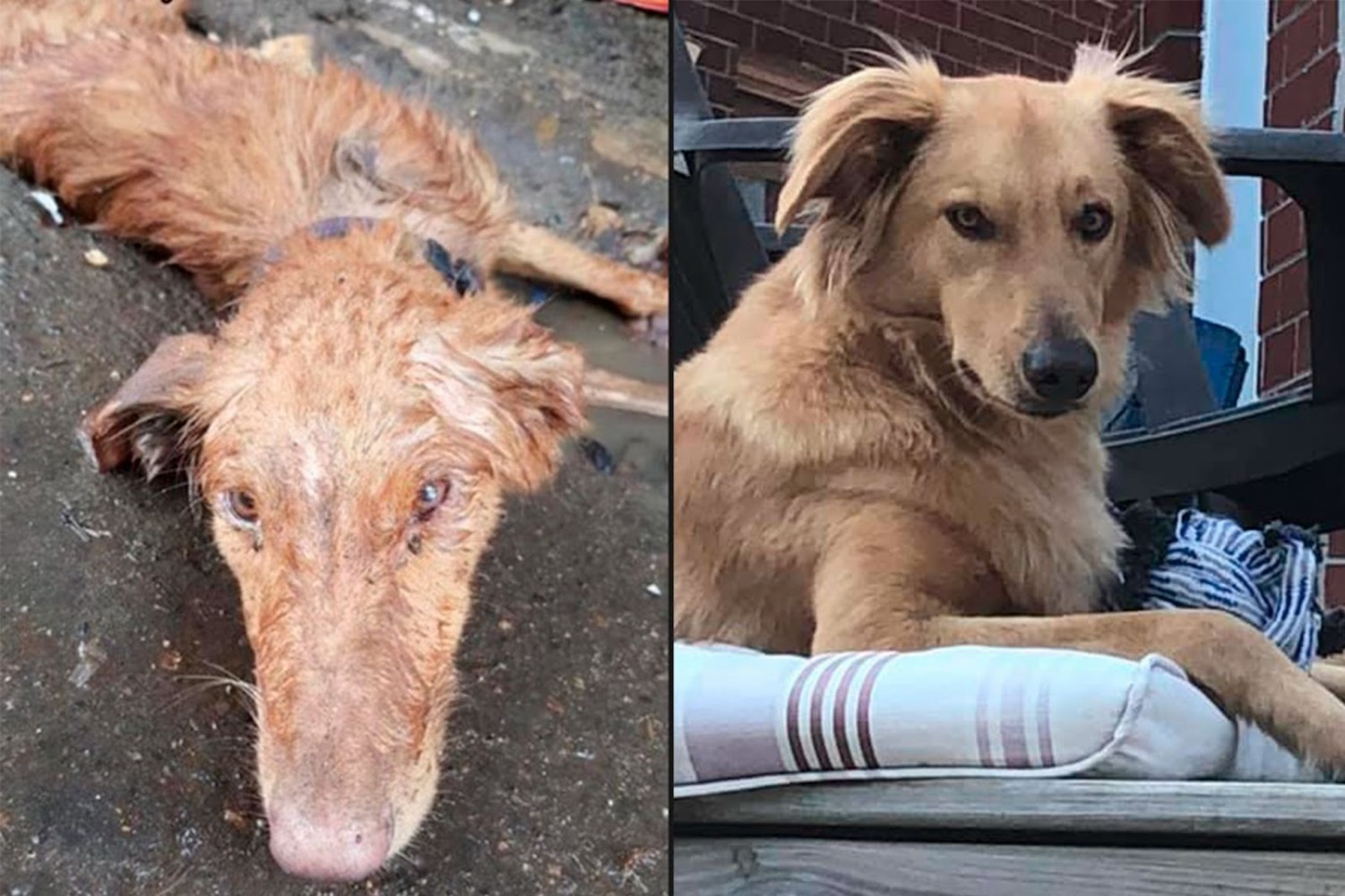 (Photos courtesy of DCDR)
Advocates fear federal ban on imports of dogs and other animals from countries on rabies list will dramatically impact rescues 
The suffering of an innocent animal like Nicholas is a story that unfolds everyday.
Since the start of the pandemic, and long before, dogs like Nicholas have meant the difference between hardship and joy for millions of people who don't just cope because of their pets; they are lifted by the exhilaration of a bond that is irreplaceable.
Families have been made more complete. Sleepy adults discovered new forms of companionship. Children emerged from their screens to meet a more primordial need. And communities simply felt more connected when we stopped for a moment to play with a neighbourhood dog.
Many single adults experiencing loneliness reached out to rescues to find a dog and many international organizations played a crucial role in meeting the demand.
That's why stories like Nicholas's have become so hard to hear.
"My wife and I saw a lump of fur in the gutter of a street as we were driving home from a spay/neuter clinic," Mark Diekmann recalls. He is the president of Dogs and Cats of Dominican Republic, who started the rescue nine years ago. "Clearly it was a dog, but it wasn't moving and we weren't sure if it was alive or had been hit and left for dead in the street. We stopped to check and came across an extremely emaciated dog who lifted his head ever so slightly and showed the faintest wag of its matted tail."
"Looking into his eyes we could see a dog who had once known love, but now was just struggling for life. We had no idea how what had once been clearly a beautiful dog ended up here, nearly dead from starvation. However, we knew we had to do what we could for a dog we eventually came to know and love that we named Nicholas."
Weighing just 30 pounds, Nicholas was brought into their home for a second chance.
Dogs like Nicholas would still be suffering, or likely dead, if it wasn't for DCDR, a non-profit rescue located on the north coast of the island.
"He should have weighed almost double that," Diekmann says. He concluded that Nicholas had been hit by a car – judging by the state of his severely mangled back leg. Along with his wife – since the dog couldn't walk – Diekmann brought him food and water every day until they could get him to a vet.
"You could just see in his eyes a will to live."
Nicholas pictured starving and dying on the street before luckily crossing paths with Diekmann and his wife.
(Photo courtesy of DCDR)
It took nearly six months, including a leg amputation, to rehabilitate Nicholas back to full health.
"We grew a strong bond with Nicholas and he showed his appreciation for being saved every chance he got with a constant smile and wagging tail. It was amazing to see an animal that had been through so much, end up being a happy and well adjusted dog. It finally came time for Nicholas to find his forever home. Although we loved him dearly, we knew we had to send him to a new home to open up space for us to take in our next needy dog," Diekmann says. "We found the perfect family for Nicholas in Ontario and with the help of a volunteer we flew Nicholas to his new home where he ended up showing his new family as much love as he showed us."
"Sadly, if we are unable to get animals like Nicholas into new homes in Canada we can't open up space to help others as needy as him."
Unfortunately, this will be the reality for many rescue dogs now that the Canadian Food Inspection Agency (CFIA) has enacted a new ban.
In June, the CFIA announced that as of today, September 28, World Rabies Day, Canada will no longer be accepting rescues from a list of 100 countries at high risk of spreading the novel virus.
The Dominican Government gives out tens of thousands of rabies vaccinations for dogs and cats every year, and DCDR has partnered with them to set up the clinics and administer the shots.
"We understand that rabies is a concern, and we've always been very conscientious about making sure all of our animals are vaccinated, spay or neutered, and microchipped, and everything, before they're sent out of the country. We're certainly concerned too," Diekmann says.
Along with adopting animals out to mostly Canadian residents, DCDR is a crucial partner around the preventative measures enforced in the Dominican Republic to ensure all people are educated about and all animals are vaccinated against rabies.
"Rabies is endemic in Canada. It's there without us. So we are certainly willing to take any steps possible to make sure that the Government's comfortable with the fact that our animals are rabies free, but we haven't even been given that option."
It is unclear why the CFIA gave such short notice to rescues, on top of having the ban come into effect on a day that is meant for education and ending stigma.
Rabies is transmitted by direct contact of bodily fluid, and has been around for centuries. Now, because of vaccines, it is 100 percent preventable.
K9 Rabies is a new strain of the virus unlike the type seen in North American wildlife. The first case was diagnosed in 2021 when, allegedly, a group of dogs were brought into Canada with falsified papers.
According to multiple rescues, CFIA did not reach out for advice on how to implement regulations in the best interest of all of those involved.
"The CFIA continues to work with Public Health Agency of Canada (PHAC), Canada Border Services Agency and other federal government partners to implement this measure. The CFIA will explore options to further strengthen the requirements for the import of personal pet dogs and assistance dogs from these countries at high-risk for dog rabies," states a press release sent out by the CFIA.
'Blanket' bans aren't usually effective at addressing the root problems, which, more often than not, stem from illegal activities. It is more likely and more common that a disease enters a new country by illegal trading or importation and sweeping bans will not affect these entities, as they were not following the laws to begin with.
Advocates say the only organizations that the ban will negatively impact are those who are already following a strict set of mandated protocols implemented over a number of weeks, or months, for every single case seen.
Heather Hulkenberg from Calgary, started a petition that is currently being carried by Conservative MP Michelle Rempel Garner and will be brought to the House of Commons now that it has surpassed 10,000 signatures.
"One of the major things we do is we take in the neediest animals, those that are in real dire situations that are living on the streets," Diekmann says. "We take them in, we get them vet healthy, spayed and neutered, rehabilitated, socialized, microchipped, and then we get them available to go into a new home. We've sent over 2000 animals to Canada since we started. These are animals that would have died if we wouldn't have been able to take them in and send them to Canada, so that's kind of the situation we're in now with this ban."
An adoption post shared by DCDR on Facebook tries its best to show the rescued dog's personality through a profile including a description and images, one of the difficult parts of adopting animals online from other countries.
(Facebook)
Canada is not the only country to implement a ban on the importation of dogs. In June 2021, the United States ban took effect. However, certain regulations within that ban have been adjusted and animals are being adopted into the country once again, giving Diekmann a small amount of comfort that some of his animals will still have a place to go.
"It does require a bunch of blood tests, so we can send a few there – but most of our animals have been going to Canada."
When it comes to rescues within Canada also affected by the ban, they're worried that the illegal sale of dogs will rise. Since the beginning of the COVID-19 pandemic, the amount of listings of unregulated animals for sale is now more alarming than ever before. Illegal or accidental breeding results in hundreds, if not thousands, of animals listed on online marketplaces every month.
"In general, it's just concerning to think specifically [about] a time during COVID when a lot of people were looking to get a dog very quickly because they were at home and they were excited to do that," Jenna Bye, Executive Director of Save Our Scruff in Toronto, says.
Save Our Scruff has saved over 2,700 dogs from Mexico, Costa Rica, Saudi Arabia, Lebanon, Kuwait; various Caribbean islands like Jamaica, Cayman Islands, Dominican Republic, and more.
Starting as an adoption agency, through experience they learned that much more support would be needed. Save Our Scruff and their partner rescues now offer spay and neuter clinics, and use their online platform to advocate and educate for dogs in their community and globally.
"We saw when international rescue was very limited just due to the pandemic and [a significant drop in] traveling," Bye says. "We saw so many people get dogs through backyard breeders, like through Kijiji, and through very unethical practices in my perspective - spaces that are just not thoughtful. If we close off the options of so many dogs coming in that are ethically sourced – in my perspective – we're kind of allowing the industry of unethical industries related to dogs to flourish."
"When people can't access rescue dogs, they will take other means."
She is concerned about how many dogs will now be bred, legally or illegally, because people in Canada will not have access to rescue dogs from 100 countries.
Jenna Bye Joined Save Our Scruff in 2014. What started as using her voice through social media to support dogs has led to her current role as Executive Director.
She also is concerned about the influx of animals she expects to see once the ban is active. Their rescue received a concerning amount of surrenders throughout the pandemic from people who got a dog on a whim, or did so reactively, and didn't receive the support from the backyard breeders that they would have enjoyed had they gone through a reputable rescue like Save Our Scruff.
"Now, those are dogs that we have to help. So it's just this vicious cycle," Bye says.
She says the organization has been a safe haven for animals and humans alike. She has spoken directly to people who are flying refugees fleeing to Canada from Ukraine who have asked Save Our Scruff for help before the ban came into effect. Here at home, they have been working to help communities experiencing houselessness, and continue to help shelters who are willing to take dogs in. Taking away a pet could also be taking away someone's only family, and so they sometimes offer temporary shelter for dogs to those who have been displaced for whatever reason.
"Dog rescues are doing things so thoughtfully, so it just seems so bizarre to just be like, okay, we're gonna cancel your ability to help dogs because it's not thoughtful in a medical way. Everything we do is very thoughtful, as long as we understand what's going on in our community."
Diekmann agrees.
"Pretty much every group I know is following all of the procedures to the letter," he says.
"We're taking those animals on the street that have been poisoned, or hit with a machete, or run over by a car, and we're saving them. This ban is literally costing animals all over the world suffering and death. I just wish the Government would take a little bit of time to talk to everybody and figure out a plan that works to make sure everybody is safe, and that we can still keep adopting dogs to Canada."
Nicholas is now living his best life somewhere in Ontario.
(Photo courtesy of DCDR)
"We're going to figure out a way. We're going to continue to save animals, but these additional blocks that are unnecessary or haven't been thought out very well are very frustrating to an organization like us."
---
Email: [email protected]
Twitter: @lextoinfinity
---
COVID-19 is impacting all Canadians. At a time when vital public information is needed by everyone, The Pointer has taken down our paywall on all stories relating to the pandemic and those of public interest to ensure every resident of Brampton and Mississauga has access to the facts. For those who are able, we encourage you to consider a subscription. This will help us report on important public interest issues the community needs to know about now more than ever. You can register for a 30-day free trial HERE. Thereafter, The Pointer will charge $10 a month and you can cancel any time right on the website. Thank you
Submit a correction about this story