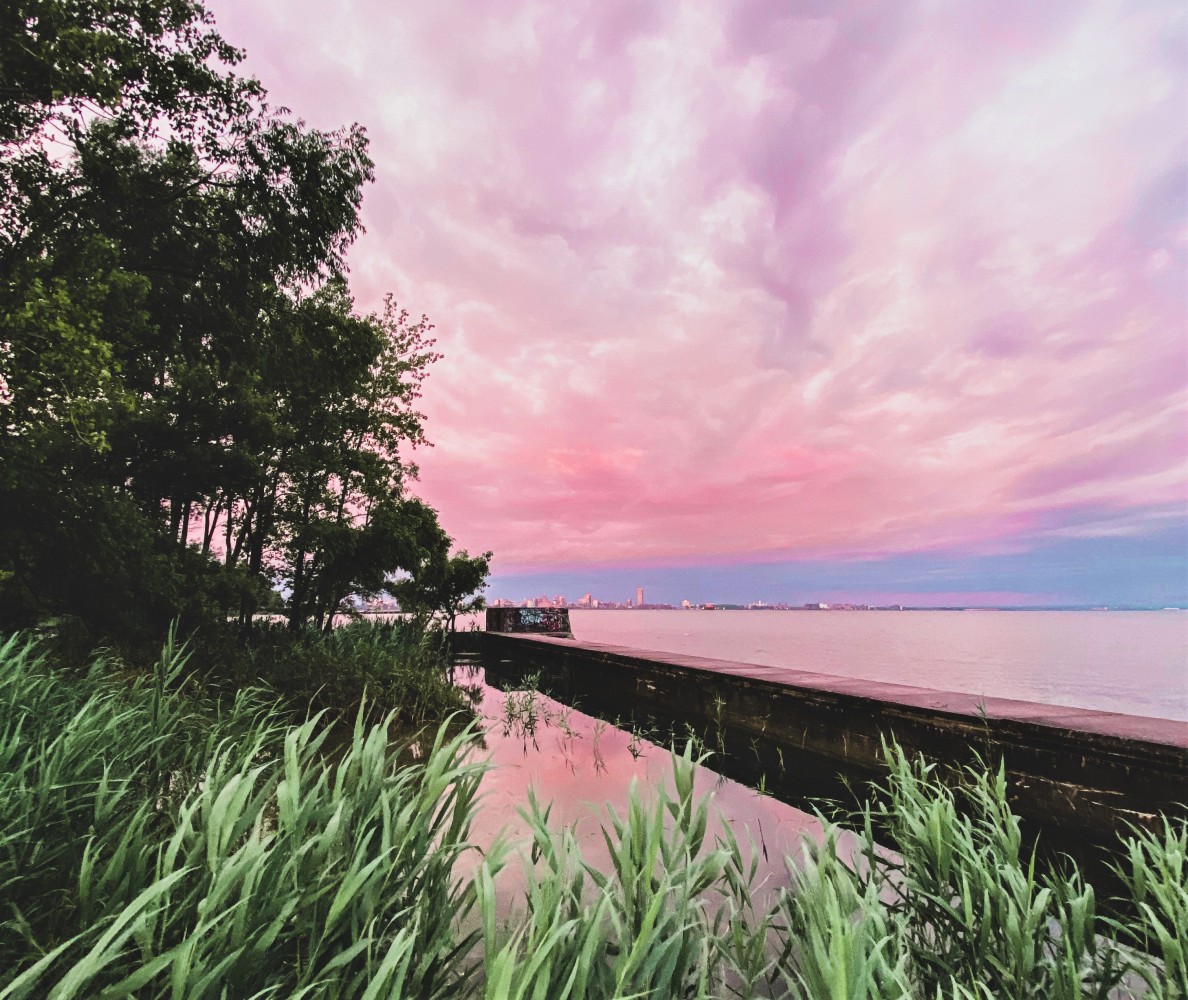 Joel Wittnebel/The Pointer
Niagara Region is at a watershed—strong local journalism is needed now more than ever
Democracy dies in darkness. That was the message the Washington Post adopted as its slogan in 2017, as America's oldest governing institutions faced an onslaught from forces that cared little about the public good.
The warning — taken from a judge's decision decades earlier in which he cautioned that government should never be allowed to operate in secret — has never been more relevant than today, here in Niagara.
That is why we are pleased to announce the launch of The Pointer Niagara.
The Pointer Niagara is an online news source that, like The Pointer's other platforms in Brampton and Mississauga, will provide Niagara's residents with in-depth journalism with no bias, no influence, just the facts, for stories that matter to you.
A well-informed citizenry is essential to ensuring the decisions of elected officials are being made in the public interest, in an open and transparent manner and with forethought for the impact those decisions will have on people's pocketbooks, the protection of our environment and the future prosperity of the region.
Niagara knows more than most regions how important it is to have engaged citizens, and what can go wrong when special interests are able to operate in the dark, advancing their own agendas.
In 2014, a group of self-interested politicians and bureaucrats collaborated to get themselves inserted into Regional Council and the machinery of our local government. What followed were four years of bad governance. The members of this cabal launched attacks on other Regional Council members, and they went after journalists who were only doing their job by reporting on the issues.
This included a letter from the Region's CAO, signed by 11 members of Regional Council, asking the St. Catharines Standard owners to replace its managers, and included a list of "potential improvements" in the way the paper should cover local news. The letter was followed by a meeting between the letter's signatories and the parent company's (Post Media) CEO. In another incident that resulted in international attention, the Region's CAO at the time ordered the illegal confiscation of a reporter's computer.
We would like to think that attempts to suppress a free press only happen in authoritarian regimes overseas, but it happened right here, in Niagara, just a few years ago.
As a former editor of an independently owned community newspaper in Oakville, I also experienced an attempt by a municipal government to suppress the free press.
The mayor at the time was unhappy with our extensive coverage of controversial plans to develop 7,600 acres of land in the north of the town. Municipal staff were told not to respond to questions from our journalists. Oakville's CAO met with the newspaper's owner/publisher, and myself, and told him that he should fire me. Eventually, the Town pulled all municipal advertisements from our paper, causing a devastating revenue loss. Only intervention by our local MPP eventually restored the advertising, and only the will of an informed citizenry, who turfed the mayor and several of her council cohorts in the next municipal election, restored a transparent and accountable local government.
In Niagara, the cabal not only went after the media, it also went after individuals. When Ed Smith, a local St. Catharines resident, created and made public a report asking questions about how decisions at the Niagara Peninsula Conservation Authority (NPCA) were being made, he was subsequently sued by the organization. The group that had taken over demanded he reveal whoever had helped him prepare the report, promise to never speak of the NPCA again and make a public apology before they would drop the lawsuit. He refused. After a frightening year for his family, Superior Court Judge James Ramsay dismissed the NPCA's case, awarding court costs to Smith and stating that this kind of harassment of individuals by government may happen in other countries "but not in my beloved dominion."
In the end, it was local journalism and the work of a local citizens group, A Better Niagara, that brought the cabal down. The depth of the wrongdoing was revealed by a scathing Ontario Ombudsman's report on the Regional CAO hiring scandal called "Inside Job". As well, the malfeasance caused by the cabal members on the board of the NPCA, and those hired into its management ranks, resulted in a damning Ontario Auditor General's report.
As in Oakville, the final blow to the cabal was delivered by the informed citizens of the Region in the 2018 election when 9 of 11 cabal members, identified by A Better Niagara, were removed from Regional government.
Good journalism matters. Citizen engagement matters. Local governance matters. We cannot forget these lessons from the past.
Niagara is in the midst of a great transition. Until recently, a rural region with a few small cities and several small towns nestled on a peninsula, isolated from the tumultuous transformation that has reconfigured the GTA, Niagara is now a locus of the development industry.
Its population, before the boom, mostly older and white, is rapidly growing and diversifying, going from 450,000 in the 2016 census to a projected 700,000 by 2051. Its lands, covered by farms and vineyards, and some of the most significant fragments of Canada's remaining Carolinian ecosystem, is now giving rise to condo towers and sprawling suburbs at a pace that shocks long-time residents of the Region.
Now, more than ever, citizens need to be well informed about what is at stake, how decisions are being made, who is influencing them and what the consequences will be. However, at this time of greatest need, our traditional news sources are also in transition.
Newspapers have seen their advertising revenues drop and their budgets slashed. Today's skeletal newsroom staff represent a fraction of the journalists that we used to rely on to bring us local news.
At the same time, deep-pocketed special interests have started online "newspapers" and "community forums" that eschew traditional journalism's code of ethics centring on public trust, truthfulness, fairness, integrity, independence, and accountability. As well, the internet, where many have migrated to for news, is a playground for the merchants of misinformation, who dispense fabrications that contribute to the polarization of opinion which further fragments and antagonizes our society.
The Pointer Niagara promises to counter this.
The news stories The Pointer covers, and the way they are covered by our journalists, will be guided by our belief in these principles:
Good Governance: Niagara Region should be a region where local and regional elected officials, and their governments, operate with integrity in a transparent and accountable manner to the people they serve.
Social Justice: Justice, in terms of the distribution of wealth, opportunities, and privileges within a society is necessary for an equitable and healthy society. Our increasingly diverse Niagara community needs strong equity mandates to govern all public institutions.
Individual and Civil Liberties: Everyone must be equal under the law, and able to enjoy the fundamental freedoms of belief, thought, expression and the press/media, as long as those fundamental freedoms don't infringe on the freedoms of others.
Responsible Community Planning: Municipal planning should foster the development of strong communities that create vibrant, compact, transit-supported urban environments and protections for our natural areas and agricultural lands.
Environmental Responsibility: In the era of both a climate and biodiversity crisis, good governance and good planning must entail the protection of biodiversity and foster greenhouse gas emissions reductions to meet Canada's commitment of reaching Net Zero by 2050.
Civic Engagement: An engaged and well-informed public who are actively involved in civic affairs is necessary for Regional democracy to thrive.
Workers' Rights: Working people have fundamental rights that include freedom of association, freedom from harassment, safety, fair compensation and dignity in the workplace.
Role of Government: Governments have a duty to protect the health, safety, and well-being of their citizens both in the moment, and over the long-term, by recognizing current issues and anticipating future threats.
Democracy dies in darkness. The Pointer Niagara aims to shine a light.
---
Liz Benneian is on The Pointer Niagara citizen editorial advisory board. This editorial is written on behalf of fellow members Ed Smith and Patrick Robson.
---
COVID-19 is impacting all Canadians. At a time when vital public information is needed by everyone, The Pointer has taken down our paywall on all stories relating to the pandemic and those of public interest to ensure every resident of Niagara has access to the facts. For those who are able, we encourage you to consider a subscription. This will help us report on important public interest issues the community needs to know about now more than ever. You can register for a 30-day free trial HERE. Thereafter, The Pointer will charge $10 a month and you can cancel any time right on the website. Thank you
Submit a correction about this story