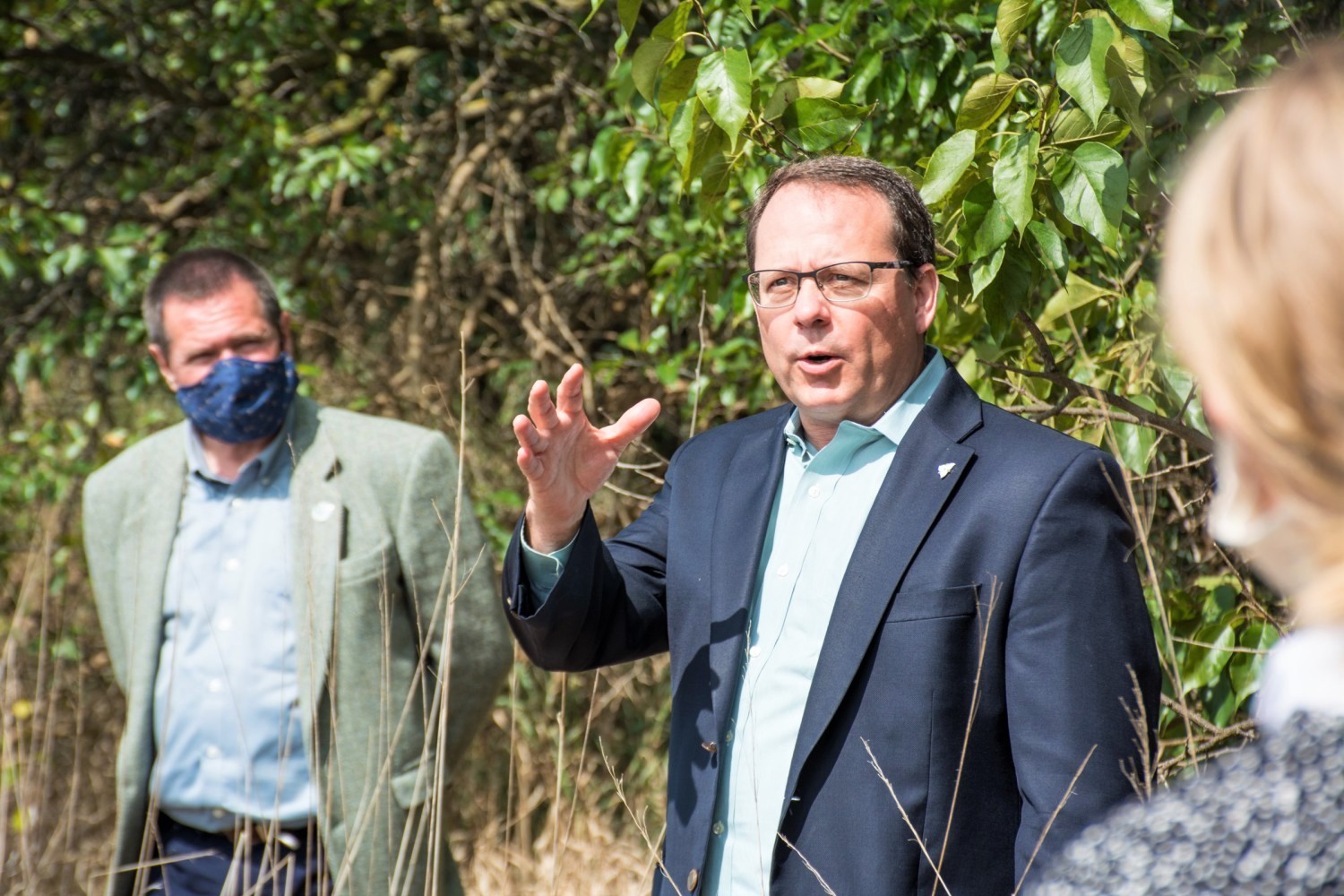 Joel Wittnebel/The Pointer
Ahead of the October municipal election 'green' candidates need to break through
Mike Schreiner spent his childhood outdoors. The farm he grew up on had a creek running through it where he spent a lot of his time.
"It just really instilled in me a deep appreciation for protecting water, protecting farmland, enjoying nature," he says.
Jenni Le Forestier gained a greater appreciation for the world around her when she moved to the Niagara Escarpment shortly after 2010.
"I suddenly realized that the agenda was to urbanize everything," she says. "And the special place that I loved since I was a child was suddenly at serious risk for urbanization."
Schreiner is leader of the Green Party of Ontario and a Guelph MPP, Le Forestier was a Caledon-area Green Party candidate in last year's federal election.
They both represent the type of citizen who is concerned about climate change and willing to fight back against those whose interests oppose the values needed to sustain our planet.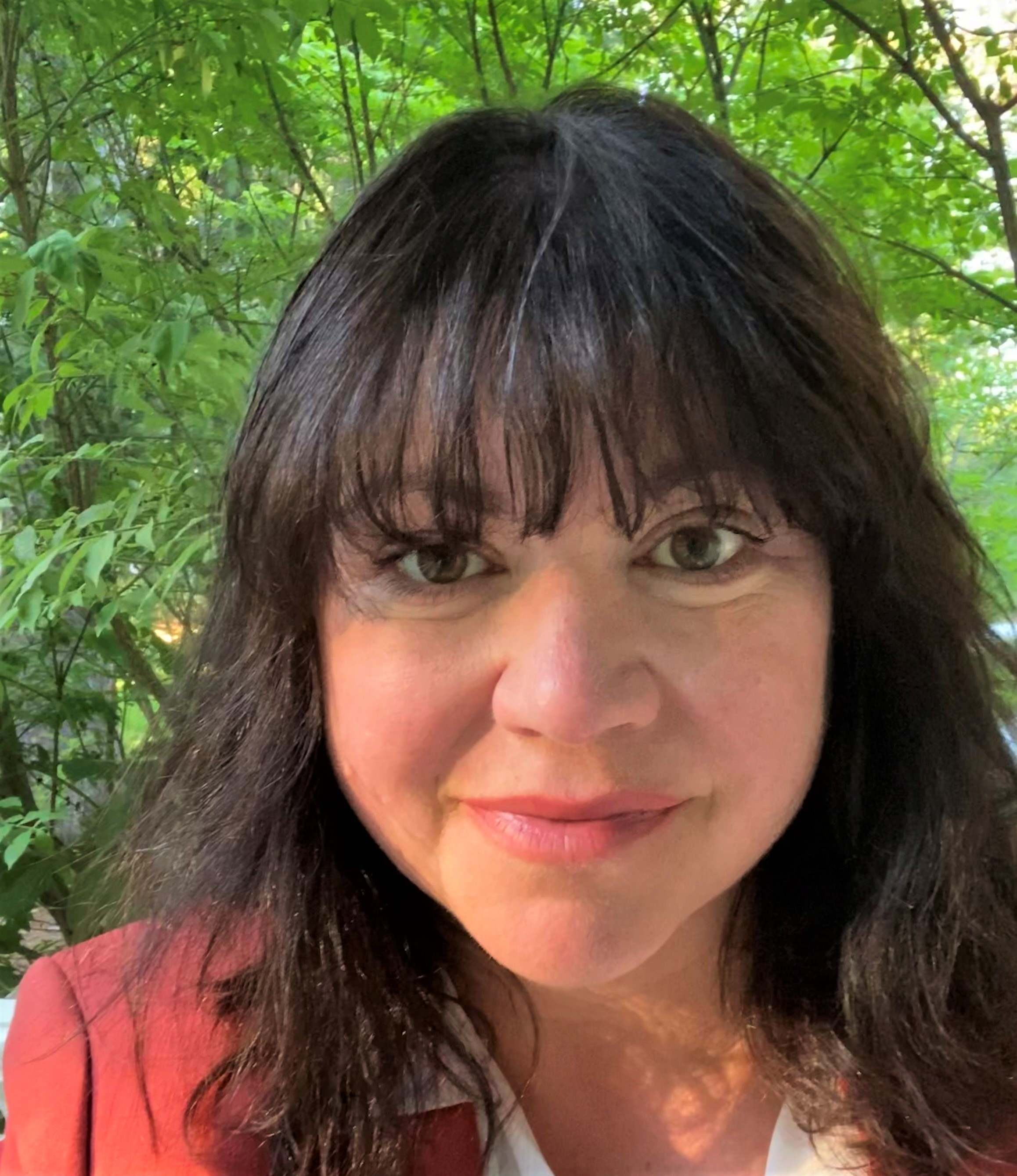 Jenni Le Forestier has been a tireless advocate for green planning and policy making in Caledon.
(Supplied by Jenni Le Forestier)
Le Forestier has become an outspoken challenger to Caledon politicians who for decades have made decisions in favour of the development, construction and transportation industries, at the expense of the natural world she is determined to protect.
"Being a mom, when you suddenly are teaching children, you recognize how much they absorb from the natural world, and how much they get out of it, and wanting to make sure that that is still in place for them," she says. "And I think there's a feeling that we all need to be much more humble about the environment that surrounds us, and what it provides for us."
While she exudes that humility using a calming voice, she often deploys it loudly when taking on Caledon politicians who have refused to listen to their own constituents. Le Forestier has been relentless at council and committee meetings for years, delegating on key sustainability issues, bringing forward evidence of poor leadership, using freedom of information legislation and other accountability tools to hold local government's feet to the fire as the natural world around her has been eyed up for sprawling development.
But for both Le Forestier and Schreiner, another firebrand who inside Queen's Park backs down from no challenge, caring about the environment has never been enough. Both decided that in order to take action, they needed to fight from a place of higher power: the often ruthless arena of politics.
"I just remember being politicized a bit around that when the Rio Summit collapsed, and the negotiations fell apart. And I really, for the first time, learned about the challenges associated with climate change," Schreiner says. "And, and at that point in time, that failure to really address it. And so that just motivated me politically to act on the sort of deep connections I've always had with the environment."
"As I learned more about the climate crisis, it really started to turn my love of nature and the environment into political action."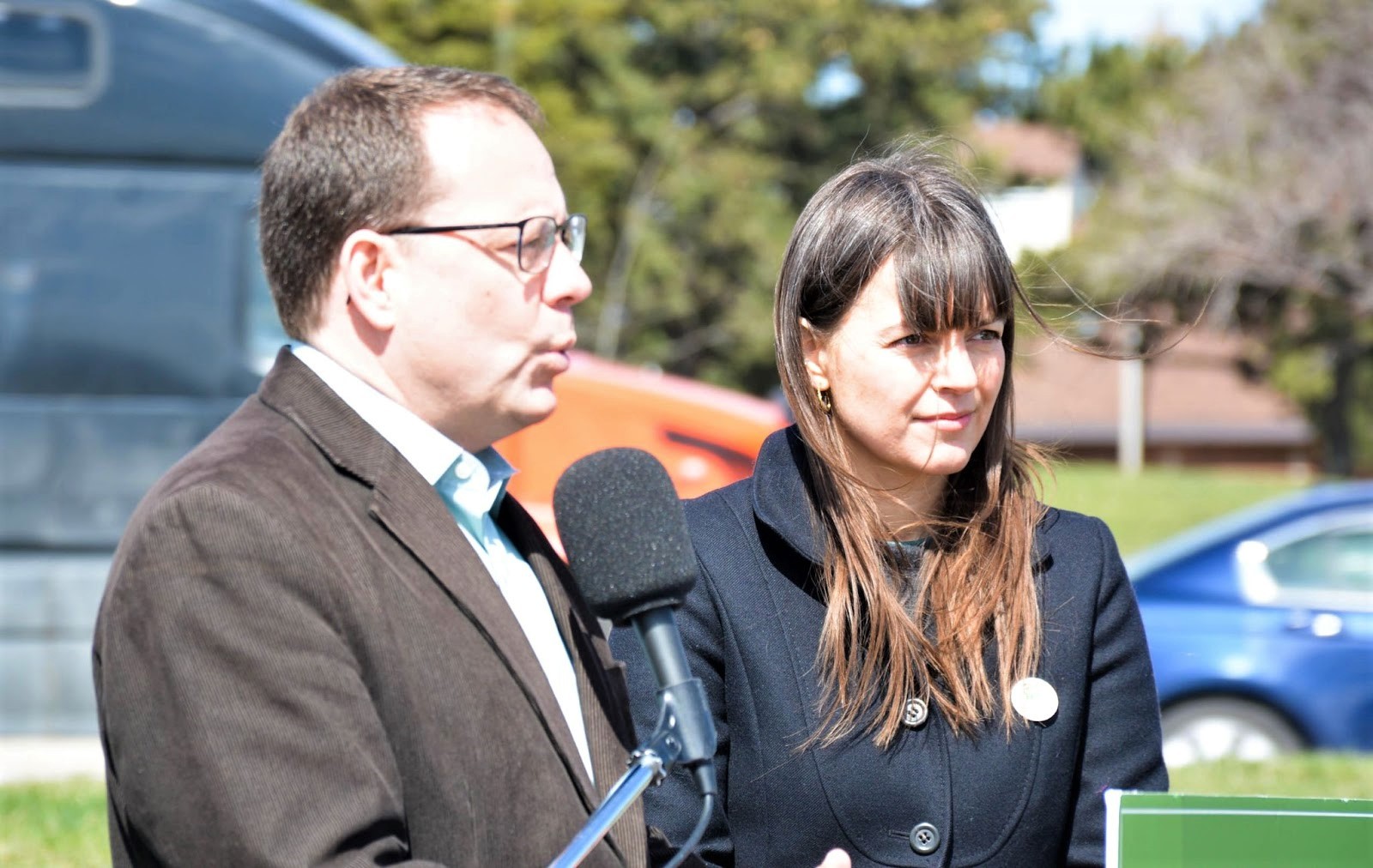 Guelph MPP Mike Schreiner has one of Canada's most important environmental leadership roles as Ontario's Green Party leader.
(Joel Wittnebel/The Pointer)
The 2021 federal election was the first time all political parties released a detailed environmental platform. Despite municipalities accounting for more GHG emissions than any other level of government, local candidates have seldom articulated a vision to lead their city into a new era of sustainability.
Ahead of the October 24 municipal election in Ontario, many candidates have yet to even detail a climate action plan. Council members across Peel and much of the province have recently paid lip service to environmental action, voting to support "emergency declarations" then taking decisions directly opposed to these vague commitments.
During this past term, both Brampton and Peel Region Councils formally declared a climate change emergency through a vote, then, on the same day, voted to support the environmentally disastrous 413 Highway. Under intense pressure from Le Forestier, Schreiner, Mississauga members of council and thousands of others, Peel Region later pulled its support for the controversial 400-series thoroughfare that the Doug Ford PC government is determined to build through much of Peel.
In Brampton, when councillor Doug Whillans tried to bring forward a motion early this year just to discuss City Council's earlier support for the highway, which directly contradicted its climate change emergency declaration, Mayor Patrick Brown led an effort to deny any further debate on the issue. He has bragged about reviving the 413 Highway plan when he was Ontario PC Party leader, after the Liberals had scrapped the project. He also claimed to support progressive climate change policies when he voted in favour of Brampton's emergency declaration. That was before he shut down any discussion to reconsider the highway plan he pushed as a provincial politician.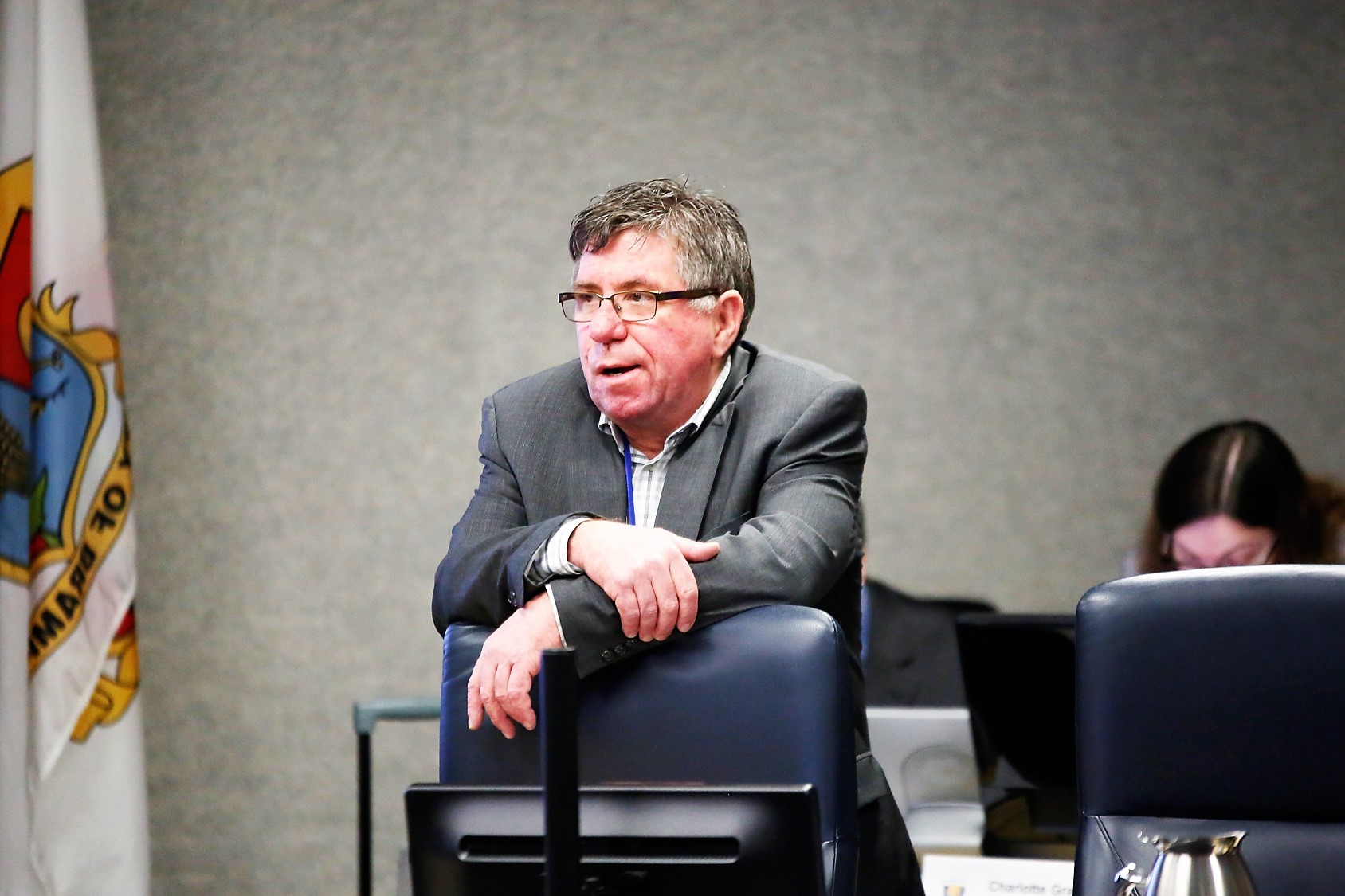 Brampton Councillor Doug Whillans, who is not seeking reelection, was frustrated when Patrick Brown and others on council contradicted their commitment to fight climate change.
(The Pointer file photo)
Schreiner and Le Forestier have seen this game play out for years, and have chosen to align with the Green Party at both higher levels of government.
"I just felt there wasn't a political party that really represented my values, and was taking the climate court crisis in particular, seriously," Schreiner says. He has been the loudest voice inside Queen's Park since the PCs put the 413 Highway plan back on the agenda and rammed through approvals to get it built. Currently, the project is on hold while the federal government's Impact Assessment Agency considers taking over jurisdiction for the approval process.
Le Forestier ran for the federal Green Party last year, and brought her determined, pull-no-punches approach to the campaign trail, connecting environmental issues to all planks of her platform.
"For me, the greens represent a rationalization of things that I hold dear. I liked the fact that they were environmentally aware, but I also liked the fact that they were fiscally responsible."
"We don't have to sacrifice economics for the environment. And in fact, environment and economics should go hand in hand."
For Schreiner and Le Forestier the step into politics was a natural one. With a performance background, Le Forestier thoroughly enjoys delegating to town council and attending meetings on a variety of issues.
But not everyone committed to the Green platform has the drive to be a politician in an arena that demands its players constantly sharpen their elbows.
Miranda Baksh, co-founder and CEO of Peel's Community Climate Council, a youth-founded nonprofit organization that advocates for local climate action, says she encourages younger climate activists to run in the municipal election.
Even though the climate crisis is the most pressing issue of our time, a desire to live a sustainable lifestyle is not enough to become a politician. A successful candidate is usually equipped with the qualities of an extrovert, has to be a good public speaker, a bold decision maker, and, inevitably, needs to be able to defeat opponents on the highly charged stage of no-holds-barred politics.
This does not fit the personality type of many passionate "climate warriors". But more and more take the last word of that description to heart.
"It's really on people like myself, who care deeply about environmental issues, to connect those issues to the day-to-day lives of people," Schreiner says. "So I think one of the ways to translate environmental activism and political action is to…become an elected politician."
"I was willing to volunteer and put some time and work into seeing if we could build this [Green] Party. And that's something that would have influence in Canadian politics."
According to Le Forestier, a lack of action on environmental issues can often be a result of increased partisanship.
"If we're going to solve a lot of the big issues that we're facing right now, especially the climate emergency, I think you need to have less partisanship and much more cooperation," she said. "We need to start electing people that are not there for a paycheck."
In the upcoming election, Peel's three municipalities have a lot of returning candidates from older generations, which have not lived with the same awareness of planetary issues as younger generations.
Brampton and Caledon's support for the 413, a project that will have severe impacts on the local environment, is just one example of how the developer-driven planning of the past does not work with the realities of the future.
Much of the municipal politics that unfolds in Peel is aggressively pushed by developers. A fundraising event this week, to raise campaign money for Patrick Brown and Brampton's chair of planning, Martin Medeiros, is a perfect example. The builder, i2 Developements Inc., which is planning to build a massive project in the city, is hosting the event to raise $35,000 for each of the two incumbents. It's not in Brampton, where local voters impacted by developers live, it's in Woodbridge near the offices of many of Ontario's biggest development companies. Brown has been a big supporter of the development industry throughout his career as a politician, which has spanned more than half his life, since he was in his early '20s.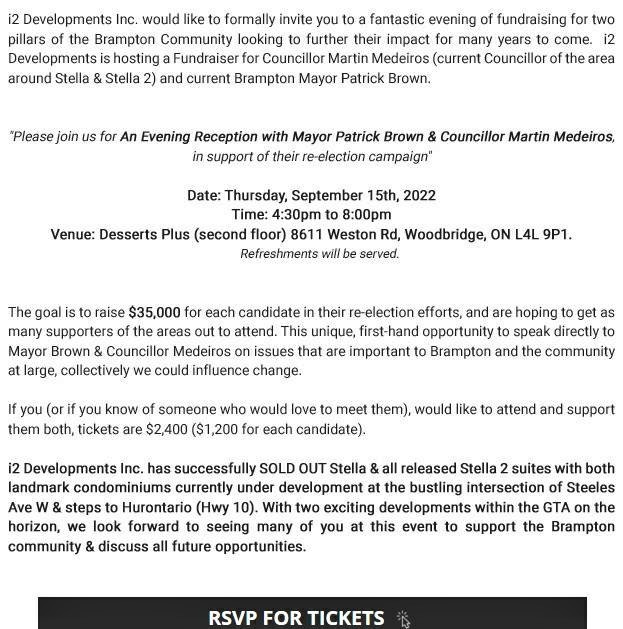 "We need to elect people that don't have that tie to private interests in private corporations and private development. And I think that's really key in this next election, that we don't have a whole new slate of legal counselors that are completely beholden to developers, before they're even, you know, out of the gate," Le Forestier says.
"I think we really need to look at what is driving people to run, what their modus operandi is, and whether or not they're going to uphold the values that we all know is so important right now, as far as the environmental piece."
More and more candidates are starting to mirror the approach of people like her and Schreiner. It's okay to be passionate about the planet, they say, but you also have to be ready to take off the gloves and fight for what you believe in.
---
Email: [email protected]
Twitter: @rachelnadia_
---
COVID-19 is impacting all Canadians. At a time when vital public information is needed by everyone, The Pointer has taken down our paywall on all stories relating to the pandemic and those of public interest to ensure every resident of Brampton and Mississauga has access to the facts. For those who are able, we encourage you to consider a subscription. This will help us report on important public interest issues the community needs to know about now more than ever. You can register for a 30-day free trial HERE. Thereafter, The Pointer will charge $10 a month and you can cancel any time right on the website. Thank you
Submit a correction about this story