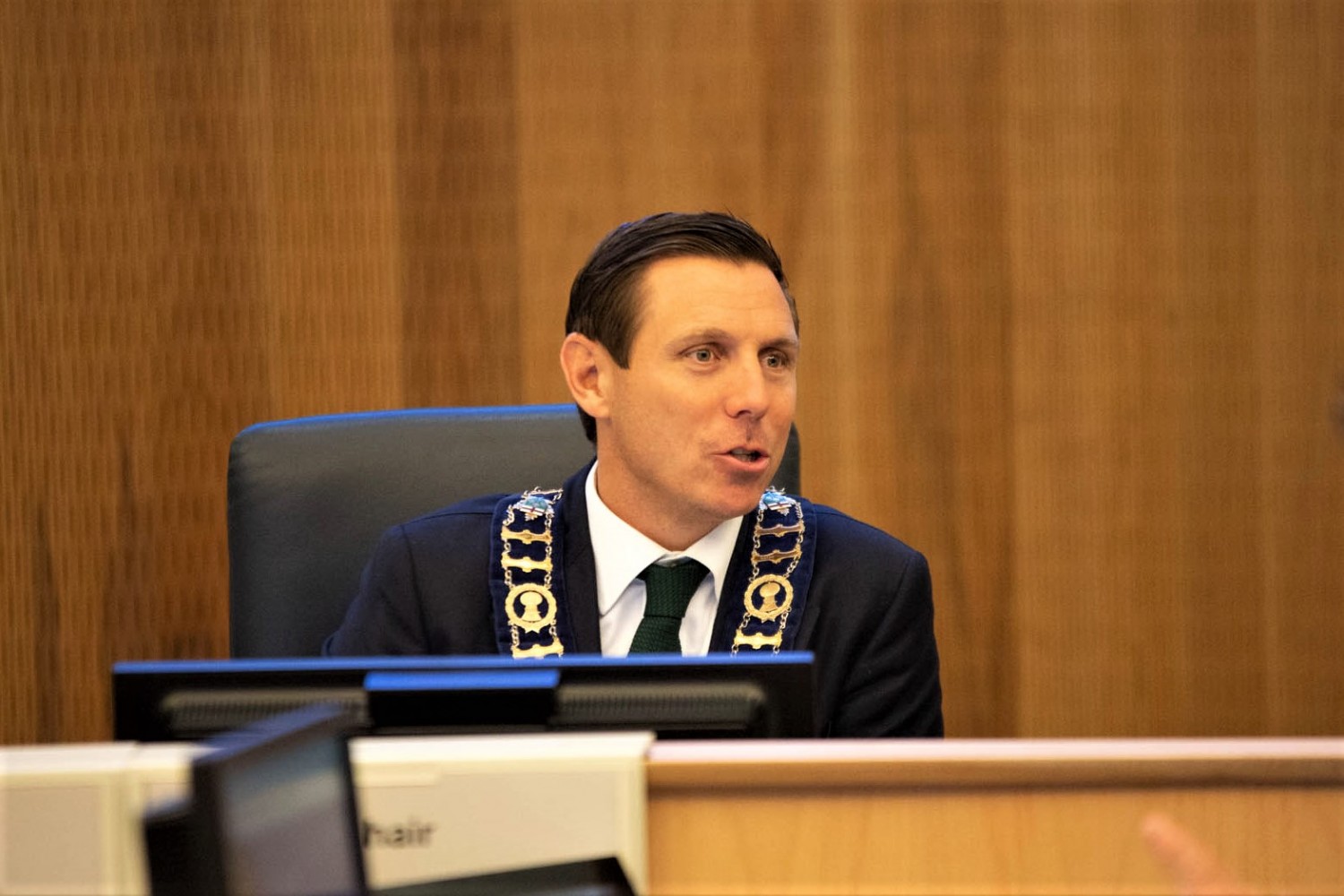 The Pointer file photo
Second Reading: Patrick Brown
Patrick Brown misled residents, claimed move to cut public out of key planning decisions was due to provincial deadline
Ahead of the October 24 municipal election, The Pointer is republishing articles that highlight the troubling behaviour of Patrick Brown since his election as mayor. This article was originally published November 1, 2021.
---
"The Minister of Municipal Affairs said that they really wanted to have these dealt with, any final request in by the fall," Brampton Mayor Patrick Brown told council at an October 20 meeting.
He was referring to a supposed push by Queen's Park to get Minister's Zoning Order (MZO) requests from municipalities into the provincial government before the winter.
He made the comment as City Council finalized its sixth request for an MZO in less than a month. The requests, which have raced through a consultation process that has ranged from limited to non-existent, could lead to the approval of more than 15,000 new residents in the City of Brampton, without local input. The requests include 1,129 units beside the downtown Brampton GO station, 6,427 new residents for the first phase of a massive redevelopment near the Bramalea GO station and a 31-hectare planned community beside a golf course.
MZOs were once a rarely used planning mechanism that the current PC government has deployed with increasing regularity. The Orders were originally intended for extraordinary circumstances only, to override local authority over how residential and commercial development will shape communities.
The previous Liberal government elevated the power of MZOs when it removed the ability to fight such decisions from the planning appeals process. Then the PCs further expanded the application of the tool when it passed legislation that allowed MZOs to be used even if the particular development application was not in line with official provincial land use policy.
Instead of public consultations and the ability to question a developer's application, to ensure conformity with community standards and relevant legislation, an MZO circumvents such due diligence, with unilateral authority taken over by the minister who grants the approval. It means local meetings do not take place, nor do negotiations between municipal planning staff and developers. It effectively makes protest and activism the only form of public consultation, instead of standard meetings where neighbours are invited to share their views.
The rush to apply for these Orders, Brown says, comes because the window to submit requests for an MZO to Queen's Park is rapidly closing due to a provincial deadline, according to his claim.
"No deadline has been communicated to the City of Brampton with regards to Minister's Zoning Orders," Conrad Spezowka, a spokesperson for the Ministry of Municipal Affairs and Housing, told The Pointer.
The response from the ministry was shared with Brown and his head of communications, along with a request to clarify why he told council the MZO requests needed to be rushed last week because of a provincial deadline, when no such deadline existed. He did not respond.
With the next provincial election less than a year away, some critics believe leaders like Brown are trying to act fast to ram through major development proposals before the election cycle gets underway.
It is unclear if Brown communicated with the Province about MZOs. Asked by The Pointer what MZO instructions might have been issued by Queen's Park to municipalities, a spokesperson for the Province said Brown was mistaken.
A City of Mississauga spokesperson said no such deadline had been communicated to officials there. Both the Ontario NDP and Liberal Party said they were not aware of any MZO deadline.
An illustration showing plans to build a subdivision on a Brampton golf course including a large area of single and estate homes.
(Image from Kaneff)
While it is not clear why the floodgates for MZOs seem to have been opened recently, a significant number have poured into Queen's Park from across the province. Brampton alone has sent six requests, while Caledon has asked for an MZO to build a 2.2-million-square-foot warehouse partially in the Greenbelt, despite a statement by Municipal Affairs Minister Steve Clark in March that no MZO request for a project in the protected Greenbelt would be approved.
The City of Toronto has also requested five MZOs since June 2, a year before the next provincial election will be held. One of the requests has been approved, while the other four (made on June 8, July 14 and October 1) are awaiting a final decision.
Brampton may be leading a charge by municipalities to request provincial permission to sidestep the planning rules, but it is far from alone.
"Have them set some criteria first for what they'll be considering," David Amborski, the director of Ryerson University's Centre for Urban Research and Land Development, told The Pointer.
He suggested there were legitimate uses for MZOs to speed up a gridlocked planning process, but that clear and codified guidelines for when to use them at the provincial and municipal level would be key to ensuring the public remained part of the process. Amborski listed rapid affordable housing and long-term care homes as urgently needed projects that merit an MZO.
"I think it's been polarized to a large extent," he said. "It's been a power that's always there; [just] because one government chooses to use it in a certain way doesn't mean you necessarily remove it. You might try to use it more effectively, or more sensitively."
According to filings on the Government of Ontario's environmental registry, where each approved MZO must be posted, the Province has approved 11 Orders since June 2. On July 15, Minister Clark issued an MZO for the Town of Milton, before approving a further five that were added to the registry on August 27. Another, this time for the Town of Innisfil, was pushed through on September 2, before four more, including one for a film studio in Mississauga, were confirmed on September 17.
Brampton's latest requests, several of which were walked onto council agendas with no public notice and barely discussed at council, have not yet been approved. The Province has not indicated when a decision will be made.
"The NDP is currently reviewing each deal to see who benefits, and who could be negatively impacted," Sara Singh, Brampton Centre MPP and deputy leader of the Ontario NDP, told The Pointer. "The fact is, Doug Ford has a seriously bad track record of steamrolling local communities and environmental protections to give his developer buddies anything they want, no matter the cost to the rest of us."
Sara Singh says her party is reviewing Brampton's MZO requests to see who benefits.
(Image from Joel Wittnebel/The Pointer)
Marilyn Raphael, Ontario Liberal candidate for Brampton South, shared a similar sentiment. She highlighted the importance of local consultation to allow area residents to share concerns and feedback on a series of projects that could completely change Brampton's skyline and streetscape.
"MZOs are meant to expedite projects with the full support of a local community. Doug Ford is using them to ram through projects without consultation or proper environmental assessments," she told The Pointer. "The people of Brampton should have the opportunity to voice our opinions on these projects. If we choose to support them, then the government can proceed."
During two council meetings, the City of Brampton has made six requests for Minister's Zoning Orders. Each request has been spurred by a letter from a developer. On six occasions, with very little discussion, Brampton councillors have agreed to take the planning process away from the public and give it to builders.
Four of the six requests were walked onto the agenda after the meeting started.
"If they had guidelines for what [situations] they would consider [an MZO], you might not get the walk-ons," Amborski said. "If the municipality chose to, they could have proper consultation on what they're considering. The municipality has that choice of public consultation: if they're going to approve something at council, if they're going to approve something at council, they could ask the council to weigh in… before they recommend it to the Province."
David Amborski sees benefits to the use of MZOs, but says guidelines and clear rules are important.
(The Pointer file photo)
The requests Brampton has sent to Queen's Park are: two 48-storey towers with as many as 1,129 units in the downtown; a 31-hectare complete community, or subdivision, to be built by Kaneff on Lionhead Golf Club (which the developer owns); a not-for-profit long-term care home (one of the valid reasons cited by the provincial government to issue MZOs); a school and place of worship; a headquarters and training centre; and an entire mixed-use, multi-tower community that could, at full build-out, house around 12,500 people in Bramalea.
Brown was asked about the plan to construct the latter proposal, Emerald Heights, during a tele-town hall last week. He touted the unanimous decision of council and his trust in local councillors as reasons to exempt the public from the planning process.
He did not share that he misled councillors when he told them the MZO request had to be rushed for a looming provincial deadline, which does not exist. Elected officials, if they knew there was no immediate urgency to ram the decision through, might have asked for more time to get details on what could be the largest project in Brampton's history.
When pressed, he suggested residents contact local provincial politicians to express their views, despite them having nothing to do with a local planning process that is controlled by City Hall. Brown, not the city's MPPs, was the one who pushed the motion calling for the MZO to spring the project, without any public consultation.
"They're welcome to come to City Hall to share their input, they're welcome to share their input with the provincial government as they consider them," he said. "We have five MPPs that are in the provincial legislature, if you want to share your input with them, I am sure they would welcome that input."
The development around Brampton's downtown, one of the September MZO requests, would be a significant change to the city's historic skyline.
Brampton's downtown could see dramatic change if one of the MZOs is approved.
(The Pointer file photo)
The downtown is under a Toronto Region Conservation Area special policy designation that stifles development until the City is able to fund and build a solution to the flooding issues created by the Etobicoke Creek. The developer's short letter advocating to skip the public consultation process does not mention the floodplain issues at all.
The two towers will be built on the very edge of the land that is listed as susceptible to flooding. It's unclear if an MZO could override policy meant to protect residents and employees from the risks of flooding. Such a move would likely put those responsible for ignoring planning safeguards at legal risk, in the event of any harm.
"If an MZO were enacted in the near future, it is a reasonable assumption that the Owner could move forward with an approved site plan application by mid-2022, with construction beginning expeditiously thereafter with occupancy following in the next few years," a short planning brief attached to Brampton's September 29 agenda reads.
The letter says using the traditional planning structure, which has been "bogged down through the City's current Official Plan Review process", construction would not begin until 2026.
The development (dark blue) is on the edge of Brampton's designated floodplain.
(Image from the City of Brampton/The Pointer)
Another September MZO request is for an entire subdivision. The proposal contemplates a "complete community" including single-detached and executive homes.
This proposal too would normally be vetted by City of Brampton staff to ensure it meets the area's housing needs and climate plan. Local residents, and even environmental groups, would both normally be able to delegate at public meetings that now may not take place.
"Doug Ford is using this as his mechanism of first resort and not last resort," Liberal environment critic Lucille Collard told The Pointer. "Under the Ford Government, MZOs have become a routine move to speed up controversial developments, while cutting the public, experts and municipalities out of the process."
---
COVID-19 is impacting all Canadians. At a time when vital public information is needed by everyone, The Pointer has taken down our paywall on all stories relating to the pandemic and those of public interest to ensure every resident of Brampton and Mississauga has access to the facts. For those who are able, we encourage you to consider a subscription. This will help us report on important public interest issues the community needs to know about now more than ever. You can register for a 30-day free trial HERE. Thereafter, The Pointer will charge $10 a month and you can cancel any time right on the website. Thank you
Submit a correction about this story