Future Majority
Youth climate action hoping to spark minds ahead of municipal election
Young people can be the catalyst for change.
Our planet is counting on it.
Twenty-five year old Malala Yousafzai made massive waves through her activism for female education. Shot by the Taliban in 2012 for speaking out on girls' rights, she later became the youngest ever Nobel Prize laureate.
Nineteen-year-old Greta Thunberg is another familiar name. The Swedish climate activist is known for inspiring the Fridays for Future campaign and for challenging global leaders on their inaction around climate change.
While not all youth will win Nobel Prizes or inspire international movements, these examples are helping push more and more young people around the world, and across Peel, to challenge the status quo.
Canadians in their 20s and 30s make up 40 percent of the country's electorate, yet less than half of them vote. If this demographic turns out to the polls in full force, it could counter the often negative consequences of catering to older voters, many of whom do not prioritize the Earth's dangerously increasing temperature.
Watching City council meetings, as long-serving members tremble at the thought of upsetting residents who don't want complete communities, turn out in droves to oppose high-rise developments or demand another 400-series highway, more young people are wondering if local government represents their values.
Future Majority wants to change things. It is a nonpartisan, nonprofit organization working to make politics more accessible for young people.
Historically, politicians have prioritized the concerns of older voters who elected officials relate to and who turn out to vote at a high rate. Community attitudes toward broad local issues often coalesce over time, with older residents and the leaders that emerge from their ranks sharing similar views shaped collectively. The resulting lack of attention paid to the concerns of young voters who represent new ways of thinking can leave them discouraged, which can lead to political apathy. This perpetuates a cycle that leaves young voters on the outside looking in, even when they are more connected to the issues of the day.
Lip service on climate action is something that upsets many young activists, as older politicians approve policies on issues they have no real connection to, then fail to make the tough decisions to live up to their promises.
The October 24 municipal election is a chance to force change.
"For the upcoming election, we really just want to make sure that leaders know that it's time for them to follow through on these promises, and [to] listen to us when we speak about these issues, since we are the ones that have to deal with the future," said Kannera Uthayakumaran, a volunteer with Future Majority's Green Development Standards Campaign. "So it's important that they know that a lot of us are concerned about these issues."
Research from Abacus Data shows that over 90 percent of young people support greater climate action. Often, the problem is not knowing where to start. Organizations like Future Majority are mobilizing a force of young people to have their concerns heard.
According to the group, issues that young people are passionate about include the climate crisis, green jobs, affordable housing, accessible education, gender inequality, racial justice and mental health. This is a stark contrast to the issue that always seems to top the political agenda in Peel: development.
Even when elected officials believe they are making environmentally conscious planning decisions, such as Peel Regional Council's recent move to open up almost 11,000 more acres of land for development, claiming it was a reasonable balance between growth pressures and sustainable planning, dozens of delegates, many of them under 45, saw through the obvious give over to private interests.
A number of the 25 councillors around the table are known to have close ties to the developers who will benefit. Future Majority is trying to break this environmentally dangerous dynamic between older career politicians and the builders who have funded many of their careers.
In bringing together the 90 percent that want greater climate action, organizations like Future Majority are making a case for what politicians should care about.
Uthayakumaran said she has often seen positive results from her conversations with leaders.
"Politicians, despite the age gap, it tends not to be a problem just because we have done our research and we have mobilized a large community," she said.
There is still a large age gap between the youth mobilizing for change and those sitting on council.
Miranda Baksh, co-founder and CEO of Peel's Community Climate Council, a youth-founded nonprofit organization that advocates for local climate action, said she wants younger candidates to run in the municipal election—you only have to be 18.
"To see more youth representatives, making choices for us and helping us craft our future would be amazing. To see a lot more younger demographics actually at the table would be cool," she said. "I'm really excited and hope that there are new faces in council chambers that really reflect our demographic and our community. And hopefully we can get some younger voices at the table too."
Baksh said councillors can bridge this gap by engaging with youth-led organizations. The Climate Community Council has delegated in council chambers and was involved in 2019 when Brampton passed its first Climate Change Master Plan.
"Not just saying like, 'Hey, good job', which is what we get very often, like a quick pat on the back, but actually engaging and creating a real relationship that's ongoing, and listening to us, listening to what we're working on and seeing how we can mutually benefit each other, so that our goals align, because ultimately, they're building a future for us to live in. And so we should be a part of the conversation."
Green Development Standards (GDS) are a key focus ahead of the election. Clean Air Partnership (CAP) worked together with eight municipalities to develop a toolkit to help implement GDS.
According to CAP, GDS are "voluntary or mandatory measures created by municipalities to encourage environmentally, socially, and economically sustainable design. GDS are comprehensive principles to guide development at a level of planning and design that focuses on the community as a whole."
Municipalities like Toronto and Halton Hills have been using GDS since 2010 and 2014 respectively. The only municipality within Peel which currently uses GDS is Brampton after collaborating with Vaughan, Richmond Hill and Markham to develop standards for new developments that are uniform across all four municipalities.
Future Majority's GDS campaign is now focusing on Mississauga as the City revises its sustainability rules for buildings.
"One statistic that we throw around a lot is that within Mississauga buildings are responsible for 52 percent of community emissions, which is a crazy number," said Uthayakumaran. "So it's really important for us that Mississauga doesn't fall behind these other municipalities. And it's a really great opportunity at this point in time for Mississauga to become a stronger climate leader, and that leaders know that we want them to follow through on their promises."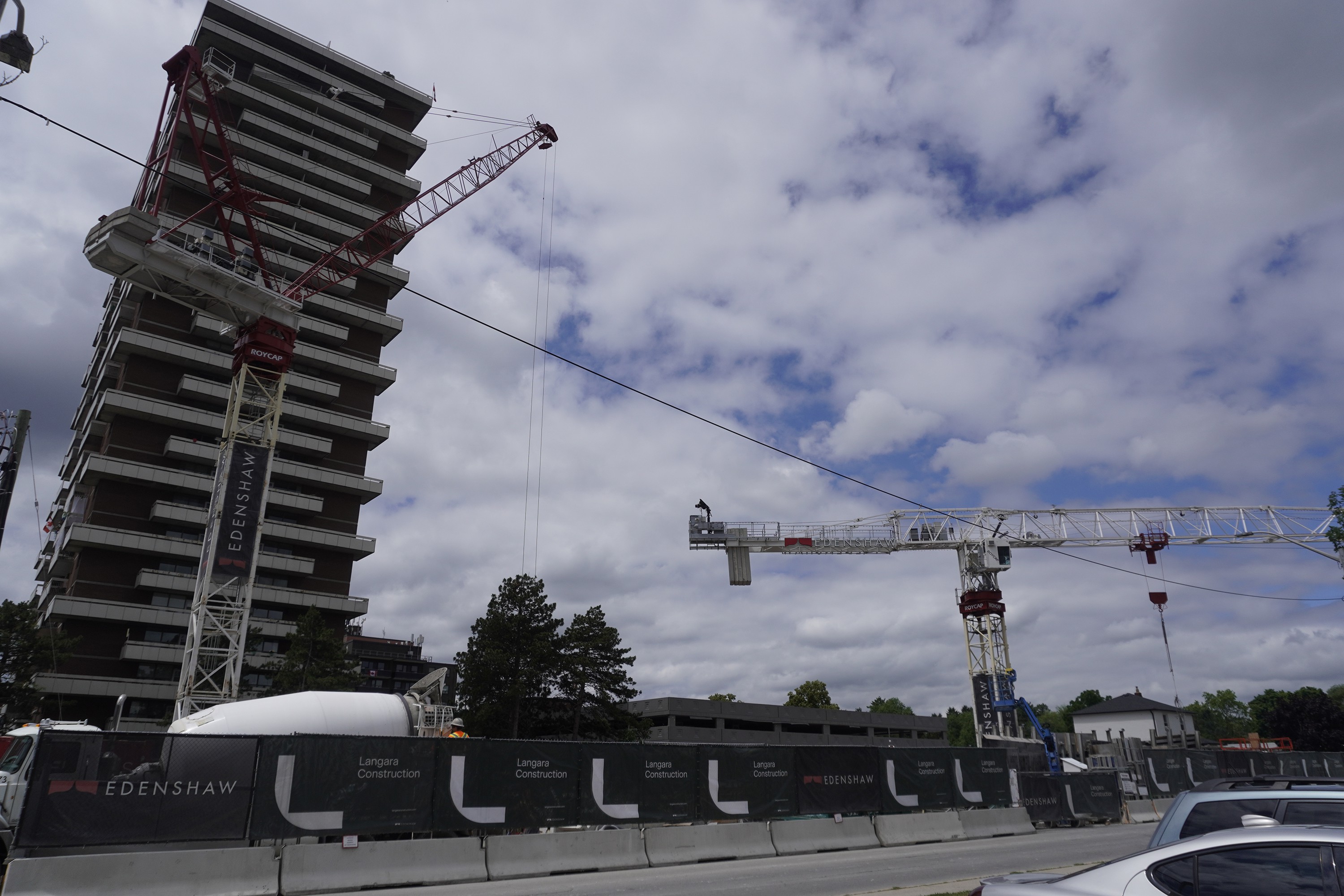 The implementation of Green Development Standards can guide urban growth down a more environmentally friendly path.
(Alexis Wright/The Pointer)
The Town of Caledon told The Pointer in an email that it is currently developing its first community-wide GDS.
Reducing emissions from buildings is just one way cities can reach their climate targets.
Baksh pointed out three key issues Peel councillors need to focus on: Highway 413, transit and affordable housing.
She said during the provincial election it was difficult for the CCC to delegate on the 413, but she wants to put the massive highway corridor proposed for the western GTA front and centre ahead of October's municipal election.
Future Majority and the CCC are coordinating community outreach to enhance the voices of those often overlooked.
Earlier in July, Future Majority held its first event as part of its GDS campaign. It was a climate coffeehouse that brought together members of the campaign with the broader community. They spoke with Mississauga councillor Matt Mahoney about climate concerns and GDS.
Uthayakumaran said she hopes to see more events like this in the future to bring together like-minded individuals on issues of climate justice.
Baksh said the CCC's political advocacy is currently on pause, but delegations and other conversations with councillors is something she would like to see happen again in the near future, especially ahead of the municipal election.
"It's been really hard to even have a discussion or conversation, let alone actual meaningful change," said Baksh. "So if we do see new councillors, it would be really nice to see ones that truly advocate for real climate action."
---
Email: [email protected]
Twitter: @rachelnadia_
---
COVID-19 is impacting all Canadians. At a time when vital public information is needed by everyone, The Pointer has taken down our paywall on all stories relating to the pandemic and those of public interest to ensure every resident of Brampton and Mississauga has access to the facts. For those who are able, we encourage you to consider a subscription. This will help us report on important public interest issues the community needs to know about now more than ever. You can register for a 30-day free trial HERE. Thereafter, The Pointer will charge $10 a month and you can cancel any time right on the website. Thank you
Submit a correction about this story