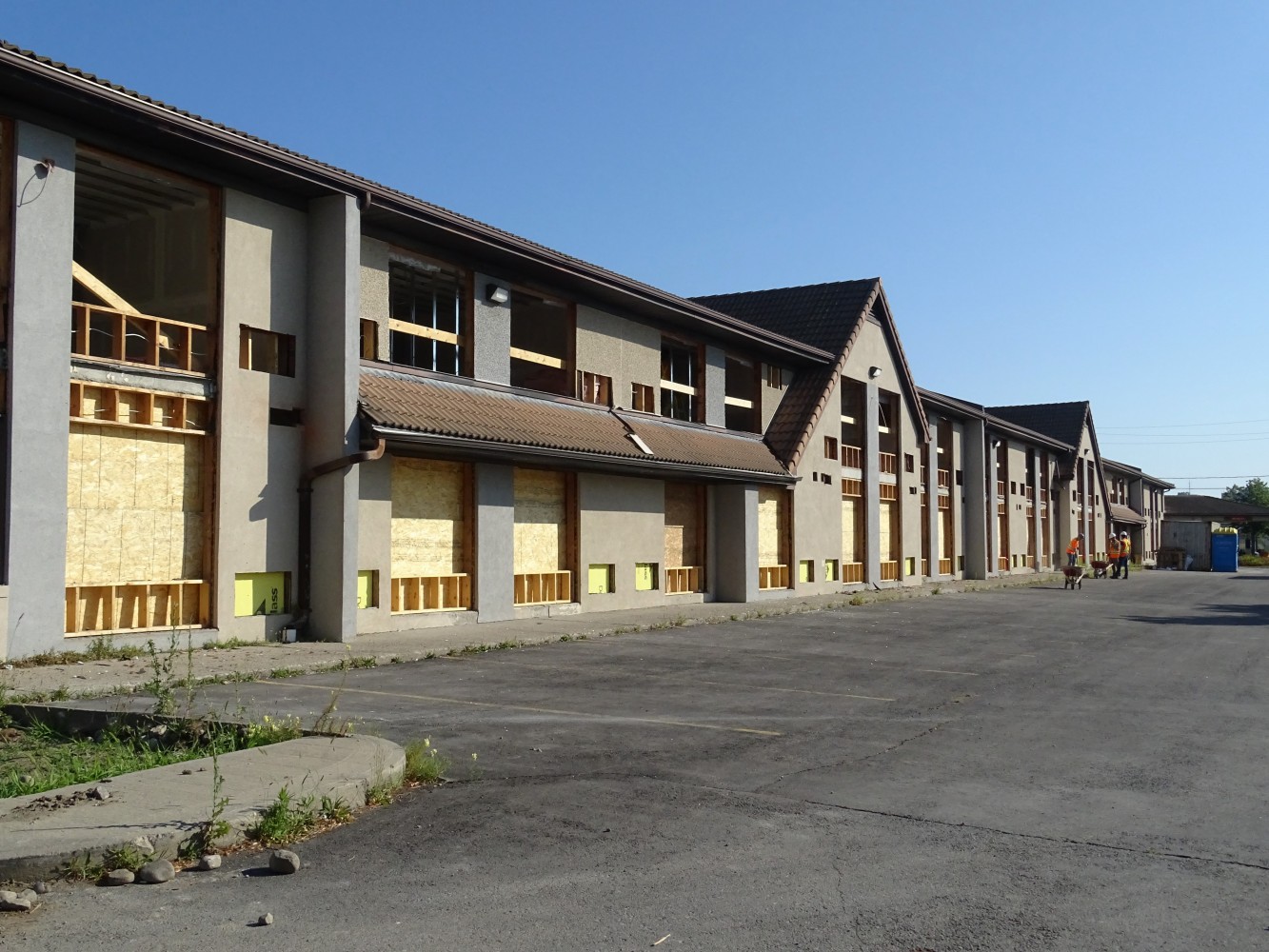 Natasha O'Neill/The Pointer
Can old buildings help fix Peel's housing crisis?
The backdrop of a federal government announcement in Brampton last week was an abandoned motel, first constructed in the 1980s. The building will get a second chance at life, renovated with affordable homes to house residents in need.
A contingent of local and federal politicians stood out front of the former motel on Rutherford Road in Brampton on Friday as the federal government announced $53.3 million to support the project and two others in Peel. In total, 113 affordable units will be created across the trio of projects in Brampton and Mississauga as part of Ottawa's Rapid Housing Initiative (RHI).
The funding stream was launched in October 2020 to meet increasing demand for affordable units created by the pandemic and mounting job losses. The RHI has financed 2,870 affordable units from two rounds of funding in Ontario.
"We all understand here that having a safe and affordable place to call home is not a luxury, it's a necessity," Ahmed Hussen, Federal Minister of Housing and Diversity and Inclusion said at the event. "It makes a difference for an individual between just getting by and actually getting ahead."

Federal and local officials announced the affordable housing project funding in Brampton last week.
(Natasha O'Neill/The Pointer)
The motel transformation is being completed by the Region of Peel, and upon completion will provide 67 affordable units and 17 transitional homes for youth aged 16 to 24. Indwell, a faith-based organization, is also creating a 40-unit project at 25 Thomas Street in Mississauga specifically for people who are at risk of homelessness. Pathway Non-profit Community Development Inc. will also receive a portion of the funds to create a six-unit building to provide support for seniors.
In October 2021, a study from the Peel Alliance to End Homelessness estimated chronic homelessness could increase 25 percent in Peel if no action was taken. The organization also estimates each year the Region has 701 people who are chronically homeless and a further 89,000 people are in need of core housing, meaning their current living situation is either unsafe or far beyond affordable. A Point-in-Time count conducted in October 2021 found 866 individuals experiencing homelessness in Peel on the night of October 13.
While the number of individuals in Peel experiencing homelessness continues to grow, so does the number of individuals searching for an affordable place to live.
Peel's centralized housing waitlist reached 28,227 households at the end of 2021— an 88 percent increase in two years, in large part due to the pandemic, but also because there is a shortage of affordable units being built. The Region has two active plans attempting to address the housing issues. The Peel Housing and Homelessness Plan (HHP) was endorsed in 2018 with the goal of creating 7,500 affordable units annually until 2028. The Region of Peel has come nowhere close to that number.
The aspirational targets were rendered obsolete a year later when the Housing Master Plan (HMP) was endorsed. Similarly, the HMP had goals to create affordable units, but far less than what was promised in the initial plan. The revised goal aimed to fund and create 31 projects, amounting to 5,650 rental units, 226 supported units and 60 shelter beds.
The figures above represent less than eight percent of the overall number of units first promised in the HHP.
Peel's patchwork of affordable housing initiatives and goals are largely the result of inadequate funding from upper levels of government. Originally the municipal tax base was never intended to build government-owned housing, a responsibility that was downloaded from the federal and provincial governments over the years.
"We need a little more help from our provincial friends with regards to their trench," Nando Iannicca, Region of Peel Chair said at Friday's announcement. "And I hope they punch above their weight like the federal Government has."
Both tiers of government assist municipalities in financing housing projects, but far less than what is needed.
In 2019, the HMP required $1 billion for implementation, $335.5 million of which is from the Region. The Provincial and Federal partners have pooled $680.4 million, leaving a $319.6 million gap. The Canada Mortgage and Housing Corporation (CMHC) told Peel if it cannot secure the funding before 2028 it will pull $276.4 million of its funding from the plan.
The additional $53.3 million announced is not a part of the HMP initiatives.
As of October 2021, 11 of the 16 HMP projects are fully-funded leaving five with financing question marks around them. The Region has not set aside its own funds to support these specific projects and reports from staff continue to emphasize advocating to higher levels of government for further assistance.
Peel staff say there are a number of tools being used to assist the municipality in financing affordable units.
Some are used through the municipal bylaw process like inclusionary zoning, others focus on the Region partnering with non-profit organizations.
A key group assisting the Region is Indwell, the owner of the hotel project. Indwell focuses on assisting people through affordable units, with some projects focused specifically for people with certain needs, like the Lakeshore Lofts building in Mississauga, which caters to people with mental health and addiction issues.
Graham Cubitt believes in cities like Mississauga, where land is hard to come by, building projects with existing structures is a part of the solution.
(Natasha O'Neill/ The Pointer)
The old hotel project will benefit people who are at risk of experiencing homelessness including transitional housing for youth.
Projects utilizing existing spaces—or adaptive reuse—are becoming more common within Peel, especially in Mississauga where land is hard to come by. The cost effective strategy allows existing buildings to be given a second chance and does not create as much construction waste compared to a complete demolition of the building. It also allows the project to get online and assist those in the community much faster. While there certainly can be hiccups when converting an existing structure into a new use, industry data show that adaptive reuse can cost 16 percent less than building a structure from the ground up, and reduce construction timelines by as much as 18 percent.
"We've found, especially in communities like Mississauga where land is scarce, there are sites that need to be transformed from what they weren't historically to what they could be for future generations," Graham Cubitt, director of projects and development for Indwell told The Pointer in an interview.
The building in Brampton is one of many adaptive reuse projects the organization is taking on. The second project, at 25 Thomas Street in Mississauga, will refurbish two existing heritage buildings giving them second chances and creating additional units on the property. Pockets of Mississauga have higher concentrations of designated heritage structures, making the building of affordable units a difficult task, but adapting and preserving the heritage while providing renewed usage, is possible.
"An empty heritage home does no one any good," Matthew Wilkinson, a Mississauga historian told The Pointer previously. "The buildings are meant to have a purpose, [but] purposes can change."
Indwell is spearheading a number of developments across the Greater Toronto Area (GTA) by using this mentality. One of its more unique projects in St.Thomas (south of London) is creating units on top of a municipal fire station.
"We're building all of our buildings to passive house standards, and it's very energy efficient," Cubitt said. "This means the windows are really good [thick] and the noise actually is not really that big of a deal."
The hotel project is a low rise building and could have been demolished for a high rise structure instead. Cubitt says even though more units could have been accommodated, the price of the building would have jumped.
The project will have outdoor space for all tenants, a barrier-free common space and energy efficient upgrades including heating, cooling and ventilation.
(Natasha O'Neill/ The Pointer)
"When there aren't hundreds of millions available for each project, what do you do to get started? The incremental approach is slower, but it does work," he said.
It's clear from the various plans the Region is trying to do just that. Cubitt says each level of government should play to its strengths, and for the federal government that is funding the housing initiatives so more people can continue to live in Peel.
Municipal partners like Indwell alleviate stress from the Region by partnering and spearheading its own projects and advocating for more funding.
If more funding flowed from governments, patchwork plans like the HHP and HMP would become attainable goals for Peel, freeing many from the constant cycle of homelessness.
---
Email: [email protected]
Twitter: @taasha__15
---
COVID-19 is impacting all Canadians. At a time when vital public information is needed by everyone, The Pointer has taken down our paywall on all stories relating to the pandemic and those of public interest to ensure every resident of Brampton and Mississauga has access to the facts. For those who are able, we encourage you to consider a subscription. This will help us report on important public interest issues the community needs to know about now more than ever. You can register for a 30-day free trial HERE. Thereafter, The Pointer will charge $10 a month and you can cancel any time right on the website. Thank you
Submit a correction about this story