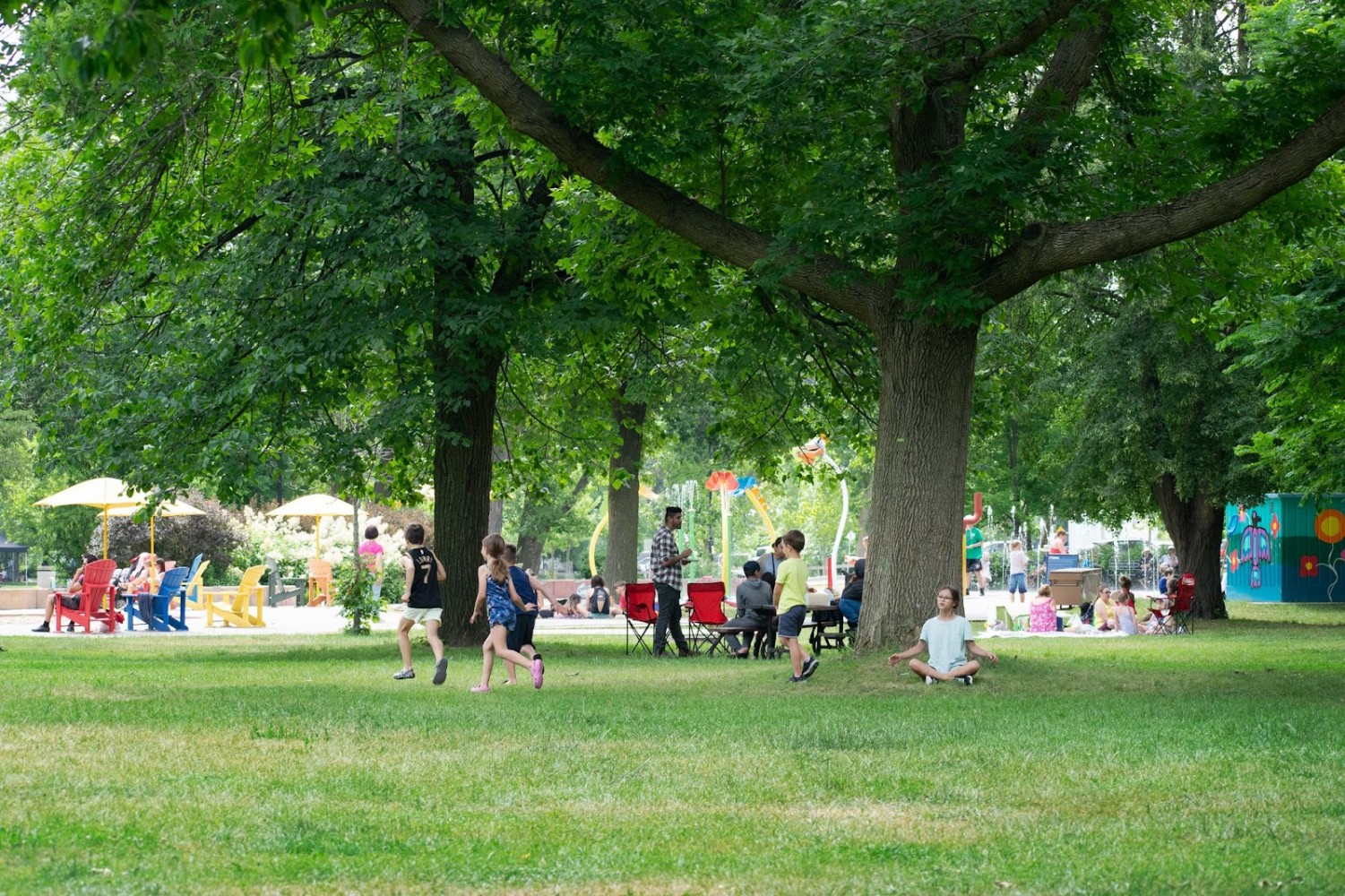 Feature image Alexis Wright/The Pointer
Mississauga realizing benefits of parkland as city becomes less green 
Picture yourself on Mississauga's waterfront, sitting on manicured grass, enjoying a sunny afternoon out with friends. To the south, Lake Ontario spans across the horizon, a glistening sheet of emerald blue. To the north, an urban metropolis where everything is practically at your fingertips rises to the sky.
The park is the nexus of a neighbourhood where residents can work, live and have all their needs met within a short walk or transit ride—in these glorious days of summer, it's the perfect place to spend a weekend afternoon.
This vision of a city built around its vital parks and greenspaces is at the heart of Mississauga's Park's Plan, which is looking to harness the myriad of benefits created by nature into its urban planning approach. But preserving these vital spaces is becoming increasingly difficult as the city continues to intensify in order to accommodate a growing population.
Parks have been shown to promote physical activity, support psychological and social development, reduce crime, and help support climate mitigation and climate change adaptation. They are an important part of the physical environment of the city but they also have profound social impacts.
The world felt this deeply during the darkest days of the pandemic, when parks became a salvation for so many.
Great cities have been defined by their parks, and the vital role they play for centuries: Beihai in Beijing; Gulhane Park in Istanbul; and Canada's Stanley Park in Vancouver and Mont Royal in Montreal.
This park in Mississauga is littered with evidence of a birthday party celebration. While parks are a great way to keep people in touch with nature, they have to be protected.
(Alexis Wright/The Pointer)
According to the 2019 Citizen Satisfaction Survey of Mississauga, 89 percent of respondents rated their quality of life as good or excellent. Having "lots of parks and open spaces" was the second most appealing characteristic of the city.
This in spite of the conclusion in the Mississauga Parks Plan—built upon public consultation through the Citizen Satisfaction Survey and outreach conducted as part of the 2019 Future Directions Parks & Forestry Master Plan, School Boards and the Development Industry—that the city needs more parkland.
According to estimates from the City, which has a minimum parkland target of 1.2 hectares per 1,000 residents, Mississauga's current parkland supply is 2.23 hectares per 1,000 people when looking at the municipality overall.
But this is a skewed representation of parkland in the city.
"This metric alone has not provided the 'full picture' of parkland needed across the City of Mississauga and does not address uneven geographic distribution of parkland," a City spokesperson wrote in an emailed statement.
In addition, the overall parkland supply for Mississauga is considerably lower than other comparable municipalities, and it is shrinking as development continues at a faster pace than many other cities. Mississauga no longer has the luxury of planning growth in untouched spaces or previous agricultural lands; the city is built out, and developments are now eating into the last remaining open spaces.
It's up to decision makers to protect these valuable tracts from future growth that can not be reversed. Once the trees come down and the land is bulldozed, there's no going back.
As a result of this reality, Mississauga is changing its strategy from a city-wide approach to a locally-scaled approach in order to meet the unique needs of its diverse neighbourhoods.
According to the Parks Plan, the provision will remain, 1.2 hectares per 1,000 residents in community nodes and neighbourhood districts. This historic minimum parkland target comes from the 2019 Parks and Forestry Master Plan and was established "to address active recreation needs in line with historic provision rates," the City said.
Meanwhile, in the Urban Growth Centre (UGC) and other major growth nodes (there are seven) the City will use an alternative approach. In these areas the minimum parkland provision is set for 12 percent of the total area. This is comparable to other dense urban areas identified in the Downtown Growth Area Parks Provisions Strategy such as Lower Manhattan (11.6 percent), Downtown Ottawa (10.4 percent) and Downtown Portland (10.3 percent).
"It's a hard thing to know exactly how much is enough," says Jeremy Pittman, a professor at the University of Waterloo's school of planning.
When parkland is viewed on a local scale, Mississauga is less green than it should be. Ten of the thirty-three community nodes and neighbourhoods in Mississauga do not meet the 1.2 hectares per 1,000 resident provision and five of the seven UGC and major nodes do not meet the 12 percent provision.
"One of the key things that cities need to think about, in terms of the amount, is access and making sure there is more equitable access to greenspace," Pittman says.
A surplus of parkland in some neighbourhoods does not make up for a deficit in others.
There are three residential character areas in the city that have little to no parkland: Streetsville (0.7 hectares per 1,000 residents), Clarkson Village (0.6 hectares per 1,000 residents) and Sheridan (0 hectares per 1,000 residents).
The new challenge for Mississauga is determining how the city will create more parkland as it grows. It's a problem that is only going to get worse.
The population of Mississauga at the time of the 2021 Census was 717,961. By 2041, the city is expected to have a population of 911,318.
If no new parks were added to the city, the accumulated parkland deficit city-wide would increase from 78.8 hectares to 84.2 hectares by 2041, according to the Mississauga Parks Plan.
A parkland deficit is when there is not enough parkland to meet the needs of the neighbourhood: a minimum 1.2 hectares per 1,000 residents in neighbourhoods and community nodes and 12 percent of total area in the UCG and other major urban areas. The cumulative number for all of the areas with deficits is totalled to define the city-wide deficit.
Beyond recreational space for physical and mental benefits, parkland can provide crucial relief to stormwater systems, improves local air quality, captures carbon and lessons the urban heat-dome effect by providing protection from the sun's ultraviolet rays, which literally bake urban spaces whose concrete and asphalt cover creates an oven-like effect.
The three character areas that are expected to see a noticeable drop in their parkland provisions are Port Credit West (5.04 to 1.45 hectares per 1,000 residents), Rathwood-Applewood (2.10 to 1.27 hectares per 1,000 residents) and Streetsville (0.47 to 0.20 hectares per 1,000 residents).
The City of Mississauga is already in a deficit of parkland. This is a problem that is only expected to grow as the city's population rises without much more land available for development.
(City of Mississauga)
There are a few issues associated with the development of new parks. One of these is determining land usage.
"As you're getting new parks, that is land that can't be used for other things," Pittman says.
Phil Winters, who owns Goodlot Farmstead Brewing Co. in Belfountain, made the comparison to Central Park in New York.
"Imagine the amount of money that was being thrown around and politicians and community members to get them to allow them to develop this last piece of land," he says. "[I]magine what Manhattan would be like right now without that heatsink, and oxygen creator, and biosphere, essentially that sits in the middle of one of the densest urban areas in the world."
Pittman noted that there are a lot of innovative ways cities across the globe are dealing with a lack of greenspace. One of these is having mini parks or "pocket parks" that are interspersed throughout neighbourhoods. Rooftop parks are another innovation that is popular in very dense urban areas such as Toronto. While the initial plans for Rail Deck Park, a space in Toronto that would be built above a section of railway track just north of Lake Ontario at the foot of the city, was scrapped (after the Province's planning tribunal ruled that condo developments can be built instead) it encouraged the City to think innovatively about park space. This isn't the first time Toronto has had some unconventional plans for parks. The idea to create a rooflike structure above the Gardiner Expressway for parkland has been floated for years.
The third approach Pittman mentions is to have parks along linear developments, using ribbons of greenspace that line roads, pathways, rail lines, rivers and hydro corridors to create parkspace—"Developing them in places that wouldn't be used for much else," he says. The City of Toronto has begun adopting this approach with parks such as The Bentway which spans 1.75 kilometres underneath the Gardiner.
The City of Mississauga identified three key challenges for developing more equitable parkspace: land scarcity, high and increasing land values, and smaller parkland conveyances on infill developments.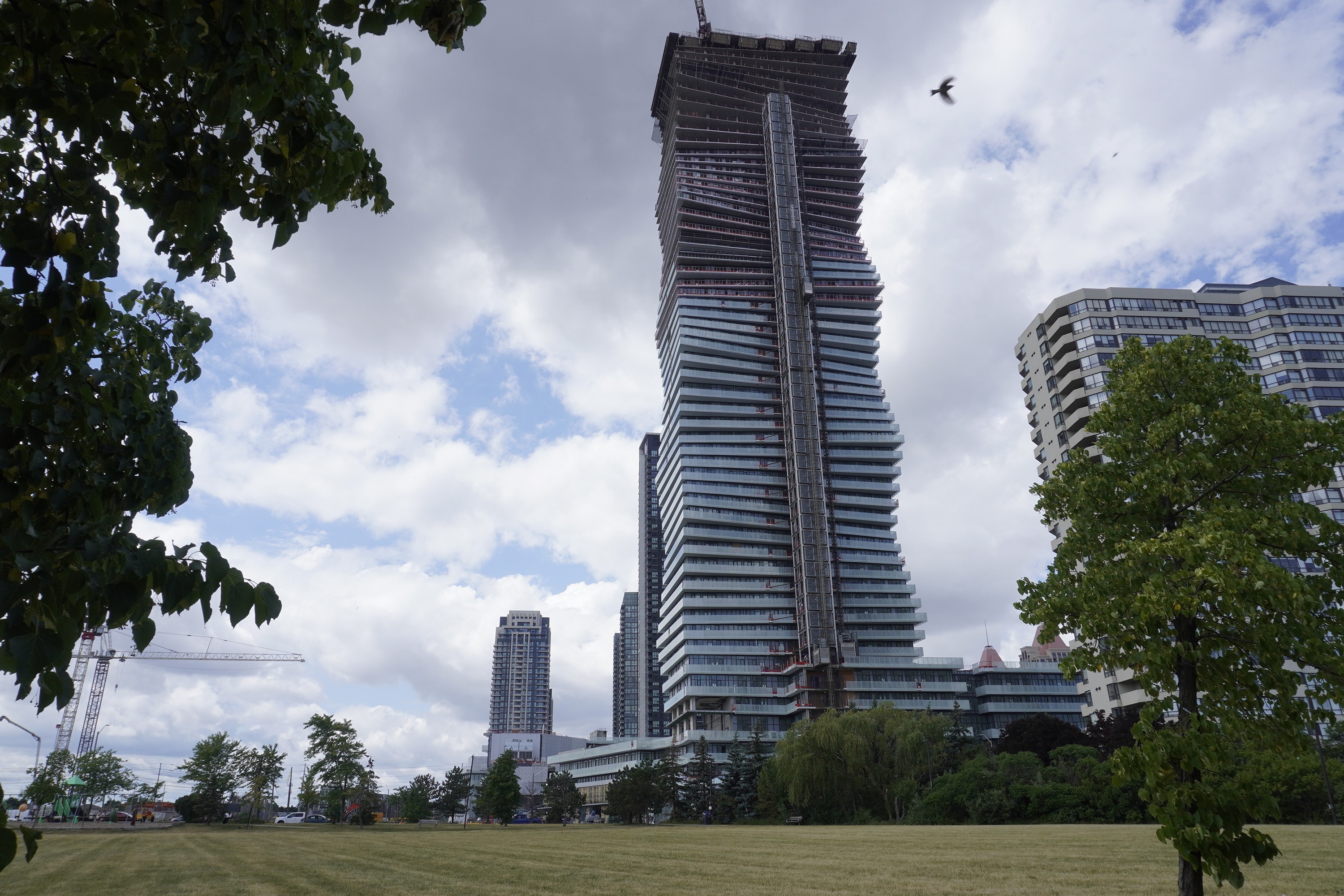 New developments are popping up all around the city making it more difficult to find spaces to designate as parkland.
(Alexis Wright/The Pointer)
On June 23, Council approved the new Parkland Conveyance Bylaw that outlines the parkland conveyance requirements—how much land a developer is required to hand over to the City for parkspace within the planned development, a number that is calculated based on the number of units in each development—and cash-in-lieu of parkland rates, a payment that allows the developer to provide cash to the City instead of land, which is supposed to go toward community improvements, similar to Community Improvement Plan payments.
These have been increasingly controversial as developers pay municipalities to gain more benefits when looking to expand projects, with the expectation the additional fees will be used for features such as more greenspace for the surrounding community, but these features do not materialize, or are not enjoyed by those who live in the new project.
The parkland dedication issue was made more difficult for municipalities after the Doug Ford government was elected in 2018 and quickly passed Bill 108, which allows developers to designate less land for park space.
Mississauga's parkland strategy is trying to work around these obstacles.
"The Bylaw is the most significant tool available to municipalities with regards to acquiring new parks," the City said.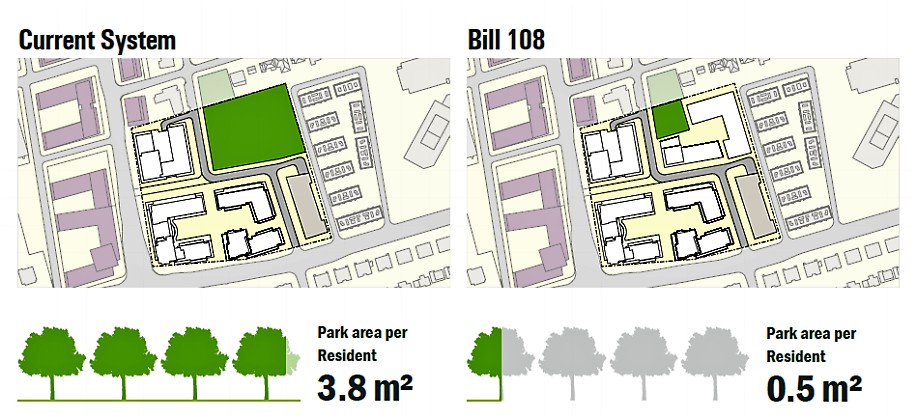 A graphic from the City of Toronto shows the problem with cash-in lieu arrangements, and policies in that city, forced by Ontario's PC government, which have seen developers able to build projects with far less land designated for greenspace.
(City of Toronto)
The City's approach prioritizes dedication of parkland over purchases made through cash-in-lieu. It is increasing the dedication credits from 1 hectare per 300 units to 1 hectare per 500 units in order to incentivize parkland dedication for medium and high density developments.
"Any lands dedicated to the City for parkland will have to be in a condition satisfactory to the City, free and clear of all legal and other encumbrances," reads the bylaw.
If the conveyable land is deemed not suitable for park purposes, the City can insist on the developer paying cash-in-lieu of the conveyance. This money is then held as reserve funds to be used for purchasing parkland in the future.
Based on future need, the Parkland Conveyance Bylaw capped the cash-in-lieu rate at $25,112 per unit.
According to the Parks Plan, 76.6 hectares of parkland is needed to satisfy growth to 2041. Based on growth forecasts, Mississauga will add approximately 60,850 new medium-and-high-density residential units by 2041. This puts the total land to be acquired for parkland at a value of $1.724 billion.
The problem with cash-in-lieu payments is that land that can be used for parks is becoming more and more scarce. With new developments popping up all over Mississauga, the City is now turning to redevelopment to create more park spaces.
Without a strong parkland strategy, and a commitment from council members to follow it, the country's sixth largest city could go the way of other municipalities, that have failed to see the forest through their rising columns of steel and concrete.
---
Email: [email protected]
Twitter: @rachelnadia
---
COVID-19 is impacting all Canadians. At a time when vital public information is needed by everyone, The Pointer has taken down our paywall on all stories relating to the pandemic and those of public interest to ensure every resident of Brampton and Mississauga has access to the facts. For those who are able, we encourage you to consider a subscription. This will help us report on important public interest issues the community needs to know about now more than ever. You can register for a 30-day free trial HERE. Thereafter, The Pointer will charge $10 a month and you can cancel any time right on the website. Thank you
Submit a correction about this story