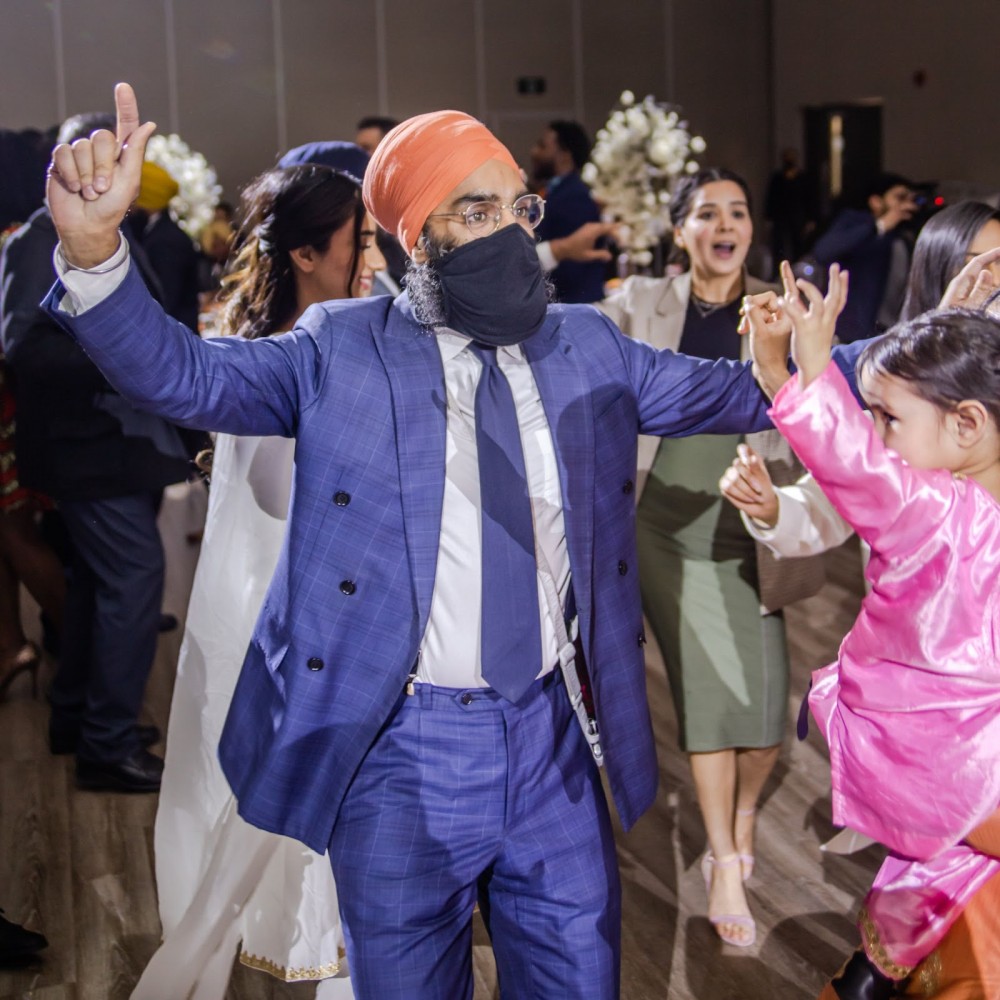 Feature image from Gurratan Singh/Twitter
Brampton's healthcare crisis, education funding & insurance discrimination were high on Gurratan Singh's first-term agenda
In 2018, Gurratan Singh became Brampton East's newest MPP, but he was a familiar face to anyone who watched his big brother's rapid rise through the ranks of the NDP.
He quickly put his own stamp on the family's brand of politics, combining Jagmeet's populist social media messaging and image cultivation with a dogged commitment to a range of crucial issues facing his Brampton East residents.
While the Brampton East MPP addressed a variety of key current topics in Queen's Park including the environment and transportation, three recurring issues he returned to were the use of postal code discrimination by auto insurance providers, better resources for the beleaguered education system and the critical need for better healthcare in Brampton, and beyond.
Postal Code Discrimination
The first time Singh spoke in Queen's Park, on July 18, 2018, was on the issue of auto insurance, and how residents in Brampton have to pay some of the highest rates in the country—a controversy he would raise several times throughout the term.
Singh called it "one of the biggest issues" in the Brampton East riding.
"The auto insurance companies have been seeing record profits. We've seen reports coming out where they have overcharged Ontarians $5 billion. And yet we see an absence of this issue being addressed by the Ford government. I can give numerous examples of residents from my riding who, upon leaving Brampton, have seen as much as a 50 percent decrease in their premiums, rates going from $300 a month down to $150 a month or even less. It should not be a punishment to live in Brampton."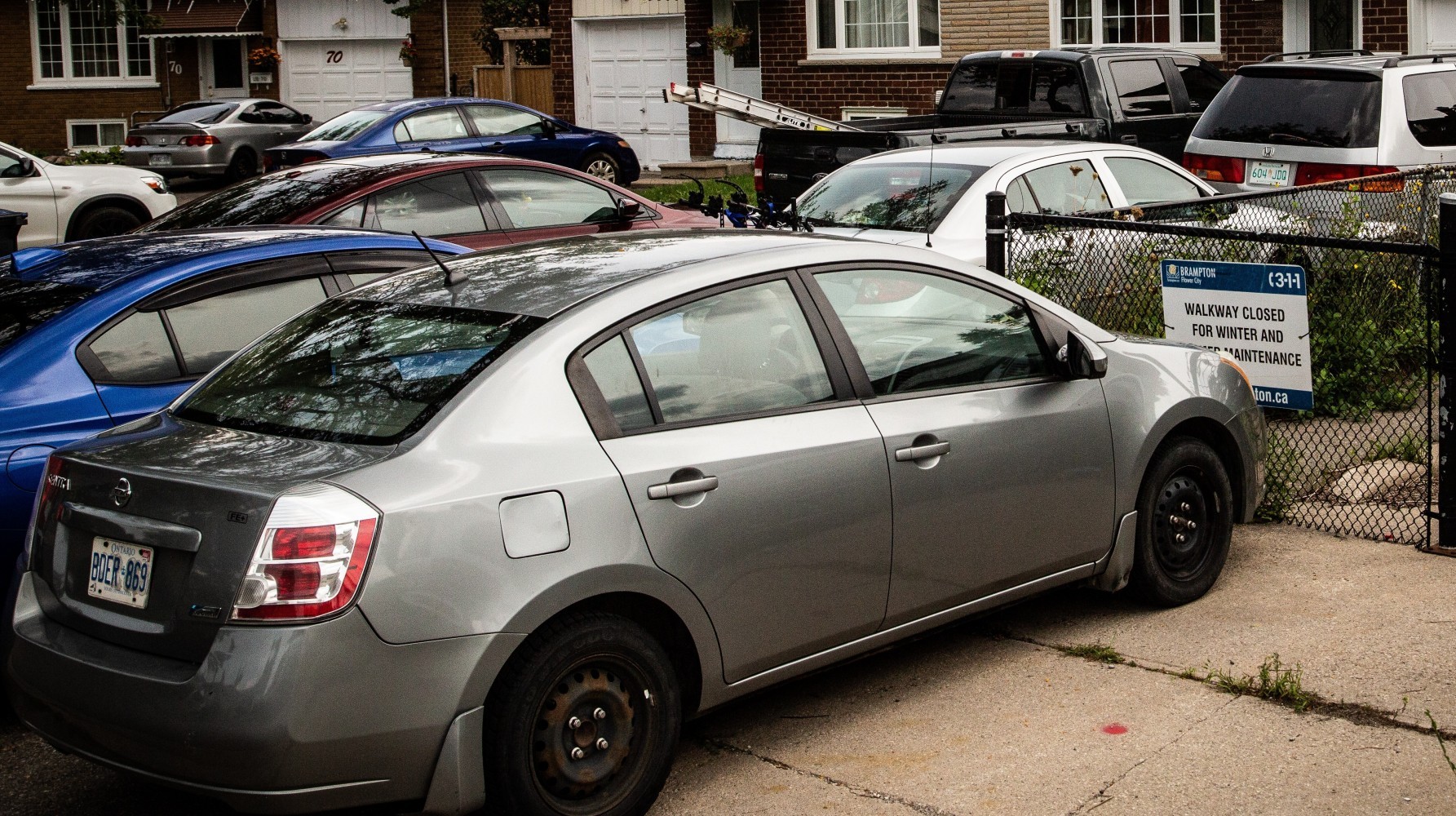 Brampton residents pay some of the highest auto insurance rates in the province.
(The Pointer files)
Brampton was not his lone focus; Singh cited that auto insurance premiums in Ontario are 55 percent higher than in the rest of Canada, which costs automobile owners in the province $4 billion annually.
On Oct. 16, 2018 Singh moved the first reading of Bill 44, the "Ending Automobile Insurance Discrimination in the Greater Toronto Area Act, 2018."
He said the purpose of the Bill was to ensure that residents in the Greater Toronto Area are paying auto insurance rates based on their driving record and not based on where they live.
"It does this by considering the Greater Toronto Area as a single geographic region with respect to auto insurance. This Bill will make it illegal for any auto insurance company to charge different rates based on where a person lives—be it their neighbourhood, city or postal code."
If insurance companies are providing policies based on geographic location, they can be fined as much as $250,000 and up to $500,000.
For those who haven't heard of Bill 44, to end postal code discrimination within the region for auto insurance, that's because it was killed by an overwhelming majority of PCs who voted it down.
Victor Fedeli, Doug Ford's former minister of economic development, job creation and trade and chair of cabinet was one of the MPPs who opposed the Bill, arguing it would not lower costs for everyone, it would do the opposite.
"This will only serve to increase insurance costs across the entire GTA," Fedeli argued.
Singh refuted Fedeli's claim and argued the Bill would effectively change the system so an insurance premium would be based on record, not on where the individual lives.
"It's also important to understand that this is not just a Brampton issue," Singh told Queen's Park.
"This issue of postal code discrimination impacts communities across the GTA, including Scarborough, Jane and Finch, and Weston. It makes no sense that these communities, along with Brampton, are paying this higher rate, because if we look at the GTA, I reject this premise by the auto insurance companies that we are not in a regional integrated community."
The motion lost with 24 votes in favour, and 55 against.
On June 6, 2019, he brought the result of the vote up in Queen's Park again.
"In the first four months of 2019 alone, the government has increased insurance premiums as high as 11.4 percent," Singh said to the other MPPs. "The Conservative government had the opportunity to finally end postal code discrimination in car insurance, but they refused. They had the opportunity to cap profits of car insurance companies, but they refused. And, on top of it all, we have not seen any details of this government's car insurance scheme."
Then Oct. 7, 2020, during the COVID-19 pandemic, he reminded them again of the issue facing Brampton residents.
"People have been listening to public health experts and they have been staying at home, while their cars are often parked in their driveways or on the street. Why are they still paying full price for car insurance? While we're all making sacrifices during these tough times, billion-dollar car insurance companies are actually increasing their premiums during a pandemic."
Healthcare Access
The second time Singh spoke on July 18, 2018, it was about Brampton's underfunded healthcare system. Brampton only has one full-service hospital and is widely considered "ground zero for hallway medicine."
Singh advocated for Brampton's healthcare to be put at the forefront, with no further cuts.
"Last year, over 5,000 people were treated in hallways because they couldn't get access to rooms. When I door-knocked, this was one of the most impassioned issues. This is something that really hurt people and affected individuals. It was almost traumatic in some cases, where people could not get access to the health care that they needed in a timely fashion because of these huge wait-lines and this overcrowded nature of Brampton Civic."
In October of the same year he would bring it up again, sharing a personal anecdote about his father suffering a stroke and being sent to Brampton Civic.
"The nurses, the paramedics, the doctors: They provided amazing, amazing care for my father in his very, very desperate situation in this time that we were in. He received amazing care from these individuals, but despite that, for four days my father was held in the emergency ward. For four days they never had a bed for my father in any other area except for this busy, loud space, where he had to walk outside of his room to go to the bathroom. There was no privacy."
Singh said that he saw firsthand over four days the same routine repeated, people being brought in and brought out.
"We need to understand this as a crisis, because if people are unable to get the care that they deserve, if they're unable to access the care without fear of long wait times, without the fear of having to receive treatment in a hallway, this ultimately inhibits their ability to access a service that we desperately, desperately need."
As a result of the conditions, he explained that members of the community go to different hospitals including Orangeville and Mississauga.
"When you're in a situation of crisis, you don't operate in the status quo. You don't continue business as usual. You need immediate action," Singh said.
"You need to overcompensate for 20 years plus of Brampton being left behind. You need to overcompensate for Brampton always having received the short end of the stick."
On March 5, 2019, he would bring up Brampton's crisis once again, in opposing the PC's Bill 74: The People's Health Care Act, 2019.
Under the Bill, the Minister of Health was given the power to transfer assets, liabilities, rights, obligations and employees of certain organizations to Ontario Health, a health service provider or an integrated care delivery system. The Minister may also dissolve such organizations under the new power.
Singh said that the successful Bill will open the door to "unprecedented levels of privatization of our healthcare system."
"Our healthcare system is already in an incredibly precarious situation. We have overcrowded hospitals with long wait times," Singh told Queen's Park on March 5. "We need only to look at Brampton, a city of 600,000 people with one hospital and one of the busiest ERs in this country. The people of Brampton are suffering with thousands of people being treated in hallways and in overcrowded conditions."
Later that month, after a Brampton town hall on the healthcare system, Singh told an anecdote he heard from one of the residents named Teresea.
The recent mother began suffering from postpartum anxiety. In response, she went to Brampton Civic where she had to wait for hours because there were no beds available for her.
"In order to be seen by a doctor, she had to share her deepest and darkest emotions in a hallway with strangers passing by," Singh told Queen's Park in March of 2019.
"Now Teresea is pregnant for the second time and though she's excited, in the back of her mind she's also scared. She keeps on asking herself, 'What if I suffer from postpartum anxiety again?'"
In response, the PC Minister of Health and Long-Term Care Christine Elliott agreed that there was a "broken system" but claimed the PC's were modernizing the health system to deal with such situations.
Singh wasn't done.
"In order to end hallway medicine so new moms like Teresea can receive care with some dignity, instead of fully funding Brampton Civic Hospital, instead of converting Peel Memorial health centre into a full-time, 24-hour hospital and instead of building a new hospital for our growing community, this government has voted against ending hallway medicine in Brampton. My question is simple: Why?" Singh asked.
Elliott responded by shifting attention to their "campaign commitment" to create 15,000 new long-term care spaces within five years throughout Ontario.
In the end, Peel Region only got half the long-term care funding compared to some other parts of Ontario.
Singh continued opposing Ford's Bill 74 during following sessions, when he accused the new law of hurting people who need the healthcare the most– communities like Brampton.
On Nov. 4, 2019 he reminded Queen's Park, again, that the city's only full-service hospital was operating at over 100 percent capacity.
"At Peel Memorial Centre it's even worse. The health centre is operating at over 587% capacity. That means that for every person who walks through the door, five people couldn't get the care they needed," Singh said.
"That's why I'm asking the Conservative MPPs from Brampton to choose our city over your party. Vote for Brampton, because if you won't stand with us now, when will you stand with us?"
Singh explained that he believed the two PC MPPs, Amarjot Sandhu and Prabmeet Sarkaria, that were refusing to fund Brampton were more interested in "taking care of their insider friends and more focused on buck-a-beer than in fixing Brampton's health care crisis."
On Nov. 27, Singh told the other MPPs they could come to Brampton and see the impact of the health crisis, particularly the fallout caused by the lack of funding for Brampton Civic.
"When the government makes decisions that cut funding to our hospitals, that cut funding to mental health—$330 million of mental health funding that has been cut—all these factors worsen the crisis we're facing."
During the COVID-19 pandemic, on March 4, 2021, he asked for unanimous consent to bring forward a motion to call on the PC government to immediately implement paid sick days to protect workers in Brampton and in Ontario and to ensure they don't have to choose between going to work sick or paying the bills.
Unanimous consent wasn't received.
On March 8, he asked the other MPPs to think about workers who woke up feeling sick, and then had to make a decision between going to work ill or putting food on their table.
Singh demanded the other MPPs bring in paid sick days.
"Public health is clear: Workplaces are one of the greatest areas of spread for COVID-19—the same workplaces where workers risk their lives, going in every day to move our economy, so that others can work from home. They go to work, but they don't have the dignity to stay home when they're feeling sick. They don't have the safety for themselves and for their communities to stay home when they are feeling sick."
On March 24, 2021, Singh reminded other MPPs that a healthcare crisis was declared before COVID-19 in Brampton, and called on the PC government to build another hospital in the city.
"People in Brampton have made it very clear that we need investment in our broken health care system. That means funding for Brampton Civic, that means building an additional hospital, and that means converting Peel Memorial from a health care centre into a hospital."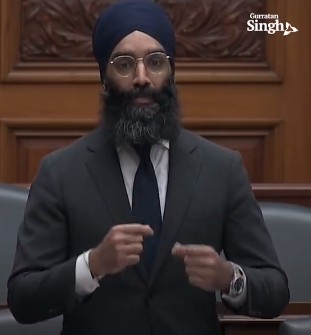 Gurratan Singh routinely stood at Queen's Park to speak on issues impacting Brampton residents.
(Gurratan Singh/Twitter)
Singh called Ford's 2021 budget a "disgrace" for not allocating any funds for Peel Memorial.
"The Premier has not got any money committed in the budget towards the construction of a new hospital and gives no details as to when we can expect to see one."
On June 14, alongside other NDP MPPs, he put several motions forward for unanimous consent. Among them were a motion to pass Bill 239, the official opposition's paid sick day bill, and one to expand equitable access to health care and reproductive care to the 2SLGBTQIA+ community.
The motions were rejected.
Education
On March 19, 2019, Singh called the chronic underfunding of schools another "one of the biggest issues that affects Brampton."
"If we look at Brampton specifically, we have one of the youngest populations in Canada. Brampton is one of the youngest cities, in terms of its demographics, in Canada. The result of it is that we have a huge backlog in schools being built and constructed in communities throughout Brampton, specifically in my riding of Brampton East."
Singh said the result is portable classrooms rather than infrastructure.
"If we really want to build prosperous communities, we need to fund these schools; we need to build schools. Specifically in Brampton, we need to stop this overcrowding by investing in communities and making sure they have the education investment that they require."
On April 3, 2019, he brought up an open letter to the minister of education from the Peel District School Board, which expressed concerns about the government's education changes leading to more students in every classroom and fewer teachers in every school.
He explained that students in Brampton, Mississauga and Caledon will have fewer course options, including some in skilled trades, technology and recovery courses.
"Will the minister admit today that larger classes, fewer teachers and less opportunity for our students is not how you help kids become more resilient?"
In response, the minister of education at the time, Lisa Thompson, told him to stop "fear mongering," something she would tell other MPPs who raised similar concerns, as well as the school boards.
On April 18 the same year, Singh raised the issue again.
"Peel will see over 360 teachers lose their jobs. Over the past few days, my office has been flooded with phone calls from teachers who have just learned that, come September, they will be out of a job."
He told the story of a teacher named Priti who landed her first permanent position the prior year, but just learned it would be gone by the coming September.
"Despite losing her own job and being put in such a precarious situation, when I talked to her, she was more concerned about the students and their education. She already has 27 kids in her class, and she finds it hard to manage. The other classes in her school have as many as 28 to 30 kids per class. Under these Conservative cuts, that class size is bound to grow."
On November 28, 2019, Brampton Centre NDP MPP Sara Singh put forward a motion for a fully independent, comprehensive public investigation of the charges of anti-Black racism within the Peel District School Board, and to present its findings and plan for action to the legislature, detailing the resources to be allocated to address this long-standing systemic issue.
This was following the minister of education announcing a review of the Peel District School Board in response to serious "allegations related to equity in the Peel District School Board... specifically related to anti-Black racism and lack of adherence to governance, leadership, and human resources practices."
The motion had Gurratan Singh's full support.
"We have to be real right now and recognize that there's a history and a pattern of racism in the Peel District School Board, specifically anti-Black racism. It's important to understand that this is not something new. This didn't happen overnight. This is something that Black students have been struggling with for a very long time," Singh said.
"We need to get to the bottom of this issue so we can finally address this in a substantive and real way and, more than anything, work, fight and push to make sure that anti-Black racism has no place in our schools, our province or anywhere."
Environment
Gurratan Singh used his time at Queen's Park to advocate for environmental sustainability, bringing it up in 2018 as a reason for voting against PC motions.
"We need to be making investments in things like renewable energy. We need to be making sure we're making investments so that future generations can enjoy and experience nature and the environment, and ensure that our society, our world, is safe."
On May 2, 2019 he supported Bill 72, The Consumer Protection Amendment Act (Right to Repair Electronic Products), 2019. The Bill would have amended the Consumer Protection Act, 2002 respecting the repair of electronic products.
In effect, The Bill requires a company to give a consumer or repair shop what they need to repair the electronic products themselves. The company can charge for this, but within limits.
Singh said the pressure of disposable, hyper-consumer lifestyle is having a burden upon people, and government has a duty to put forward guidelines and rules to ensure companies are creating products that are made in a way so consumers don't have to throw things away, if they can instead repair them.
"The problem actually lies on these companies. The problem lies on the manufacturers of these products, because they're designing products for the dump. They're designed for the dump because it's cheaper in respect to the overall profitability of these products. It's actually more profitable for these companies to design products for the dump, because it ultimately results in us having to buy more."
The Bill was voted down by the Ford PCs that day.
Transportation
Singh advocated for transit investments for the creation of a two-way GO regional rail system; he attributed the lack of such a network as the cause of gridlock across the city.
"Brampton has one of the lowest live-work ratios. Huge populations of Bramptonians leave every day to go to work and to go to school. GO Trains are packed every morning with commuters as they travel to Toronto—hours wasted by working families, by students; time that could be spent far more productively studying, being with family, relaxing, working," Singh told Queen's Park on April 4, 2019.
"At the least, this Conservative government owes it to Brampton to invest in two-way, all-day GO so students can travel to university, since the government killed the dream of Bramptonians being able to live and learn in their own city."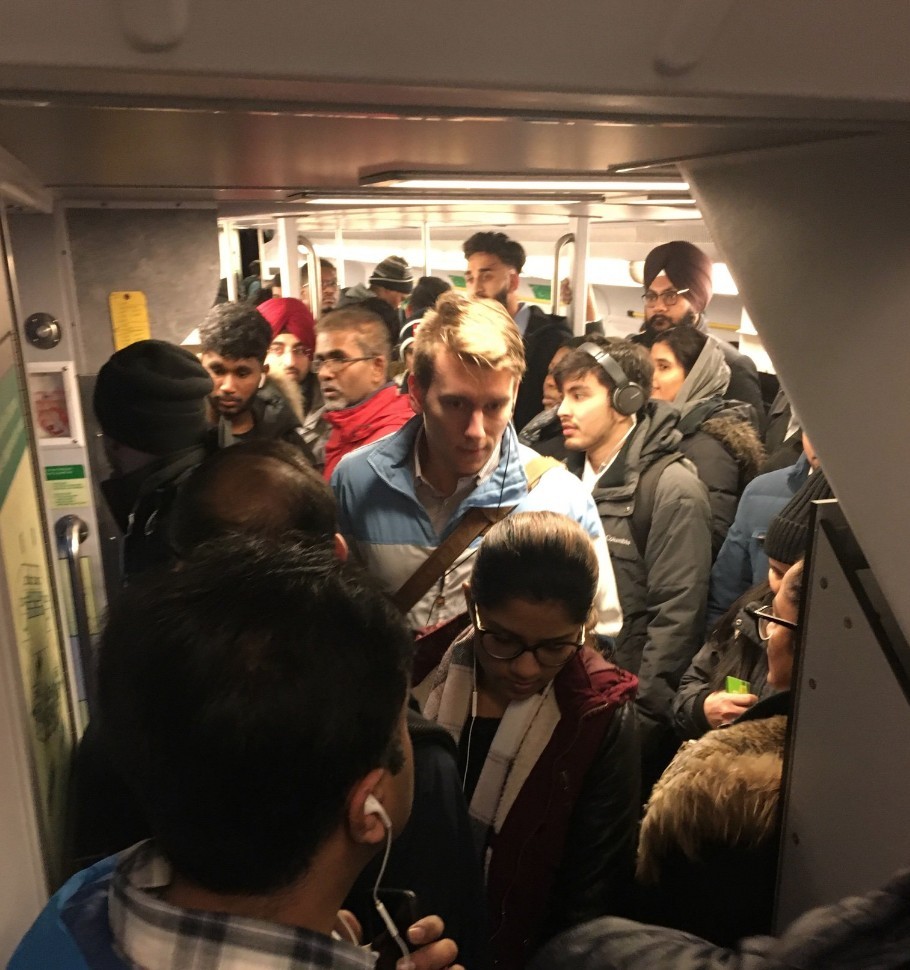 Commuters pack a crowded train to Brampton in January 2019 after service cuts reduced the GO Train schedule to the city.
(Twitter)
Singh pointed out that in Brampton East, investments in transit are so far behind, the area doesn't even have a GO station.
He would raise this issue several times again, as cuts in 2019 to GO Train service to the city caused massive crowding on platforms before the government restored some of the service.
"That's why the NDP recognizes this as an issue and will fight for Brampton. We're going to fight to make sure we get the investment in transit that we deserve. We're a growing city, and if we don't invest today, this issue of traffic is going to get worse and worse."
On March 9, 2020, he brought Brampton East's lack of a rail system up again, objecting to the PCs' cancellation of the double-fare discount and making parking at GO stations a paid service.
"They're already spending a huge portion of their commute getting from their home to the GO station. At the GO station, they're now going to be faced with the added burden of having to pay for their parking. They're then going to have to face an added burden of their fares going up, because they're going to have to pay a GO Transit fee and in addition to it a TTC fee."
---
Email: [email protected]
Twitter: @JessicaRDurling
---
COVID-19 is impacting all Canadians. At a time when vital public information is needed by everyone, The Pointer has taken down our paywall on all stories relating to the pandemic and those of public interest to ensure every resident of Brampton and Mississauga has access to the facts. For those who are able, we encourage you to consider a subscription. This will help us report on important public interest issues the community needs to know about now more than ever. You can register for a 30-day free trial HERE. Thereafter, The Pointer will charge $10 a month and you can cancel any time right on the website. Thank you
Submit a correction about this story