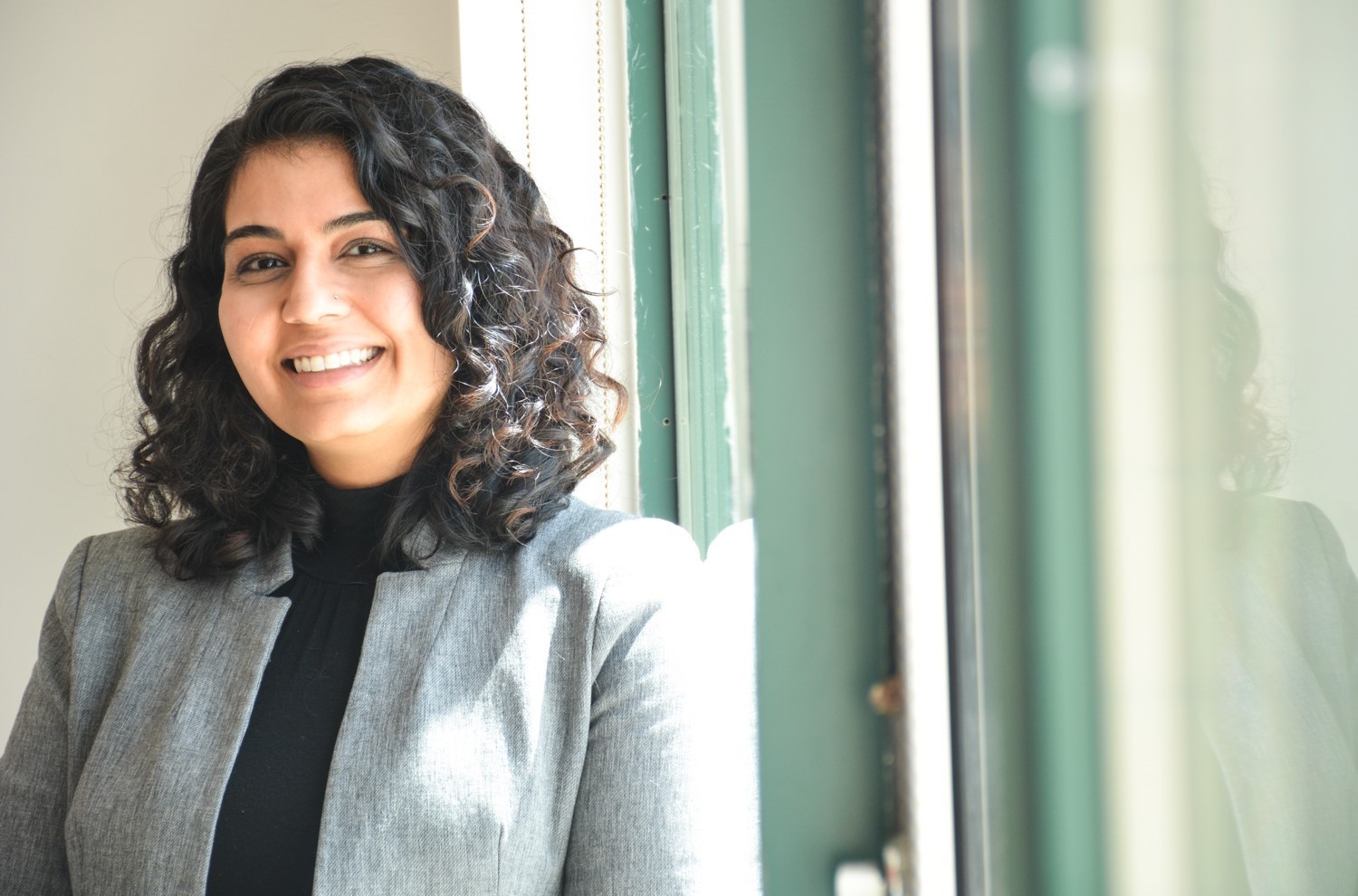 Feature image from Joel Wittnebel/The Pointer files
Healthcare and education were a focus for Brampton Centre's Sara Singh throughout her first term
Sara Singh is a name familiar to many Brampton residents who recognize the woman that served as the deputy leader of Ontario's official opposition over the past four years.
Among her top priorities as a legislator she advocated for improvements to Brampton's underfunded healthcare system, repeatedly calling for provincial dollars to build the city's second full-service hospital. Currently there are less than half the hospital beds per capita compared to the provincial average, a statistic Singh often used. She spoke of growing up in a city where people avoided the local hospital, Brampton Civic, due to chronic overcrowding.
Other local issues also featured prominently on the agenda Singh laid out as one of three NDP members who served Brampton inside Queen's Park.
Healthcare
With Brampton only having one full-service hospital and a hallway healthcare crisis, it was no surprise that a focus of Singh's was healthcare, even before she was made the Opposition Critic for Long Term Care.
"This is not a new problem. As the opposition leader has pointed out, this is something that was created under the previous Liberal government but continues with our current administration not funding our hospital at the rate that it needs to be," Singh told her Queen's Park colleagues on November 4, 2019.
Singh raised a number of facts, including that Brampton had 55 percent fewer hospital beds available to residents than the rest of the province.
Peel Memorial is funded for 10,000 visits annually, but in reality sees more than 75,000 people in need of service.
Brampton receives $1,000 less in health care funding per person compared to the provincial average.
Singh called it unfair, and said the city continues to be neglected by the provincial government.
"As the latest FAO (Financial Accountability Office) report shows, for every 100 patients that walk through our urgent care centre that we are funded to handle, more than 500 patients walk through that door and do not get the care that they need when they come into our spaces."
As a result, Singh said there are senior citizens who are waiting in the hallway on a gurney with the lights on 24 hours a day without a bell to call for help when they need that care.
"Not only are people in our community not able to access the services they need, and that is having a direct economic impact in our community; those folks are now travelling to neighbouring communities such as Mississauga, Georgetown, Orangeville or even into Toronto in order to get the health care that they deserve," Singh said.
"So I urge the members of the government today to support our opposition day motion to ensure that this province adequately funds the needs of Peel Memorial hospital and Brampton Civic Hospital to ensure that our patients, frankly, get the health care services that they deserve."
On Feb. 26, 2019 Singh opposed Bill 74: The People's Health Care Act, 2019.
Under the Bill, the Minister of Health was given the power to transfer assets, liabilities, rights, obligations and employees of certain organizations to Ontario Health, a health service provider or an integrated care delivery system. The Minister may also dissolve such organizations under the new power.
Singh called it an "ill-conceived health care privatization scheme."
"After spending a month denying that this government has been cooking up a secret scheme to overhaul our public health care system, the minister today will be tabling a bill that will do just that. Dr. Rueben Devlin, who has been paid $1 million to consult with Ontarians about ending hallway medicine, hasn't even made a single recommendation yet, but this government is prepared to move forward with their disastrous plan that will carve out parts of our health care system to for-profit interests that they know will leave patients lost in the shuffle."
On April 16, 2019 Singh reported that she had her first Brampton Centre youth council meeting, with 12 youth from across the riding.
Sara Singh encourages residents to get out and vote early after advanced polls opened.
(Sara Singh/ Twitter)
In the council meeting, young people raised concerns about the PC government's direction and the cuts it was making to the education system and our health care system in Brampton. Young people raised concerns about crumbling schools and packed classrooms.
"Many young people in Brampton Centre are also concerned about the cuts to our health care system. While we have one of the longest waits in the province in our Brampton Civic Hospital, many young people are concerned that in addition to those wait times, they aren't able to access vital mental health services."
On May 2, 2019 she presented a petition entitled "Save Our Health Care" which called on the Legislative Assembly of Ontario to request the government to abandon Bill 74, The People's Health Care Act, and focus on improving our province's not-for-profit delivery of universal health care.
On Feb. 19, 2020, following meetings with Peel Regional Police, educators and families, Singh stated that the health care emergency in Brampton is not just about building a new hospital—but also involves the lack of mental healthcare resources.
"Young people are waiting in crisis, Speaker. In Peel and Brampton, on average, some are waiting 737 days for mental health supports. Can you imagine being a young child in a state of emergency and being told that you need to wait in a hallway for hours and hours on end in order to get the help you need?"
During the COVID-19 pandemic, on Sept. 17, 2020, Singh supported a motion from former MPP Kevin Yarde for Brampton North, that the Ford government should provide immediate, urgent assistance to the Peel public health unit for increased staffing, testing, community outreach and proactive workplace inspections to combat the pandemic, which was raging across the city, with some of the highest infection rates anywhere in the country.
Yarde reminded that a motion from him, Singh and others in November 2019 asking for a new hospital and immediate expansion of Peel Memorial was turned down.
"Our mayor and our city council have been very clear that we need our fair share of funding in order to support our growing city and municipalities in the Peel region," Singh said.
"When we speak to the chair of the Peel Region, he's very clear that this cannot continue, that we need to invest in our community. Whether that's health care or mental health services, those investments are going to help save us money down the road. There are serious economic consequences to not investing in the health care system the way that it needs to be when we're dealing with a growing population."
On Oct. 6, 2020, she reminded Queen's Park that Brampton Civic Hospital was in dire need of assistance, with it reporting an occupancy rate of 93 percent in September and being put in code gridlock eight times in just 12 days.
Code gridlock means there are more patients waiting in the ER for admission than there are actual beds available.
On Nov. 16, she reported that the hospital didn't have the health care capacity to manage the surge in cases that was happening—again asking for more funding for Brampton. This was a point she continued to press in the following days.
Education
On April 17 2019, Singh called on Ford to scrap his plan for larger classes and fewer course offerings.
Singh didn't mince her words.
"He's declaring a war on the people who teach our students, and our students will pay the price," Singh told the other representatives at Queen's Park.
"We're already seeing the results. In my community in Peel region, 369 teachers with the Peel District School Board learned yesterday that they will no longer have permanent positions heading into the new school year."
Singh questioned Ford about it, but he shifted the conversation to celebrate the election of Alberta Premier Jason Kenney (who recently announced he will step down from the role).
A pivot that wasn't lost on Singh, and something she would bring up again later.
The following day she presented a petition on behalf of a volunteer, Gurdeep Singh, demanding the Ministry of Education allocate funds toward those students who take an extra year in high school.
Later that month, she presented the results of a community discussion on education that was held at her office, joined by students from Turner Fenton Secondary, Harold M. Brathwaite, Heart Lake Secondary and St. Marguerite d'Youville Secondary School.
"Many of these students also pointed out that many students don't actually have access to a laptop at home. So there are serious equity concerns that simply have not even been fleshed out by this government."
Other concerns raised included access to mental health supports, extracurricular programs and the education supports students need to be successful and transition into post-secondary education.
"People in this province are concerned about the real impacts to students when this government says that they are going to increase class sizes to 28. Students will have reduced access to educators for one-on-one feedback and instruction. This is bad news for struggling students as well as for any student with career goals involving a transition to post-secondary education. Oftentimes, those programs are so competitive that in those final years they do need that extra help to raise their GPA in order to be accepted into the post-secondary education program of their choice."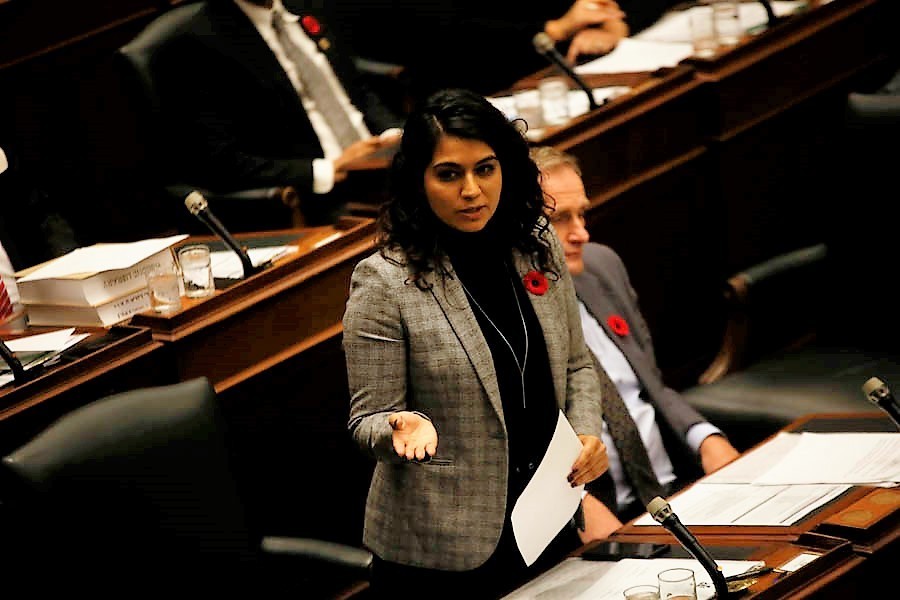 Sara Singh inside the legislature.
(The Pointer files)
The next month, on May 9, she affixed her name to and presented a petition from her riding which was called "Fund Our Schools." She raised the petition multiple times throughout her term.
It demanded the Legislative Assembly of Ontario direct the Minister of Education to immediately reverse the decision to cut $100 million in school repair funding, and invest the $16 billion needed to tackle the repair backlog in Ontario's schools.
A week later, she brought letters that were sent from the Peel District School Board to the Minister of Education outlining concerns with the government's cuts to education.
The letters highlighted the impact that the government's cuts and larger class sizes would have on students in Brampton and Peel.
The board warned that schools will be left with limited or no elective courses, which will have "significant, negative impact on some subject areas."
Singh questioned Ford on the elective cuts, and he directed the question to the minister of education at the time, Lisa Thompson. In response to Singh, she said schools boards and the opposition party should "stop the fear mongering."
On November 28, 2019 Singh put forward a motion for a fully independent, comprehensive public investigation of the charges of anti-Black racism within the Peel District School Board, and to present its findings and plan for action to the legislature, detailing the resources to be allocated to address this long-standing systemic issue.
This was following the Minister of Education announcing a review of the Peel District School Board in response to serious "allegations related to equity in the Peel District School Board ... specifically related to anti-Black racism and lack of adherence to governance, leadership, and human resources practices."
"This is good news in our community. For those who have known and endured for years, anti-Black racism is real; it is prevalent. A review is absolutely necessary. It's great that we can start with that," Singh said.
"In the over 15 conversations I've had since this review was launched, not to mention the previous conversations where we know what's going on, the number one thing I keep hearing is that people want accountability. Accountability is important because for far too long, this community has raised alarm bells. This is not new; this didn't just pipe up on November 6 for the minister to intervene; this has been going on. But no one—no one—is being held accountable for the reality that those students and teachers and administrators are facing within our education system."
In response, she encouraged the minister to create some accountability measures moving forward, and recommended the province collect data to track what was happening.
"...Without that data, without that evidence, without those numbers to quantify those experiences, people are saying, 'It isn't real.' Without some sort of specific mechanism that allows people to say, 'This was an instance of anti-Black racism that I experienced,' no one is held accountable, whether that's a teacher, whether that's a vice-principal, whether that's another school board trustee or whether that's the director himself."
On Feb. 24, 2020, Singh told an anecdote where a student in Brampton Centre reached out to her, to say they did not have access to the courses they need to graduate.
On March 12, 2020 Singh presented a petition entitled "Stop Ford's Education Cuts," demanding that the government halt increases to classroom sizes and invest to strengthen public education in Ontario.
Climate Crisis
During her time as MPP, Singh supported the NDP's resolution to officially declare a climate emergency here in Ontario.
"When I talk to folks in my riding, particularly young people, it is evident that they are very concerned about the future of this planet, Canada's role and the role that we all have to play here in this Legislature. They are aware that the climate crisis is real, and they would like this government to be taking action. This is where we are at odds with the government, because denying climate change does not stop the impacts, and it is real," Singh said in the legislature on May 13, 2019.
She criticized the province for cutting funds, including the elimination of the 50 Million Tree Program, a program to replace trees.
"In my community of Brampton, the majority of our community is actually on floodplains. Programs like this would help us prevent flood mitigation issues in our community and actually develop around those floodplains."
Sigh called climate change "the most important moral and social problem" that society is currently facing, with a real threat to humanity.
"In my community of Brampton our downtown core is on a flood plain. So every summer and spring, we get increasing water levels right through our downtown core. Actually, in 1948 we had a historic flood that left most of our downtown core damaged and underwater for weeks."
Legal Aid
Throughout her term as Critic for the Attorney General she told multiple anecdotes from the province's legal aid sector, advocating for the ceasement of budget cuts.
"It is people who are experiencing poverty, and children that are not going to be able to access justice. It is very concerning, the direction that this government is taking our justice system," Singh said on May 1, 2019.
"In addition to those vulnerable populations, people like refugees or immigrants who are unable to navigate the legal system to seek out justice themselves will also not have the opportunity to be represented by lawyers through legal aid."
A petition she presented multiple times was titled "Ensure that Low-Income Ontarians have Access to Justice."
In it, the petition demands the Legislative Assembly reverse the cuts to Legal Aid "that have already begun to impact the most vulnerable people in Ontario, including immigrants and refugees."
Street Checks
Within the first year of her term in 2018, Singh spoke up against police street checks, urging the elected members to end the practice, also known as carding.
"When you look at the demographics of a diverse region like Peel, that is a significant percentage of our population that is consistently targeted by police and having their information stored in databases. Young people who are just simply hanging out and playing basketball are often being targeted and asked to produce identification and logged into a database. This has significant impacts on their future endeavours," Singh told Queen's Park.
In Brampton and Mississauga, data from the five-year period between 2009 to 2014 found that almost 25 percent of those residents carded were Black, almost three times their representation in the overall population.
Black residents were more than three times as likely to be carded compared to whites in Brampton and Mississauga.
"While some may feel safer with the police around, it is important to acknowledge that many do feel targeted. I myself have experienced interactions with the police because of the people I was with. I was not engaging in any behaviour, neither were the people I was with. However, they were still stopped and carded and entered into a database."
While she spoke against the checks, she also described herself as "supportive" of the police, and advocated for additional mental health assistance to front-line officers who are increasingly dealing with people suffering a mental health crisis.
Singh was one of the most vocal MPPs in the entire legislature throughout the four-year term, earning the role of deputy leader of the official opposition, and frequently focusing on the most pressing issues facing Brampton residents.
---
Email: [email protected]
Twitter: @JessicaRDurling
---
COVID-19 is impacting all Canadians. At a time when vital public information is needed by everyone, The Pointer has taken down our paywall on all stories relating to the pandemic and those of public interest to ensure every resident of Brampton and Mississauga has access to the facts. For those who are able, we encourage you to consider a subscription. This will help us report on important public interest issues the community needs to know about now more than ever. You can register for a 30-day free trial HERE. Thereafter, The Pointer will charge $10 a month and you can cancel any time right on the website. Thank you
Submit a correction about this story