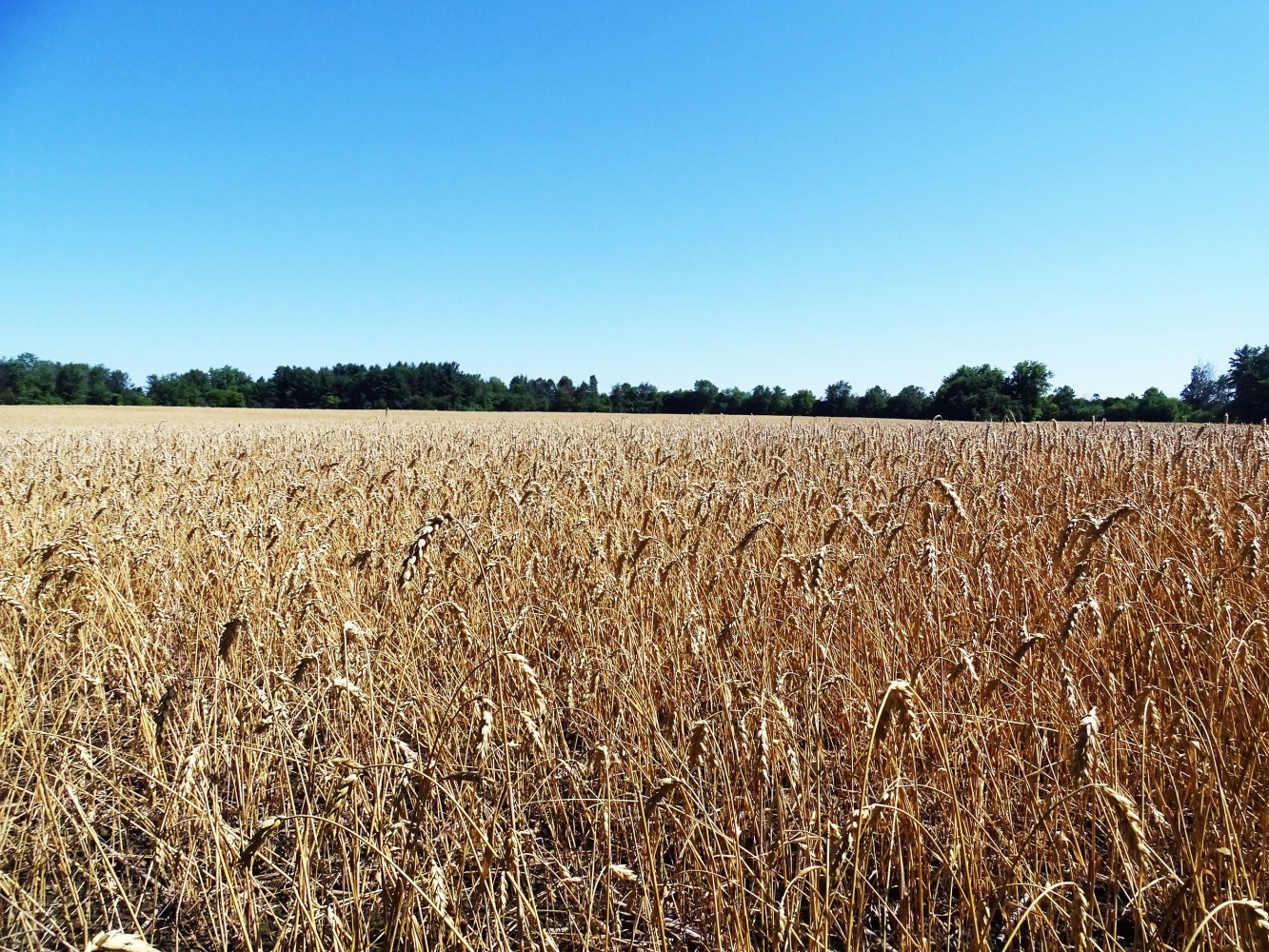 Image from Natasha O'Neill/The Pointer files
Urban boundary showdown: Residents, environmental advocates set to clash over Regional staff proposal to open 10,000 acres for development 
On Thursday, councillors who sit on Peel's Planning and Growth Management Committee will face a decision with profound consequences for future generations.
A recommendation from Region of Peel staff, if approved as part of the Region's Municipal Comprehensive Review (MCR) process, will open up approximately 10,000 acres (4,400 hectares) of land across the region—mostly in the southern parts of Caledon—for residential and employment development.
Staff state the recommendation is a "balanced" approach that takes into consideration a number of factors, including the environment and climate change, while accommodating the needs of a population that is projected to grow by 700,000 residents, roughly the current size of Brampton, over the next three decades.
Hundreds of environmental advocates, urban growth experts and local residents disagree, believing that leaving these lands largely untouched and freezing the urban boundary will not only save significant swaths of farmland and natural green space in northern Peel—including large chunks of the protected Greenbelt—it would also work to intensify the region and create the complete, transit-oriented communities Peel's municipalities are aiming to build.
The Region of Peel's proposed expansion; lands shaded in red and blue, will eliminate close to 10,000 acres of natural spaces and farmland.
(Region of Peel)
The decision is about more than where and how the Region of Peel will grow over the next 30 years. If councillors allow the urban expansion at its current proposed size, the loss of those 10,000 acres—and the impact that urbanization will have on the fringe habitats that border these new urban or industrial landscapes—would likely be considered, according to a range of measurements, a net loss for Peel's climate change efforts. The Region has a goal to cut corporate emissions by 45 percent below 2010 levels by 2030.
Studies have shown that the most impactful, and cost-effective way to mitigate the impacts of global warming is to simply preserve remaining greenspaces and agricultural lands. A study by Nature United found that protection efforts can reduce Canada's emissions by 30 megatonnes of carbon by 2030. Removing such measures would force Peel to find other methods to mitigate the effects of climate change, methods that will potentially cost Peel taxpayers dearly.
"All of us need to resolve and make decisions that encourage sustainable growth, not sprawl. Our economic growth, environmental health and community well-being are not separate events — they are interconnected and interdependent," writes David Crombie in a submission to the Region of Peel. He is the Chair of the Friends of the Golden Horseshoe, former MP, one time mayor of Toronto and chair of Ontario's Greenbelt Council.
"We need to build more compact, walkable, transit-oriented communities that offer affordable housing and access to goods and services. We need more local and nearby farming — not less; and we should be paying more attention to what farmers require in their pursuit of agricultural productivity and the food security so vital to all of us. And we need to be far more respectful, protective and appreciative of the extraordinary health and wealth-giving powers of this region — and to steward it accordingly."
The loss of 10,000 acres in northern Peel will have drastic implications for the various species, some of them already considered at-risk, that call the area home.
(Joel Wittnebel/The Pointer files)
The Intergovernmental Panel on Climate Change (IPCC), released a report this week that adds further pressure to Thursday's decision. The latest research found that if the world is to have any chance of limiting temperature increase to 1.5 degrees—after which significant effects of climate change could start large-scale disruption globally—worldwide greenhouse gas emissions must peak before 2025 and be slashed 43 percent by 2030.
"We are at a crossroads. The decisions we make now can secure a liveable future. We have the tools and know-how required to limit warming," states IPCC Chair Hoesung Lee in a press release. "I am encouraged by climate action being taken in many countries. There are policies, regulations and market instruments that are proving effective. If these are scaled up and applied more widely and equitably, they can support deep emissions reductions and stimulate innovation."
As it has done in past reports, the IPCC made it clear that local officials play a key role in limiting warming.
"Cities and other urban areas also offer significant opportunities for emissions reductions. These can be achieved through lower energy consumption (such as by creating compact, walkable cities), electrification of transport in combination with low-emission energy sources, and enhanced carbon uptake and storage using nature. There are options for established, rapidly growing and new cities," the press release states.
Freezing the boundary would not be unprecedented. Both Halton Region and the City of Hamilton have frozen urban boundaries—Hamilton in November of last year and Halton through a vote in February.
As the Province's Municipal Comprehensive Review conformity exercise nears its July 1 deadline, the development industry, specifically those companies that have traditionally pushed sprawl-style subdivisions across much of Ontario, have lobbied heavily to open up more land for new houses. The PC government recently passed legislation that makes it easier for these developers to circumvent traditional municipal planning practices aimed at ensuring responsible, cost-effective growth.
Peel will have to decide if it wants to be part of the same suburban model of growth seen across much of the 905 since the '70s, with big-box retail employment, logistics and warehousing, along with other low-density features such as large parking lots and strip-mall-style office spaces; or if it wants to transition to more urban, transit-oriented complete communities, and the type of housing, commercial offerings and dense office employment that comes with it.
"The time is now for Peel to actually make decisions based on the Climate Emergency they declared in 2019," Rahul Mehta and Jenni LeForestier of Stop Sprawl Peel, wrote in a joint statement to The Pointer. "If they don't follow Halton's lead they will never be able to say that Peel Region is a climate leader or even remotely climate resilient. Locking in 30 years of sprawl when they have so far not managed to maintain the infrastructure they have means that Peel will be working towards an increasing deficit, not a healthy plan for the future."
"The intersections of our food, housing, congestion and climate crisis, amidst worsening social inequities, are not a coincidence—they are directly influenced and exacerbated by the way in which we develop. Halton and Hamilton recognized that the urban boundary was sufficient to accommodate all the growth required. Peel is no different. They opposed the 413 so they must oppose the industrial sprawl that is connected to it."
Hamilton's decision, while criticized by local MPPs and the Minister of Municipal Affairs and Housing, Steve Clark, as being "anti-housing", was supported widely by those in the municipality. A survey conducted at the time received over 18,000 responses, and showed that 16,636 respondents, or 90 percent, wanted the urban boundary frozen. Hamilton expects to welcome 236,000 people and 122,000 jobs over the next 30 years.
According to Regional staff, the urban expansion is not an approval for more sprawl, noting that approximately 75 percent of the growth forecasted for Peel between 2021 and 2051 will be directed to existing settlement areas in the region.
"The manner in which this growth is accommodated will be very different than how Peel has grown historically. Approximately 70 percent of new residential units will be in townhome and apartment-built forms, primarily in areas where there is existing or planned transit investment," the staff report states. "The shift in how growth is accommodated is anticipated to transition Peel from an auto-dependent community to a compact and transit-oriented community that provides for a range and mix of housing options and employment in both greenfield and built-up areas."
What these claims don't address is the inevitable expansion of the suburban landscape across what is now largely untouched, as 10,000 new acres of development would be opened up under the proposal. Supporters of such planning argue there is significant demand for the type of detached single-family houses that require far more space than townhouses, apartments, condos and row houses which could be built in the existing urban boundary.
Critics counter that these types of consumer choices are a luxury (one many may still desire) that simply cannot be provided unless society is willing to live with the devastating consequences of climate change, including severe weather changes that are already costing municipalities unsustainable amounts of money to address.
There are numerous environmental planning considerations that modern planners now factor into their decisions absent from the staff report. The cost to develop the additional 10,000 acres, with all the required infrastructure, on top of all the features needed to mitigate known impacts of climate change, and the effect of destroying naturally beneficial wetlands, grasslands, woodlands and watershed areas, are not given much attention in the report.
It includes planning justifications very much at odds with what was seen in Halton and Hamilton when they put forward their justification for freezing the urban boundary. Peel, on the other hand, is proposing a much more traditional approach to accommodate future population, with some smart growth concepts mixed in.
It's unclear what checks and balances will be in place to ensure the Region and its municipalities do not fall back into their old patterns of approving sprawling growth, especially as a number of developers are already pushing the Region to expand the boundaries even farther. Areas of Caledon like Palgrave, Caledon Village and Inglewood are already seeing requests to include more lands in the expansion, some of which would have considerable impacts on the Greenbelt.
In many areas, the proposed expansion pushes the Region of Peel's boundary, closer and sometimes right against the Greenbelt's southern edge. The expansion has been planned without considering the GTA West Highway—which the Region of Peel has loudly opposed—though there are conditions in place to deal with those lands should the highway proposal be scrapped.
The urban expansion will have significant impacts on the Etobicoke Creek Watershed, as a large portion of the planned expansion falls directly within the headwaters of the watershed—an area that, when impacted, has potential domino effects that can hurt the entire area. This is particularly concerning as the Etobicoke Creek watershed already has surface water quality that is considered poor compared to other watersheds within the jurisdiction of the Toronto Region Conservation Authority. This area is also a significant piece of the watershed as the rest of the area which stretches down to Lake Ontario has been heavily developed.
"Generally, habitat quality is poor with some fair quality habitat in the headwaters, but the watershed still supports regional biodiversity including some sensitive plant and animal species, primarily in the headwaters," a June 2021 report on the watershed states. By many metrics, including habitat, erosion and water catchment, the headwaters are some of the healthiest natural areas in the region.
The headwaters of the Etobicoke Creek watershed (in green), will be opened up for further development if the current recommendation from regional staff is approved.
(TRCA)
The expansion of urban development into the area also does not seem to fit with TRCA's vision for the watershed which states the area should be "restored to a cleaner, healthier, and more natural state, to sustain its waterways, ecosystems, and human communities."
"If they (council) support a zero boundary expansion they will be walking the walk on climate action and focusing solutions on where both people actually want to live, work and play—in affordable communities within our city, not on sprawling and isolated lots costing millions," Mehta and LeForestier stated.
"If Council adopts the OP as is, with so little public engagement, and without considering all the impacts such a decision will have for the next 30 years (food security issues, reduced climate resiliency, more car-dependant low-rise communities trapped in debt, infrastructure debt and population exodus—already underway in Mississauga), it will be a very undemocratic finish to an Official Plan that benefits developers of all stripes and ignores the Climate Emergency."
---
Email: [email protected]
Twitter @JoeljWittnebel
---
COVID-19 is impacting all Canadians. At a time when vital public information is needed by everyone, The Pointer has taken down our paywall on all stories relating to the pandemic and those of public interest to ensure every resident of Brampton and Mississauga has access to the facts. For those who are able, we encourage you to consider a subscription. This will help us report on important public interest issues the community needs to know about now more than ever. You can register for a 30-day free trial HERE. Thereafter, The Pointer will charge $10 a month and you can cancel any time right on the website. Thank you
Submit a correction about this story