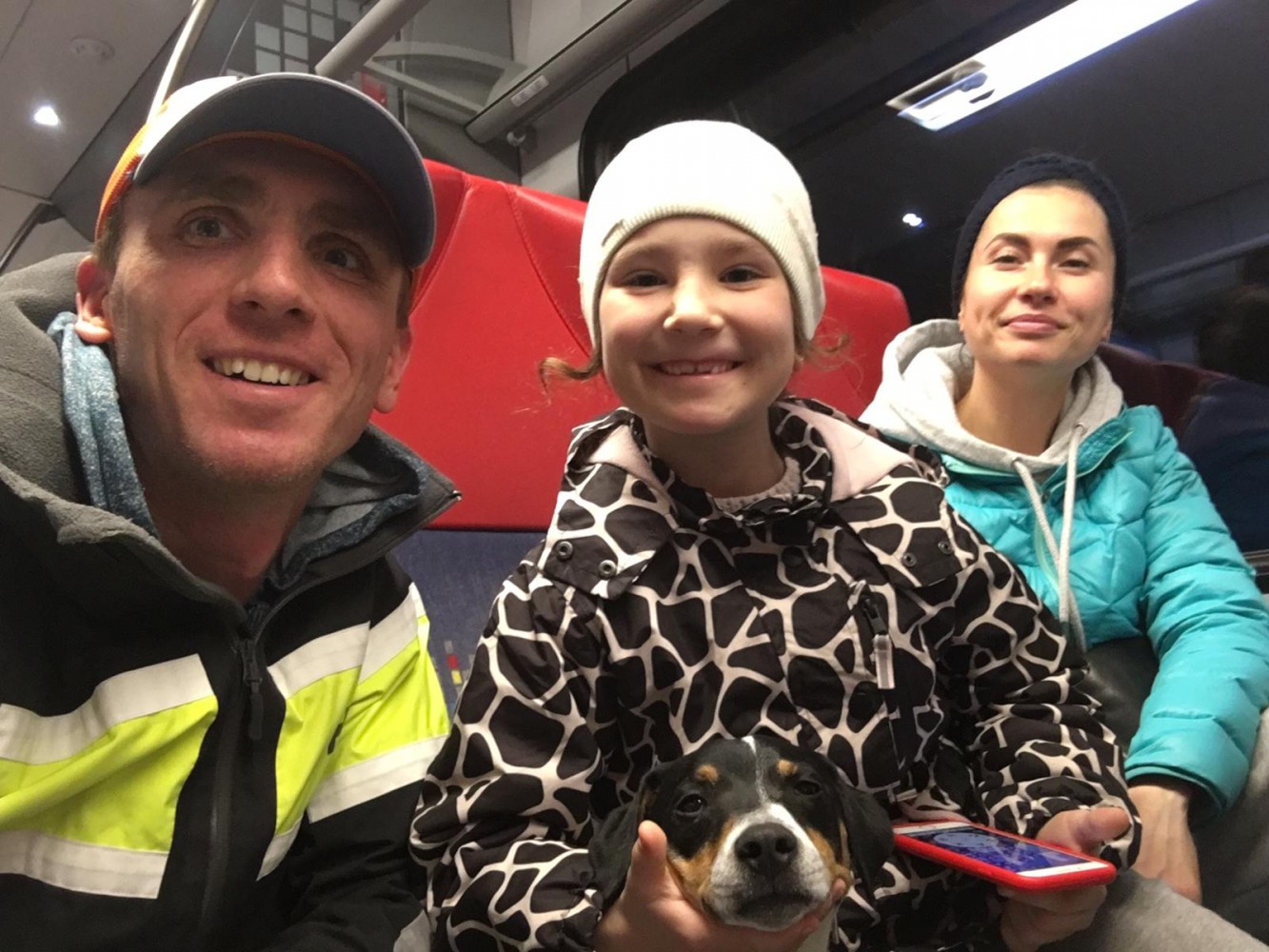 Feature image from Rylskyi family
Canada's complicated immigration process strands family fleeing war-torn Ukraine 
Ukrainian President Volodymyr Zelenskyy asked Canadians to put themselves into the shoes of Ukrainians being battered by the ongoing Russian invasion, which has seen bombs and missile strikes decimating major cities across the country.
"Imagine that at 4:00 a.m. each of you start hearing bomb explosions, severe explosions. Justin [Trudeau] can you imagine hearing your children hear all these severe explosions?" Zelenskyy asked through a choppy live feed being streamed inside Canada's House of Commons this week. "Imagine that Canadian facilities have been bombed similarly as our buildings and memorial places have been bombed. A number of families have died. Every night is a horrible night."
While the majority of Canadians can only imagine the horrors, millions of Urkanians are living it—and attempting to escape it. This includes Denys Rylskyi, his wife Yana and seven-year-old daughter Sofiia. The family has fled Ukraine for Poland, but is currently stuck in a web of bureaucracy that is preventing them from getting back to Canada. Between 2015 and 2020 Denys was working and playing soccer in Canada. In 2019 he joined a soccer club with more responsibilities managing and building the business. All the progress on his company was put on hold when he was given an exclusion order to leave Canada in 2020.
Denys, Sofiia and Yana Rylskyi.
(Contributed)
To date, a number of large Ukranian cities (including the capital Kyiv, Mariupol, Kherson and Kharkiv) are under constant attack with bomb sirens ringing constantly as the invasion by Russian dictator Vladimir Putin, launched on February 24, nears the end of its first month of fighting. While tensions had been escalating prior, the aggressive actions shocked Ukrainians, Russians and the rest of the world.
In the special address to Parliament, Zelenskyy asked Canada to continue with the strict economic sanctions placed on Russia and maintain foreign aid to his country as the war rages on. The world has watched as millions of people fled Ukraine for nearby countries like Poland. The advancing Russian army has reportedly been shocked by the fierce resistance put up by the Ukrainian armed forces, which now includes thousands of civilian volunteers, fighting in trenches and bunkers as missiles strike hospitals, daycares, schools, memorial sites and critical telecommunication towers.
Canada has one of the largest Ukrainian populations outside of the country itself, hosting approximately 1.4 million Ukrainians or Ukrainian-Canadians according to the 2016 Census. Around two percent of Peel Region's population identify as ethnically Ukrainian.
On March 12, the United Nations (UN) reported 1,663 civilian casualties (596 killed, 1,067 injured) since the start of the invasion. The UN estimates at least 2 million Ukranians have fled the country with that number expected to grow considerably unless a ceasefire is reached.
Shabia Mantoo, a UN spokesperson, called it the "largest refugee crisis this century."
The timing could not have been worse for Denys and his family. When Denys accidentally violated his work permit in 2020, the small family went home to Dnipro in Ukraine, approximately 200 kilometres from rebel occupied Donetsk, a territory under siege by Russia. Denys didn't think the ongoing conflict between the two countries would escalate.
In February of this year he was residing in Antalya,Turkey coaching soccer. During this period, Yana and Sofiia were staying with him, but booked tickets to go home February 22, two days before Russia invaded.
"First of all we thought this would end in a week," Denys told The Pointer in an interview from Poland. "But then the Russians started invading from north, east, west — from all sides. That's when we understood this was kind of a serious situation."
The family then started the long and scary process of fleeing the country. In the first few days of the invasion, flights out of the country were canceled and main airports were packed with people, Denys says. The family decided to leave by land. Early on, looters were robbing people in the streets making it extremely difficult for the family to navigate their surroundings.
In the days before their train departure, Dnipro suffered two bomb attacks. He worried the city could become a target like Kyiv, the country's capital. On March 11 an airstrike hit the city in a residential area, The Guardian reported.
"There was some kind of sirens coming up a couple times a day, but our mayor, he said, 'it's not serious, we're taking care of that. So just make sure you get to a safe place when it starts, but don't panic,'" Denys told The Pointer.
When they started their journey to safety, the family left most of their belongings behind in Dnipro. While the situation may seem unthinkable for many, Denys explained the family did not feel like they were leaving their lives behind.
"We left our lives behind in Canada," he said.
The increasing aggression from Russian forces made it even harder for Ukrainians to leave. Everyday Yana and Sofiia went to the train station in hopes they could find tickets to leave quicker. On March 5 and 6 there were designated immigration trains from Dnipro, but people could only get on them with a specific ticket.
They were told the only option was to "get in [a] train and move."
Yana and Sofiia were able to catch a train March 7 at 10 a.m. to start the long journey to Poland, a more than 1,000 kilometre journey. The plan was for Denys to meet them as soon as possible. When it came time to meet at the train station, the scene was chaotic.
According to him, the trains took four to five hours to unload passengers because thousands of people had been crammed inside. He waited most of the day for signs of Yana and Sofia, with no success. He found someone organizing the scheduling of the trains, who said the train from Dnipro would come later that night. It turned out that the train carrying Yana and Sofiia was stopped at the border between Ukraine and Poland. It's not clear why.
It wasn't until later that evening that the family was able to reunite. Even after more than 38 hours on a crowded train they had to keep moving. Denys fortunately was able to secure a hotel in Lublin for the night. The next day, they traveled to Warsaw then to Lodz where they are now.
The long journey from Dnipro to Lodz.
(Natasha O'Neill/ Google Maps)
Seven-year-old Sofiia has been having a hard time moving around, not used to the disruption in her life.
"She's upset because we have to move from one place to another. She's not used to carrying a bag, which is pretty heavy," Denys said. "Those three bags are the only things we have right now."
"We cannot book two nights together in a row, it's all booked night by night and so we already changed three places," Denys said. "And tomorrow we go to another place and after that I think we'll finally find a place to stay for a week."
Denys and his family are hoping after the next few weeks the Canadian government will allow them to immigrate. Kristen Forsythe, part of the legal counsel team for the Rylskyi family believes they should have a good chance, not only because of the opportunities Canada is offering Ukrainian foreign nationals fleeing the war, but because of the economic, social and cultural contribution the soccer club Denys manages will make to the Greater Toronto Area (GTA).
"I am astounded that he's still sitting in Poland with his wife and daughter, looking for a hotel room, unable to come to Canada immediately," Forsythe told The Pointer.
Canada opened its doors and cut back red tape for Ukrainians hoping to immigrate to the country and away from war. The Canadian government has removed certain processes, making it easier for Ukrainians to apply for permanent residence (PR), temporary residence, citizenship or for a work permit. The bureaucratic assistance aids Ukrainians leaving the country and other eastern European countries like Poland, Moldova, Hungary, Romania and Slovakia that have immediately taken in the refugees.
"There will be no limit to the number of Ukrainians who can apply," the website states. "This is the fastest, safest, and most efficient way for Ukrainians to come to Canada and eliminates many of the normal visa requirements."
But these changes have done little for Denys and his family, who have been attempting to return to Canada since 2020, when Denys was forced to leave after accidentally violating his work permit.
These permits are extremely specific and only allow for the holder to gain income in Canada for a specific period of time and under a designated job title. Denys's permit allowed him to play soccer in Canada.
He first started coming to Canada in 2015 to play, and was followed by Yana and Sofiia in 2017. Yana taught dance and fitness classes to adults.
Denys was a part of the Arena Premier League (APL), a division of the Canadian Arena Soccer Association (CASA), which launched in Mississauga in 2017.
This is where he gained a passion to guide emerging soccer stars and officially founded Toronto Atomic FC Incorporated (TAFC), a semi-professional soccer club, in 2017 alongside Ukrainian-Toronto businessman Ihor Prokipchuk.
TAFC provides a training academy for players of all ages and levels with guest appearances by national and international trainers. In 2019, Denys was appointed President of the organization.
After seeing success in the Canadian soccer industry and making a home for his family, Denys and Yana both started the long process of applying for permanent residency (PR). The government has a law that allows people to apply for a dual intent application, meaning Denys could start his PR application and still gain extensions on his work permit. He also applied for a labour market impact assessment (LMIA), which is a step an employer takes to hire a foreign worker.
March of 2020 is when things took a turn for the worse. He went to pick up his work permit in Niagara Falls, where he described his work duties to a border officer.
"In the meantime, he had taken over more responsibility for the club and was creating reciprocal agreements with other countries," Forsythe told The Pointer. "When he started talking about what he did for the club, the officer said, 'well, you're not just here working as a soccer player, you're actually performing the duties of an executive director of a sports facility, which is under a different NOC (national occupation classification) than your approved LMIA work permit."
The border official refused to grant his permit. The officer issued him an exclusion order meaning he would have to leave the country for one year. He left voluntarily in September 2020 and has not been able to return.
"Basically [he] expanded his role and duties at the club, and because he talked openly about it to the officer, he was issued an exclusion order, which meant that he would have to leave Canada for a period of one year," Forsythe said.
With the new work permit request, Forsythe explained he wasn't even given a chance.
"An officer looked at the fact that he had worked this one time outside of his work permit … and therefore denied his work permit," she said.
Forsythe believes the reasoning for making Denys leave Canada does not make sense because of his PR application.
In a supporting document for Denys's PR application The Pointer reviewed, the co-director of TAFC strongly advocated for his return to Canada, explaining the growth and life of the business depended on Denys' strong network and passion.
"I have no doubt that he will be able to implement all of these initiatives with his leadership skills, his energy, and the strong network that he has in the soccer community here," Arvin Nesarhosseini writes. "He truly is Toronto Atomic FC Inc. and cannot be replaced, so without him here this will all end."
On top of providing learning opportunities for youth, the club's business plan lays out the economic, cultural and social benefits the organization provides. The goal is to bring young soccer members into the club, start them off playing and slowly increase the participation and opportunities they receive. The long term target is to hire multiple coaches, bring in March Break/summer training camps and build the website and online presence.
Seven-year-old Sofiia is struggling to understand why the family has to move around so much. The sociable little girl made many friends in Canada before having to leave.
(Contributed)
On March 15, Denys' visitor visa was approved. They are now waiting on the approval of their passports and police clearance certificates before they can travel back to Canada.
Denys has done a lot of work with players coming to Canada and is familiar with the immigration process. Never did he think it would be this hard for him and his family to immigrate themselves.
"We're all hoping Canada will open the gates for us and we'll come as soon as possible."
---
Email: [email protected]
Twitter: @taasha__15
---
COVID-19 is impacting all Canadians. At a time when vital public information is needed by everyone, The Pointer has taken down our paywall on all stories relating to the pandemic and those of public interest to ensure every resident of Brampton and Mississauga has access to the facts. For those who are able, we encourage you to consider a subscription. This will help us report on important public interest issues the community needs to know about now more than ever. You can register for a 30-day free trial HERE. Thereafter, The Pointer will charge $10 a month and you can cancel any time right on the website. Thank you
Submit a correction about this story