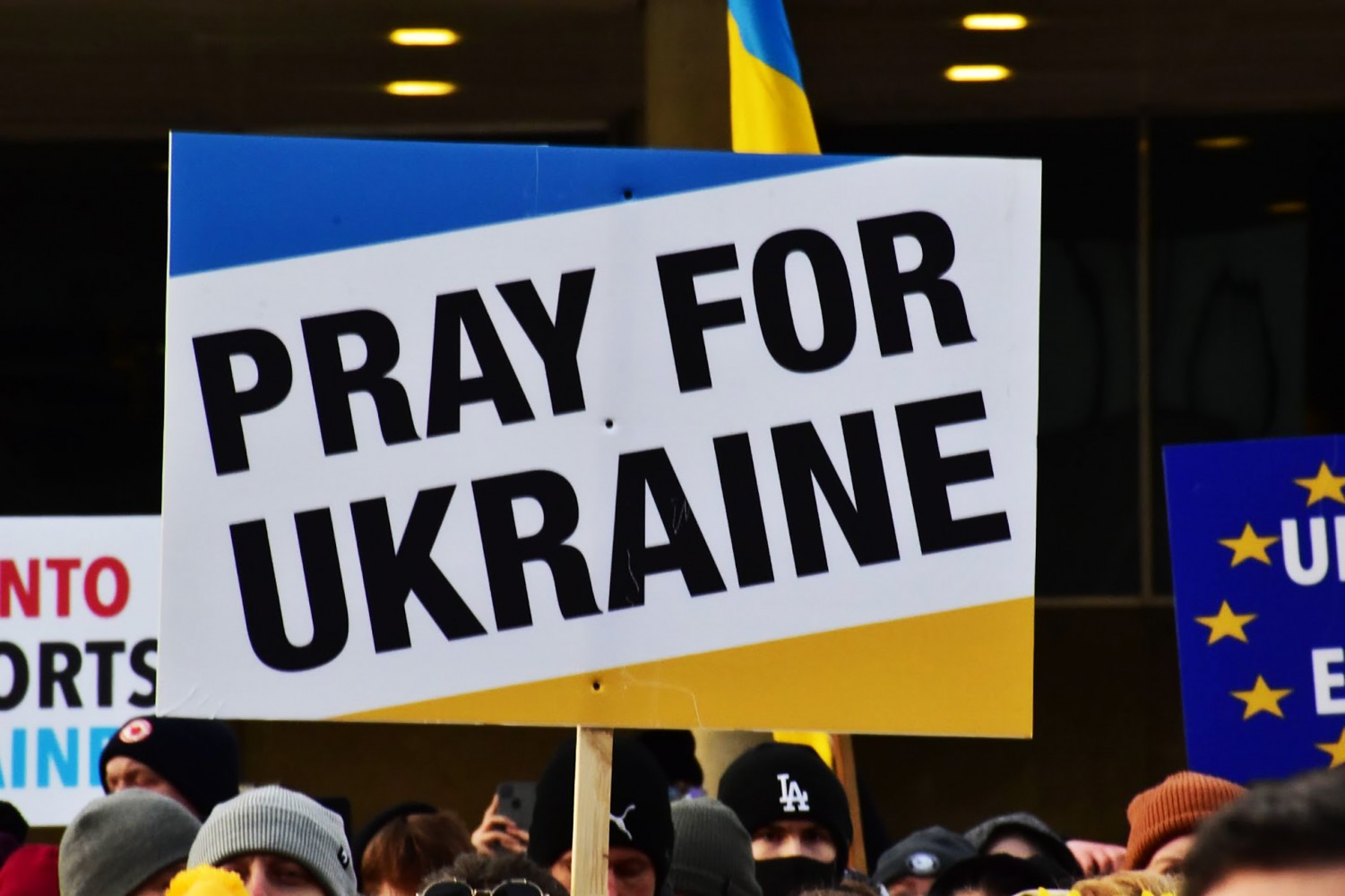 Feature image from Isaac Callan/The Pointer
Peel's Ukrainian community watches Russian invasion in disbelief and horror
Every night, Father Roman Galadza washes up, says his prayers and prepares for bed. He is the pastor at Saint Elias Byzantine Ukrainian Catholic Church in Brampton.
His prayers have been especially focused of late. Like thousands of Ukrainian-Canadians in Peel, events in Europe have been on his mind.
"It's not as bad as it could be yet I don't think, but it could be worse," he says. "And so I pray that it doesn't get worse."
Galadza was born in Ukraine in 1943, fleeing with his family in 1944. He was raised in the United States, before being ordained as a priest in Toronto in 1970. Eventually, he set up a congregation in Brampton. He has also been a teacher at the Dufferin-Peel Catholic District School Board.
The Russian invasion of Ukraine is a tangible fear for Galadza. It is not only a reminder of his parent's escape from the country, but one of his six daughters, Larisa, is Canada's current ambassador to Ukraine.
"I can't believe that it would happen, that the man would actually invade," Galadza says of Putin's announcement Thursday that Russian troops, amassing on the border of the country for weeks, would be crossing the border, along with aerial bombardments of strategic targets across Ukraine. "Certainly, all the signs pointed to it...but I think basically we in the West are raised with the idea that things won't be that bad. And yet here they are."
That sense of disbelief echoes around Peel's Ukrainian communities. "It is quite devastating to see where things have escalated to in Ukraine — it's almost unbelievable," Nestor Sanajko says. He is the president of the Ukrainian Youth Association Mississauga and has been involved in rallies and events.
Ukraine and Canada have strong connections.
(Image from Isaac Callan/The Pointer)
On Friday, Mississauga Mayor Bonnie Crombie raised a Ukrainian flag over Celebration Square and City Hall. The display of solidarity followed a Thursday rally in Toronto's Nathan Phillips Square.
Around two percent of Peel's population identified as ethnically Ukrainian, according to the 2016 Census. There were roughly 1.4 million Ukrainians and Ukrainian-Canadians living across the country that year. It is one of the largest Ukrainian populations, outside of Ukraine itself, found anywhere in the world.
"History will judge President Putin as harshly as the world condemns him today," Deputy Prime Minister Chrystia Freeland said Thursday. "Today, he cements his place in the ranks of the reviled European dictators who caused such carnage in the 20th century."
Carolyn Parrish, a long-serving Mississauga councillor, has strong ties to the country. Her family is Polish-Canadian and, as a rookie member of parliament in the 1990s, she was sent to Ukraine as an election observer.
She arrived in Odesa, a port city on the Black Sea, in 1995. Parrish was greeted by a new country, finally finding its feet after hundreds of years under different empires. Grandmothers gathered in parks, some locals rode horses for pleasure and others walked their cats on leashes. "It was the most bizarre thing I've ever seen and I didn't ask them why they had cats instead of dogs," she remembers. "They had their reasons."
Beyond the cats and horses, Parrish noticed a palpable excitement in the seaside city. "You're just supposed to go to each of your four or five spots all around the day that they're voting and keep notes," she says. "They were so precise, they did everything so perfectly. And what got me was how excited they were about democracy."
A rally in support of Ukraine was held in Toronto on Thursday.
(Image from Isaac Callan/The Pointer)
Odesa does not look the same today. Missile strikes and bomb blasts have been reported. It is a city at war. Thirteen Ukrainian border guards were awarded the Hero of Ukraine medal after they were killed for refusing to surrender to a Russian warship on Thursday. They died on an island around 150 kilometres from Odesa.
For many Ukrainian-Canadians, travelling to monitor democratic elections is a rite of passage. Every election, people from across the country go to Ukraine. Even for young Canadian-Ukrainians whose connection to the country stretches back to their grandparents, the practice can continue.
Marta Baziuk is the executive director of the Holodomor Research and Education Consortium, a group that studies a famine imposed on Ukraine by the Soviet Union in 1932. Just two years ago, she was in Luhansk Oblast, a region that is now at the heart of fighting between Russian and Ukrainian forces.
"What struck me was being in the rooms during these counts of the votes [was] how people were striving to maintain the proper procedures," she says. "[They were] trying to really establish a rule of law-based democracy where you have a true competition in an election, you have the competing parties present during the count watching one another. And there is this commitment to these principles and standards we take for granted — or we did."
Ukrainians, with support from countries like Canada, spent decades building a new democracy from the ground up. Local and diaspora energy was poured into the young process. And now it is in grave danger.
Ukrainian flags flying at a rally in Toronto.
(Image from Isaac Callan/The Pointer)
The Russian invasion, ordered by Vladimir Putin, has left Ukraine in a precarious place. It has shocked a Canadian-Ukrainian community that has been invested in its progress for so long.
"He has the worst combination of the Tsarist Russian Imperial view that this is Russian territory and also [the idea that] the Soviet Union was a great power, Ukraine was part of it," Baziuk says. "I think he believes the good Ukrainians are the ones who are happy to be subservient."
Father Galadza shares that view. As he prays each night for peace in the country of his birth, he has come to terms with the motivation of Russia's leader.
"There are people who say there is no devil, that there is no evil — but how can you maintain that when you see evil in the world so obviously, so flagrantly manifesting itself?" he says. "That can only be explained by the fact there is evil."
"We believe that ultimately in our Lord Jesus Christ good overcomes evil, but how — jeez," he wonders. "Father, forgive them, they do not know what they're doing."
---
Email: [email protected]
Twitter: @isaaccallan
Tel: 647 561-4879
---
COVID-19 is impacting all Canadians. At a time when vital public information is needed by everyone, The Pointer has taken down our paywall on all stories relating to the pandemic and those of public interest to ensure every resident of Brampton and Mississauga has access to the facts. For those who are able, we encourage you to consider a subscription. This will help us report on important public interest issues the community needs to know about now more than ever. You can register for a 30-day free trial HERE. Thereafter, The Pointer will charge $10 a month and you can cancel any time right on the website. Thank you
Submit a correction about this story