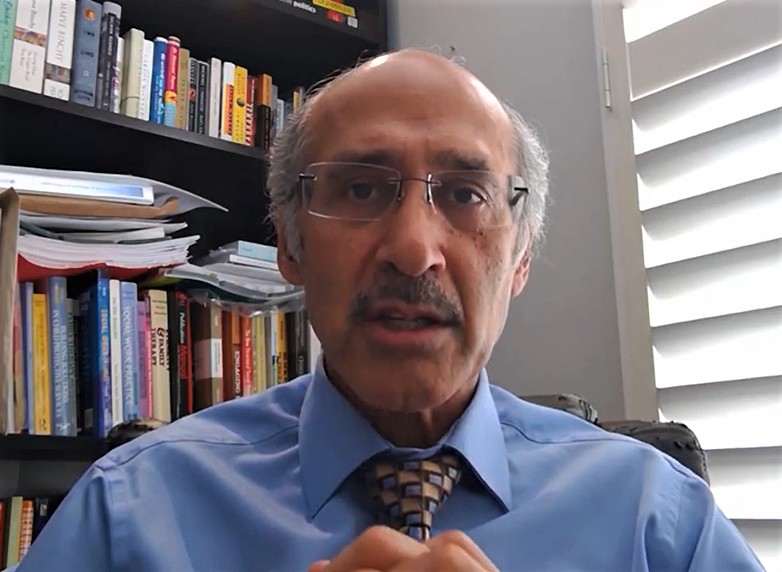 Screengrab YouTube/Peel CAS
'Seriously troubled' Peel Children's Aid Society sees changes: President to step down; CEO still sidelined
Peel's troubled child welfare organization faces yet another crossroad this summer, following more than a year of internal strife and concerning allegations.
At its June 14 annual general meeting, the board of Peel Children's Aid Society (CAS) will select a new president to govern the organization. Juliet Jackson, who also works as a senior civil servant for the Region of Peel, will step down from the CAS oversight role she has held for two terms.
The change in leadership comes at a pivotal time.
Peel CAS CEO Rav Bains has been on administrative leave since November. He was sidelined following a disastrous year for the organization, dominated by allegations of anti-Black racism, a toxic work culture and misappropriation of public funds by the CEO. Bains has been on administrative leave while Jackson and her board have conducted a series of investigations.
"I will remain as board president until our annual general meeting in June of this year," Jackson told The Pointer. She communicated in multiple email exchanges between January 14 and February 15. "The board conducts an annual peer-to-peer assessment, and nominations for the president's role are based on the results of that process."
Jackson has served two terms as president and must now be replaced. Peel CAS' board recruits volunteer members from the community and, according to Jackson, "qualified applicants are interviewed and recommendations are presented to the board of directors".
The Peel CAS board does not currently post its agendas or minutes publicly. This is something Jackson says the board is considering. Peel CAS directors run an organization that is funded by taxpayers and staffed by civil servants. It's unclear why a public entity would not be more transparent with the taxpayers who fund it, as confidential information can easily be kept out of any agenda or minutes, while information to keep residents and other stakeholders engaged with CAS can help build trust with the community it serves.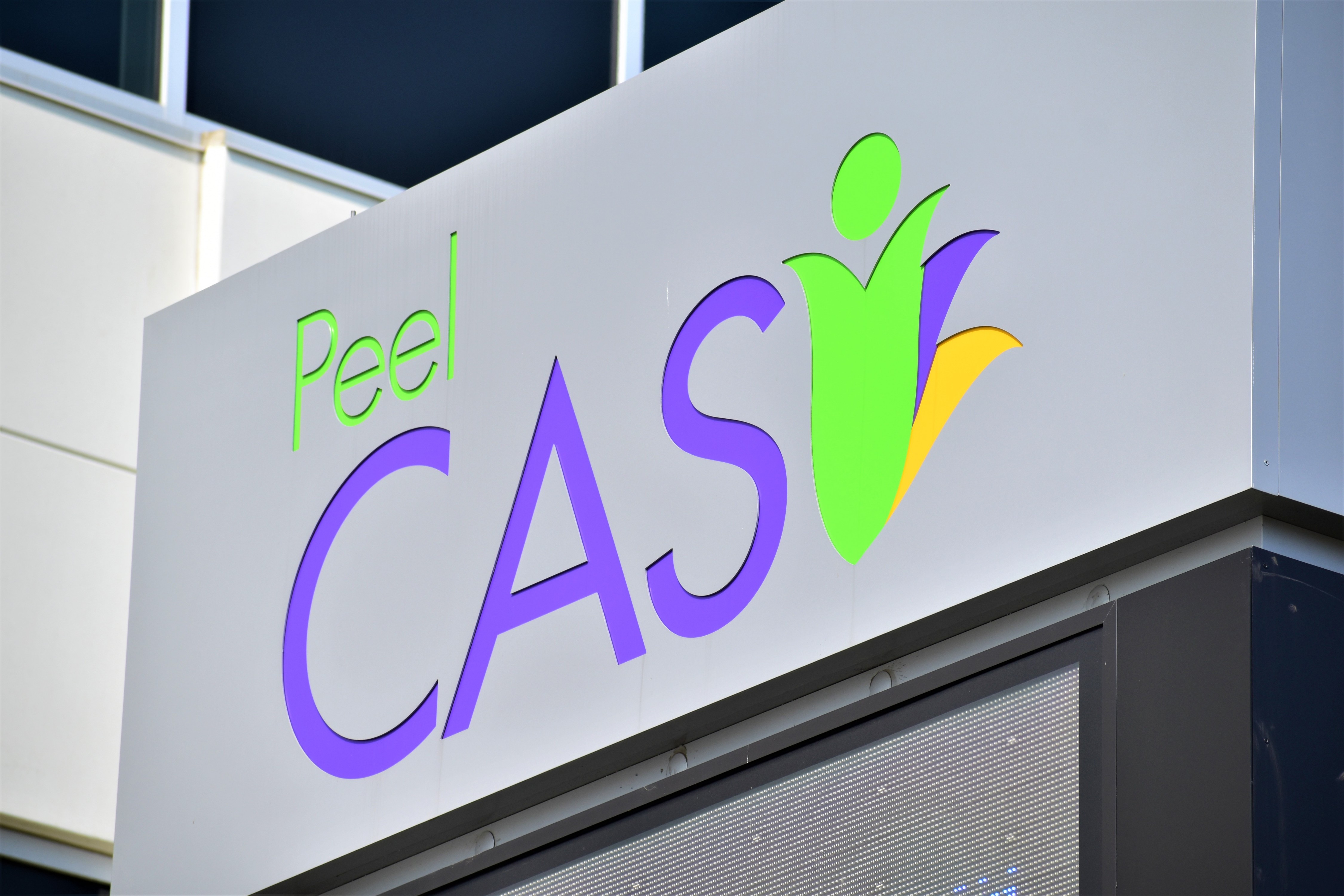 Peel CAS' headquarters in Mississauga.
(Photo Isaac Callan/The Pointer)
Public questions were first raised about Bains and Peel CAS around October, 2020. A series of counselling sessions for Black staff put on by the organization's union culminated in a damning report that laid allegations at the feet of senior management.
It described a divide between staff and leadership, referencing nepotism within the organization. It said Black staff see senior leadership as "untrustworthy" when handling their concerns. The report included the finding that management "has no picture of what is happening to or being experienced by Black staff."
Bains and Peel CAS' senior management attempted to walk a thin line: accepting the organization had work to do without committing to what change might look like. "Like every institution, there's more work to do, including the media, including all the other systems," Bains told The Pointer in December 2020 during the only sit-down interview he has agreed to, despite ensuring he would make himself available for future interviews.
When it became clear the union, frontline staff and senior management could not come to a solution, the Province stepped in. Two third-party investigators were assigned to dig into Peel CAS' work culture, finances and governance. The findings released in October 2021 were damning.
Reviewers said that "workload demands have led to burnout and concerns for safety" among frontline staff. They described the organization as "seriously troubled".
The review showed that Bains was the highest-paid leader of comparable Ontario children's aid societies, flagging concerns around how his excessive compensation was approved (it went from about $170,000 in 2012 to almost $273,000 in 2020 according to Ontario's public salary disclosure, with some annual raises of almost 15 percent, allowing him to earn about $60,000 more, on average, compared to the CEOs of comparable CASs), how expenses were reported and claimed. Reviewers found Bains had claimed taxpayer funds for a flight to the United States, using a subordinate's credit card to bypass official approvals by the board, which was not notified of his travel details. Trips outside the country cannot be claimed under Peel CAS' policies.
Bains, according to the Ontario disclosure which shows what taxpayers actually pay for public sector salaries, not what organizations might claim in their own books, routinely received more than the maximum 5 percent salary increase; in 2017, Bains received a 1.5 percent increase (roughly in line with inflation) after a 13-week strike by unionized staffers.
The Pointer also reported that Bains had charged taxpayers for more than $6,000 in training from 'success coaches'. One of the coaches Bains paid with public money was helping him prepare for a lucrative retirement including consultancy work, helped by the release of a book that featured a personal email address for clients to contact Bains as a paid consultant alongside his full time government job.
The Pointer was unable to get an explanation from Bains or the board as to how these self-help seminars paid for by taxpayers related to the CEO's work in the child welfare space, or why he would travel to the United States on the taxpayer's dime, when trips outside the country are not allowed to be expensed.
"Rav is about to retire from a nice long career and wants to do something in his retirement that may even be better," success coach Raymond Aaron said in a May 19, 2019 video that was recorded and shared on Facebook. "And so I am helping him with that."
In August 2019, Bains paid $3,320 USD (just over $4,100 CAD) to attend an event by the Canfield Training Group called "Breakthrough to Success" in Scottsdale, Arizona. Three months later, in November, he paid a further $2,260 CAD to the Raymond Aaron Group, the coach who helped him publish a book and prepare for retirement, to attend an event in Toronto. Ontario taxpayers paid for these events.
Bains declined to be interviewed about the expenses. He did acknowledge them in an email sent to all staff at Peel CAS and seen by The Pointer.
The CEO was placed on administrative leave four weeks after the expenses were publicized. He remains on administrative leave, but Jackson says the board has concluded funds spent on success coaching were legitimate. She provided no evidence to back up the decision or explain the details raised through The Pointer's reporting. There does not appear to be a public report that provides details of the investigation or a full explanation of how his success training for retirement was considered a legitimate expenditure, especially when clear policies were violated.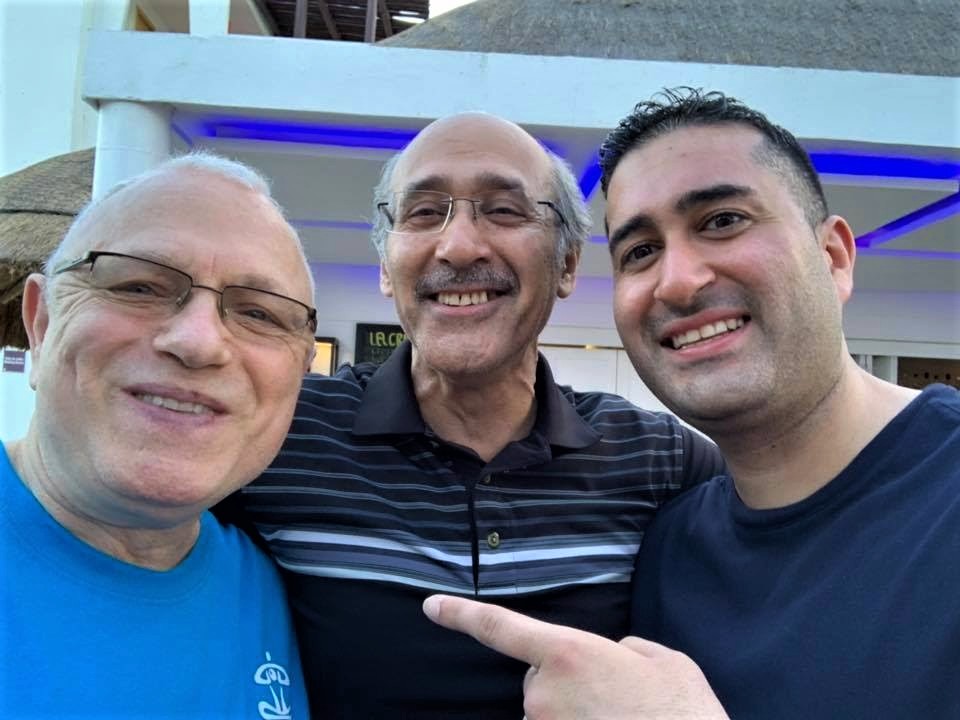 Rav Bains (centre) and his son Manny (right) with Raymond Aaron (left) in Cancun.
(Image from Raymond Aaron/Facebook)
"The Board has found that the training was aligned with the CEO's performance and development goals, and that the expenses were appropriate given his role in the organization," Jackson said in an email.
The only expense Bains has repaid the Peel Children's Aid Society so far is $1,043 for the flight he tried to claim using a subordinate's credit card. The flight should not have been expensed because board employees cannot claim funds back on trips outside of the country, it was also mislabelled as a trip to San Francisco when Bains in fact attended a conference in Arizona run by a success coach.
Bains used personal funds for him and his son, Manny, to enroll in a personal development course run by success coach Raymond Aaron known as ORBIT. The program costs $100,000 (USD) per person per year and offers clients near unlimited access to Aaron's various events and advice. Photographs show Bains and his son attending multiple events with Aaron throughout 2019. They include: Santa Barbara, California; High Point, North Carolina; and Cancun, Mexico.
According to the brochure for Aaron's ORBIT coaching, anyone taking part in the plan must "be in business or want to launch a business" and must have a "deep desire to dramatically increase your income", wanting to "earn money with far less effort". A post in September 2019 on Aaron's Facebook shows Bains and his son graduating from his six-figure personal development coaching course.
In addition to privately attending courses run by Aaron to (in Bains' own word) "transition into the retirement", he spent more than $6,000 of public money to attend a November 2019 course run by Aaron and another course by an associate of Aaron, Jack Canfield.
Jackson and the board she currently runs say that these expenses were legitimate, provided value to taxpayers and did not violate any conflict of interest rules. Neither Jackson nor Shane Vieira, Peel CAS' communications director, would answer questions regarding if any punitive action has been taken against Bains. No date has been released regarding an end to the administrative leave he has been on since November.
It's unclear if the Province will once again step in and conduct its own independent investigation of Bains' spending, as staff have told The Pointer there are numerous concerns internally about having the same board that has supported Bains, giving him excessive raises paid for by taxpayers, now overseeing the probe into his spending. It remains unclear how the board was not aware of the CEO's conduct, his improper use of another staffer's work credit card, his violation of travel policies and compensation that appears to have come with little scrutiny of his actual performance.
He was given beyond maximum raises while heading an organization the Province described as "seriously troubled".
Details of his conduct were only brought to light through the Province's review and reporting by The Pointer, not by the board that is supposed to hold Bains accountable.
"The Board acknowledges the importance of public transparency and accountability," Jackson said when asked if details of the investigation would be released. "To the extent issues are personnel matters, we must also respect all individuals' rights to privacy and confidentiality. Accordingly, once the internal review has been completed, we will determine what, if any, information can be made public. We are not able to provide a timeline at this time, although we are trying to proceed expeditiously."
Jackson and her volunteer board are the ultimate authority at Peel CAS.
The CEO reports directly to the board and its members are responsible for overseeing the role. The comprehensive review of Peel CAS showed that key oversight mechanisms were missing from this process including a culture where board members did not ask accountability questions of senior leadership. Jackson has pledged to bring in changes to the organization and board's culture to increase accountability.
"The Board's recently released work plan itemizes all the recommendations in the report, along with the plan of action, timeline and responsibility," she said. "The plan addresses the report's concerns, with careful oversight, to ensure these issues are well-managed moving forward. The Board has implemented, and will continue to implement, changes to our policies and processes as needed to help facilitate transformative change."
The plan is a mandatory requirement for the Children's Aid Society following the Province's investigation. It outlines a series of steps designed to fix the broken culture that has spread within the organization.
It includes the hiring of an ombudsperson for staff who do not feel comfortable reporting harassment or discrimination to senior management. An overhaul of the financial policies Bains circumvented to book his flight to Arizona is also part of the plan. Changes to record more detailed training costs will be implemented as well as the caseloads faced by frontline staff.
The work plan pledges to "enforce Ministry guidelines and Broader Public Sector directives related to entertainment expenses". The organization will be forced to take a closer look at referrals from organizations like the Peel Regional Police or Peel District School Board to ensure the "most appropriate interventions and services are provided to children and families."
Jackson says a fulsome review of issues regarding Bains should be completed, along with a decision about his future, before she steps down in June.
---
Email: [email protected]
Twitter: @isaaccallan
Tel: 647 561-4879
---
COVID-19 is impacting all Canadians. At a time when vital public information is needed by everyone, The Pointer has taken down our paywall on all stories relating to the pandemic and those of public interest to ensure every resident of Brampton and Mississauga has access to the facts. For those who are able, we encourage you to consider a subscription. This will help us report on important public interest issues the community needs to know about now more than ever. You can register for a 30-day free trial HERE. Thereafter, The Pointer will charge $10 a month and you can cancel any time right on the website. Thank you
Submit a correction about this story