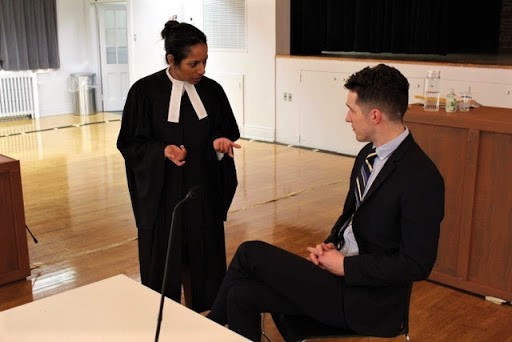 Feature image from Crane Creations
Guilty or not? A range of outcomes as Mississauga theatre company puts diverse audience in the jury seat with Terror
The lights open on a typical courtroom set—tables for each side in a legal battle and a dais for the Judge's elevated perch to preside over the tense affair.
The drama to unfold can already be felt.
The audience will be drawn into the conflict. The young, attractive defendant creates mystery and raises speculation about the situation.
The moral dilemma will be left in the hands of the audience.
Welcome to Terror, an interactive live show with a highstakes scenario, produced by Mississauga theatre company Crane Creations.
Written by German playwright Ferdinand Von Schirach, the play explores a version of the "trolley problem", placing the audience in the decision-making role. The well-known ethical thought experiment posits a scenario where an onlooker has the chance to save five people who are at risk of being killed by a train, by diverting it onto a different track that will only kill one person.
In Terror, this scenario has been given a modern reimagining, replacing the runaway train with a plane hijakced by terrorists.
The audience meets a fighter jet pilot, the defendant in this courtroom drama, who makes a quick decision to shoot down the terrorist controlled plane with 164 civilian passengers in it, to stop it from crashing into a stadium with 70,000 people in it. He is on trial for the murder of the 164 people. It is up to the audience to decide whether he is found guilty or not guilty.
The fictional trial asks audience members to use their own lived experiences for the verdict. Terror was presented for the first time in Canada, in the City of Mississauga, which offers a unique audience perspective from its diverse population.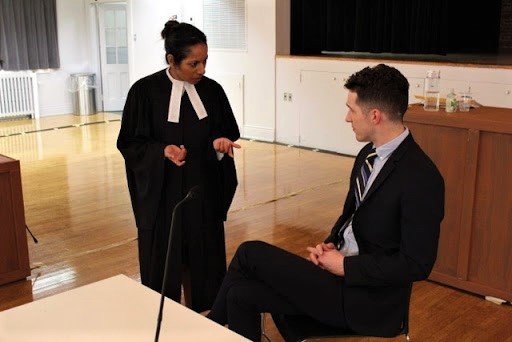 Conor Ling, plays the defendant who is accused of the murder of 164 people. Asha Ponnachan plays a feisty lawyer.
(Contributed by Crane Creations)
Canada's sixth largest city hosts a mix of residents whose roots, and experiences, can be traced to almost every corner of the globe, with a complex, and sometimes competing, set of beliefs and moral codes that now shape its cosmopolitan dynamics.
Terror tries to challenge core beliefs by showcasing both sides of the conundrum to the audience, then allowing participants to make a verdict together.
Theatre productions offer a unique experience — a staged version, and interpretation, of real life—oftentimes allowing the audience to become a part of the show. This powerful medium has been practiced for centuries. At its essence, it offers entertainment and release for spectators, but can also be an intense commentary on the mysteriously complex world in which we live.
Creating theatre that creates dialogue and opens communication is a founding principle of Crane Creations, Mississauga's only professional theatre company. It was launched in 2015 and saw tremendous growth prior to the pandemic, choosing productions that challenge audiences.
"It's always theater that makes us think and reflect our time," Andreja Kovac, founder of Crane Creations tells The Pointer. "What this show does is because you're sitting with that decision, 'which side is it?' it makes you see both sides, rather than just being in your corner of your decision."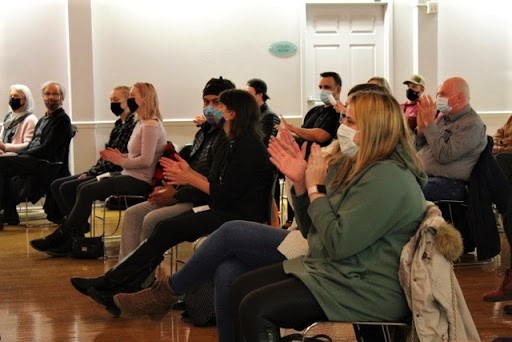 In Terror, the audience decides innocence or guilt.
(Contributed by Crane Creations)
The drive behind Crane Creations came from Kovac's own experience as an immigrant from Slovenia, where she was schooled and worked professionally as a director for 15 years.
She fell in love and moved to Canada with her husband to start her journey. She found the language and jargon of the Canadian theatre scene difficult to navigate, but luckily stumbled across Canada's National Theatre School in Montreal. Kovac attended for directing in the prestigious program, which only accepts two students each year.
"In Canadian theatre, it's slang, it's jargon, that even if you work professionally it's impenetrable, it doesn't ring a bell," Kovac says, suggesting a somewhat insular artistic establishment.
Schooling assisted her in understanding the industry, but she wanted to extend this knowledge and make theatre accessible to all new Canadian immigrants.
Crane Creations was born.
The crane, a migratory bird, is a culturally significant animal for the Anishinabek as a symbol of equal communication and wisdom.
To Kovac it was a no-brainer to set up her company in Mississauga where well over half the population represents the spectrum of diverse communities associated with its immigrant roots.
"It's who we are not as a city with its boundaries, but the fact that Mississauga is the most multicultural city in Canada," she said. "That is what for me Mississauga represents, and it has to be reflected in everything."
Aditi Sharma, designer and producer for Crane Creations, grew up in Mississauga and has also seen the challenge new immigrants have when navigating the Canadian arts scene.
"It's very difficult to orient yourself in a new place, regardless of where that is, and let alone finding a job in an industry like the arts," she says.
Growing up in Malton, home to the hub of international transportation around Pearson Airport, Sharma became a part of the diversity that is Mississauga from a young age. After deciding to attend Ryerson University for its theatre production program, she found her way back to Mississauga when a position with Crane Creations opened up.
The culturally unique dynamics of a city that has essentially been built during the country's massive multicultural experiment offer a pool of diverse actors and creatives the chance to break barriers in the arts.
Crane Creations makes an effort to give opportunities to newly landed immigrants, allowing them to thrive in an inclusive space, benefiting the company and opening up conversations with audiences on bigger issues. They often reflect everyday complexities of life in a place like Mississauga.
The playing of the Azan, the Islamic call to prayer, outside Mississauga Mosques, was approved by the city's elected council members during the pandemic. The resulting controversy and need to find compromise was a typical illustration of how life in a pluralistic society is so different from culturally homogenous communities.
Historically, like many industries, visible minorities have struggled to be seen and valued, and the arts sector is no different. In Canada there are 23,300 racialized artists representing only 15 percent of all creatives in the country, a 2019 study by Hill Strategies found, compared to a city like Mississauga where about 60 percent of residents are visible minorities.
Indigenous and First Nations artists are also dramatically under-represented.
The numbers are even more worrisome when looking at the income of minority actors. According to Hill Strategies, approximately seven percent of artists are actors, performing in theatre, movies, television or other forms.
A study by Hill Strategies broke down the median incomes from all artists and further explained the difficulties often faced by minority artists.
(Hill Strategies)

Based on 2016 census data, a separate study revealed racialized artists make 72 cents per dollar compared to non-racialized workers. This gap is larger for Indigenous peoples who only make 68 cents per dollar compared to someone with no Indigenous heritage.
As a professional theatre company, Crane Creations provides competitive pay to its employees, making sure to reflect the broader society in its hiring and providing equity to its creatives.
In April, Rishab Kalra came to Canada from India, where he worked as a professional actor. Upon arrival he had no idea where he could continue his employment and set out to find a company within his new home in Brampton.
"I didn't find many companies here, it was more in Toronto, and Mississauga and Brampton there's nothing here," Kalra tells The Pointer. "But that's what Crane Creation is trying to do, to improve the scenario of theatre here in Mississauga and the Peel Region."
Kalra plays Christian Lauterback in Terror, a witness to the decision of the fighter pilot when he shoots down the hijacked plane. For him, the show itself challenged his own thinking of whether the accused is guilty or not.
When rehearsing the show, Kalra thought about an incident in India which presented the answer to him.
"The experiences would dictate their taking of the facts," he explains. "I think the decision would actually be influenced by the cultural experiences that they had."
Actor Rishab Kalra in Terror.
(Contributed by Crane Creations)
Another element to Terror is the voting in the show's final act. Using slips of paper handed to them upon arrival, audience members cast their decision for guilty or not guilty. After each show, from around the world, the votes are entered into a website so audiences can compare how other people reacted.
Of the six shows of Terror Crane Creations had performed prior to the holiday season, four had a verdict of not guilty. However, of the 12 performances at Stadttheater Ingolstadt in Germany, only five had not guilty verdicts.
The famous trolly problem was created by philosopher Philippa Foot in 1961 and challenges two main paths of thought when contemplating dilemmas. The first, known as utilitarianism, focuses on whether the end product of a decision benefits the majority. The other, known as "deontological thinking" argues actions should be judged on whether it is correct regardless of the outcome. A person that holds the latter type of belief would say the accused was guilty of killing the 164 passengers, an isolated decision of its own that is inherently wrong.
The play creates a dialogue with audiences and asks them to look into themselves. This genre of theatre is what Crane Creations hopes to bring more of to Mississauga.
To continue offering fixating performances, Crane applies for grants to offset costs of production and buying rights to shows. Over the last two difficult years, they have thrived by making lemonade out of lemons. Like every other industry, crane has been impacted by the pandemic, but instead of waiting it out, the company decided to take it in stride, focusing on adapting their shows for an online format.
"Andreja, I really have to say, is the heart and soul of Crane Creations, she has this artist mentality at the very core of her despite knowing the practical business sides and also achieving those to really make sure that the art is the priority," Sharma says.
Bringing together people from different perspectives leads to the creation of fascinating art, and can teach people about how they perceive the world around them.
Terror is one example of how thought provoking theatre can open up a discussion on diversity and the acceptance of divergent beliefs in a interactive, compelling theatre experience.
To find out what shows will be performed next or to get involved with Crane's artistic offerings, go to www.cranecreations.ca.
---
Email: [email protected]
Twitter: @taasha__15
---
COVID-19 is impacting all Canadians. At a time when vital public information is needed by everyone, The Pointer has taken down our paywall on all stories relating to the pandemic and those of public interest to ensure every resident of Brampton and Mississauga has access to the facts. For those who are able, we encourage you to consider a subscription. This will help us report on important public interest issues the community needs to know about now more than ever. You can register for a 30-day free trial HERE. Thereafter, The Pointer will charge $10 a month and you can cancel any time right on the website. Thank you
Submit a correction about this story