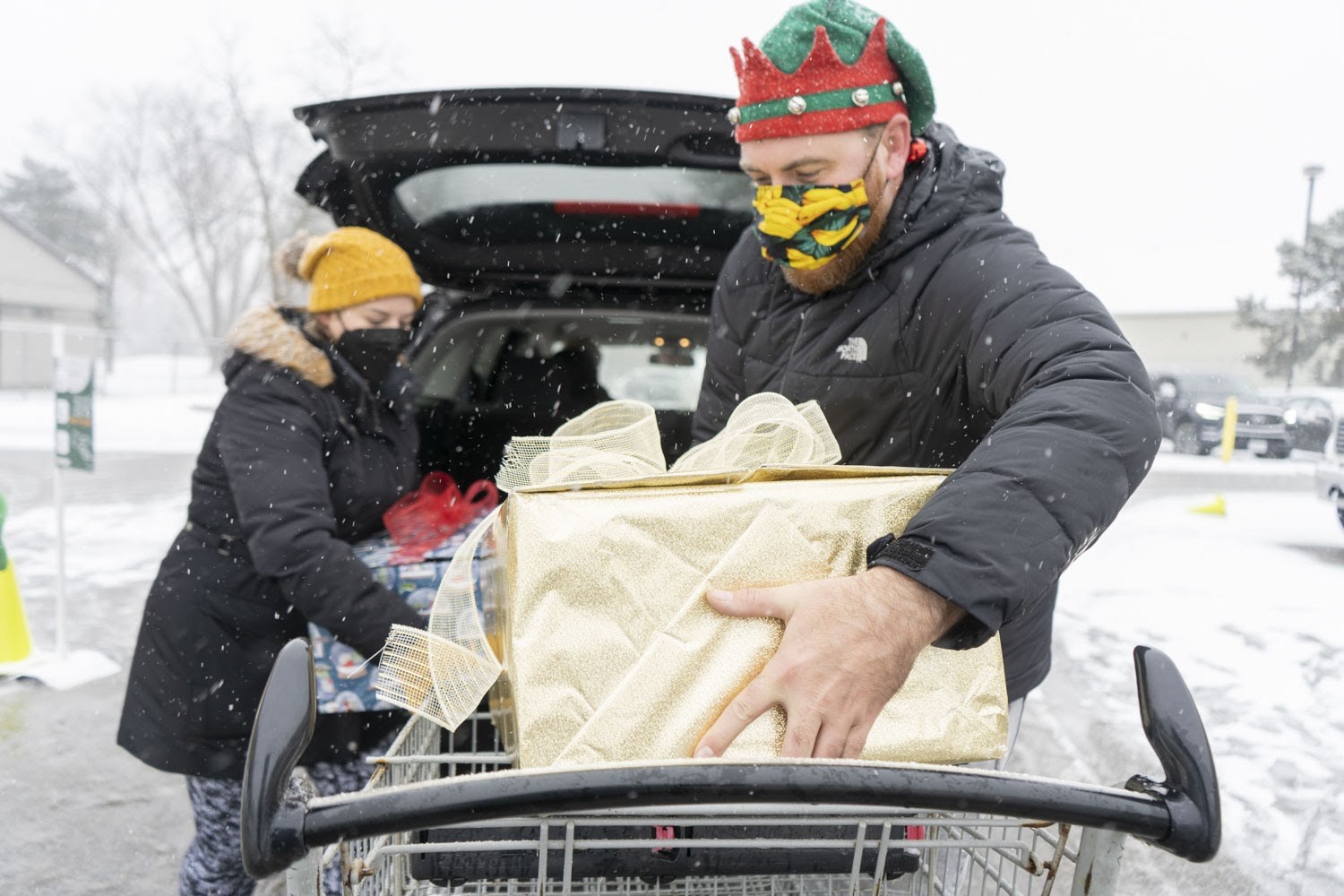 Feature image from Mississauga Food Bank
Mississauga community bands together to confront widespread food insecurity
Food banks in the GTA have been issuing an SOS call for almost two years, warning policy makers that if action is not taken to address systemic issues faced by residents across Ontario's most populous region — housing affordability, job loss, and child care shortages — ripple effects will be felt as families can no longer afford to feed themselves.
The annual Who's Hungry report in 2020 estimated that if change didn't come quickly, Toronto food banks would see approximately 1.4 million visits in 2021. The estimate was unfortunately too low, with food banks in Ontario's capital already recording 1.45 million visits this year.
"This is the highest number of food bank visits ever recorded in the city's history and close to 1.5 times greater than the previous record set in 2010 in the aftermath of the 2008 financial crisis," write Neil Hetherington, CEO of the Daily Bread Food Bank, and Ryan Noble, executive director of the North York Harvest Food Bank in the report's introduction.
Toronto is not an outlier. The Mississauga Food Bank has been grappling with a significant increase in demand from vulnerable residents hit hard over the last two years during the ongoing pandemic.
The Mississauga Food Bank operates nine locations across the city, providing nearly 5 million meals each year through its network of food banks, food pantries, and different meal and snack programs.
The organization has recorded a 14 percent increase in visits to its food banks this year (serving over 25,000 individuals) which has equated to a 58 percent jump in the amount of food and meals distributed — a staggering 4.2 million pounds of food and 4.6 million meals. The increase is even more stark for the city's emergency food banks, which have recorded a 167 percent spike in usage, assisting 8,673 people who were in desperate need of help. Twenty percent of clients reported coming to a food bank because they had lost their job in the past year.
Daisy Yiu, the marketing and communications manager at The Mississauga Food Bank says food insecurity is a systemic issue that requires long-term solutions backed with sustained political will.
"Our governments must prioritize and enact policies that decrease long-term poverty," she told The Pointer. "Policies such as protection for low-income renters, a minimum income floor, affordable early learning and childcare, and food justice and racial equity."
Until the day these structural solutions are in place, The Mississauga Food Bank will continue to advocate for policies to protect the area's vulnerable population while providing them with day-to-day support, Yiu says.
Social vulnerabilities have only been made worse during the public health crisis, which has directly impacted the livelihoods of many, and left many more questioning how they will continue to pay for the rising costs of living in cities like Mississauga and Brampton.
Government support has kept many families above water, but when those supports expire there will be tough decisions for many families who are already staring down the rising costs of not only food, but housing and other basic necessities, like gas and electricity.
Canada's Food Price Report predicts the country will see one of the steepest increases in food prices in over a decade, with overall food costs set to increase between 5 and 7 percent, after already seeing sharp spikes in 2021. The report predicts that a family of four will pay up to $14,767.36 for food in 2022, an increase of up to $966.08 from the total annual cost in 2021.
According to the Toronto Regional Real Estate Board, the average cost of a GTA house or condo in November reached $1.16 million, an increase of 22 percent from the same time the year before. The sharp increase is rising at a rate that is far outpacing household income, leaving more and more families locked out of the home ownership market. This is particularly troubling for Peel residents with data from the Region showing that 80 percent of residents are already living in precarious housing, unable to afford the current cost of rent or ownership.
These pressures are particularly difficult for new immigrants to Canada, who must grapple with steep costs while attempting to get settled into a new home.
Nikita, a Mississauga resident, and her family had no support or income when they immigrated to Canada.
As newcomers, their struggles spanned from the job market to their kitchen table. The steady, but low income her family was able to pull in each month was still not enough to feed everyone properly.
"Now my husband has a job but still it is not enough money for us to pay the rent, bills, and other basic necessities," Nikita told The Mississauga Food Bank.

Average take-home for a food bank client is just over $1,300 and the average monthly cost of renting a one-bedroom in Mississauga is over $1,700.
(Annual Impact Report 2020-2021)
Nikita's family is not alone.
Approximately 40 percent of clients reported coming to a Toronto food bank because they did not earn enough money to cover basic costs of living, according to the Who's Hungry report.
In Mississauga, the average cost of a 1-bedroom rental unit is $1,758 per month, this is $394 more per month than the average income of food bank users, data from The Mississauga Food Bank show. According to Statistics Canada, 14.7 percent of people live below the poverty line in Mississauga.
During the holiday season, communities across the GTA are banding together to try and lessen the burden for many of their fellow citizens.
The Mississauga Food Bank hosted a contactless drive-thru food drive on December 18 to collect donations for its 2021 Holiday Food Drive. The final big push of the calendar year is an effort to ensure everyone in Mississauga has access to healthy and sufficient amounts of food around their dinner table during this festive period.
Yiu says the central food bank hopes to raise $1.5 million and 300,000 pounds of food by January 7 to feed the growing demand in Mississauga.
"Our food bank users come from all walks of life and across all parts of our community. From children to families to seniors to adults, everyone who needs our support can turn to us for food. There's a multitude of reasons why neighbours might need our help," she says. "Despite the snowy weather and less than ideal driving conditions, our community came out and showed up for their neighbours in need and we are so grateful."
Community members bringing in donations to The Mississauga Food Bank's warehouse on December 18.
(The Mississauga Food Bank)
The food bank collected over 13,000 pounds of food and personal care items in the span of four hours.
"Their donations will ensure that we can continue to provide access to healthy and appropriate food for neighbours in need this holiday season and beyond," Yiu says.
The strong support from the Mississauga community comes while the Omicron variant is spreading across Ontario at a rapid rate. While initial scientific information suggests the health impacts are likely less severe for most of the population, especially when factoring vaccine protection, a positive case still requires a period of self-isolation, which can create uncertainty around employment and simple trips to the grocery store.
"In light of the recent announcements surrounding this new variant, we expect to see a rise in the number of vulnerable neighbours who will have to turn to us for food in the coming months and year," Yiu says.
People can continue to make monetary or food donations in support of the Holiday Food Drive.
"With monetary donations, The Mississauga Food Bank can make every dollar go further because we have the ability to purchase food in bulk and at a quarter of the cost."
She says for every $1 donated, "we can provide healthy and appropriate food for two meals."
---
People can donate to their Holiday Food Drive by visiting themississaugafoodbank.org/holiday.
---
It's common knowledge that the pandemic has had severe negative impacts on the mental health of many people, pushing people into isolation and exacerbating pre-existing conditions. The rhetoric around vaccines has also created a deep divide in society between "vaxxers" and "anti-vaxxers" while also creating sticky moral and ethical questions around things as simple as visiting an elderly family member. These stories have been widely highlighted across mainstream media. But the stories that have not received more attention are those that highlight the kind-hearted individuals who have attempted to push back against the pressures closing around many during the pandemic.
The Mississauga Food Bank has seen a surge in individuals looking to provide assistance over the last year. Over 800 people assisted the food bank with their volunteer time over the last year, a jump of over 500 people from the year before, amassing over 25,000 volunteer hours — a 58 percent jump from 2020.
"Volunteering has given me a new perspective on how fortunate I am and on the importance of social services in our community. I've become more empathetic and compassionate as I've learned about how many of our neighbours struggle with food insecurity," Syed, a volunteer with The Mississauga Food Bank, told the organization.
This kindness isn't just being seen in Peel.
On December 15, a Muslim youth organization donated 1,500 pounds of food to the Newmarket Food Pantry.
This isn't the first time the members of The Ahmadiyya Muslim Youth Association (AMYA) have stood by the community. In March 2020, during the early pandemic lockdown, the organization raised 50,000 pounds of food for the community.
Last winter, the organization launched its "Neighbourhood Helper" campaign which intended to bring Canadians closer together in the holiday season during the pandemic's second wave.
"We [have] launched the Neighbourhood Helper campaign to boost the spirits of Canadians and help those who need
it most," said Zubair Afzal, National President of the Ahmadiyya Muslim Youth Association Canada.
In its initial leg of the campaign, Muslim youth offered help to Canadians with picking up groceries, filling prescriptions and even providing moral support.
"Canadians must come together and support each other during this difficult time," said Afzal.
---
Those who require assistance can call 1-855-HELP811 or sign up on helpingneighbours.com.
---
AMYA's will to serve the community extends to a number of different initiatives, from collecting food, delivering packages or donating units of blood, the youth organization continues to give.
People donating blood at the blood donor clinic organized by Ahmadiyya Muslim Youth Association at Tahir Hall, Maple, ON last Saturday.
The stories of resilience in the face of hardship faced by many clients of The Mississauga Food Bank are numerous.
In the beginning of the pandemic, both Jonathan and his girlfriend lost their jobs and faced the stressful reality that putting food on the table for not only themselves, but also their young son, had become increasingly difficult.
The Who's Hungry report states 31 percent of adults included in the study's data reported going hungry at least once a week.
"We've both been periodically out of work for over a year since March 2020, so the food bank has been a tremendous help and has taken a lot of stress off of us," says Jonathan.
Of all the existing food bank clients, 58 percent did not eat for a whole day almost every month and 16 percent of children went hungry at least once a week.
For Violet's mother, Teresa, being a single parent and sole caregiver for her daughter has been stressful as she struggled to not only find employment, but affordable childcare during the pandemic. This is a common problem for those struggling below the poverty line, with personal budgets unable to cover all costs. Approximately 51 percent of food bank clients missed a meal to pay for something else, the Who's Hungry report states.
Teresa (left) is a single parent and sole caregiver for her daughter, Violet.
(The Mississauga Food Bank)
"My daughter is not in school yet and with the pandemic I haven't had the opportunity to get help finding a daycare. Because of this, I am unemployed, but I'm studying English while taking care of my daughter," Teresa says.
The Mississauga Food Bank says when single-parent families end up in poverty, they stay in poverty on average over a year longer than dual-parent families.
For confidentiality reasons, The Mississauga Food Bank does not disclose full names of food bank users and the names provided [Nikita, Jonatha, Teresa, Violet] are pseudonyms.
Diagnosed with anxiety, depression and post-traumatic stress disorder, Karen Murray took a leave from her job at a grocery store in October last year.
The now 47-year-old Murray started to work when she was 14, but the pandemic was a level of stress previously unknown to her, leading to a mental health episode.
"My job was becoming overwhelming and it was putting me into panic attacks so I haven't been working, and I'm still not back to work," she told The Pointer. "I pushed my family away during my mental breakdown."
But her desire to help others, as she has done since she started working as a teenager, has not disappeared. Giving back to the community has become her therapy, she says.
Murray, along with her son Daniel, has been trying to keep herself busy raising donations for The Mississauga Food Bank.
Daniel and his mother Karen Murray on their way to the Holiday Food Drive.
(Karen Murray)
The mother-son duo have previously worked with Toronto Miracle, a Toronto-based food bank, helping them "almost reach 240,000 pounds of donations."
The Mississauga resident and her son have since spent time making cork-boards, setting up donation boxes and handing out flyers soliciting donations.
Murray says 35 out of the 50 people they handed flyers to decided to donate.
"When we did the final drop on Saturday they were like 'one kid collected all this?'" she recalls. "This is me teaching my son to share if you have enough for yourself."
---
Email: [email protected]
Twitter: Anukul_AT
---
COVID-19 is impacting all Canadians. At a time when vital public information is needed by everyone, The Pointer has taken down our paywall on all stories relating to the pandemic and those of public interest to ensure every resident of Brampton and Mississauga has access to the facts. For those who are able, we encourage you to consider a subscription. This will help us report on important public interest issues the community needs to know about now more than ever. You can register for a 30-day free trial HERE. Thereafter, The Pointer will charge $10 a month and you can cancel any time right on the website. Thank you
Submit a correction about this story